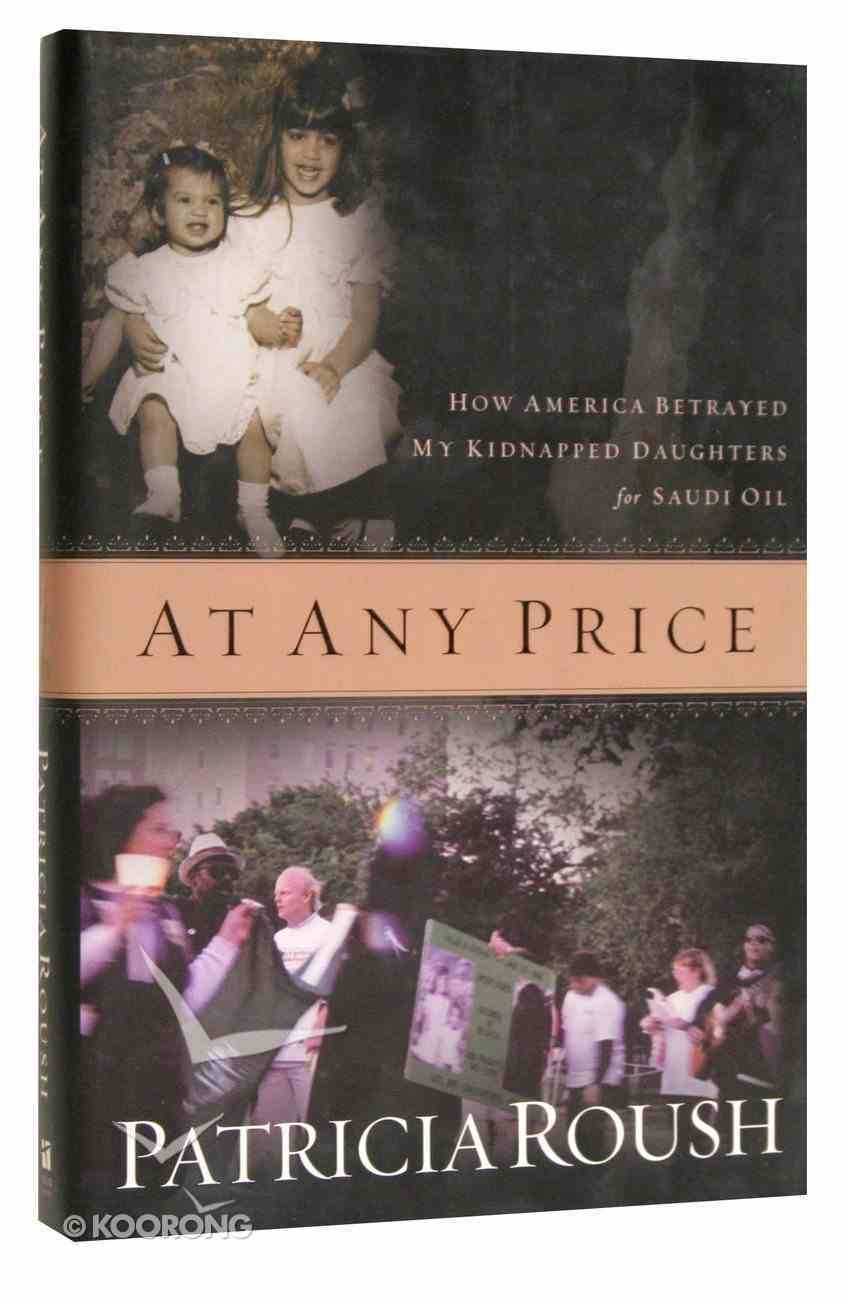 Patricia Roush's girls were kidnapped more than 16 years ago and taken by their Saudi father, who they hardly knew, to the kingdom of Saudi Arabia. They were three and seven at the time. At Any Price is the story...
---
Free Shipping
for orders over $99.

Patricia Roush's girls were kidnapped more than 16 years ago and taken by their Saudi father, who they hardly knew, to the kingdom of Saudi Arabia. They were three and seven at the time. At Any Price is the story of her fight to get them back from a father with a documented history of severe mental illnesses and violent tendencies. In the midst of this tragic set of circumstances was a bigger problem-an ongoing, demoralizing struggle with the U.S. government and the Saudi kingdom to reunite her with her children.


At Any Price reveals the desperate and risky attempts for rescue that slip again and again from Patricia's grasp. This personal story of bravery, courage, and faith will warm and inspire readers.


-Publisher
PRODUCT DETAIL
Catalogue Code 

78576

Product Code 

9780785263654

ISBN 

0785263659

EAN 

9780785263654

UPC 

020049024744

Pages 

304

Department General Books
Category Biography
Sub-Category General
Publisher Thomas Nelson Publishers
Publication Date 

Apr 2003

Dimensions 

236 x 163 x 28

mm

Weight 

0.494

kg
Patricia Roush has been at the forefront of political issues and human rights abuses concerning Saudi Arabia for almost two decades, bringing about legislative changes concerning protection of American children and women in foreign countries, religious freedom, and abduction prevention.
Chapter One
East Meets West
June 1975-January 1985

Your whole past was but a birth and a becoming.
-Antoine de Saint-Exupery

"Batricia"

It was June 1975, about eleven o'clock at night, and the thumping sound of the disco beat reverberated off the walls of the student union at the Catholic university known for its once-famous basketball team-the University of San Francisco. I wasn't a student at this institution-couldn't afford it-but was there for this Saturday night gathering. It was a diversion from my
grueling schedule at San Francisco State and my job and responsibilities.

The room was filled with a mixed ethnic assortment of students and their friends-Asians, a medley of Middle Eastern males, young white males and females-listening and dancing to the sounds spun by a student disc jockey. I was sitting alone on an overstuffed chair in a corner, sipping a 7-Up, when a young Middle Eastern male approached me. He pulled up a folding chair and started to talk.

"You go to school here? I didn't seen you before?"

I hesitated. He had unusual eyes that instantly captured my attention. They were large, almond-shaped vessels filled with liquid black coal that could penetrate to the other side of your soul.

I responded slowly, "No. Just visiting. Where are you from?"

His head tilted back slightly as he laughed. "Saudi Arabia."

I wondered about the cast on his left arm. "What happened to your arm? Broken?"

"Yeah. I fell. I play soccer in front of Hayes-Healey Hall. That's the place over here where I have my room. I just came to United States few months ago. So now I study English here at this school. My family is big family in Saudi Arabia. My government sends me here to study criminology. Want to dance?"

"No," I declined. "I have to go. It's getting late."

"I can call you? What is your name? I like to talk to you again."

"Pat."

"Bat?"

"No, Pat. Patricia."

"Batricia. Batricia. I like that name. Pretty. I shall call you, Batricia."

We spent another hour chatting about Saudi Arabia and the United States. He told me his name was Khalid Gheshayan, the oldest son of a wealthy Saudi whose family ties were well connected to the ruling Al-Saud monarchy. He stated his grandfather had ridden camels and horses with Ibn Saud, the desert patriarch who had united the Arabian peninsula after WWI and whose descendants now control the oil rich kingdom. As an anthropology major at San Francisco State University, I was intrigued with his stories. Perhaps I had seen Lawrence of Arabia one too many times, but as the evening came to a close I gave him my phone number.

Kapsa with Rice

We began having long phone conversations. I had been divorced for several years and was struggling with being a single mom, going to school, working part-time, and grieving the recent loss of my father. Khalid seemed to have a naiveté' about him, an unsophisticated, uncomplicated, carefree approach to living, and I was overburdened with life itself.

He introduced me to his friends Salam and Abdul Rahman. They had an apartment on Geary Boulevard where many of the Saudis in Khalid's group gathered socially. The smell of kapsa, a Saudi stew made with lamb, curry, cardamom, and hot peppers, filled the air. It was the one dish they all seemed to know how to prepare. They were very lighthearted, friendly, and generous. They enjoyed each other and joked easily-making fun with an easy, almost childlike playfulness. The camaraderie was unlike what I had seen among American men. They would sit on the floor in a circle, drinking sweetened tea from demitasse cups and talking, playing music, and amusing themselves with anecdotes and tales about their country.

They were never without courtesy and hospitality. I was always treated like a "guest of honor" when invited to their many dinners where everyone would sit on the floor-Saudi style-eating kapsa, rice, and salad with bare hands. Khalid's attentiveness to me was almost obsessive. This was his first journey outside the strict Wahhabi Islamic backdrop of his native Saudi culture. He was like a kid at Christmas, opening one present after another with delight at each surprise. At first it was refreshing for me to see this kind of savage "innocence" firsthand; my interest in the ancient Middle East and antiquity colored my judgment. I processed the cultural differences as being exotic and a remnant of the peoples of the past that were coming alive before my very eyes. But then I began to see how Khalid was having difficulty adapting his cultural beliefs and background to all the "fruits" of the open society he became a part of when he took that flight to America.

He drank and experimented with different types of alcoholic beverages which is strictly forbidden by Islam. He and his friends smoked hashish or marijuana at times, but drugs were not a large part of his life. He liked hard liquor.

He called me several times a day. At first I was flattered. I loved the attention and the romantic idea of being pursued. A twenty-nine-year-old woman with a low self-esteem who is lonely, insecure, and vulnerable is easy to wear down. I was that woman.

Esther's Daughter

"Daddy, you're here! Daddy! Now the kids can't tease me and say where is your father?"

I stood on the running board of my father's 1952 Pontiac and wrapped my arms around his neck. I dug my fingernails into his skin. I wouldn't let him go. As I kissed his cheek I could feel the scratch of the beginnings of a five o'clock shadow and could smell the unmistakable odor of my-yes, my-father! He was here in Cicero, Illinois, in front of Bella Papa's house on Fifty-fourth Avenue.

Bella Papa, my mother's father, was dead, but we all lived on Fifty-fourth together-my mother, my sister, Bobbie, my mother's sisters and their husbands, and my cousin Marie. This was la famiglia.

My mother, Esther, second daughter of Italian immigrants Enrico and Maria Stancato, was named after a Jewish woman whose bed was alongside my grandmother's in the medical ward the women shared at Cook County Hospital in Chicago in 1918.
Maria was pregnant with my mother and had had a difficult labor. The Jewish woman requested that my grandmother name her baby Esther, after her. This was asking a lot, but my grandmother was a very religious woman with a caring heart and honored her friend's request. So even from the beginning of her life, my mother had a distinct identity separate from her family-a little Italian girl with the name of the ancient Jewish queen of Persia.

My grandmother, Maria Cerza Stancato, had a short life filled with infant mortality and physical pain caused by tuberculosis of the bone in her leg. My mother used to tell me that she always remembered her mother in bed saying the rosary and her prayers in Italian. She died at age thirty-three, leaving Bella Papa with four young daughters to raise. His oldest daughter, Julia, sixteen, was left to raise her younger sisters-my mother, Esther, another sister, Amelia, and the youngest sister, Harriet, whom everyone called "Baby Doll"-while he worked on his small vegetable farm to support the girls through the Great Depression. It was a happy household filled with many relatives and friends. Enrico Stancato was a poor Italian farmer with a generous heart who shared whatever he had with anyone who came to his door. They struggled, but in that house filled with music, singing, dancing, and love there was a oneness of spirit.

When World War II broke out, my mother got a job in a defense plant making parts for U.S. aircraft. She met a tall, blond, blue-eyed man with a soft voice and easy Cary Grant charm and wit-my father, David Roush.

Chicago in 1944 was bustling, and "Rosie the Riveter" types like my mom were keeping the war effort together. My father, unable to get medical clearance for military duty because of an injury to his optical nerve in a childhood accident, came to Chicago from central Indiana seeking employment after the depression. Esther and David were passionate about each other and became inseparable. They were very much in love. There was only one problem-Esther had a husband.

She was married in 1941 to a man she said she never loved, Bob Labut. Soon after the war began he was shipped to the South Pacific and did not return until 1946. When my mother met my father she was emotionally torn about what to do, but her love for my father couldn't be denied. She remained in conflict because of her Italian family and her Catholicism and then became pregnant with me just as the war was ending and the troops were returning home.

Many years later she told me, "Pat, I was pregnant and I didn't know what to do. My father didn't know, and Bob didn't know and he was coming home from the war."

When her husband returned home from the navy, Esther was four months pregnant. She told him but couldn't face Bella Papa. So she disappeared with my father and lived on the South Side till after I was born. Bella Papa wasn't educated, but he wasn't stupid.

He said to Julia, "Where is Hesta?"

"Papa, Esther had a baby girl."

"Where is this baby? Bring her to me."

From the moment Bella Papa saw me, I was his darling. This old Italian man, who was barely five feet tall and walked with a slight limp from an old stroke, carried me around in his arms from the time I can remember. So my early years were spent with a loving grandfather and my adorable aunts, who cared for me with all the love and attention I could possibly desire. Esther never resolved her guilt about Bob and my father. She continued to seesaw between them and, oddly enough, they both loved her very much and tolerated this situation.

Bella Papa said to her, "Hesta, maka uppa yo min'. You cantta hava both. Bob or Davie. Decide."

She finally did. She told them both to leave. She had a baby with Bob before it was over-my sister, Bobbie. And then Bella Papa died. I was devastated. My safe little world ended.

On Our Own

With the death of my grandfather and the marriage of all my aunts, things changed quickly and would never be the same. I spent the rest of my childhood with Esther and Bobbie. We moved to a new house away from the family. My mother, five foot two with green eyes and a temper to match, was unpredictable and unflappable. She successfully opened a restaurant, did carpentry, could cook a seven-course meal in an hour, fixed cars, and tackled the most difficult challenges. Once she even hitched up a twenty-eight foot trailer to her '51 Hudson and pulled it from Chicago to Florida with Bobbie and me in the back seat with our dog, Bonnie. She was courageous and fearless-a nonstop little tigress that never let go of something she started.
Bobbie and I took piano lessons, dance lessons, art lessons, drama lessons, and went to Catholic schools. She always wanted me to be a medical doctor. She would tell her friends, "Pat's going to be a doctor. She's so smart. I just know she's going to be a doctor." I did love books and biology was one of my favorite subjects. I would spend hours reading the encyclopedias and books from the science reference set she bought for us. She tried to give Bobbie and me the things she'd never had, but what we really wanted was her time and her love. She worked hard at her job and at home and put in long days. She was a single mom in the fifties, and it was not an easy life.

I took care of Bobbie and did the housework. My mother was either working or sleeping, exhausted from all the long hours she put in. There was no money from my father to ease her burden. She grew bitter and angry. My father married when I was seven, and the new wife was extremely jealous of my mother and me. She took my father to California. He repeatedly tried to see me after Bella Papa died, but Esther would turn each attempt he made into a scene from a horror movie.

One day he approached the house and Esther let him in.

"I just want to see Pat. I don't want any trouble, Esther. I just want to see my little girl."

We were in the kitchen and my mother was at the sink. I was sitting on a kitchen chair, and my father was standing near the back wall. She was screaming at him at the top of her lungs. Then, suddenly, my mother ran up to my father and threw a glass of water in his face. He just stood there while she cursed at him. I cried. I just wanted to see my daddy.

It was never to be. My childhood and later my teens would be a lonely journey. I amused myself with my books, piano, and fantasies. I retreated into a world where I couldn't hear my mother scream at me and deliver curses: "You're just like your no-good father. You can't do anything right. I should have given you away when you were born."

Her profanity and verbal abuse would haunt me for years and emotionally damaged me in ways she could never know. At the same time she could turn around and be the most caring mother in the world. She had a dual, alcoholic-style personality, even though she didn't drink. I loved her, but she could never accept that love or the love of anyone else. She alienated everyone close to her and, sadly, never received the healing that she needed until she was upon her deathbed.

I found out that my parents had never been married when I was fourteen-the summer before freshman year in high school-and it put me in such a spin. I didn't speak for two months and was severely traumatized for most of my life because of this. My Catholic upbringing didn't fit with this reality. I took it hard and hated my mother for lying to me all those years. I told her that I didn't want to live with her any longer. She refused to allow me to go to southern Illinois and live with my father's brother and his wife whom I loved very much. Instead, my mother cruelly beat me in front of several of our relatives. I called my uncle and aunt and they got in touch with my father whom I hadn't seen in six years. He came to Chicago and wanted me to go to California with him and his wife.

So without my mother's permission, I left with my father and lived with him and his wife in southern California for seven months. I thought at last I would have my father all to myself. I was wrong. His jealous wife would hardly allow us to have a conversation together. Her antics and lies made it impossible for me to live there so I had to return to Chicago-back to Esther. She greeted me with anger and hostility and continually taunted me about my father and his wife. I had no one and nowhere to go. I dreamed about getting away from her screams and madness.

Jerry

When I was fifteen, my mother's best friend, Stella, invited us to the Polish wedding of one of her relatives. I asked if my friend Carole could come along.

We were dressed! It was 1961 and bouffant hair was in. Carole and I spent hours in front of the mirror that day backcombing and spraying our tresses. A careful application of white lipstick was made after we slipped into our five-inch heels and poured ourselves into our dresses. We were ready for the party.

After the dinner the band played and I noticed a six-foot-four Troy Donahue type of guy standing near the bar looking at me. Our eyes met. He was surrounded by other young men who were laughing and drinking. Little did I know that they were all members of the "Marquis," a social and athletic club of suburban Chicago. He said his name was Jerry Veverka, an architectural student at the University of Illinois.

We danced and talked until it was time to leave. He asked if he could call me. I was too young for Jerry at that time. We exchanged phone numbers and talked on the phone a few times, but he was a college man, and I was still in high school. No matter how mature and sophisticated I thought I was, I was still a teenager. I grew up acting much older than I was because I had so much responsibility and never really had time to be a child. I raised myself and my sister and always felt so alone and different. I could never quite understand this difference, this calling, but much later in my life I would come to know its meaning very well.

A few years later, after Jerry graduated from the university, he called me and we began to date. I was seventeen at that time. He came from a good Catholic Polish-Czech family, got a well-paying job in architecture after graduation, and bought a new sports car. I was living with my mother, who was still struggling hard. She had a catering business and worked from sunrise till sundown. I was driving then and had a part-time job after school. I was independent, and Jerry opened for me new worlds of art, jazz, sophistication, and an intellectualism that I enjoyed.

Later that year Jerry landed a job with a well-known architectural firm in Michigan, and soon after I graduated from high school we were married. As with many girls who grow up without a father, I found myself in an early marriage as a way out of the house. I had finally accomplished my goal of getting as far away from my mother as I could. Jerry and I soon had a son, Eric, and a daughter, Daina. Now I was free from both Esther and David. I had my own family.

But I had not grown up emotionally. I still didn't have an identity. It was the sixties, a difficult time to be young, with social unrest everywhere. Post-World War II baby boomers like me found themselves in an American social revolution that they were not prepared for.

After Jerry and I traveled to Europe, we moved back to Chicago, and then in 1968 we decided to move to San Francisco. He worked and I was enrolled at City College of San Francisco and later San Francisco State University as a part-time student. There were student strikes, televised student demonstrations and confrontations with the university president, S. I. Hiyakawa. Riots. Unrest. Turmoil. There was a constant churning of politics mixed with the newly unleashed sexual revolution, women's liberation, drugs, rock 'n' roll, "God Is Dead," flower power, and war protests. We lived right in the middle of it all.

San Francisco was a new experience for us-a culture shock. We were not ready for that kind of change, and our marriage began to suffer. We grew apart and couldn't seem to put it back together. In 1972 we separated. It was difficult, but we were very amicable and worked out agreements concerning the children. We lived within two blocks from each other, and the children easily went back and forth. It was a workable divorce with no anger or recrimination.

I was unhappy with America and the establishment. I kept hearing news that many of my former classmates from elementary school and high school were dying in a war in Southeast Asia that was orchestrated by men in Washington with no vision. McNamara and Nixon were rationalizing the war on the six o'clock news each evening and Watergate broke soon afterwards.
I majored in anthropology and became interested in antiquity and the classics. I wanted to go to the Middle East and work on archaeological digs. I romanticized it. I wasn't happy with what was going on at home in America and longed for a better world-a new culture. I was an idealist looking for a utopia that didn't exist.

Disregarded Omens

Jerry and I had been divorced for several years, and I was almost finished with my degree at San Francisco State when I met Khalid. I still had the idea that I was going to go off into the blue and somehow work in the Middle East. I planned on working in the Arabian Gulf United Arab Emirates so that I could make enough money to be able to explore the ancient ruins of the Middle East.

The year after I met Khalid, I actually went to Dubai for a visit. Daina and I went for several weeks just to scope it out. After three weeks I knew it was not for me. I couldn't live in a country where women were wearing black veils from top to bottom. It bothered me to see the women in black walking in the hot sun with a trail of children behind them while the men wore white and were as fresh as a daisy. That was one bubble burst.

Khalid was still in San Francisco and not doing much. His scholarship was poor; he couldn't concentrate and was drinking. I was working for an insurance broker (so much for my anthropology degree), and seeing him off and on. His parents had moved to San Francisco and intended to stay for one year while a new home was being built in Riyadh.

His mother, Fatima, was married at the age of twelve. She gave birth to ten children-eight survived. Khalid was the oldest. Fatima's health was poor, and she had multiple medical problems. The father, Hamad, worked for King Faisal for many years. When the king was murdered by a deranged relative, Hamad quit the government and came to the United States for cardiac surgery at the Cleveland Clinic.

Hamad was an old-fashioned bedouin who did not drink or smoke. He had one wife and lived a quiet life. He was well dressed, liked order, and appeared calm although Khalid mentioned that he had been very abusive to Fatima when the children were growing up. Khalid moved into his parents' apartment in San Francisco and continued to drink heavily. He quit school and played with his brothers during the day and went to the bars at night. I was not with him and saw him rarely but somehow couldn't make the break with him. It was as if there was a karmic destiny between us that had to be fulfilled. He often manipulated me into doing favors for him and feeling sorry for him. One night he was in the car with me. I was driving, and he had been drinking.

Looking at him in the passenger seat I said, "Khalid, why don't you get some help and stop this track you're on? Your parents are here now and maybe they can help you."

Without warning he reached over and pulled the car keys out of the ignition. The car stopped in the middle of the streetcar tracks. It was night and other cars were behind me. He opened the door, jumped out, and threw the keys down a grate into the sewer. Then he ran to his parents' apartment a few blocks away. I was stranded. I walked to the apartment, rang the bell, and asked for Hamad. When I explained what had happened, he just shrugged his shoulders and closed the door in my face. This scenario would be repeated over and over again. Khalid would put me in jeopardy, run for safety, and they would protect him.
I did not know at that time that I was pregnant. When I found out, it was too late. I should never have told him and just disappeared and raised my baby, but I didn't. I always felt I could handle anything. I was overly confident and didn't fully realize the danger I was in with this man. My false sense of control and confidence was to be my undoing.

Rosemary's Baby

The large dome of San Francisco City Hall served as the canopy for my wedding to Khalid Gheshayan. I was not enthusiastic. No one was invited; even I didn't want to be there. It was a formality, and I went through the motions because I couldn't reconcile not being married when my baby was born because of my background and religion. I was scared and sick.

My pregnancy was difficult. I continued to work until I reached my eighth month, when I was ordered by my doctor to quit. My blood pressure was high, my legs and feet were swollen, and I had symptoms of eclampsia (a dangerous condition of pregnancy characterized by seizures). Bed rest was ordered. Hamad and Fatima and their seven other children had returned to Riyadh one month before the wedding. I had the interior of my house repainted and bought new furniture and supplies for my baby. Then I tried to stay in bed.

Khalid was never home. He was always out with either his Arab friends or his newfound American drinking pals. I had few friends and became quite concerned because I had no one to be a labor coach for me. Khalid came with me to a childbirth class one night and walked out before the class was finished. I was embarrassed and frightened that I would have to face the delivery alone. I was thirty-two and had a history of difficult deliveries. The doctor was telling me that I might have to undergo a cesarean section. My mother wouldn't speak to me after I married Khalid and she found out I was pregnant.

"Pat, how could you? How could you lower yourself to this level? That's it. Forget you even have a mother!"

She hated him, and she was right. He was no good and would lead me to hell and back. I was alone and had to figure out what to do next.

But I was always good at that-too good.

When I was eight months pregnant, I asked Khalid to take me to Berkeley for my checkup appointment because I felt too sick to drive. He refused-he said he was busy. So I squeezed myself into the car and made it across the Bay Bridge. When I arrived at my doctor's office the staff was up in arms; my "husband" had called every five minutes for the last hour wondering if I had arrived yet and if I was all right.

A few weeks later, the end was finally near. My amniotic fluid broke and labor was induced. Khalid took me to Alta Bates Hospital in Berkeley where I endured a "natural childbirth," which was the mode in 1979 wholistic Berkeley. I went through seventeen hours of pain with no anesthetic. I hired a labor coach-a student from a wholistic health program-and Khalid disappeared when things got tough for me. I later learned that he had sneaked back into my hospital room and drank my roommate's bottle of champagne while I was delivering our baby.

Alia was born at 11:37 in the morning on Friday, January 5, 1979. "Give her to me," I said as soon as she was delivered. The moment I saw Alia, I fell in love with her. She was the most beautiful creature I'd ever seen.

I couldn't believe this beauty could come from his seed. I was worried throughout the entire pregnancy about the baby-what would his baby be like? I pressed her to my breast and just marveled. She and I were one spirit. I gave her the warmth of my body and we melted together.

Khalid had my car when I was in the hospital and without my knowledge used my apartment as a place for his friends to crash. My anxiety rose as I dressed Alia in her pink sweater set to make the journey home from the hospital. I felt safe and supported when I was in the hospital but knew I couldn't stay there forever.

He arrived late to pick us up. I was weak and had black circles under my eyes from the difficult labor and delivery. As I opened the apartment door I could see pillows from the sofa thrown on the floor, and the living room smelled of cigarettes. It sickened me. I hated cigarettes and never allowed any smoking in the house. Now I had to bring my new baby home to this.

During the next few weeks I regained my strength, and one night while I was rocking and nursing Alia in the living room the door opened. Khalid stumbled in, tripping over himself. I could smell the alcohol and cigarettes from across the room. He was accusatory and began cursing me. He had a gallon of wine in his hand. I got up with Alia in my arms and walked into the bedroom. He followed me.

"Don't think I don't know what you are going to do, you bitch. I'm sick of you, and I'll show you who's in charge here."

He pushed me, with Alia still in my arms, against the wall. She was three weeks old.

"I'll fix you. You're not making any calls." Then he went to the telephone and pulled the cord out of the wall. After losing his balance a few times he left the apartment with the gallon of wine in hand.

I called the police. They found Khalid at the end of the street at the Oar House, a local bar he frequented. They arrested him and found he had a few other charges pending. He'd had an accident with his father's car while his parents were in town. He beat up the other driver and drove away. They accused him of hit and run and battery. His student visa had expired, and he did not apply for his immigrant visa after he married me so the police turned him over to the Immigration and Naturalization Service.
He was detained in a holding cell at the INS in downtown San Francisco. They called me and asked what I wanted them to do with him. Did I want him in the country or should they deport him? I knew the officer well. She was a pleasant black woman who had helped the Gheshayan family when they entered the United States.

"Deport him."

Blackouts and a Broken Nose

Alia and I had a honeymoon; I had her all to myself in peace. I bought her a new pram and we took walks every day. My daughter Daina helped me with Alia's bath, and each day before Daina went to school she would peek inside the room and give Alia a kiss. I had enough money saved to stay home for a few months and be a full-time mother.

Khalid stayed in Riyadh only three months and then took whatever money he could raise from relatives and flew to Vancouver, British Columbia. He called me from Canada. He was staying in a hotel while waiting for his visa to be approved by the U.S. consulate. I didn't want him to come back and should have stopped that process, but I was under the illusion that he could do no real harm. I always thought his problems were related to his alcoholism, and if he would only stop drinking, he would be different. When he was sober he could be charming, congenial, and soft-spoken. At that time I did not understand the culture of the Middle East. My Western personality was very transparent-I said what I felt and what was in my heart was openly expressed. This is not done in the Middle East. Theirs is a world of secrecy, deception, and manipulation. Khalid Gheshayan was an expert at all three.

Because I was used to coping with a mother who had violent temper tantrums and then could be the most loving and caring person, I had developed a manner of living with trauma and chaos in the house. I never wanted my friends to come over because I didn't know what my mother was going to say to them. I coped with her all my life. I accepted the way she was as normal behavior, even though I did not like it. I was a child codependent to my mother, and I became a model codependent to this dangerous man. My war cry was, "If only you would stop drinking." I didn't see what was buried beneath the drinking-evil.

Alia was three months old when Khalid convinced me to visit him in Vancouver. I was reluctant and didn't want to see him, but I gave in. As soon as I saw him at the gate at the Vancouver Airport, I wanted to turn around and go back to San Francisco, but it was late and there were no more flights for the day. He was gaunt. If he stood sideways, the sunlight would pass right through him. His skin was as yellow as Dijon mustard, and his breath smelled like an old wine barrel. The tissue surrounding his eyes was black and blue, his aquiline nose was misshapen and swollen. He told me one of the Canadians from the bar had punched him in the face during a fight and had broken his nose.

We got into a taxi and went to the hotel where he was staying. It was not the Hilton-more of a boardinghouse with regular residents. I walked upstairs with Alia in my arms. I carried her travel bed with one hand and threw her diaper bag over my shoulder. It was late and we were tired. Khalid kept introducing me to the various men who shared the establishment as we walked along the hall and up the stairs. I was embarrassed to be seen with him.

The air in the room was saturated and sticky. I threw open the windows and turned on a fan. Of course, there was no air-conditioning. After nursing Alia, I placed her in her travel bed where she soon fell asleep. Khalid was drinking a beer on the bed; I was sitting on a chair looking at the airline schedule I had pulled from my purse. He lunged toward me and pulled me close to him, trying to kiss me. I freed myself from his grip. "Stay away from me," I said. "I am leaving in the morning."

"You're my wife."

"Get back and don't touch me."

He turned around, stumbled over Alia's travel bed on the floor, and fell on top of my sleeping daughter. I screamed, picked up Alia, and opened the door and ran. As soon as I got into the hall men came spilling out of their rooms-some wearing nothing but the underwear they were sleeping in. They were not used to hearing the screams of a woman in their residential hotel and circled me and my infant.

"Are you all right?"

"Is the baby okay?"

"I'll take care of this guy for you, ma'am . . ."

They took my things and escorted Alia and me down the stairs to the office of the owner of the hotel.

He was a fiftyish Sicilian who offered to take me to his family for the night. I accepted. "What I can see is, you and this baby are the only good things about this guy. He has been nothing but trouble since he got here. In fact, I am going to tell him to leave."

The next morning Gianni, the Sicilian, took me back to the hotel. I told Khalid I was leaving and he should leave, too. He should go back to Saudi Arabia. There was nothing for him in Canada and he should be with his family. He could hardly walk. He was malnourished, and the one hundred and ten pounds he was carrying barely covered his five-foot-six frame.

He was sober and crying. "Don't leave, Pat. You know how much I love you and Alia. Don't leave me here like this."

I drew a bath for him and helped him into the tub. I washed his back and told him I would settle him into a different place and then I had to go back to San Francisco. He must return to Riyadh. Gianni helped to move Khalid to a motel and then took me and Alia to the airport.

Alia and I had a few more months together before I had to return to work. She was almost one, and I was so glad I could stay home with her for that time. My savings eventually ran out, and I was forced to find child care for her when I went back to work in an insurance office. Khalid had returned to the States but was not living with us. I couldn't allow that again. He was in the vicinity and would come by once in a while when he was sober. I wanted to file for divorce but didn't have the money. He called often and kept telling me how much he loved us, but he never contributed any support for Alia.

Khalid's health was deteriorating and he spent a lot of time in and out of hospitals in San Francisco and Houston, Texas, where the Saudi Educational Mission was located, for alcohol-related problems. He would call me from one institution after the other and want to talk to Alia. Finally, he agreed to enter a twenty-eight day inpatient detox and rehabilitation program at Mary's Help Hospital near San Francisco. I drove him to the facility and we met with a counselor.

First, Khalid was given a quiz to see if he could be classified as an alcoholic. He answered all the questions with a yes response-even the one that asks, "Do you have any blackouts?" The interviewer said that his alcoholism had accelerated very rapidly in the five years that he had been drinking. He had all the acute symptoms. He was in denial and said it was just a minor problem in his life that he wanted to take care of. His liver enzymes were high, and he was seen by a team of psychiatrists who diagnosed him as a paranoid schizophrenic with delusions and hallucinations.

Khalid was uncooperative and detached and refused to participate in the group meetings. He was sober and not liking it. He blamed me for all his problems and told the psychiatrist, "It is all my wife's fault."

He signed himself out of the hospital AMA (against medical advice) after twenty days. The Saudi Educational Mission paid for it, as they would pay for his multiple alcohol-related and psychiatric hospitalizations. They asked no questions, and the bills were always paid. He continued to receive his monthly check from the Saudi Educational Mission even though he hadn't attended school for several years. It enabled him to stay in the States but eventually that, too, dried up.

Brooks Brothers

Khalid returned to Saudi Arabia and we didn't see him for almost two years. During that time, I hired an attorney and filed for divorce. Alia was almost three and becoming prettier every year. With her white skin, dark eyes and hair, and red heart-shaped lips, she looked like Snow White. She was in the same preschool that Daina had attended, and our lives were full. I was struggling with finances and we had no money for extras, but I had peace of mind.

One night I got the call. "Hello, Pat. This is Khalid. I am with my father in Los Angeles. We are here on business." He was not happy about the idea of divorce. "If you divorce me, I will make trouble for you, Pat. You know how much I love you and Alia. I will never let you go, Pat. Don't do this. I will get my lawyer after you and take Alia away from you. I beg you, don't divorce me. You are my wife."

"I'm serious about this, Khalid. That's it."

"I have changed a lot," he protested. "I don't drink anymore, and I am working with my father. We are here to buy equipment for his business. He is going to make me a partner in his business. You should see me. You wouldn't believe how I have changed. I exercise and take care of myself. I am strong and healthy. Can we just come to San Francisco to see you and Alia? My father wants to see Alia. This is his first grandchild. Please don't say no to me, Pat."

"All right-just to see Alia."

Hamad and Khalid came to San Francisco and stayed at the St. Francis Hotel downtown. They were wearing their best $1,500 suits and took us out to dinner. They played with Alia and bought her all new clothes and toys. Hamad spoke to me.

"Come to Saudi Arabia. It is nice for you. Good place for children. Peaceful. No guns like here. Bring Alia and stay at my home. You are welcome. Khalid is good now. Drinking made him crazy. Now, no drink."

When Khalid was sober and wanted something, nothing could stop him. He was an artist. He did not want me to divorce him and pulled out all stops. He looked good, smelled good, and was charming. He brought me gold jewelry from Arabia, played with Alia, and turned on the charm. He reeled me in. And I was such a defenseless fish.

One Plus One

I was pushing my Prego baby stroller up the ramp at St. Luke's Hospital School of Nursing one balmy autumn afternoon to a reception for incoming freshmen. Alia was holding on to the handle of the stroller as my new two-month-old daughter, Aisha, wrapped in her pink knit blanket, slept peacefully. I was determined to get a nursing degree to support my daughters and be financially independent.

Khalid did not go into business with his father. Hamad gave him nearly $50,000 and he spent it all-none of it on us. He then left us when Aisha was four months old and returned to the safety of the kingdom of Saudi Arabia where his father's villa and servants would take care of his every need. If he needed more money, he would ask his father or another relative. There was an unending supply. His daughters that he supposedly loved so much were left for me to support and care for.

As I entered the large room where the gathering was held, a woman smiled at me and said, "Women can do anything, can't they?" She would become one of my instructors at the school and a very good friend who saw me embarking on a nursing career with an infant and a toddler and knew what a tough journey it would be.

The course was challenging, and I had no free time between the children, school, and a part-time job. My mother had come back into my life and stayed with us for a while. She had to retire because of a health problem and was still a very unhappy, tormented woman. She was restless and had a difficult time focusing.

After one year Khalid got a job in the kingdom and was sending me $500 per month. It was a Saudi-style job with many tea breaks, which suited him fine. He called often. He came to see us one Christmas and my mother chased him from the house with a few choice words. I watched him walk down the street in front of my house after the incident, thinking, I hope he keeps walking.

It was at that time that my son, Eric, fell seriously ill with a chronic neurological brain disorder. He was hospitalized for several months and I was nearly out of my mind with worry.

Another year passed, and I had only one more year of nursing school to complete. The girls, Daina, and I were doing well; Eric was placed in a long-term facility and we visited him often. Summer break was coming, and Khalid called to invite us to visit Saudi Arabia. He said we could all go to London on the way back for an extended holiday. I was exhausted and welcomed a much-needed break.

We got to Riyadh in June 1984. Khalid was sober and civil. Five-year-old Alia never warmed up to his parents, and his mother always frightened her. She clung to me. Aisha was more outgoing and would go up to strangers and ask them their name. She spoke very clearly for a two-year-old. Khalid took us to the old souk (market) and to the camel auction. He drove us to the archaeological ruins at Dharea and Al-Kharj. I had been to the Sahara and the Gulf and admittedly had a natural attraction to the quiet, barren beauty of these arid regions. I was finally fulfilling my youthful dream of studying antiquity, but somehow this was not how I had imagined it.

I met his relatives and they were externally polite, but there was an undercurrent of contempt for me as an American woman. The gender bias and the treatment of the servants bothered me. I witnessed Khalid's mother slap the housemaid across the face. She was an old Filipina who worked seven days a week and slept in their basement on a cot. I mentioned the incident to Khalid and he said, "It is not your business. She has a right to hit her."

The girls and I returned to San Francisco after six weeks. I had two semesters of school to finish and was anxious to get it over with. Two weeks after I got home I began to feel sick. I was dizzy, nauseous, and weak. I had pains in my legs and couldn't eat. At first I thought it was the flu, but it didn't go away. I went to see a doctor and the blood tests revealed that it was hepatitis. I kept getting worse, but I had to keep going. My schoolwork suffered; I was unable to keep my part-time job. I could barely take care of the girls. Finally I could not go to school any longer. I had to drop out of the program one semester before graduation.

Khalid called. "Why don't you come here? We have the best hospitals and American doctors. We can help you with the kids. You need to rest. Come here and stay for a while. My father is inviting you. We'll take care of you."

I didn't want to live in Saudi Arabia, but I was so sick. My mother had gone back to Chicago and couldn't help me. Daina was away at college. Eric was being taken care of. I thought I might just go for a few months until I recovered and then return to school for the fall semester.

As soon as we arrived in Riyadh, my life and the lives of my young daughters would be changed forever.