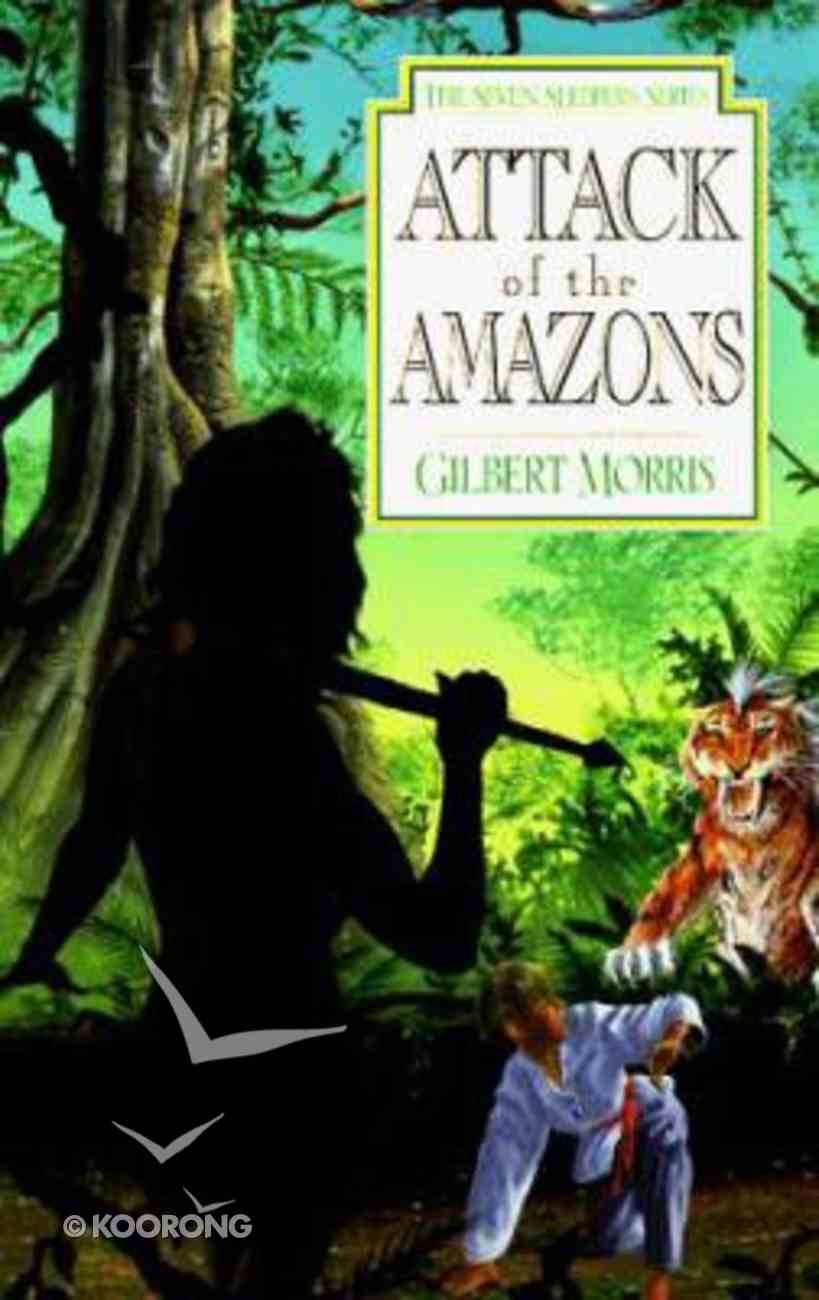 Attack of the Amazons (#08 in Seven Sleepers Series)
Out of Stock
Available to Order
---
Expected to ship in 4 to 5 weeks from Australia.
---
Free Shipping
for orders over $99.
16 Chapters
-Publisher

How would the Sleepers rescue this beautiful woman, helpless against her foes, tied to a tree and facing certain death? After a successful ambush, the Seven Sleepers find that she is anything but helpless. She's Princess Merle, the fierce daughter of Fedor. God has sent the Seven Sleepers on another mission, this time deep into the jungle in search of the Tribe of Fedor. And are they in for a surprise! Enter this topsy-turvy world where the women are savage warriors and the men are little more than slaves. Meet a witch doctor who claims the dark god demands the Sleepers as a sacrifice, and a bushy-headed historian who holds the secrets of the past. Experience the thrill of battle as the Seven Sleepers join in the conflict, seeking to bring peace and lead these women warriors into the house of God.


-Publisher
Gilbert Morris is one of todays best-known Christian novelists, specialising in historical fiction. His best-selling works include Edge of Honor (winner of a Christy Award in 2001), Jacobs Way, the House of Winslow series, the Appomattox series, and The Wakefield Saga. He lives in Gulf Shores, Alabama, with his wife, Johnnie. - Publisher.
<div>1. Happy Birthday--i Think!<br><br>2. The Power Of Go&#233;l<br><br>3. Old Friends<br><br>4. Jungle Trek<br><br>5. Sleepers To The Rescue<br><br>6. Another Fine Mess<br><br>7. Male And Female<br><br>8. Dave Gets An Education<br><br>9. Yesterday And Today<br><br>10. The Game<br><br>11. Tigers<br><br>12. The Plot Thickens<br><br>13. The Lady Or The Tiger<br><br>14. Lesson For A Princess<br><br>15. Battle Cry<br><br>16. Long Live The King!<br></div>

"What's a red-headed white girl doing out in this part of the world?""I don't know," Reb said, "but she's not long for this world if I don't mistake it.""What do you mean?" Josh demanded."I mean it looked like they was fixin' to do her in," Reb stated flatly. He shook his head, and his eyes narrowed, "They was puttin' some sticks around her feet. I think they're going to burn her up.""Well, we can't let that happen," Dave said.

Bestsellers in Confident Readers (Age 8-12)