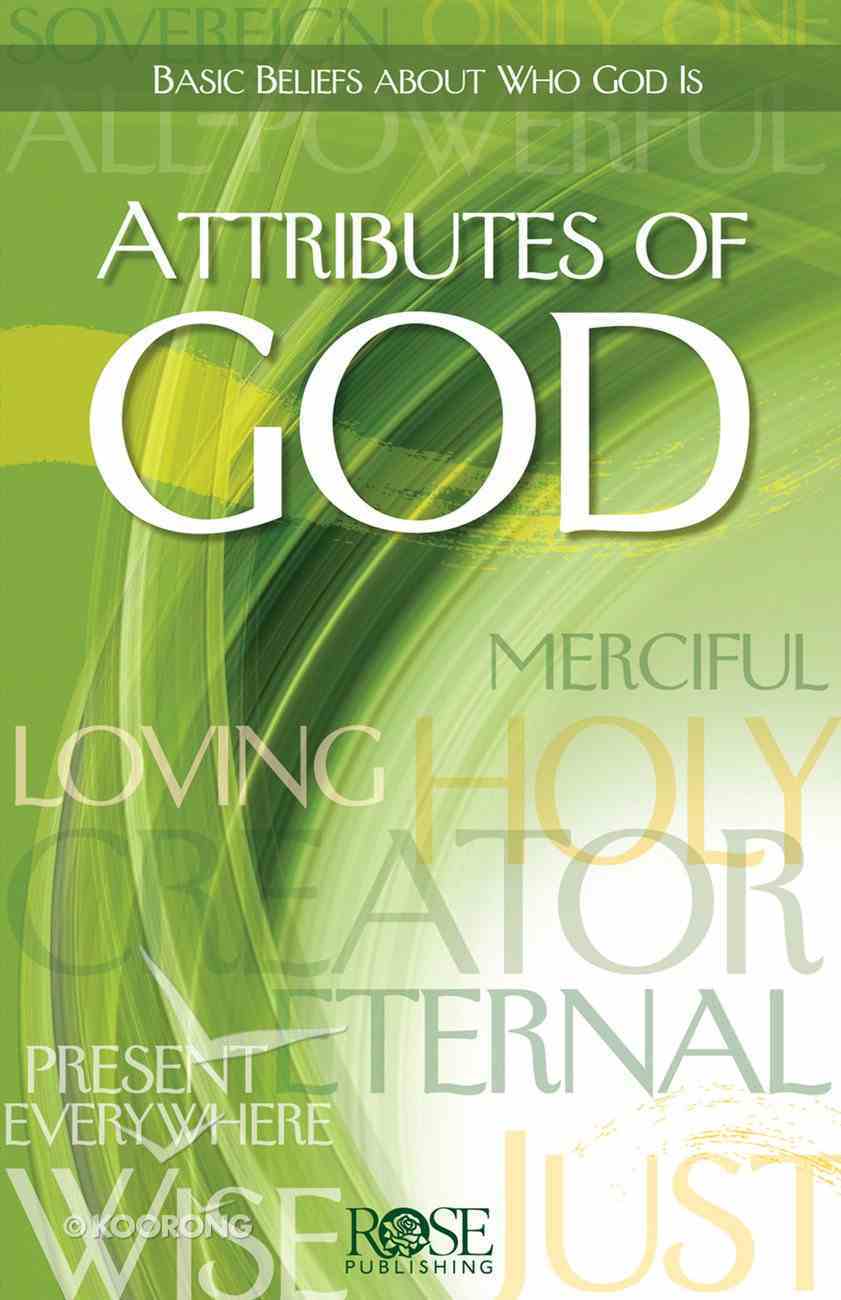 Attributes of God (Rose Guide Series)
5 Ways Knowing God's Traits Will Improve Your Life Perspective Finding Christ in Cancer: to Read How This Pamphlet Blessed a Rose Employee. Have you ever questioned God's goodness during tough seasons? It's easy to accept that God...
Instant download
---
Expected to ship tomorrow from Australia.
---
Read using our free app on your tablet or mobile!
---
Free Shipping
for orders over $99.
5 Ways Knowing God's Traits Will Improve Your Life Perspective
Finding Christ in Cancer: to Read How This Pamphlet Blessed a Rose Employee.


Have you ever questioned God's goodness during tough seasons? It's easy to accept that God is loving when you receive a promotion and that he's merciful when someone forgives you.


But, God's characteristics during troubling times can appear so abstract that applying his identity to our life circumstances can seem like a theological puzzle: we possess all the pieces but don't know how they fit together. How can God be good and my life remain troubled, uncertain, and instable?


Let's face the truth. Logically knowing God's traits is not enough to change our perspectives. We need an overview that allows us to meditate on his traits and that suggests practical ways to apply his identity to our everyday lives.


Rose Publishing's Attributes of God, a full color, 14-page pamphlet, explains 20 traits of God in an easy-to-reference chart. This easy-to-understand pamphlet explains each attribute, and provides probing questions and devotion-based activities to help you apply the insights to your personal walk.


Experience the relief, joy, and hope that comes from deepening your understanding of God's identity with Rose publishing's Attributes of God.


Knowing God's attributes will affect your-

Worship by deepening your understanding of God's praiseworthy attributes. Life Perspective by enabling you to discover the hope that comes from realizing that his very nature meets your every need. Relationship with God by fostering a more intimate awareness of His traits. Relationship with Others by revealing the traits you can develop as you seek after him, such as patience, faithfulness, and love. Identity by revealing to you your worth, as you focus on the astounding attributes of the God who loves you.
Covers the Following Attributes of God-


•Triune •Transcendent•Immutable•Eternal•Omnipresent•Loving•Holy •Jealous •Good •Just •Merciful •Sovereign •Omnipotent •Knowledgeable•Faithful •and MORE!


Use For-

Individual study Discipleship groups Small groups or Sunday school classes Christian or Home schools New Believers' class Support groups Prayer circles Church library Prison Ministry Worship Ministry
Why Buy Attributes of God?

Fosters a life changing perspective. Easy to read, full-color, and easy to understand. Features multiple charts and uses concise and simple language. Fast. This easy-to-read pamphlet can take less than 30 minutes to read. Durable. Attributes of God has a glossy coating which helps it last. Convenient. This pamphlet's small size makes it easy to carry inside most Bibles, folders, or binders. Engaging. Attributes of God offers fascinating facts and reflective questions that revitalize individual and group Bible studies. Lightweight. Easier to mail than a book, enabling you to uplift and equip friends, family members, and missionaries anywhere in the world.
Additional Discussion/ Reflection Questions

Read "God's Attributes As a Window" (Panel 2). All of God's attributes are equally important. How does viewing one attribute of God as more important than another distort a person's view of God? How might this affect the way a person behaves and acts? Do you primarily cling to one attribute of God? Explain. Read "Eternal and Creator" (Panel 5). Although God is limitless, we often struggle to trust him fully. What keeps us from trusting God fully? What would our lives be like if we did? Read "Immutable" (Panel 6). Immutable means that God never changes. Think of a time when God truly blessed you and seemed present in your life. How can remembering that the same God with you then is with you now help you face trials and bring you hope? Read "Good" (Panel 9). As the pamphlet points out, "We experience God's goodness in his love, patience, provision, and compassion." However, how does knowing God's eternal goodness affect our understanding of his discipline? How can we apply the concept of God's goodness to seasons of suffering and our perspective of the persecuted church?



Last Monday I discovered that my mom's cancer returned. Four years ago we fought her inflammatory breast cancer with surgery, radiation, chemotherapy, and most importantly prayer-and triumphantly won. As her strength returned, her hair grew back, and her therapy ended, we packed away her "Sugar and Spice" wig and her hot pink fleece beanies, believing that season in our life ended. So, the prospect of going through the journey again initially seemed unfair, emotionally exhausting, and stressful.


Thankfully, on Monday, upon hearing the diagnosis, I decided to retreat to my green Camry to wrestle with God in prayer. During this time, I noticed Rose Publishing's newest product, Attributes of God, on my passenger seat. (Working at Rose Publishing comes with the perk of receiving Rose's newest products to review). I randomly opened the pamphlet to page 6, which highlights God's immutable (unchangeable) character.


This section explains how "we can depend on God, our firm foundation to remain the same" and that "God's nature is reliable and trustworthy." He's reliable and trustworthy in the good, in the bad, and in cancer.


As I continued to read the pamphlet, I experienced the indescribable peace that comes from God alone. Rose Publishing's pamphlet represents more than a study resource; it presents the unfailing, unchanging, and unshakeable truth about who God is. And, God's Word does not return back void.


This 14-page, full color pamphlet illuminates not only 20 of God's traits, but provides practical reflections, helping you connect God's attributes to your life.


I asked if I could write about this product because it affected me so deeply. The more I thought about this product, the more I realized it remains applicable to everyone, whether you're in the midst of a storm or whether you're enjoying a time of prosperity.


I have learned that fear often arises when we minus God out of the equation of our lives. This isn't because He ever stops caring, but because we stop trusting in who He is. Attributes of God reminded me that in God's very nature my every need, concern, and want is met.


I pray that God will bless and speak to you through this pamphlet as he did to me.


Sincerely,


Katelyn Curran

Read "Merciful" (Panel 10). Although we deserve death because of our sins, God shows us mercy. Reflect on a time you withheld mercy from someone or someone didn't show you mercy. How did this lack of mercy affect your life? How does God's mercy affect whether or not you show mercy to someone else?
-Publisher
Bestsellers in Tracts/booklets