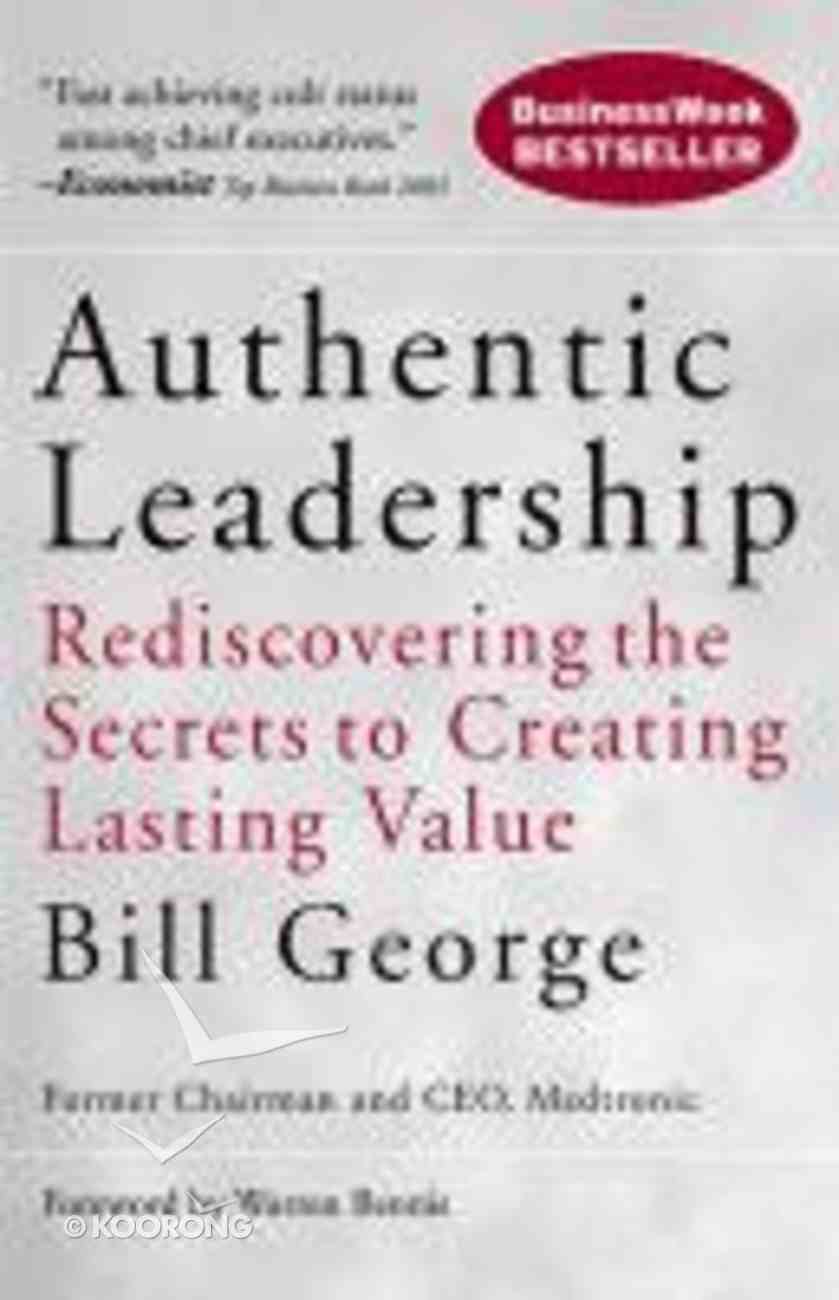 "Bill George will be remembered as much, perhaps more, for this book, as for his extraordinary leadership achievements over the last four decades." from the Foreword by Warren Bennis Leading CEOs and Leadership Gurus Enthusiastically Endorse Bill George2s Authentic Leadership...
Supplier is out of stock indefinitely
Unavailable
---
Free Shipping
for orders over $99.
"Bill George will be remembered as much, perhaps more, for this book, as for his extraordinary leadership achievements over the last four decades." from the Foreword by Warren Bennis Leading CEOs and Leadership Gurus Enthusiastically Endorse Bill George2s Authentic Leadership "Anyone interested in how to become an effective leader should meet Bill George, former CEO of one of America's finest companies--Medtronic."--Arthur Levitt, former chairman, U.S. Securities and Exchange Commission "Authentic Leadership is a powerful call for genuine and ethical business leadership, made ever more persuasive by Bill George2s own extraordinary life."--Walter Mondale, former vice president of the United States "This is the best book by a business leader that I've ever read!"--John C. Whitehead, former chairman and CEO, Goldman Sachs "Bill George is one of the most successful business leaders of all time."--Richard M. Kovacevich, chairman and CEO, Wells Fargo "In a time when ethical leadership has more value than ever, Bill George shows us the way with clarity and conviction."--Daniel Goleman, author of Emotional Intelligence and Primal Leadership "Bill George has won a legendary reputation for success and integrity in American enterprise. Read and grow!"--David Gergen, Center for Public Leadership, Harvard University, and author of Eyewitness to Power "I had a wonderful opportunity to learn from Bill George in several business ventures. Here, Bill gives a broader audience a chance to benefit from his wisdom."--Jeffrey Immelt, chairman and CEO, General Electric "Authentic Leadership is a priceless dialogue with Bill George, unquestionably America's preeminent steward of corporate integrity. This book is destined to be a classic."--Harvey Mackay, author of Swim with the Sharks Without Being Eaten Alive "In Authentic Leadership Bill George shows why he is recognized as one of the world's best corporate leaders."--Hank McKinnell, chairman and CEO, Pfizer
-Publisher
"Bill George will be remembered as much, perhaps more, for this book, as for his extraordinary leadership achievements over the last four decades."-from the Foreword by Warren Bennis Leading CEOs and Leadership Gurus Enthusiastically Endorse Bill George's Authentic Leadership'Anyone interested in how to become an effective leader should meet Bill George, former CEO of one of America's finest companies-Medtronic.'-Arthur Levitt, former chairman, U.S. Securities and Exchange Commission'Authentic Leadership is a powerful call for genuine and ethical business leadership, made ever more persuasive by Bill George's own extraordinary life.'-Walter Mondale, former vice president of the United States'This is the best book by a business leader that I've ever read!'-John C. Whitehead, former chairman and CEO, Goldman Sachs'Bill George is one of the most successful business leaders of all time.'-Richard M. Kovacevich, chairman and CEO, Wells Fargo'In a time when ethical leadership has more value than ever, Bill George shows us the way with clarity and conviction.'-Daniel Goleman, author of Emotional Intelligence and Primal Leadership'Bill George has won a legendary reputation for success and integrity in American enterprise. Read and grow!'-David Gergen, Center for Public Leadership, Harvard University, and author of Eyewitness to Power'I had a wonderful opportunity to learn from Bill George in several business ventures. Here, Bill gives a broader audience a chance to benefit from his wisdom.'-Jeffrey Immelt, chairman and CEO, General Electric'Authentic Leadership is a priceless dialogue with Bill George, unquestionably America's preeminent steward of corporate integrity. This book is destined to be a classic.'-Harvey Mackay, author of Swim with the Sharks Without Being Eaten Alive'In Authentic Leadership, Bill George shows why he is recognized as one of the world's best corporate leaders.'-Hank McKinnell, chairman and CEO, Pfizer See inside the book for more praise about Authentic Leadership.
-Publisher
In the wake of continuing corporate scandals there have been few, if any, CEOs that have stepped forward as models of "doing things right"--except the former chairman and CEO of Medtronic, Bill George. George has become the unofficial spokesperson for responsible leadership--in business, the media, and academia. ^ In "Authentic Leadership" Bill George makes the case that we do need new leaders, not just new laws, to bring us out of the current corporate crisis. He persuasively demonstrates that authentic leaders of mission-driven companies will create far greater shareholder value than financially oriented companies. During George's twelve-year leadership at Medtronic, the company's market capitalization soared from $1.1 billion to $460 billion, averaging 35% per year. ^ George candidly recounts many of the toughest challenges he encountered -- from ethical dilemmas and battles with the FDA to his own development as a leader. He shows how to develop the five essential dimensions o
-Publisher
PRODUCT DETAIL
Catalogue Code 

223969

Product Code 

0787975281

EAN 

9780787975289

Pages 

240

Department Academic
Category Leadership
Sub-Category General
Publisher Jossey Bass
Publication Date 

Jul 2004

Dimensions 

228 x 153 x 17

mm

Weight 

0.295

kg
Bill George is professor of management practice at the Harvard Business School and former chairman and CEO of Medtronic, the world's leading medical technology company. Under his leadership, Medtronic's market capitalization grew from $1.1 billion to $60 billion, averaging 35 percent a year. He is the author of the best-selling "Authentic Leadership" and a board member of Goldman Sachs, Target, and Novartis. George has been recognized as "Executive of the Year" by the Academy of Management Director of the Year" by the National Association of Corporate Directors, and one of "Public Broadcasting
:<p>foreword Xv<br /> <i>warren Bennis</i></p> <p>preface: A New Generation Of Leaders Xvii</p> <p>introduction: Where Have All The Leaders Gone? 1</p> <p><b>part One: Becoming An Authentic Leader</b></p> <p>1. Leadership Is Authenticity, Not Style 11</p> <p>2. The Transformation Of Leaders 27</p> <p>3. Leading A Balanced Life 45</p> <p><b>part Two: Building An Authentic Company</b></p> <p>4. Missions Motivate, Dollars Don't 61</p> <p>5. Values Don't Lie 71</p> <p>6. It's The Customer, Stupid! 81</p> <p>7. It's Not Just The Ceo 91</p> <p>8. Whose Bottom Line: Customers Or Shareholders? 101</p> <p><b>part Three: In The Crucible Of The Market</b></p> <p>9. Seven Deadly Sins: Pitfalls To Growth 109</p> <p>10. Overcoming Obstacles: Nothing Can Stand In Your Way 117</p> <p>11. Ethical Dilemmas: When In Rome, Don?t Follow The Romans 127</p> <p>12. Innovations From The Heart 133</p> <p>13. Acquisitions Aren?t Just About Money 143</p> <p>14. Shareholders Come Third 153</p> <p><b>part Four: Beyond The Bottom Line</b></p> <p>15. Governance Is Governance 165</p> <p>16. Sticking Your Neck Out 177</p> <p>17. Preparing For Succession . . . And Moving On 187</p> <p>epilogue: If Not Me, Then Who? If Not Now, When? 197</p> <p>medtronic Financial Results 201</p> <p>suggested Reading 203</p> <p>acknowledgments 207</p> <p>the Author 209</p> <p>index 211</p>
Bestsellers in Leadership