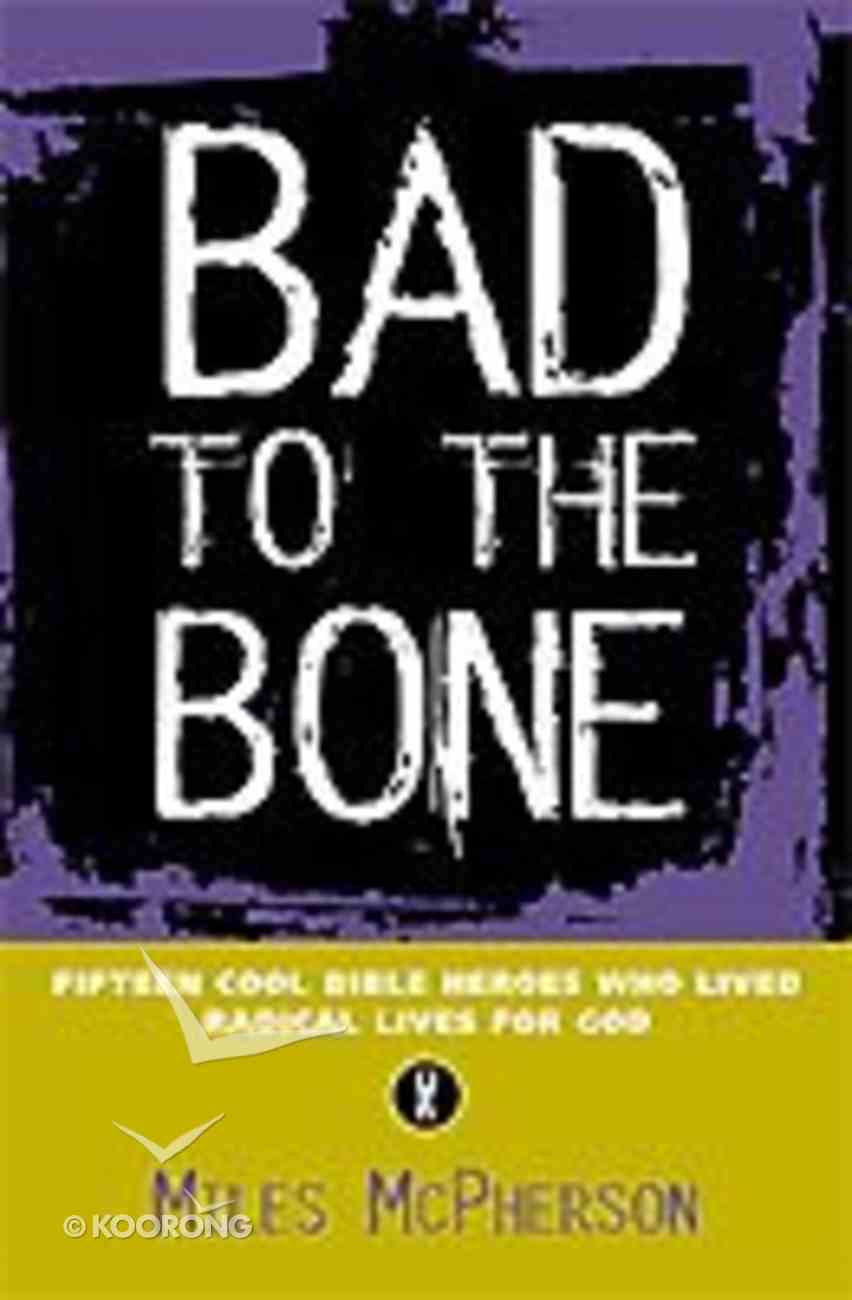 Whether battling lions, slaying giants, or leading armies, these young rebels for God will show you how to live large and stand tall.Sometimes you just need to rebel.as long as you're rebelling against the right things. In your school, with...
Unavailable. Out of Print. Only available while stock lasts.
Out of Print
---
Free Shipping
for orders over $99.
Whether battling lions, slaying giants, or leading armies, these young rebels for God will show you how to live large and stand tall.Sometimes you just need to rebel.as long as you're rebelling against the right things. In your school, with your friends, in your free time there's a lot of people making the wrong choices. God's calling you to go against the grain of what the world teaches and be singled out for resisting the temptations of teenage life. It's not easy, though, and you might feel like you're alone. In Bad to the Bone, Miles McPherson shows you that young men and women have been God's rebels for thousands of years and he introduces you to some young Bible heroes whose example will help you live a life of faith.Created to be used in Bible studies, youth groups, or in your daily devotions, Bad to the Bone spotlights thirteen young men and women from the Bible and gives you the inside scoop on the admirable trait that made their lives of devotion so different. Chapters include:Be Disciplined Like Daniel Be Worthy Like Esther Be a Dreamer Like JosephBible readings, memory verses, devotional thoughts, and interaction questions provide daily chances to go in-depth into the world of these young Bible heroes. Weekends are spent exploring the lives of some not-so-great girls and guys from the Bible. These "Weekend Warriors"show you the types of behavior you should try to avoid. Today, you are being asked, and sometimes forced, to conform and dull down rather than live large as disciples of Jesus. God, though, is on the lookout for young people who are not afraid of standing strong and tall in what they know is right. For generations he has found young girls and guys willing to rebel against the ways of the world. Now, it's your time and your turn. It's time to get "bad to the bone."
-Publisher
Tells the stories of young biblical heroes who were not afraid to reject evil and to turn their lives over to God and suggests ways to respond to these accounts.
-Publisher
Miles McPherson is president and founder of Miles Ahead Ministries and speaks to hundreds of thousands of teens and adults each year. A former defensive back with the San Diego Chargers, Miles is a nationally known evangelist and the founder of The Rock Church, which meets at San Diego University. Miles and his wife make their home in San Diego with their three children. ýIn his ministry Miles has talked to young people from all walks of life???one-on-one and in youth rallies of thousands. He knows what makes them tick, especially rebellious teenagers. That's because he was one. As a junior