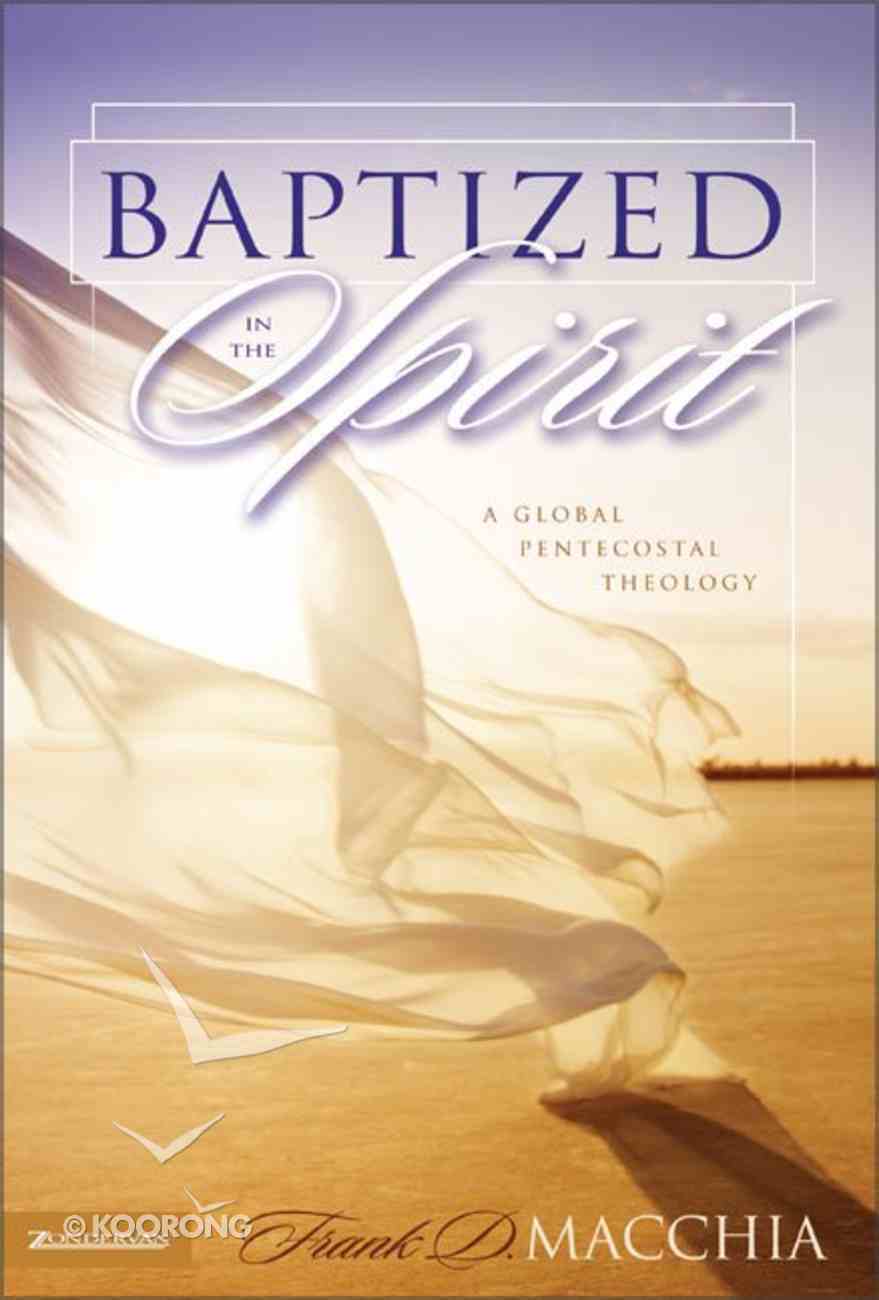 Frank Macchia builds a comprehensive pneumatological foundation for theological renewal in the twenty-first century, interacting with many of the key theologians of the twentieth century and showing how contemporary trends in Pentecostal and charismatic thinking can aid the cause of...
---
Expected to ship on Monday from Australia.
---
Free Shipping
for orders over $99.
Frank Macchia builds a comprehensive pneumatological foundation for theological renewal in the twenty-first century, interacting with many of the key theologians of the twentieth century and showing how contemporary trends in Pentecostal and charismatic thinking can aid the cause of ecumenism and global Christianity.

BAPTISED IN THE SPIRIT creatively examines the most recent trends in Pentecostal and charismatic theology, especially with regard to the displacement of Spirit baptism as Pentecostalism's central distinctive. The author begins by focusing on the significance of the Holy Spirit in reciprocal and mutual work with the Son in fulfilling the will of the Father. He also shows how the pneumatological emphases in Pentecostal and charismatic theology can help to correct the tendency in Western Christianity to subordinate the Spirit to the Word.

-Publisher
PRODUCT DETAIL
Catalogue Code 

224033

Product Code 

0310252369

EAN 

9780310252368

UPC 

025986252366

Pages 

296

Department Academic
Category Theology
Sub-Category Pneumatology
Publisher Zondervan
Publication Date 

Mar 2006

Sales Rank 

29412

Dimensions 

228 x 152 x 22

mm

Weight 

0.371

kg
Frank D. Macchia (D.Theol., University of Basel, Switzerland) is professor of theology at Vanguard University in Costa Mesa, California. He has served as president of the Society of Pentecostal Studies and is a member of the Faith and Order Commission of the National Council of Churches. Frank is senior editor of Pneuma: The Journal for the Society of Pentecostal Studies and author of Baptized in the Spirit: A Global Pentecostal Theology; The Trinity, Practically Speaking(Biblica Publishing, 2010) and Justified in the Spirit: Creation, Redemption, and the Triune God (Eerdmans, 2010)
Koorong -Editorial Review.
Contents
Acknowledgments..... 9
1 Introduction:
Framing The Issue..... 11
2 Spirit Baptism And Pentecostal Theology:
Returning To Our Central Distinctive..... 19
Is Spirit Baptism The Central Pentecostal Distinctive?..... 20
From Sanctification To Spirit Baptism: Early Fragmentation..... 28
Spirit Baptism And Doctrinal Diversity: The Developing
Challenge..... 33
From Spirit Baptism To Eschatology: Towards Coherence..... 38
From Spirit Baptism To Oral Theology: The Challenge
Of Theological Method..... 49
Postscript: The Unfinished Business Of Pentecostal Theology..... 57
3 The Kingdom And The Power:
Expanding The Boundaries Of Spirit Baptism..... 61
Spirit Baptism And Regeneration..... 64
Spirit Baptism And Water Baptism..... 72
Spirit Baptism And Empowerment..... 75
Eschatological Framework..... 85
4 Christ As The King And The Spirit As The Kingdom:
Spirit Baptism In Trinitarian Perspective..... 89
The Pentecost-kingdom Connection..... 91
Spirit Baptism And The Church's Faith In Jesus..... 107
Spirit Baptism As A Trinitarian Act..... 113
Spirit Baptism And Elements Of Life In The Kingdom..... 129
- Spirit-baptized Justification..... 129
- Spirit-baptized Sanctification..... 140
- Spirit-baptized Witness..... 145
In Sum..... 153
5 Signs Of Grace In A Graceless World:
Toward A Spirit-baptized Ecclesiology..... 155
Spirit Baptism And Koinonia..... 156
Toward A Spirit-baptized Anthropology..... 168
The Spirit-baptized Church: The Pluralist Challenge..... 178
The Spirit-baptized Church: Toward A Critical Dialectic..... 190
The Spirit-baptized Church: Biblical Models..... 199
- People Of God..... 200
- Body Of Christ..... 201
- Temple Of The Spirit..... 203
The Marks Of The Spirit-baptized Church..... 204
- Unity..... 211
- Holiness..... 222
- Catholicity..... 224
- Apostolicity..... 229
'marks' Of Preaching, Sacraments, And Charismatic Fullness..... 241
- Preaching..... 244
- Sacraments..... 247
In Sum..... 256
6 Baptized In Love:
The Spirit-baptized Life..... 257
Importance Of Divine Love..... 259
Toward A Theology Of Love..... 261
Faith And Love..... 265
Hope And Love..... 269
Spirit Baptism As Love's 'second Conversion'..... 280
Scripture Index..... 283
Subject Index..... 291
Author Index..... 293
Baptized in the Spirit I SUPPOSE I WAS A TYPICAL EIGHTEEN-YEAR-OLD, EXCEPT I WAS PERHAPS more confused than most about the direction in which my life was going. It was the year 1970, so my state of mind seemed to be shared by many I knew at the time. I had spent most of my teen years trying to run from God and was attempting to figure out where I might possibly run without meeting God when I arrived. I experimented with drugs and lived as though God were nothing more than a distant thought. There were moments when I felt drawn away from my illusionary existence toward the ultimate reality. But I resisted. Then came that decisive evening shortly after my high school graduation. I woke my father, an Assemblies of God minister, from a sound sleep at about midnight to let him know that I wanted to leave home to find myself. I had always admired him. He was strict but fair. His downto- earth humility appealed to me. I especially liked the way the church members affectionately called him 'Brother Mike.' He seemed to relate to them more as a brother than an authoritative pastor, though many took him without question as a lifelong spiritual father. My mother, Elizabeth, besides her crazy sense of humor, had conveyed her deep faith to me by teaching me church choruses as a child. She persuaded me to sing them in church before the congregation. My tenor voice made me a favored choice for singing solos at our local church, an early experience of ministry that was formative to my early spiritual development. When I woke my father that night, I was far from the faith of my childhood. But telling my father that I wanted to leave home gave him an opportunity to reach out to me. What followed was an all-night conversation that I will never forget. He spoke to me from the Bible and from many stories of faith from my family's history. I was moved deeply. It made me feel that I could not possibly run from God. To do so would cause me to run from something that was deep inside of me, something I could not deny without denying an essential part of who I was. Hours passed like minutes, but I held out. I would not yet give my heart to Christ, so we both ended up going to bed exhausted. It was near dawn as I entered my bedroom. I knelt next to my bed and wondered what I should pray. I remember telling God that I did not know what to say. I said something simple like, 'I only know that I need you, Lord. I give you my life.' With that brief prayer, I lay down to the most peaceful sleep I had enjoyed in a long time. The following day I told my parents what had happened and that I wanted to leave for a Bible college in order to discover my future in God. Yes, I would get my wish to leave home in order to find myself, but in a way that I had not planned. Their joy was tempered by my felt need to leave the neighborhood as soon as possible. There was a network of friends that was sure to tear away at my fledgling faith. I needed time away with God to be grounded in the faith. My father arranged for me to attend Central Bible College in Springfield, Missouri. My first day on campus contained all of the anxieties of a new experience. I was not sure I wanted to stay. My father persuaded me to give it a month and left me there with high hopes early in the afternoon of the second day. Moments later I purchased a Bible at the bookstore and sat down to read from it in my sparsely-furnished dorm room. The Bible was a large, plain study Bible that I had bought for my classes. I remember turning to the book of Acts. I began reading. Though I was familiar with several of the stories in that book, they seemed to come alive before my eyes as never before. The text drew me in. I was there when the disciples gathered around the risen Christ, and at Pentecost when the Spirit fell on the disciples as they prayed in tongues surrounded by flames of God's holy presence. I was also there when Peter and John were beaten for their faith but rejoiced at the privilege of suffering for Christ, and when Peter witnessed the Gentiles being filled with the Spirit. I accompanied Paul on his journeys and participated in his numerous adventures. I read the entire book of Acts without moving from my chair. I was awe struck. I opened the shade covering the window next to me and beheld the sun setting. I saw shades of red and yellow across the sky and I could feel the tears roll off of my cheeks. I remember thinking that I could not possibly be the kind of Christian who merely 'played church.' That certainly was not how the Christians lived in the book of Acts. God was so real to them. They lived daily in the awareness of God's presence and guidance. Life was an adventure in the Lord's service and there were moments when God visited them with undeniable signs of divine favor and power. They had a fire burning in their hearts. I determined in that moment that I wanted to be a Christian like them. I felt a calling from God grip me---God was calling me to lifelong ministry. My presence at that small Bible college in southwest Missouri was no accident. At that very moment, a few of the new students I had met earlier came to my room and invited me to pray with them at the dorm chapel. What timing! The chapel was located on the third floor of the dorm, a small room with benches along the walls and a plain wooden cross at the center of the wall facing the door. No sooner had I entered the room that I fell to my knees and began to pray. I began to cry and to search for words that I could not find. Meanwhile, my schoolmates began to pray for me. I felt a fountain well up within me. It grew stronger and stronger until it burst forth with great strength. I began to pray in tongues. It was not forced, neither from me nor from God. In fact, it seemed at the moment to be the most natural thing to do. By now I lay there on the floor with my eyes fixed on that cross. I felt God's powerful presence embrace me, and while accepting my calling to the ministry, I made promises to God that have accompanied me throughout my life.