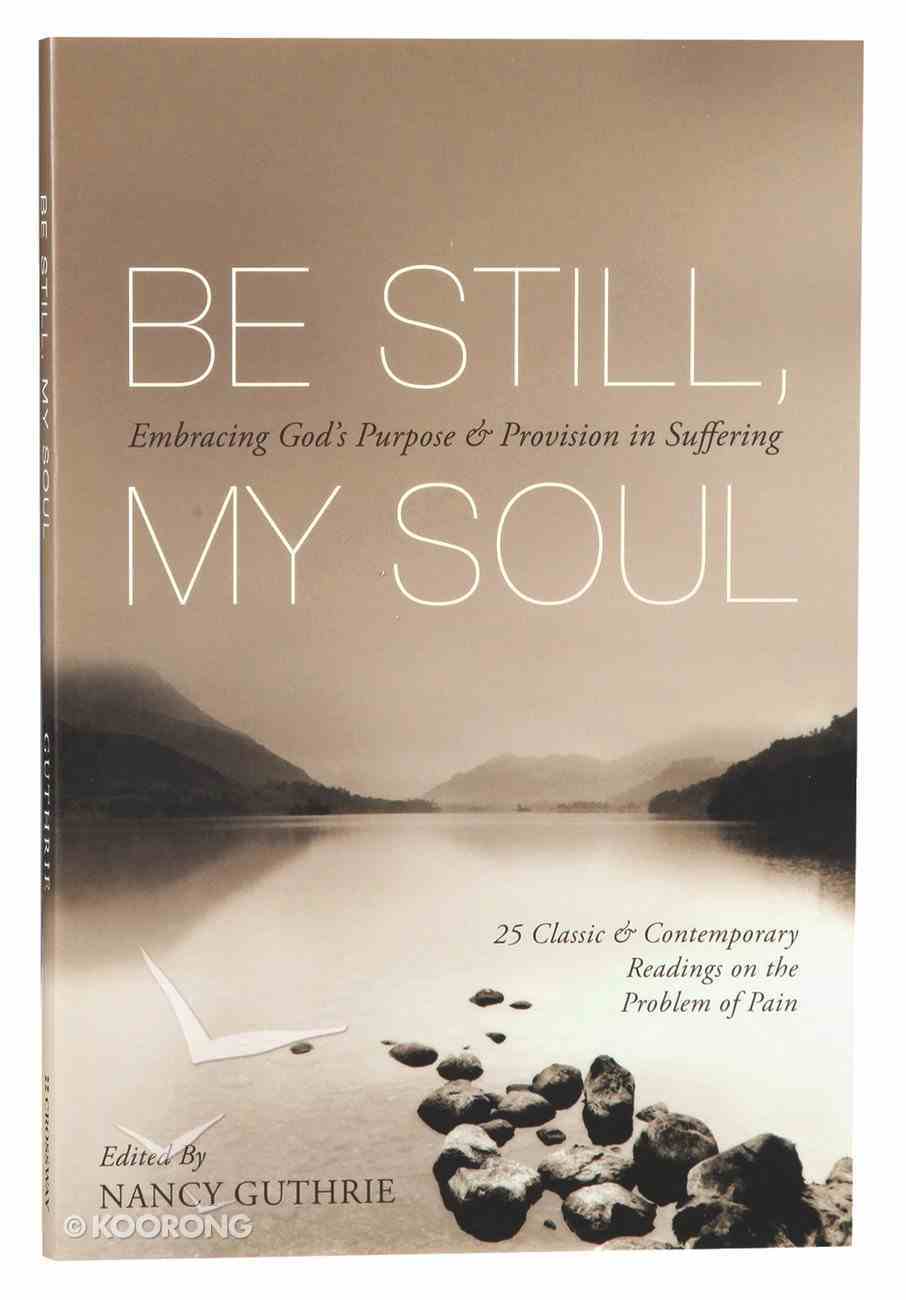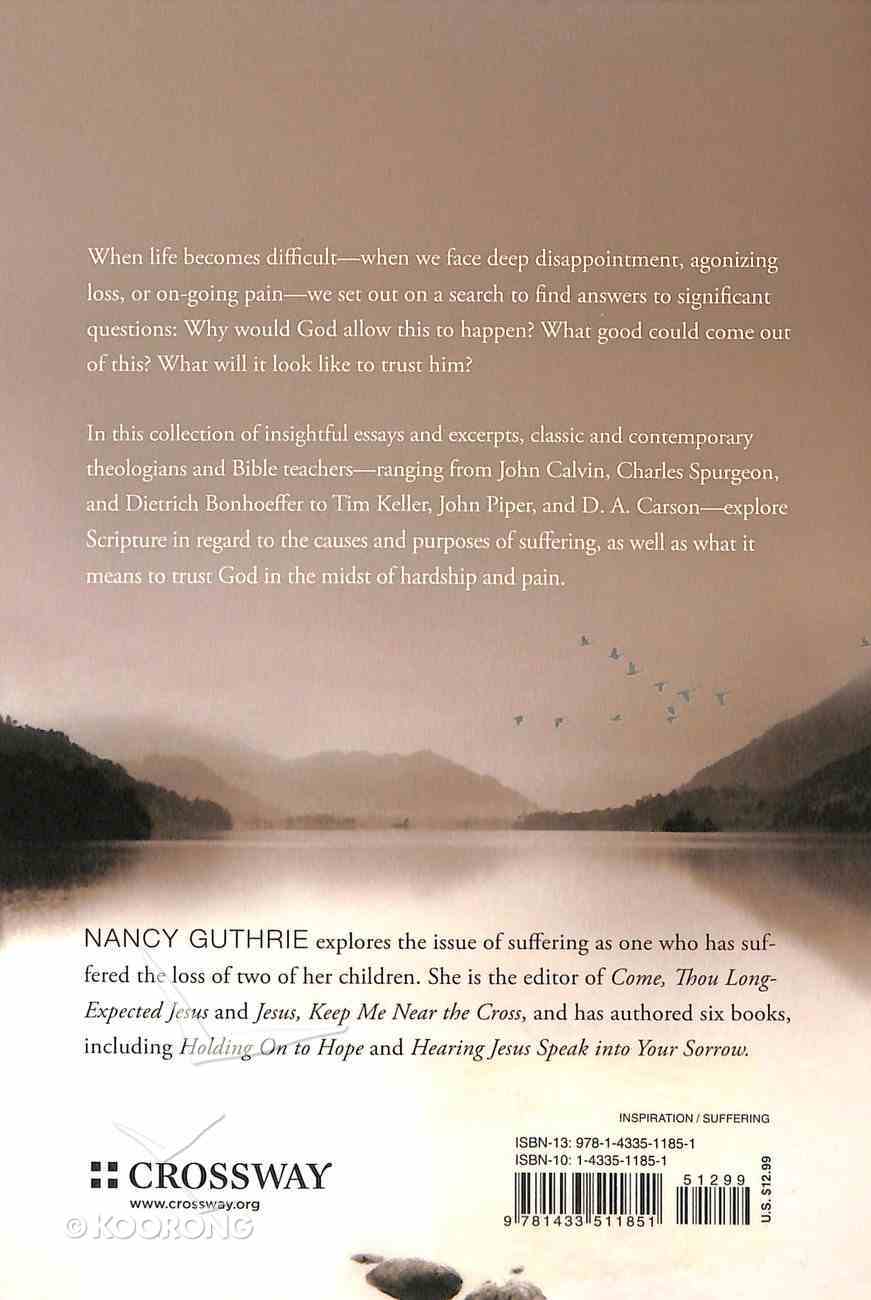 Since the beginning of humanity, the question of suffering-why it happens and how God works in it-has existed. What are you doing, God? Why is this happening? Where are you? These questions fill our...
Available Now
10+ Available
---
Expected to ship on Monday from Australia.
---
Free Shipping
for orders over $99.
Since the beginning of humanity, the question of suffering-why it happens and how God works in it-has existed.

What are you doing, God? Why is this happening? Where are you? These questions fill our thoughts when we experience deep pain and tragedy. Having lost two young children who suffered from a rare and incurable disease, editor Nancy Guthrie has put together this helpful collection of short readings exploring the question of suffering.


^^This anthology includes essays from both classic and contemporary theologians, Bible teachers, and missionaries such as John Calvin, Charles Spurgeon, Dietrich Bonhoeffer, John Piper, Corrie ten Boom, Joni Eareckson Tada, and Helen Roseveare. Each entry expounds on a Bible verse, leading readers to see and be comforted by God's perspective, purpose, and provision in suffering.^


-Publisher
This exceptional collection of twenty-fiveshort readings drawn from the writings or sermons of classic andcontemporary theologians and Bible teachers will encourage anyoneseeking to make sense of suffering. All of us know what it is to suffer, from the loss of a job, theend of a marriage, a chronic disease, or the death of a loved one.We wonder what God could be doing or if he is involved in it atall. We wonder how anything good can come out of it and how to findGod in the midst of it. Nancy Guthrie, who has sought to make senseof the suffering she has experienced in the loss of two of herchildren, has put together this helpful collection of shortreadings that help to re-shape our perspective about suffering,renew our confidence that God has a good purpose in our suffering,and remind us of God's presence with us in our suffering. This anthology includes chapters by classic and contemporarytheologians and Bible teachers ranging from John Calvin, CharlesSpurgeon, Dietrich Bonhoeffer, and Jonathan Edwards to John Piper,Tim Keller, D. A. Carson, and Joni Eareckson Tada. This collectionhelps us to leave behind a sentimental or stoic approach tosuffering, and embrace solidly scriptural answers to our questionsabout suffering.
-Publisher
Those who have watched Nancy and David Guthrie walk through the loss of two infant children, and the millions who have read their story worldwide in TIME Magazine and USA Today, have wondered at their ability to emerge from such sorrow with joy for life and passion for God. In reality, this deep place of pain caused Nancy to dig into the scriptures like she never had before, looking for answers to her questions and a deeper relationship to God.
She offered many of the lessons she learned from this sorrowful experience in her 2002 book, Holding On to Hope: A Pathway of Suffering to the Heart of God (Tyndale House Publishers) which has helped thousands of people pursue God in the midst of their suffering. She regularly hears from readers book from all around the world who have been touched by the as the book as it has been translated into numerous languages including Spanish, Portuguese, German, Danish, Norwegian, Korean and Chinese.


Nancy has also written The One Year Book of Hope (also Tyndale), a daily devotional for people who are hurting or grieving, When Your Family's Lost a Loved One (with her husband, David), Hoping for Something Better (a study of the book of Hebrews) and Hearing Jesus Speak Into Your Sorrow.


The Guthries have seen God continue to use their loss to minister to other people going through loss in a variety of ways, including serving as co-hosts for a new production of the GriefShare video series. GriefShare is a 13-week video curriculum series that is used to facilitate weekly grief groups in more than 6,000 churches nationwide


Bestsellers in Grief, Comfort & Consolation