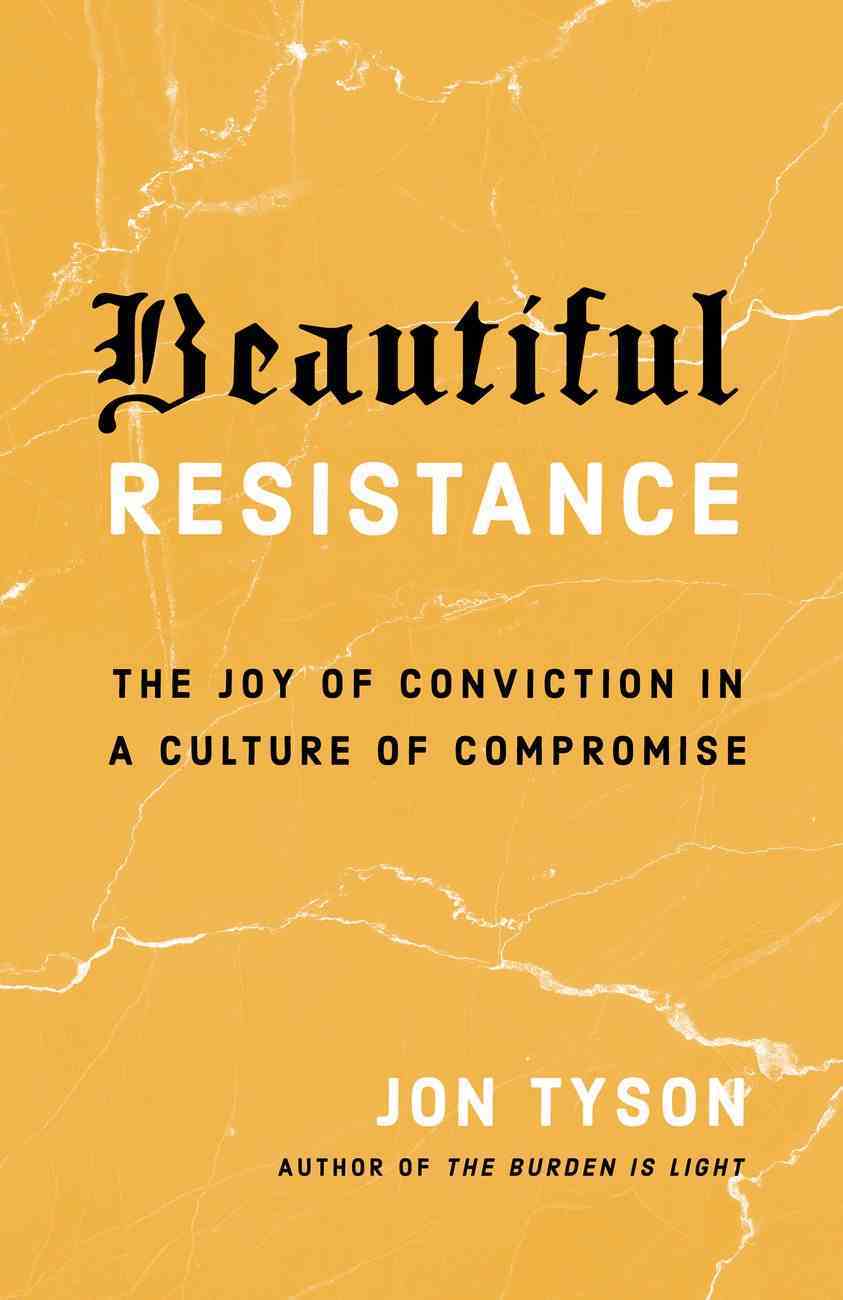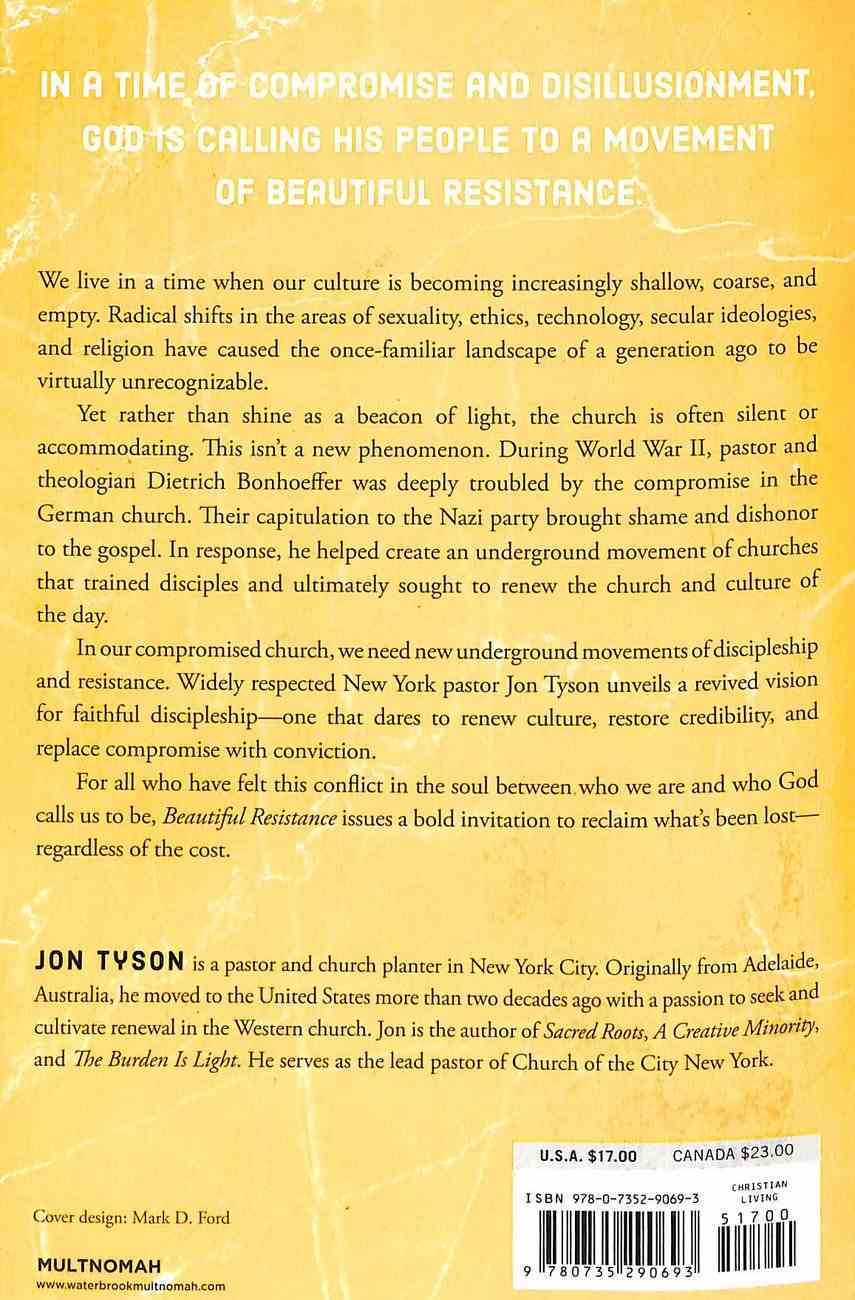 Beautiful Resistance: The Joy of Conviction in a Culture of Compromise
:In a time of compromise and disillusionment, a New York City pastor sounds the call for a movement of beautiful resistance. We live in a time when our culture is becoming increasingly shallow, coarse, and empty. Radical shifts...
---
Expected to ship tomorrow from Australia.
---
Free Shipping
for orders over $99.
:In a time of compromise and disillusionment, a New York City pastor sounds the call for a movement of beautiful resistance.

We live in a time when our culture is becoming increasingly shallow, coarse, and empty. Radical shifts in the areas of sexuality, ethics, technology, secular ideologies, and religion have caused the once-familiar landscape of a generation ago to be virtually unrecognizable.

Yet rather than shine as a beacon of light, the church often is silent or accommodating. This isn't a new phenomenon. During World War II, pastor and theologian Dietrich Bonhoeffer was deeply troubled by the compromise in the German church. Their capitulation to the Nazi party brought shame and dishonor to the gospel. In response, he helped create an underground movement of churches that trained disciples and ultimately sought to renew the church and culture of the day.

In our compromised church, we need new underground movements of discipleship and resistance. Widely respected New York pastor Jon Tyson unveils a revived vision for faithful discipleship-one that dares to renew culture, restore credibility, and replace compromise with conviction.

For all who have felt this conflict in the soul between who we are and who God calls us to be, Beautiful Resistance is a bold invitation to reclaim what's been lost-regardless of the cost.
-Publisher
Jon Tyson is a widely respected church planter and leader in New York City and the author of Beautiful Resistance. Originally from Australia, Jon moved to the United States two decades ago with a passion to cultivate renewal in the Western church. He speaks regularly at events around the world, including Q Conference and Catalyst. Jon lives in the Hell's Kitchen neighborhood of Manhattan with his wife and two children. Learn more at www.churchofthecitynyc.com.
Twitter: @JonTyson
:
Introduction


It's early in the morning and I am drinking bad coffee, trying to keep my eyes open after a late-night drive. I am in Poland, where I do not speak the language, cannot understand the street signs, and do not know exactly where I am going. I am trying to find a scene from the life of Dietrich Bonhoeffer that has haunted me since I read about it five years ago.


I drive along the Eastern Oder River. The air is warm; the day is quiet—not much in sight. There are no historical markers, no signs of what I am looking for.


Finally I see it—a small hill above the banks of the river. I park and walk up. From a clearing, as I knew I would, I have views down the river toward a place called Finkenwalde and up the hill to the site of a former German airfield. Here on this hill, eighty years earlier, a conversation took place that still resonates for me and for all who are concerned with whether Christ or culture will have the ascendancy in our generation.



A Place Called Finkenwalde


Dietrich Bonhoeffer was one of Jesus's exemplary disciples of the last century. His faithfulness to Christ in the midst of a failing church has borne witness long after his short life. Bonhoeffer was not raised in a fundamentally religious home, yet exposure to the Roman Catholic Church during his travels, and relationships with some key Protestant theologians of his day, drew his heart into the beauty and power of the church. After completing his doctorate at the age of twenty-one, he grew to become a significant figure in the resistance against Hitler and the broken German church.


In 1933 the threat of Nazi power was growing in Germany, and many were concerned about the compromise of the church with the Nazi movement. The church was capitulating to and cooperating with the Reich, handing the loyalties that belong to Christ to the Führer. Bonhoeffer expert Gaylon Barker pointed out, "Hitler did not merely want to rule Germany politically; rather, he wanted to control the hearts and souls of its citizens. At a very fundamental level, therefore, this was as much a religious battle as it was a political struggle." It would eventually lead to one of the darkest moments in the history of the church and the extermination of more than six million Jews.


As many sat by, the takeover of the church accelerated. When a Nazi-supported group gained control of the German Evangelical Church, they wanted to exclude all non-Aryan clergy, revise the liturgy to make it more German, and even remove the Old Testament from the Bible. At a 1934 synod that led to the establishment of the Confessing Church, Bonhoeffer signed the Barmen Declaration, which was to become a manifesto of fidelity to Christ. Penned largely by Karl Barth, it declared the church was to be loyal to Christ and not to be an organ of the state.


Seeing the weakness of many German pastors and their lack of preparation for obedience to Christ and resistance to the regime, the Confessing Church sensed the need for stronger training. In 1935 Bonhoeffer accepted the invitation to create an underground seminary that would match orthodox belief with orthodox praxis. His vision was an intentional Christian community committed to living the ethic of Jesus found in the Sermon on the Mount.


In the providence of God, a large, empty house—originally a manor house of the von Katte family—was available near Stettin, in the rural town of Finkenwalde. There a schedule of study and common life began. Seminary life centered on prayer, the Scriptures, confession, and shared rhythms, and much of the vision was included in Bonhoeffer's well-known worksLife Together and The Cost of Discipleship.


For the students, in the middle of the onslaught of hell, this was a portal to heaven. Bonhoeffer wrote during this period, "The physical presence of other Christians is a source of incomparable joy and strength to the believer." Their daily rhythm of life together was built on a vision for a new kind of disciple, one characterized by fidelity to Jesus Christ despite the cost, one who believed in Christ's millennial reign, not that of the Reich. This robust vision of discipleship would be tested as the Gestapo would arrest more than two dozen Finkenwalde students after the seminary was shut down.



This Must Be Stronger than That


When Bonhoeffer's friends began to read copies of his sermons and hear reports about the intensity of the discipleship at Finkenwalde, questions began to arise. Was this level of formation truly necessary? Would the Finkenwalders burn out? Would they lose credibility and be seen as too extreme by the national leadership?


One friend in particular, a young historian named Wilhelm Niesel, who had heard Bonhoeffer lecture in 1933, came up from Berlin to visit, being "suspicious of too much 'spiritualism.'" Bonhoeffer took Niesel on a rowing trip to the Oder Sound. One author described the scene this way:


When the two rowers reached the far shore, Bonhoeffer led Niesel up a small hill to a clearing from which they could see in the distance a vast field and the "runways of a nearby squadron." German fighter planes were taking off and landing, and soldiers moved hurriedly in purposeful patterns, like so many ants. Bonhoeffer spoke of a new generation of Germans in training, whose disciplines were formed "for a kingdom…of hardness and cruelty." It would be necessary, he explained, to propose a superior discipline if the Nazis were to be defeated.


"You have to be stronger than these tormentors that you find everywhere today."


This image is the one that haunted me and drew me to the banks of the Oder after a sleepless night of driving. Bonhoeffer, a pastor with unflinching loyalty to the Cross, standing as a prophetic sign to the world. On the side of a river, overlooking the massing Nazi troops, he stood in the shadow of eternity. A man of convictions, a man of contrasts.


What he was doing in Finkenwalde had to be stronger than what Hitler was doing with his army.


Discipleship must be stronger than cultural formation.


Loyalty must be stronger than compromise.


This must be stronger than that.


The times called for a beautiful resistance.


Such a prophetic stance was in some ways laughable. Bonhoeffer's seminary was small and its season short. The Gestapo would close the seminary in 1937. In many ways it was a feeble joke compared with the power of the Third Reich.


But it was a prophetic seed of a faithful church. And over time, as Jesus promised, that small seed grew and bore fruit. Today the Reich is a shameful memory, Hitler is in the grave, and the German church is repentant. But the fruit of Finkenwalde—the community, the vision, and the work—has gone on to shape a vision of Christian discipleship that has inspired millions.


Bonhoeffer was right. This must be stronger than that. Thiswas stronger than that.


All this was running through my mind as I stood overlooking the Oder Sound—perhaps at the very spot where Bonhoeffer once took his friend—thinking aboutour cultural moment and the compromise rampant in our day.Should we just give up and capitulate to the powers of our time? Should we sit by while our faith is taken captive by political and ideological forces? Should we avert our eyes while mammon wreaks havoc on our hearts? Should we watch twenty million young people leave the church in our generation? A million a year give up on faith?Is it possible to build community in such a way that though it is small, generations to come will look back on our faithfulness in a generation of compromise?



The New Resistance


I believe that what was true in the 1930s is true now. We live in a time when the church is compromising with the culture left, right, and center, and we're losing our influence. Though there is no specific "Hitler" pressuring us, we
seeking to sabotage our faith. Because of the tectonic shift in sexuality, ethics, technology, secular ideologies, religion, and globalization, much of the familiar landscape has been swept away. In many areas our culture is almost unrecognizable compared with a generation ago. The spiritual devastation from much of this cultural change and the failure of the church to respond well have been almost unthinkable.


So we must call our generation to loyalty to Christ. We must live with devotion and conviction regardless of what they cost us. This must be stronger than that.


I am sure that you, too, have felt this conflict between the potential of the church and its compromise in our day, and I am sure that you have felt the conflict in your soul between who you are and whom God calls you to be. I'm speaking to you as a fellow disciple with urgency in my heart: this is the time for our beautiful resistance.


Bestsellers in Christian Living