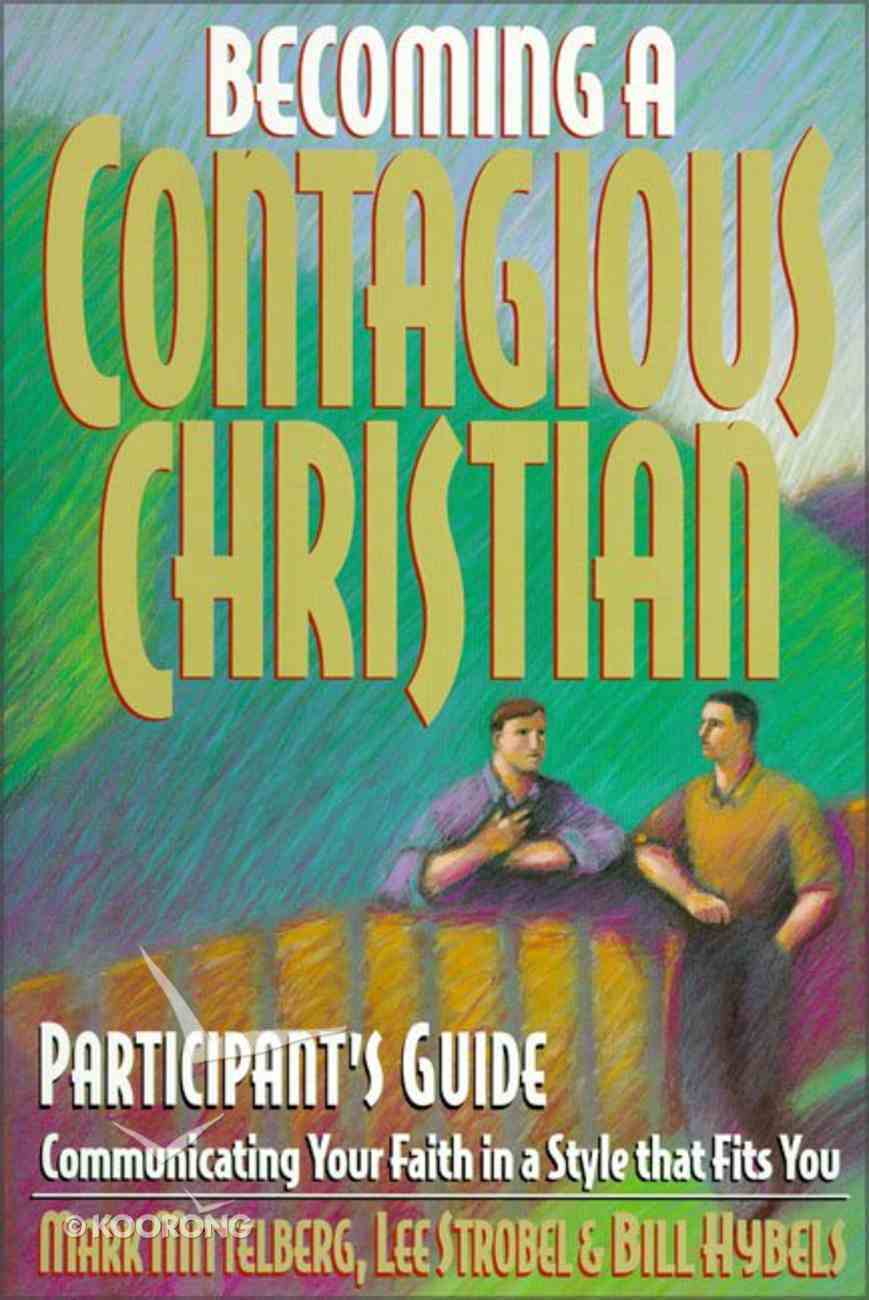 Becoming a Contagious Christian (Participants Guide)
This participant's guide is designed to help you get the most out of the Becoming a Contagious Christian book or course, providing an easy-to-use, hands-on means of identifying and developing an evangelism that's effective for you.
---
Free Shipping
for orders over $99.
This participant's guide is designed to help you get the most out of the Becoming a Contagious Christian book or course, providing an easy-to-use, hands-on means of identifying and developing an evangelism that's effective for you.
The participant's guide is designed to help you get the most out of the Becoming a Contagious Christian course. It provides an easy-to-use, hands-on means of identifying and developing an evangelism style that's effective at leading unbelievers toward Christ. Becoming a Contagious Christian is a proven course designed to equip believers for effective evangelism in today's world. It avoids stereotyped approaches that feel intimidating to many Christians. Instead, it shows ordinary believers how they can share the Gospel in a natural and powerful way while being the person God made them to be. Each session's exercises, discussions, self-assessments, and video vignettes give step-by-step guidance to help participants become effective communicators for Christ to those around them. There's even a section on everyday answers that will help believers respond to difficult questions regarding Christianity. Over 800,000 people have participated in Becoming a Contagious Christian training in the
-Publisher
1. People Matter To God 2. The Rewards of Contagious Christianity 3. A Formula For Impacting Your World 4. The Attractiveness of Authenticity 5. The Pull of Compassion 6. The Strength of Sacrifice 7. Strategic Opportunities in Relationships 8. Rubbing Shoulders with Irreligious People 9. Finding the Approach that Fits You 10. Starting Spiritual Conversations 11. Making the Message Clear 12. Breaking the Barriers to Belief 13. Crossing the Line of Faith 14. Contagious Christians and Contagious Churches 15. Investing Your Life in People
-Publisher
CHAPTER ONEPeople Matter To GodNot long after Tom stepped onto the sailboat, it became clear that he was a first-class sailor, a fierce competitor, and someone who thrived on living at the edge of adventure.Beyond that, this latest member of our racing crew had an infectious personality. He wanted the music turned up loud, lots of friends around, and plenty of excitement after the race. He wanted to win, but he wanted to have a good time doing it.I hardly knew Tom when I asked him to join us. As our friendship developed, I found out that he was an all-or-nothing kind of individual. When he believed in something and was excited about it, there was no stopping him. But if he wasn't interested, there was almost no way to get him started.And therein was the challenge. You see, Tom had little time for spiritual matters of any kind.Then one night Tom showed up for our regatta with his arm in a sling. When I asked him what had happened, he explained that he had been out racing go-carts the night before, had imbibed too much alcohol, had gotten a bit out of control, and ended up getting into a fight.By this time he knew I was a minister, so he half-kiddingly asked if I could help him out by praying over him."Maybe sometime," I replied, "but right now I have a Scripture verse for you.""All right," he said, "what is it?"I said, "The Bible says in Galatians 6:7 that 'a man reaps what he sows.'"To my surprise, Tom seemed stunned. "It doesn't really say that, does it?" he asked."It absolutely does," I told him. "It says that if you want to sow the kind of seed you were sowing last night, you're going to reap the kind of sling you're wearing today.""You're putting me on!" he shot back."I'm not kidding you," I assured him, "and I think maybe you ought to commit that verse to memory!"Over the next few days, I'd chide him a little by asking if he'd learned it yet. Before long, he'd just look me in the eye and quote it.In fact, that whole incident became somewhat of a standing joke between us that summer, and it opened up the door to some conversations about spiritual matters. The following season Tom showed a few more signs that he was willing to take it a bit further.One night when we were having dinner in a restaurant he asked me, "How does a person go about getting a Bible? I've thought about trying to read one, but I didn't know if regular stores sell them.""Well, I could probably fix you up with one," I told him, trying to be nonchalant about the fact that finally, after two years of prayer and relationship-building, he was starting to display some genuine interest.Later that fall, Tom actually drove a couple of hundred miles from Michigan to Chicago in order to visit our church and to spend some time hanging out at my house and talking together.After he got back home, he called me and said, "I feel different on the inside. It seems like I'm starting to fit some puzzle pieces together. I don't know how it's all going to turn out, but I really like what's happening to me, even if I don't completely understand it."One evening after a two-hour talk about what it means to be a Christian, I told him, "Tommy, you're going to make a great Christian someday. You're honest to the core, flat-out dedicated to whatever you commit yourself to, and more concerned about what's true than about what other people think."He conceded that I might be right. But he wasn't ready. He was in the process and moving in the right direction, but he wasn't about to sign on any dotted lines. Not yet.I'll never forget those talks with Tom. They were unpredictable, they were risky, they were exhilarating, they were give-and-take, they were up-and-down. And they reminded me of something I'd known for a long time: There's nothing in life that's as exciting as befriending, loving, and leading wayward people toward faith in Christ. Nothing.
-Publisher
PRODUCT DETAIL
Catalogue Code 

86158

Product Code 

0310501016

EAN 

9780310501015

UPC 

025986501013

Pages 

128

Department Ministry
Category Ministry Resources
Sub-Category Courses
Publisher Zondervan
Publication Date 

Oct 1995

Dimensions 

234 x 160 x 10

mm

Weight 

0.192

kg
Mark Mittelberg (MA, Trinity Evangelical Theological School) is an author, speaker, and evangelism strategist. He is coauthor with Bill Hybels of Becoming a Contagious Christian and coauthor with Bill Hybels and Lee Strobel of the Becoming a Contagious Christian curriculum. He previously served as evangelism leader for the Willow Creek Association. SPANISH BIO: Mark Mittelberbg es autor, conferencista y estratega de evangelismo. Es coautor con Bill Hybels de Conviertase en un cristiano contagioso y con Lee Strobel de Aventura Inesperada. Junto a Bill Hybels y Lee Strobel es coautor del program
Bill Hybels is the founding and senior pastor of Willow Creek Community Church in South Barrington, Illinois, one of the largest and most influential churches in North America, and the chairman of the board for Willow Creek Association. He convened The Global Leadership Summit in 1995, following a God-given prompting to help raise and develop the spiritual gift of leadership for the local church.

Both visionary and passionate about seeing every local church reach its full God-given potential, he speaks around the world on strategic issues related to leadership, evangelism, and church growth. An exceptional communicator, he is a best-selling author of more than 20 books on personal evangelism, marriage and especially on the subject of Christian leadership, including Just Walk Across the Room, Courageous Leadership and the newly released, The Power of a Whisper: Hearing God and Having the Guts to Respond.

Bill received a bachelor's degree in Biblical Studies and an honorary Doctorate of Divinity from Trinity College in Deerfield, IL. He and his wife, Lynne, have two adult children and one grandson.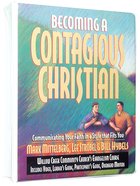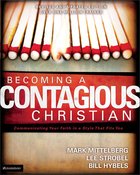 Contents Section 1: Why Become A Contagious Christian? Chapter 1: People Matter To God Chapter 2: The Rewards Of Contagious Christianity Chapter 3: A Formula For Impacting Your World Section 2: The Prerequisite Of High Potency Chapter 4: The Attractiveness Of Authenticity Chapter 5: The Pull Of Compassion Chapter 6: The Strength Of Sacrifice Section 3: The Potential Of Close Proximity Chapter 7: Strategic Opportunities In Relationships Chapter 8: Rubbing Shoulders With Irreligious People Chapter 9: Finding The Approach That Fits You Section 4: The Power Of Clear Communication Chapter 10: Starting Spiritual Conversations Chapter 11: Making The Message Clear Chapter 12: Breaking The Barriers To Belief Section 5: The Payoff: Maximum Impact Chapter 13: Crossing The Line Of Faith Chapter 14: Contagious Christians And Contagious Churches Chapter 15: Investing Your Life In People
Bestsellers in Ministry Resources