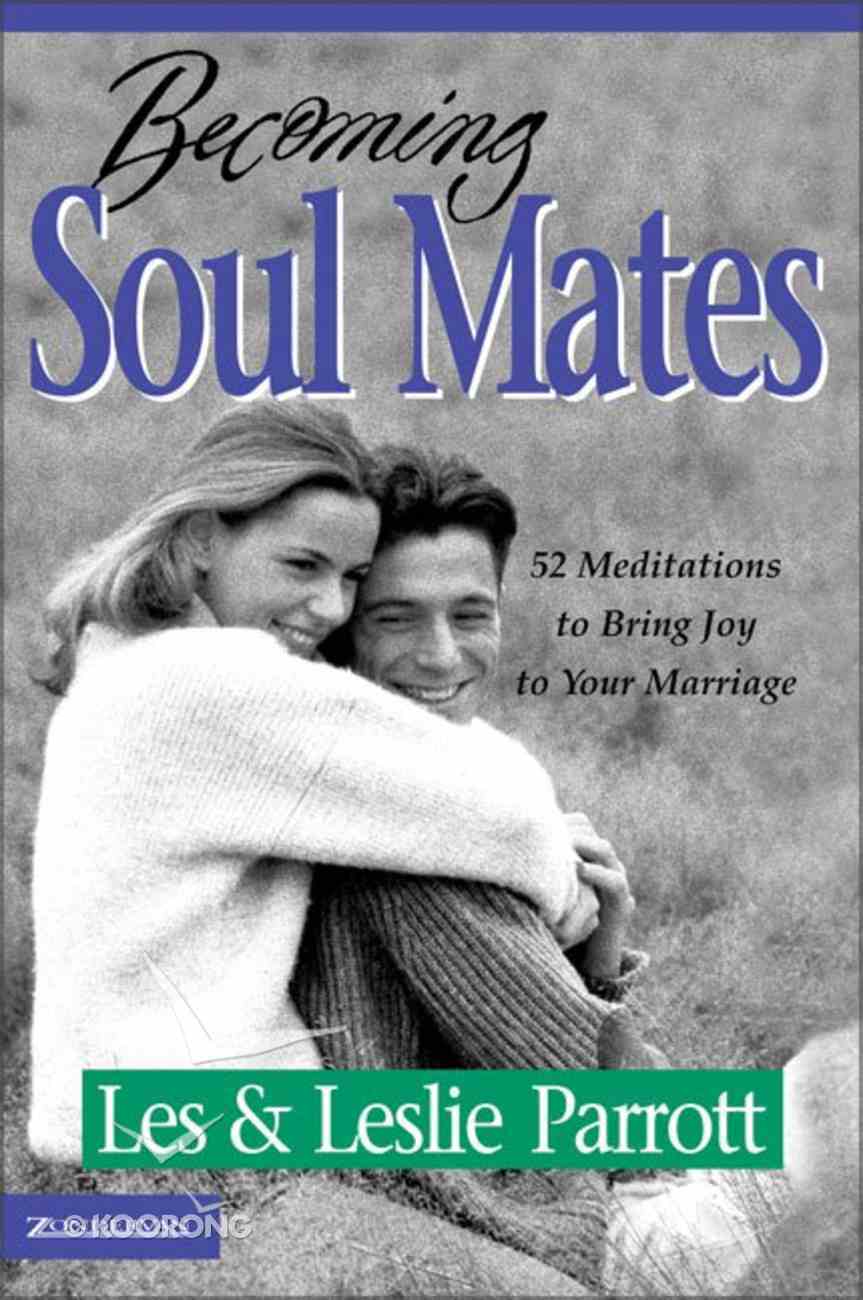 Every couple has a restless aching, not just to know God individually but to experience God together. But how do you allow God to fill the soul of your marriage? Becoming Soul Mates gives you a road map for cultivating...
Out of Stock
Available to Order
---
Expected to ship in 5 to 6 weeks from Australia.
---
Free Shipping
for orders over $99.
Every couple has a restless aching, not just to know God individually but to experience God together. But how do you allow God to fill the soul of your marriage? Becoming Soul Mates gives you a road map for cultivating rich spiritual intimacy in your relationship. This unique, insightful devotional for couples helps you dig deep for a strong spiritual foundation -- now, in the early years of marriage. Fifty-two practical, weekly devotions help you and your partner cross the hurdles of marriage to grow closer than you've ever imagined. Each session includes discussion questions, a key Scripture, prayer, insights from real-life soulmates like John and Cindy Trent and Norm and Joyce Wright, and an opportunity to share individual needs and prayer requests. Becoming Soul Mates will help you grow together as you build a marriage that flourishes in the face of life's challenges.
-Publisher
Contents 234 pages in 52 sessions
-Publisher
Dr. Leslie Parrott is a marriage and family therapist and codirector with her husband, Dr. Les Parrott, of the Center for Relationship Development at Seattle Pacific University. She is the author of God Made You Nose to Toes and The First Drop of Rain, and co-author with her husband of several bestselling books, including The Complete Guide to Marriage Mentoring, Relationships, Love Talk, and the Gold Medallion Award-winner, Saving Your Marriage before It Starts. Leslie is a columnist for Today's Christian Woman and has been featured on Oprah, CBS Morning, CNN, and The View, and in USA Today and the New York Times. www.RealRelationships.com
Koorong -Editorial Review.
Les Parrott is founder of the Centre for Relationship Development on the campus of Seattle Pacific University and the best-selling author of HIGH-MAINTENANCE RELATIONSHIPS, THE CONTROL FREAK, and LOVE TALK. Dr. Parrott is a sought after speaker to Fortune 500 companies and holds relationship seminars across North America. He also hosts the US national radio broadcast 'Love Talk.' Dr Parrott has been featured in 'USA Today', 'the Wall Street Journal', and 'the New York Times'. His television appearances include CNN, Good Morning America, and Oprah.- Publisher.
Contents
Why Daily Devotions For Couples Often Fail
Session 1: Living Happily Ever After
Session 2: Double Your Serve
Session 3: All For A Bar Of Soap
Session 4: Lighten Up
Session 5: Your Money Matters
Session 6: In The Beginning ... God Created Sex!
Session 7: Caring Enough To Commit
Session 8: Turning 'me' To 'we'
Session 9: What A Difference A Temperament Makes!
Session 10: If You Bugged Yourself, What Would You Hear?
Session 11: Sloppy Agape
Session 12: It's My Marriage And I'll Cry If I Want To
Session 13: Rapunzel's Love Lesson
Session 14: Listening With The Third Ear
Session 15: Is Prayer Your Steering Wheel Or Your Spare Tire?
Session 16: The Deadly Emotion Of Anger
Session 17: The Extra Mile In Marriage
Session 18: Help For The Romantically Impaired
Session 19: Our Longing For Belonging
Session 20: The Church: A Greenhouse For Growing Soul Mates
Session 21: Names Can Never Hurt Me---or Can They?
Session 22: Love Means Having To Eat Humble Pie
Session 23: When Stress Strikes Your Marriage
Session 24: Desperately Seeking Scripture
Session 25: Help! We Need Somebody!
Session 26: Fighting The Good Fight
Session 27: A Kiss On The Lips
Session 28: How Iron Sharpens Iron
Session 29: The Importance Of Saying 'i Love You'
Session 30: In Sickness And In Health
Session 31: The Power Of Love In Action
Session 32: Avoiding The Blame Game
Session 33: You're Not The Boss Of Me!
Session 34: Sex, Sex, Sex ... Enough Already!
Session 35: Pay Now, Play Later
Session 36: How To Be A Wise Guy (and Gal)
Session 37: The Role Of Optimism In Marriage
Session 38: The Value Of Tender Touch
Session 39: No One Needs To Be A Fool
Session 40: Having The Tithe Of Your Life
Session 41: Avoiding The Number-one Marriage Problem
Session 42: The Attitude Of Gratitude
Session 43: Who's In Charge Here?
Session 44: God's Perfect Love
Session 45: The Guilt-free Drop
Session 46: Stop Stewing And Start Doing
Session 47: Sinking Your Roots Down Deep
Session 48: Do You Dream What I Dream?
Session 49: A Little Heaven On Earth
Session 50: A Mile In Marriage Moccasins
Session 51: The Question That Could Change Your Marriage
Session 52: Soul To Soul Forever And Ever
Biographies Of Real-life Soul Mates
Introduction Why Daily Devotions for Couples Often Fail 'It's my turn to read first!' Leslie hollered from the shower. 'No way! You read first last night,' I shouted back. 'Pleeeease. Let me read the Old Testament passage first,' said Leslie. For about a week and a half---or up to the eighth chapter of Genesis, whichever came first---this exchange became routine for us. Each night we sparred with each other over who would read the Bible first during our devotional time. We had set our sights on reading the Bible clear through as a -couple, and each night before we went to sleep we would take turns reading a passage from the Old Testament and then one from the New. But after a few evenings, the focus of our lofty spiritual quest was more about sleep than Scripture. We fought over who got to read first, not because of our spiritual passion, but because that person could doze or even fall asleep while the other was reading his or her passage! Spending a systematic, meaningful quiet time with each other, reading God's Word and praying, has never come easy for us. We have tried setting aside time in the morning. And we have tried it in the evening. Time seems to make little difference. We could never stick to it and our times were never what we hoped for. Worst of all, the problem made us feel guilty. If we were good Christians, with God at the center of our marriage, wouldn't setting aside time to cultivate spiritual intimacy be something that would come easy? Not hardly. We know and admire couples who open their Bibles together after breakfast, read a passage, share their secrets, and kneel to pray. But that never seemed to be our style. We wake up at different times on different days. We don't have the same routine every day. And, to be honest, we need an activity that doesn't seem like a duty that hangs over our heads. Still, we have a restless aching, each of us, not just to know God individually, but to experience God as a couple. But how? How do we really allow God to fill the soul of our marriage? Our Spiritual Quest When researchers examined the characteristics of couples who had been married for more than two decades and were fulfilled, one of the most important qualities they found was 'faith in God and spiritual commitment.' We never needed scientists to tell us that spiritual meaning was important to our marriage. We knew it from the start. Marriage is not a superficial bonding, a mere machine that needs routine maintenance to keep it functioning. Marriage for us is founded upon a mutual exchange of holy pledges. It is ultimately a deep, mysterious, and unfathomable spiritual endeavor. Several years ago we started a program for engaged and newly married couples that eventually became a book and video package called Saving Your Marriage Before It Starts. Thousands of couples have gone through this program and for a number of years now we have formally and informally surveyed and interviewed many of them. In addition, we have interviewed many churchgoing couples who have been married for years. We wanted to learn how successful couples tend the soul of marriage. So we asked Christian couples to measure just how important spiritual intimacy in marriage is to them, often on a ten-point scale. And the answer was almost always the same: very important. Nearly every couple said they place a high value on spiritual intimacy. But when we asked these same couples how satisfied they were with the current level of spiritual intimacy in their marriage, their answers again became predictable: not very satisfied. 'We agree on tithing and stuff,' one woman confided, 'but we don't have any deep or meaningful conversations about spiritual matters.' A husband told us, 'I feel so uncomfortable praying with my wife. I mean she sees me seven days a week, she knows how I live!' So, for some time now, we have been on a quest to find a means to spiritual intimacy in marriage that works---for us and the couples in our program. This book is the result. We believe it provides the tools for you and your partner to have a consistent and meaningful time together that is both enjoyable and spiritually enriching. Using This Book for All Its Worth The key to making Becoming Soul Mates work for you is its flexibility. There is no one right way of using it. Think of this book as a resource you mold and fit to your personal style. Since we found that a weekly approach works best for most couples, the book provides fifty-two sessions. You may have your own personal quiet time each day, but meeting once a week as a couple is critical to becoming soul mates. Once you establish a pattern (each Sunday evening, for example), you will find that these sessions become a spiritual refueling station for the soul of your marriage. Here's how each session is organized: Opening Thought Each session begins with a brief devotional thought on a marriage-relevant topic. These openings contain references to Scripture that can be studied more in depth if you desire. You may also want to use these references for your individual study throughout the week. You may wish to read the opening devotional thought separately on your own, but we believe most couples will benefit from reading the passage aloud together. From God's Word The opening thought is followed by a passage of Scripture from the New International Version of the Bible that relates to the same topic. It is printed in the book to allow easy accessibility, but you may also want to read it in your own Bible to compare translations or to provide a fuller context. Either way, one of you can read the passage out loud. Your Turn Material for a brief time of discussion follows the Scripture reading. Several questions and suggestions encourage you to share relevant examples from your own lives. These questions and discussion starters are not meant to be completed in a hurry. The point is not to have your quiet time 'checked off' your to-do list. If you are short on time, just select one or two of the questions. Don't feel that you need to answer every one every time.
Bestsellers in Relationships