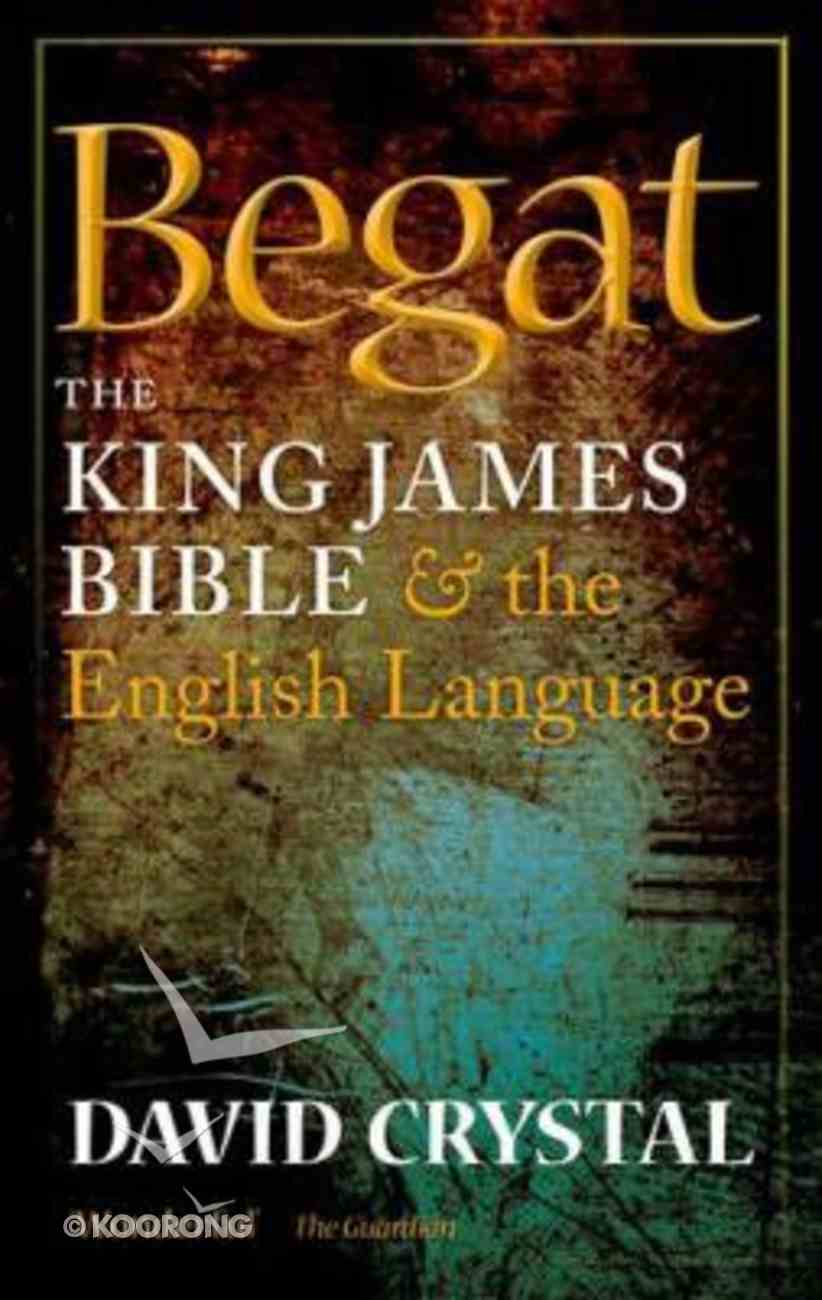 Begat: The King James Bible and the English Language
What do the following have in common? Let there be light - Whited sepulchres - A rod of iron - New wine into old bottles Lick the dust - How are the mighty fallen - A thorn in the flesh...
Order now to secure your copy when our stock arrives.
0 Available.
---
Free Shipping
for orders over $99.
What do the following have in common? Let there be light - Whited sepulchres - A rod of iron - New wine into old bottles Lick the dust - How are the mighty fallen - A thorn in the flesh - Wheels within wheels They're all in the King James Bible. This astonishing book has 'contributed far more to English in the way of idiomatic or quasi-proverbial expressions than any other literary source.' wrote David Crystal in 2004. In Begat he returns to the subject: he asks how a work published in 1611 could have had such an influence on the language and looks closely at what that influence has been. He comes to some surprising conclusions. No other version of the Bible however popular (such as the Good News Bible) or imposed upon the church (like the New English Bible) has had anything like the same impact. David Crystal shows how its words and phrases got independent life in the work of poets, playwrights, novelists, and politicians, and how more recently they have been taken up by journalists, advertisers, Hollywood, and hip-hop. He reveals the great debt the King James Bible owes to its English forebears, especially John Wycliffe's in the fourteenth century and William Tyndale's in the sixteenth. He also shows that the revisions and changes made by King James's translators were crucial to its universal success. "A person who professes to be a critic in the delicacies of the English language ought to have the Bible at his finger's ends," Lord Macaulay advised Lady Holland in 1831. David Crystal shows how true this is. His book is a revelation.
-Publisher
"Let there be light," "A fly in the ointment," "New wine in old bottles," "How are the mighty fallen," "The salt of the earth." All these everyday phrases owe their popularity to the King James Bible. Indeed, it is said that this astonishing Bible has contributed more to the color and grace of the English language than almost any other literary source.

InBegat, best-selling language expert David Crystal offers a stimulating tour of the verbal richness and incredible reach of the King James Bible. How can a work published in 1611 have had such a lasting influence on the language? To answer this question, Crystal offers fascinating discussions of phrases such as "The skin of one's teeth" or "Out of the mouth of babes," tracing how these memorable lines have found independent life in the work of poets, playwrights, novelists, politicians, and journalists, and how more recently they have been taken up with enthusiasm by advertisers, Hollywood, and hip-hop. He shows, for instance, how "Let there be light" has resurfaced as "Let there be lite," the title of a diet cookbook, and "Let there be flight," the title of an article about airport delays. Along the way, Crystal reminds us that the King James Bible owes much to earlier translations, notably those by Wycliffe in the fourteenth century and Tyndale in the sixteenth. But he also underscores crucial revisions made by King James's team of translators, contrasting the memorable "Am I my brother's keeper" with Wycliffe's "Am I the keeper of my brother."

Language lovers and students of the Bible will be equally enthralled byBegatand its engaging look at the intersection of religion and literature.
-Publisher
PRODUCT DETAIL
Catalogue Code 

343942

Product Code 

9780199695188

ISBN 

0199695180

EAN 

9780199695188

Pages 

320

Department Academic
Category Scripture
Sub-Category General
Publisher Oxford University Press
Publication Date 

Aug 2011

Dimensions 

215 x 137 x 18

mm

Weight 

0.408

kg
David Crystal is one of the world's foremost authorities on language. C
Prologue 1; Prologue 2; 1. In The Beginning; 2. Let There Be Light; 3. Be Fruitful And Multiply; 4. My Brother's Keeper?; 5. Two By Two; 6. A Coat Of Many Colours; 7. Fire And Brimstone; 8. Begat; 9. Thou Shalt Not; 10. Manna, Milk, And Honey; 11. Eyes, Teeth, And Loins; 12. What Hath Been Wrought; 13. Bread Alone; 14. How Are The Mighty Fallen!; 15. The Skin Of One's Teeth; 16. Out Of The Mouths Of Babes; 17. Pride Goes Before A Fall; 18. Nothing New Under The Sun; 19. Fly In The Ointment; 20. No Peace For The Wicked; 21. Be Horribly Afraid; Interlude; 22. Seeing The Light; 23. Eyes, Ears, Cheeks; 24. Speaking, Shouting, Wailing, Writing; 25. Shaking, Turning, Moving; 26. Many And Few, First And Last; 27. Fights, Foes, Fools, Friends; 28. Praising Famous Men; 29. Sheep, Goats, Swine; 30. Money, Wages, Pearls, Mites; 31. Blessed Are The Servants; 32. Heal Thyself; 33. Times And Seasons; 34. Birth, Life, And Death; 35. Countries, Kingdoms, Armageddon; 36. Building Houses, Mansions, Sepulchres; 37. Millstones, Crosses, Yokes, Pricks; 38. Sowing Seeds; 39. Salt And Wine; 40. The Law, Judges, Thieves, Swords; 41. Love And Charity; 42. Peace And Patience, Wrath, Whore; Epilogue; Appendixes; Indexes