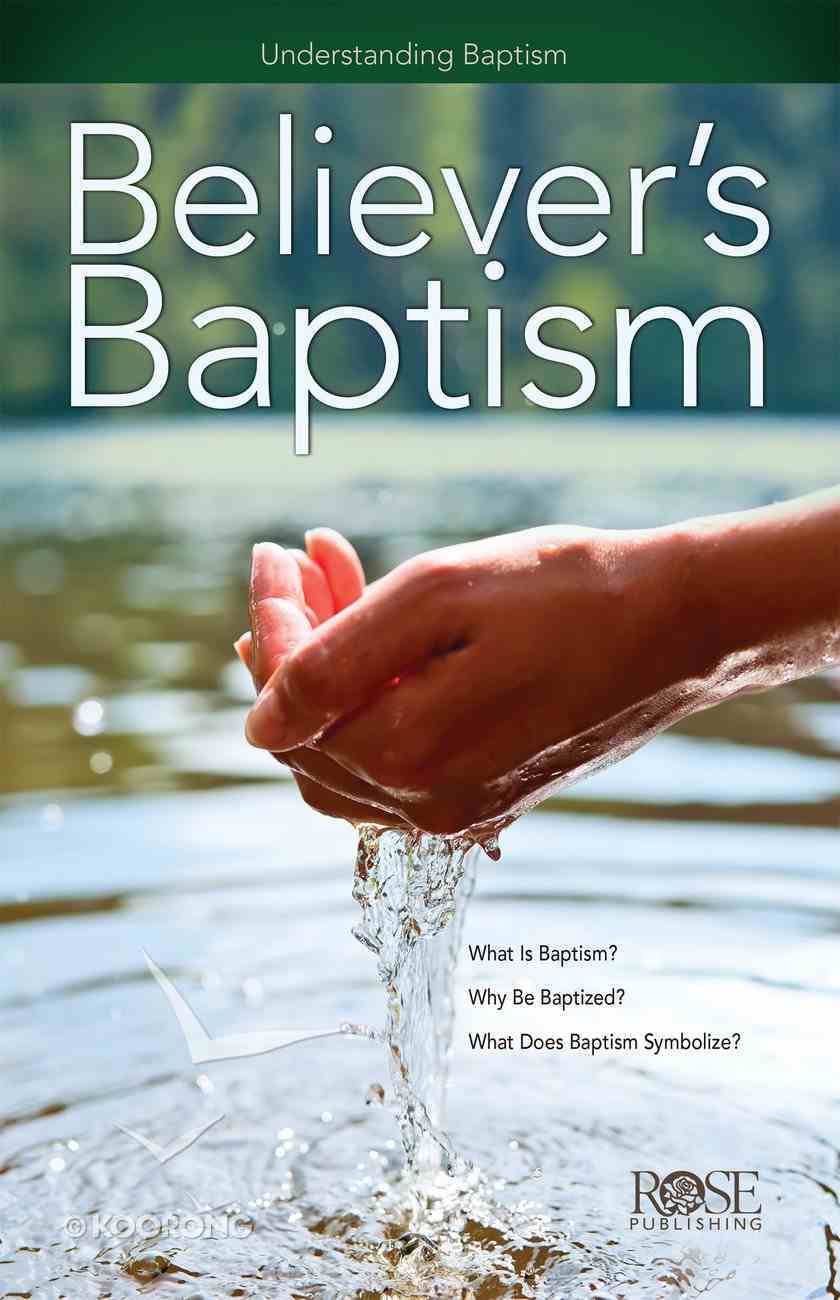 Believer's Baptism (Rose Guide Series)
Baptism is one of the most important practices in the church, something that Jesus calls his followers to do. It reminds us of Jesus' death and resurrection and the new life we have in him! Enjoy having an easy-to-understand overview...
Available for immediate download.
---
Read using our free app on your tablet or mobile!
---
Free Shipping
for orders over $99.

Baptism is one of the most important practices in the church, something that Jesus calls his followers to do. It reminds us of Jesus' death and resurrection and the new life we have in him! Enjoy having an easy-to-understand overview on what the Bible says about baptism at your fingertips. Packed with simple summaries, this baptism pamphlet covers what baptism is, why we should be baptized, and more. Perfect for individual use, group Bible studies, a New Believers' class, baptism gift, baptism class, etc.


Enjoy having this easy-to-understand overview on baptism at your fingertips. This pamphlet clarifies the basics and reassures believers about this important step--church leaders may use this to help those who may be nervous or hesitant.

Answers these questions-- What is baptism? (Explains believer's baptism and symbolism of immersion) Why we should be baptized? (Gives 5 reasons to be baptized) What happens during baptism? How do I know if I am ready to be baptized? What does it mean to be baptized in Jesus' name? What does the Bible say about baptism? (It fulfills Jesus' command (Matt. 28:19), Jesus set the example (1 John 2:6), it is a testimony to others (Romans 6:5), and more.) to see if you (or someone you know) may be ready to take the next step in your faith walk by being baptized. 5 Key Features about Rose's Baptism Pamphlet
Enjoy having a basic explanation of what baptism is and why it is included in the Great Commission. Find out why the presence of water is important and what it means to be baptized in the name of the Father, Son, and Holy Spirit.


Add depth to your understanding of the importance of "believer's baptism" and of the symbolism of immersion. For example...

Immersion (going down into water). Believers are identified with Christ's death. Submersion (being completely under the water). Believers are identified with Christ's burial. Emersion (emerging or coming up out of the water). Believers are identified with Christ's resurrection from the dead. Includes simple summaries on believer's baptism, and the symbolism of water baptismWhether it's to publically proclaim God's goodness or obediently follow Jesus' example, there are many reasons why someone would want to get baptized. This section covers 5 specific reasons why baptism is a healthy expression of a person's faith. Gives 5 Reasons Why Believers Should Be BaptizedIncludes an incredible Q & A section which tackles many common questions about baptism. Experienced church leaders know that people have a wide variety of questions. Some even have hesitations about sharing publicly or they may doubt their own "worthiness." For each question, it includes a simple explanation along with key Bible verses. Covers--
Questions about baptism, such as: Will baptism save me? What does it mean that I am unified with other Christians through baptism? Should I be baptized even though I can't live a "good" Christian life?
Questions about being baptized: If I was baptized as a baby, do I need to be baptized again? I was baptized when I first became a Christian, but then fell away from the Lord. Should I be baptized again? Answers 8 Common Questions about Baptism
From the High Priest's cleansing rituals in the Old Testament to the thousands of new believers baptized by the early church, get a solid overview of the roots and practice of baptism throughout the Bible.

See how Old Testament purification rites, sacrifices, and washing rituals pointed to the need for baptism.
Discover the 3 unique reasons why Jesus (who was without sin) was baptized.
Find out how the early church lived out the Great Commission, baptizing people from many nations, backgrounds, and ethnicities. (Gives 6 specific examples.) Covers What the Bible Says About Baptism (including where it came from, why Jesus was baptized, and more!)
Churches today will often ask believers to participate in a baptism class or meet with a church leader to ensure that the person who wants to be baptized understands the basics of the Christian faith and the meaning of baptism. Going over the key doctrines of the faith and reviewing the Apostle's Creed is an easy way to ensure that a person understands the basic beliefs of Christianity prior to baptism.

Shows Key Beliefs Christians Should Hold Prior To Being Baptized (Includes the Full Text of the Apostle Creed)
Rose pamphlets fit inside most Bible covers, 14 panels, unfolds to 38 inches.

Are you ready to be baptized?
Baptism is a public proclamation of faith. How do you know if you are ready to make this important next step? Ask yourself the following questions-

Do I believe that Jesus died for sin and rose from the dead? Have I confessed my sins to God and asked for forgiveness? Have I expressed to God a desire to follow him for the rest of my life? Do I wish to join the body of Christ and help care for Christians around the world as well as those in my local church? Do I want to publicly say that I belong to Christ?
If you answered yes to these questions, consider taking that next step of baptism. This helpful pamphlet will answer many of the questions you might have about this important next step in your faith walk.


-Publisher
Bestsellers in Tracts/booklets