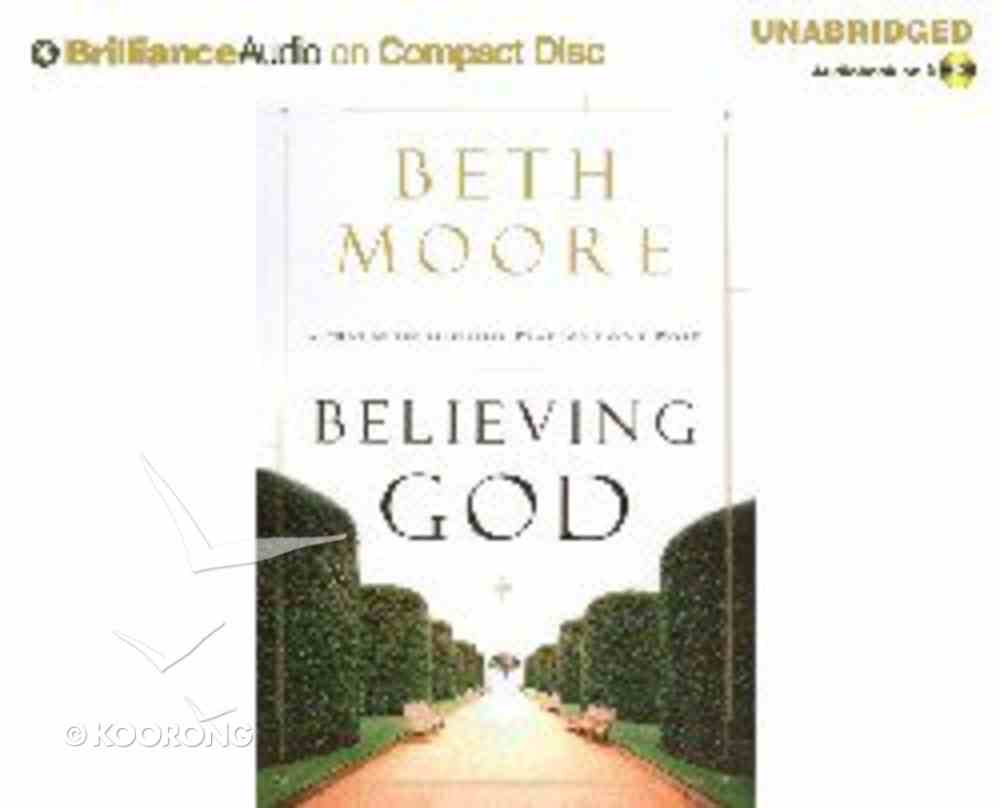 ---
Free Shipping
for orders over $99.
6 Hours On 5 CDs
-Publisher
Do you take God at His word, believing what He has told us, or do you just believe in His existence and the salvation He offers?
Beth Moore has believed in God all of her life. She has been dedicated to teaching others to believe in Him as well. But as an adult she came face to face with the single most important question as she meditated on a passage from Isaiah:
a oeYou are my witnesses, a declares the Lord, a oeand my servant whom I have chosen, so that you may know and believe me and understand that I am he.a - Isaiah 43: 10
Come Experience a Fresh Explosion of Faith.
What does it mean to believe God? Abraham and Moses believed God. This planted in them a seed of faith that grew into towering oaks of steadfast trust and belief. Hebrews 11 is full of other examples of bold belief.
Beth Moore brings these characters to life in a way that will spring forth in you a fresh explosion of faith!

-Publisher

"Is it working? Your belief system, that is. Is it really working? God's intention all along has been for the believer's life to work. From divine perspective toward terrestrial turf, God meant for his children to succeed....


Are our Christian lives successful? Are they achieving and experiencing what Scripture said they would? In a recent sermon my son-in-law preached, Curt told us the only way we were going to impact the world and the next generation is to prove that our faith in Christ is real and that it works. For countless Christians I'm convinced it's real. My concern is whether or not we have the fruit to suggest it works." --Beth Moore, Believing God


-Publisher
Beth Moore was born Wanda Elizabeth Green in 1957, on an Army base in Green Bay, Wisconsin, the fourth of five children. She was raised in Arkadelphia, Arkansas, where her father - a retired army officer - managed the local cinema, and it was there that Beth's lifelong love for stories began. She loved to tell them, write them, and be told them. But the story that captured her heart more than any other was not told in a movie theatre. It was the story told in Sunday School, about Jesus, a Saviour who loved children and who thought she was special. A seed was planted in her young heart that would grow to a passionate love for Christ.

At the age of 18, Beth sensed God calling her to work for Him, although she couldn't yet imagine what that might involve. She graduated from Southwest Texas State University with a degree in political science, and would later receive an honorary doctorate in humanities from Howard Payne University. She married Keith Moore in 1978 and soon after the Lord added Amanda and Melissa to the family.

Beth's involvement with the Bible intensified when she took a doctrine class at her church. Her teacher was Buddy Walters, a former college football player who taught the Scriptures with tears streaming down his cheeks. She fervently prayed for such a passion for God's Word.

Beth founded Living Proof Ministries in 1994 with the purpose of teaching women how to love God's Word and put it at the centre of their lives. She has written numerous books - including Breaking Free, Believing God, The Patriarchs and James: Mercy Triumphs - that have been read by women of all ages, backgrounds, and denominations. Beth runs conferences for women across the United States annually, and has also taken her ministry to many different countries, including Ireland, England, Singapore, the Philippines, Puerto Rico, India, Angola, Kenya, and South Africa. Since 2004, Beth has conducted a radio ministry 'Living Proof with Beth Moore', and has a weekly spot on the television program LIFE Today. Ever the storyteller, Beth is known for enlivening her teaching with stories and poems written from the perspective of biblical characters. She communicates with great energy, humour, warmth, and grace.

For over a quarter of a century from the 1980s, Beth attended the First Baptist Church in Houston, Texas, transferring in 2011 to Bayou City Fellowship, where her son-in-law Curtis Jones is the founding pastor.

Beth and and her husband Keith enjoy travelling, hiking, drinking coffee on the back porch, eating Mexican food, making each other laugh, walking their dogs, and being grandparents. Both of their daughters, Amanda and Melissa, serve with Living Proof Ministries, and Amanda's husband, Curtis, serves on staff as an associate speaker/teacher.
Bestsellers in Audio Book