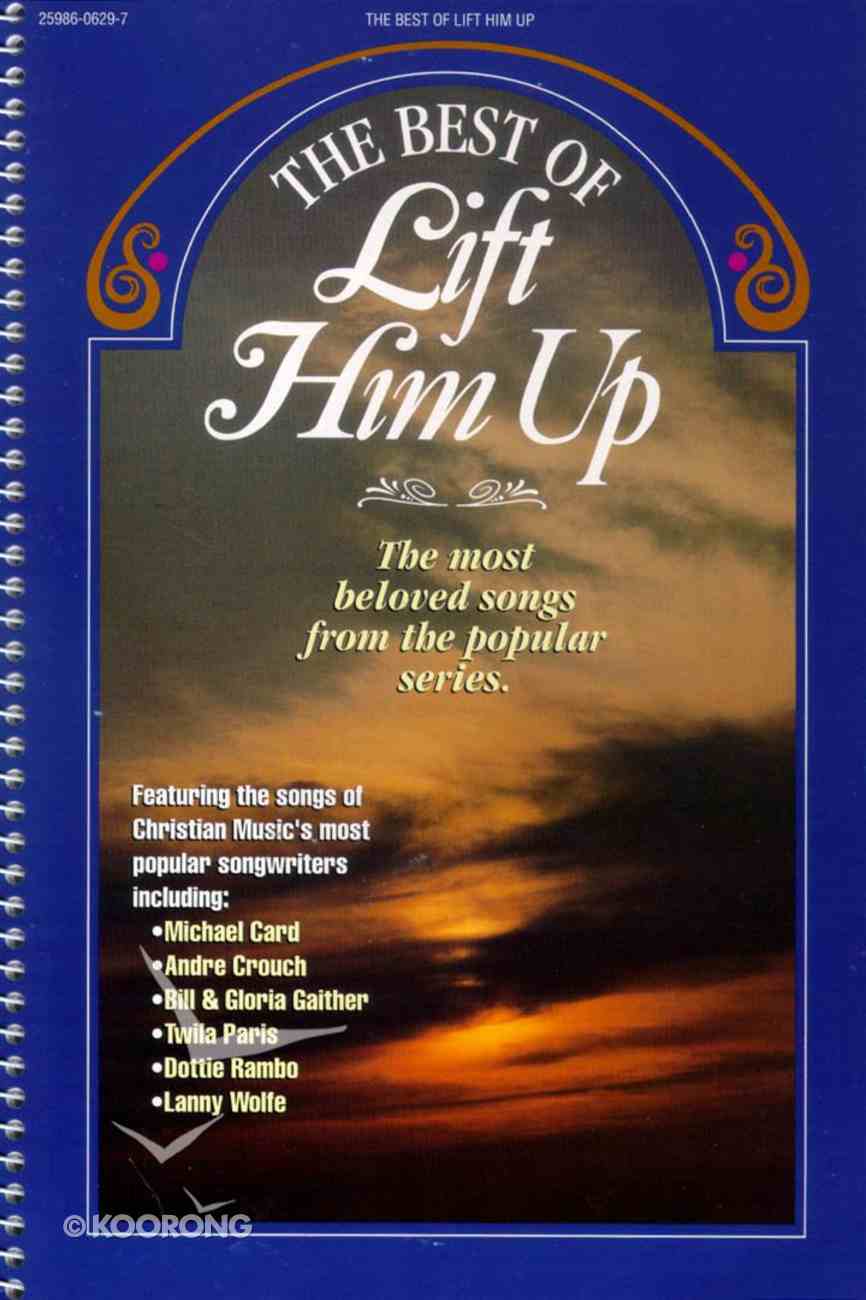 Best of Lift Him Up (Music Book)
Order now to secure your copy when our stock arrives.
0 Available. Expected to ship in 4 to 5 weeks from Australia.
---
Expected to ship in 4 to 5 weeks from Australia.
---
Free Shipping
for orders over $99.
Best of Lift Him Up (Music Book)
A New Song
A Perfect Heart
All Hail King Jesus
Be Exalted O God
Be Still And Know That I Am Go
Because Of Who You Are
Behold The Lamb
Bind Us Together
Bless His Holy Name
Bless The Lord O My Soul
Blow The Trumpet
Clap Your Hands
Come Unto Jesus
El Shaddai
Father I Adore You
For He Alone Is Worthy
Friend Of A Wounded Heart
Get All Excited
Glorify Thy Name
God Is So Good
Great And Mighty
Great Is The Lord Michael W
Great Is The Lord Robert Ewi
Greater Is He That Is In Me
He Has Made Me Glad
He Is Jehovah
He Is Lord
He Looked Beyond My Fault
His Banner Over Me Is Love
His Name Is Jesus
His Name Is Wonderful
Holy Holy
Holy Spirit Thou Art Welcome
How Excellent Is Thy Name
How Majestic Is Your Name Mw
Humble Thyself In The Sight Of
I Am Loved
I Exalt Thee
I Have Decided
I Have Decided To Follow Jesus
I Just Came To Praise The Lord
I Love You Lord
I Love You With The Love Of Th
I Surrender All
I Will Bless The Lord
I Will Bless Thee O Lord
I Will Praise Him
I Will Serve Thee
I Will Sing Of The Mercies Of The Lord
Im Yours Lord
In His Time
In My Life Lord Be Glorified
Ive Got A River Of Life
Jehovah Jireh
Jesus Loves Me
Jesus Name Above All Names
Jesus Never Fails
Jesus The Resurrection
Joy Is The Flag
King Of Kings And Lord Of Lord
Lamb Of Glory
Leaning On The Everlasting Arm
Learning To Lean
Let God Arise
Let There Be Glory And Honor A
Let There Be Praise
Lift Him Up
Love Lifted Me
Majesty
Make A Joyful Noise Unto The Lord
More Than Wonderful
My Tribute
O How I Love Jesus
Oh How He Loves You And Me
Oh What A Moment
Open Our Eyes
Our God Reigns
People Need The Lord
Praise The Lord
Praise The Name Of Jesus
Proclaim The Glory Of The Lord
Rejoice In The Lord Always
Rise Again
Seek Ye First
Seekers Of Your Heart
Set My Spirit Free
Soon And Very Soon
Spirit Of The Living God
Surely Goodness And Mercy
Surely The Presence Of The Lord
Sweet Sweet Spirit
The Blood Will Never Lose Its
The Bond Of Love
The Greatest Thing
The Joy Of The Lord
The Lord Liveth
The Lord Thy God In The Midst
The Trees Of The Field
The Warrior Is A Child
Theres Something About That Name
This Is My Commandment
This Is The Day
Thou Art Worthy
Through It All
Thy Loving Kindness
Thy Word
Turn Your Eyes Upon Jesus
Unto Thee O Lord
We Are The Reason
We Bow Down
We Bring The Sacrifice
We Have Come Into This House
We Shall Behold Him
We Will Glorify
We Will See Him As He Is
We Worship And Adore Thee
What A Mighty God We Serve
When I Look Into Your Holiness
Where The Spirit Of The Lord Is
Worthy
Don Marsh has spent more than 30 years playing, teaching, and coaching baseball. He has contributed numerous articles on the subject to the national youth baseball magazine Junior League and currently writes instructional columns for the publication. He lives in San Diego, California. Tom Gamboa is a coach with the Chicago White Sox.
Bestsellers in Music Book