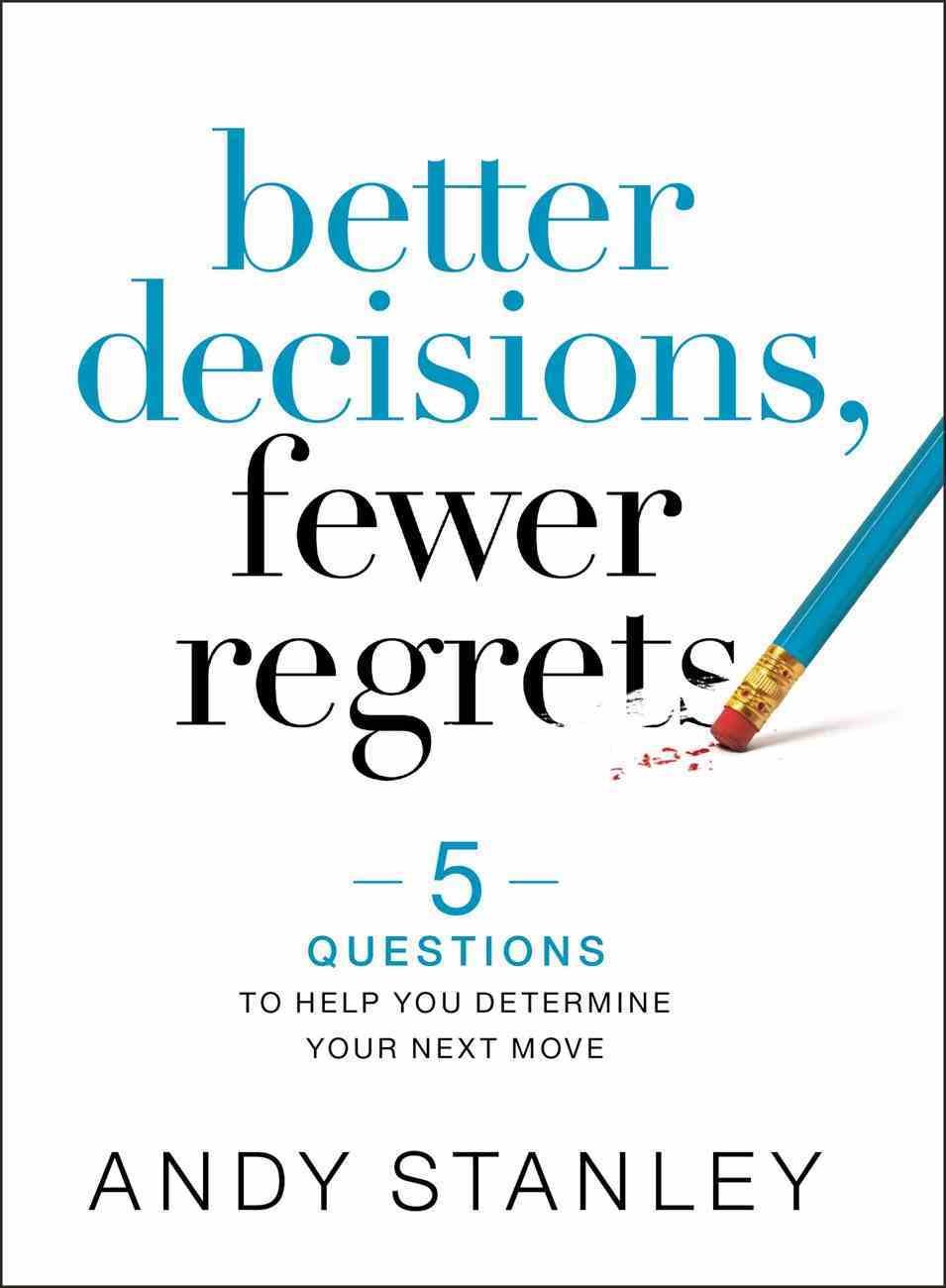 Better Decisions, Fewer Regrets: 5 Questions to Help You Determine Your Next Move
: Life is all about decision-making. Some choices lead to joy and become celebrated accomplishments, while others leave us filled with regret and disappointment. Your decisions determine the direction and quality of your life, and every decision you make becomes...
---
Expected to ship on Monday from Australia.
---
Free Shipping
for orders over $99.
:
Life is all about decision-making. Some choices lead to joy and become celebrated accomplishments, while others leave us filled with regret and disappointment. Your decisions determine the direction and quality of your life, and every decision you make becomes a permanent part of your story. They are the steering wheel of your life.


In Better Decisions, Fewer Regrets, Andy Stanley helps readers to learn from experience and stop making bad decisions. He introduces five questions that provide a decision-making filter to help you make better decisions and live with fewer regrets:

Am I being honest with myself … really? What story do I want to tell? Is there a tension that deserves my attention? What is the wise thing to do? What does love require of me?
Nobody plans to complicate their life with a bad decision. Yet too many people don't plan not to. These five questions provide a simple safeguard to ensure a life with fewer regrets. And by incorporating these five questions into the rhythm of your life you'll have the tools you need to write a fabulous story.


This is the story of your life. You only get to write one. Make it a good one. Make it a story worth telling.


-Publisher
Andy Stanley is a pastor, communicator, author, and the founder of North Point Ministries, Inc. (NPM). Since its inception in 1995, North Point Ministries has grown from one campus to three in the Atlanta area, and has helped plant fourteen strategic partner churches throughout the United States. Each Sunday, over 20,000 adults attend worship services at one of NPM's three campuses, North Point Community Church, Browns Bridge Community Church, and Buckhead Church.
Andy's books include It Came From Within; Communicating for a Change; Making Vision Stick; Visioneering; Next Generation Leader and most recently The Grace of God. Andy lives in Alpharetta, Georgia, with his wife, Sandra, and their three children


:
Introduction: Three Simple Steps
Chapter 1 – Follow
There Is A Common Misconception That The Church Is A Gathering Place For Saintly, Perfect People. Moreover, Some Think That Being A Christian Means Observing A Set Of Rules Or Commandments. The Reality Is That The Christian Life Is About A Relationship With Jesus Christ. And At The Heart Of That Relationship Is An Invitation That Jesus Extends To People From All Experiences Of Life: "follow Me."
Jesus Extends His Invitation To People Who Know Something's Wrong But Aren't Sure What To Do About It. He Invites People Who Know They Are Not All They Ought To Be. He Didn't Ask Matthew To Clean Up His Act Before Following Him, And Jesus Doesn't Ask That Of Us. In Time, Within The Context Of His Relationship With Jesus, Matthew Experienced Incredible Life Transformation. But Jesus' Initial Request And His Request From There On Out Is Simply, "follow Me." Will You Follow Jesus Christ?
Chapter 2 - Believe
Jesus' Initial Invitation To His Disciples Was A Simple One: Follow Me. He Invited Them To Watch And Listen To His Interactions With His Heavenly Father And With Others. In Time, However, Those Who Followed Jesus Began To Discover God's Character Through Jesus Christ. And In That Discovery They Found Themselves Drawn To Take A Second Simple Step: Believe.
When This Message Captivates The Human Heart It Impacts Our Behavior. Forgiven People Find It Easier To Forgive. Loved People Find It Easier To Love. Accepted People Find It Easier To Accept. Sinners Who've Been Forgiven Of Sin Find It Easier To Abandon Their Sin.
Chapter 3 – Obey
The Church Often Mistakes Christian Obedience As The First Step In The Christian Life. As A Result, For Many People The Christian Faith Becomes A Rule-based Religion. Instead, The Scriptures Reveal That Jesus' Initial Invitation Is To Follow Him. He Invites Us To Follow Him Until We Begin Believing That He Is Indeed Who He Says He Is. This Belief That God Loves Us And Has The Best In
Store For Us, Then, Becomes The Reason We Obey.
We Can Attend Church And Experience Great Music And Informative Sermons, But These Things Are Not Life Changing. Obedience To Christ Makes All The Practical Difference In The Outcome Of Our Lives. What Areas Of Your Life Do You Need To Surrender In Obedience To Christ?
Chapter 4 – The Simple Life
Follow. Believe. Obey. These Are The Simple Steps One Takes To Know Jesus. But What Does This Look Like As A Way Of Life? In This Final Chapter, We Look At What It Means To Move Beyond Steps Into A Relationship With Jesus That Leads To A Changed And Transformed Life.
Conclusion
Bestsellers in Christian Living