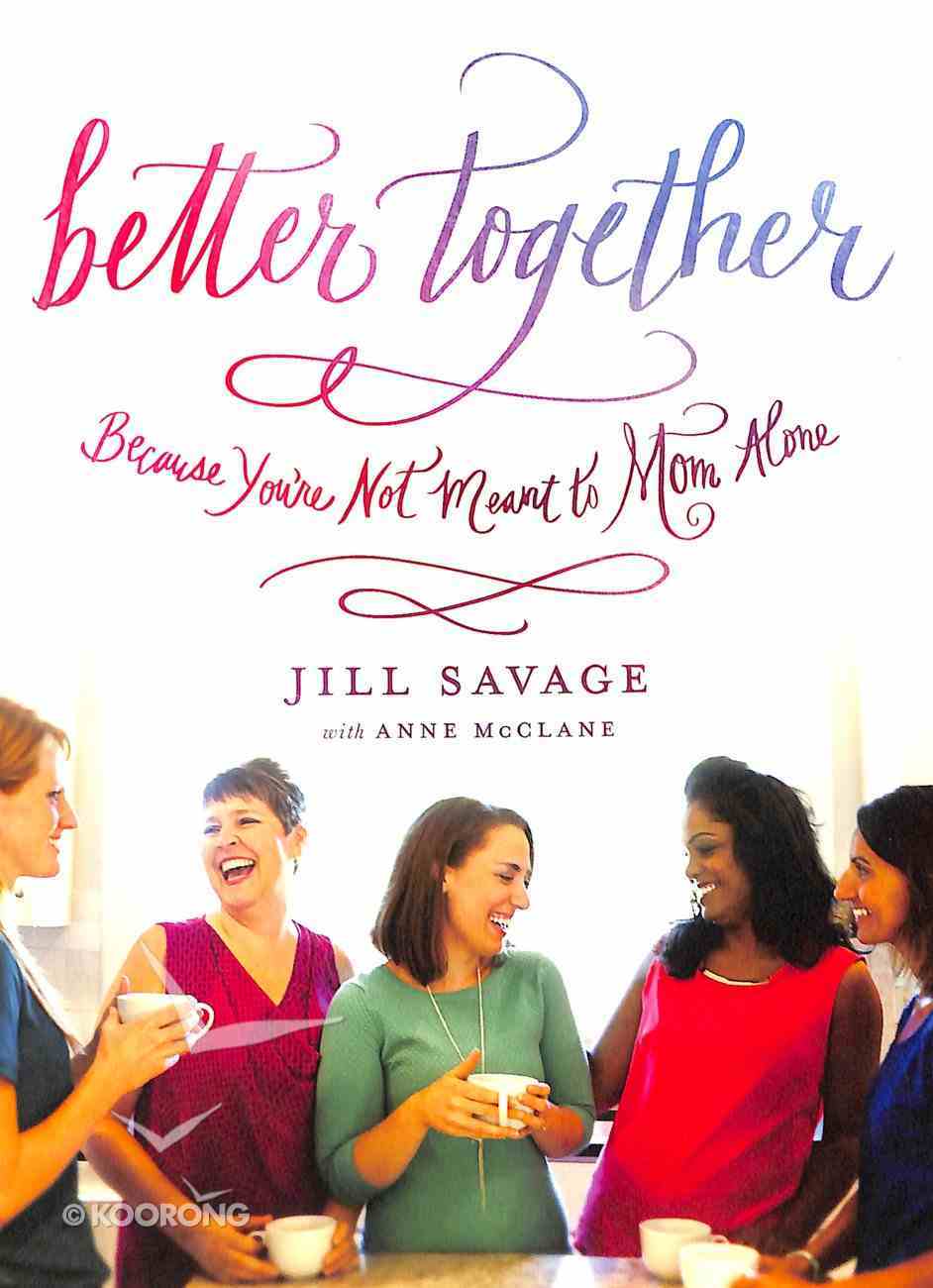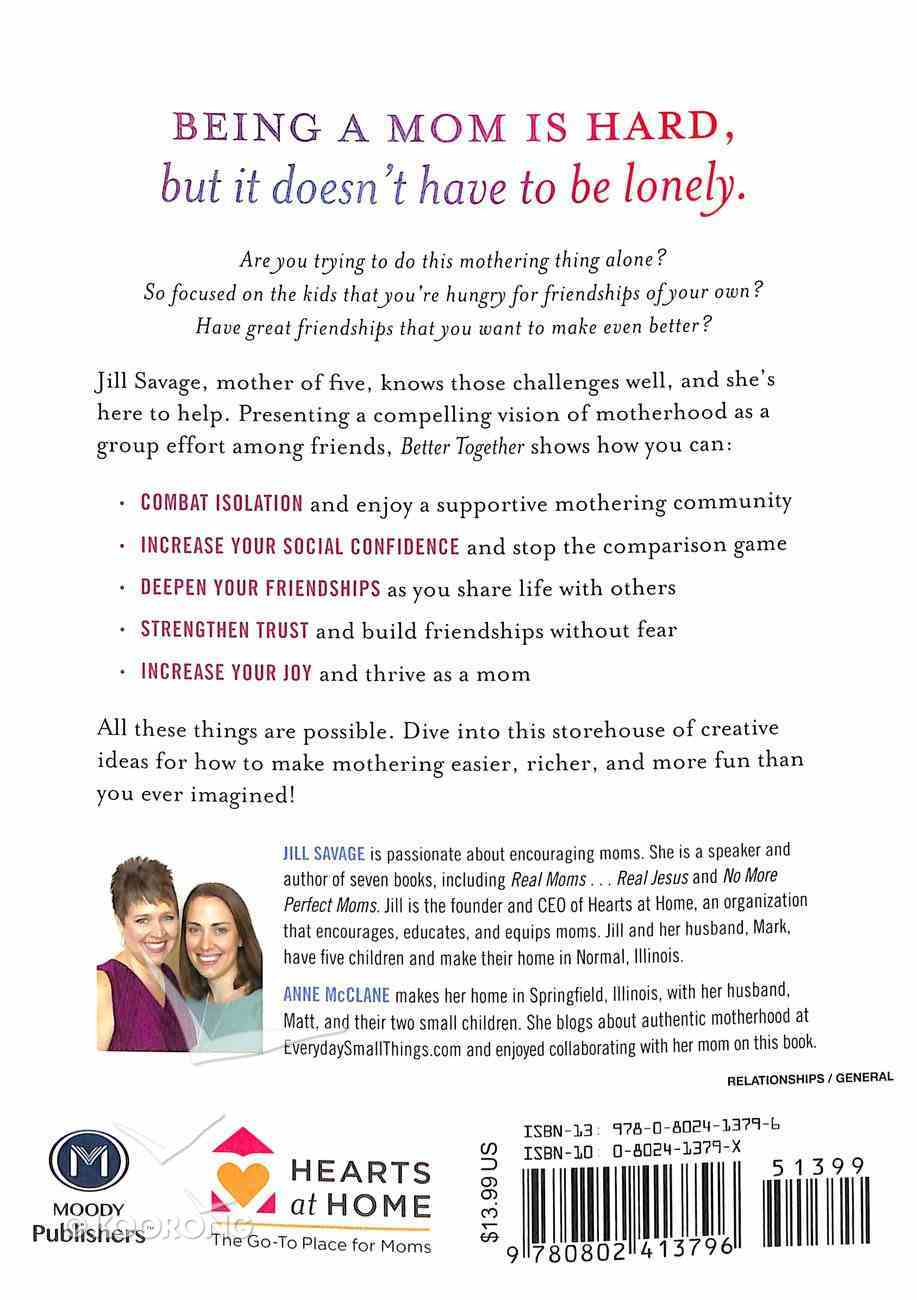 : You're not meant to mother alone. Better Together explores the notion that women are not designed to mother alone. We are designed to mother in relationship with other women who understand what a mom's life is like....
Out of Stock
Available to Order
---
Expected to ship in 4 to 5 weeks from Australia.
---
Free Shipping
for orders over $99.
:

You're not meant to mother alone.


Better Together explores the notion that women are not designed to mother alone. We are designed to mother in relationship with other women who understand what a mom's life is like. We're also designed to mother in relationship with the God who created us. This book encourages every mother to find her mothering community, a place where she can both give and receive support in the many forms moms need. Beyond encouraging moms to be in community, Better Together teaches how to build a tribe and what to do together once you have one, such as:

Learn together-fill in each other's weaknesses with each other's strengths Help together-enjoy community while accomplishing various tasks Care Together-offer day-to-day care as well as crisis support Share together-find healing and strength in opening up to one another Pray together-stand in the gap for each other when one among you is just dogged tired Forgive together-enjoy the in-and-outs of mothering friendships, even the tough parts Encourage together-pay attention to one another and cheer each other on
Better Together presents an uncommon and compelling vision of motherhood: a group effort full of joy and strength.



-Publisher
Jill Savage is a writer, speaker and the founder of Hearts at Home. Author of Professionalizing Motherhood and Is There Really Sex After Kids?, she leads the Hearts at Home organization in its mission to exalt God while encouraging, educating, and equipping mothers in their personal and family lives. She and her husband, Mark, live in Normal, Illinois, with their five children. SPANISH BIO: Jill Savage escritora, orador y fundadora de Hearts at Home. Ed autora de Madre de profesion y Is There Really Sex After Kids?, y dirige la organizacion Hearts at Home en su mision de exaltar a Dios y alent
:<div><p>chapter 1&amp;#160;&amp;#160;&amp;#160;&amp;#160;&amp;#160;&amp;#160;&amp;#160; Where It All Begins</p><p>chapter 2&amp;#160;&amp;#160;&amp;#160;&amp;#160;&amp;#160;&amp;#160;&amp;#160; Who Are You &amp;ldquo;momming&amp;rdquo; With?</p><p>chapter 3&amp;#160;&amp;#160;&amp;#160;&amp;#160;&amp;#160;&amp;#160;&amp;#160; Variety Is The Spice Of Life!</p><p>chapter 4&amp;#160;&amp;#160;&amp;#160;&amp;#160;&amp;#160;&amp;#160;&amp;#160; Learning Together: What A Great Idea! I Can&amp;rsquo;t Wait To Try That Out!</p><p>chapter&amp;#160; 5&amp;#160;&amp;#160;&amp;#160;&amp;#160;&amp;#160;&amp;#160; Helping Together: You Don&amp;rsquo;t Need To Do That Job Alone. I&amp;rsquo;ll Help You!</p><p>chapter 6&amp;#160;&amp;#160;&amp;#160;&amp;#160;&amp;#160;&amp;#160;&amp;#160; Caring Together: You&amp;rsquo;re Not Alone. We&amp;rsquo;re Here For You.</p><p>chapter 7&amp;#160;&amp;#160;&amp;#160;&amp;#160;&amp;#160;&amp;#160;&amp;#160; Sharing Together: Really? You Feel That Way Too?</p><p>chapter 8&amp;#160;&amp;#160;&amp;#160;&amp;#160;&amp;#160;&amp;#160;&amp;#160; Praying Together: I&amp;rsquo;m Standing In The Gap For You.</p><p>chapter 9&amp;#160;&amp;#160;&amp;#160;&amp;#160;&amp;#160;&amp;#160;&amp;#160; Forgiving Together: I&amp;rsquo;m Sorry, I Let You Down.</p><p>chapter 10&amp;#160;&amp;#160;&amp;#160;&amp;#160;&amp;#160; Encouraging Together: You&amp;rsquo;ve Got This! You Can Do It!</p><p>&amp;#160;</p><p>bonus Features:</p><p>appendix A&amp;#160;&amp;#160;&amp;#160;&amp;#160;&amp;#160; Conversation Starters</p><p>appendix B&amp;#160;&amp;#160;&amp;#160;&amp;#160;&amp;#160; Mothering Personality Inventory</p><p>appendix C&amp;#160;&amp;#160;&amp;#160;&amp;#160;&amp;#160; Mom Co-ops</p><p>appendix D &amp;#160;&amp;#160;&amp;#160;&amp;#160; 33 Bible Verses To Share With A Friend Going Through A Hard Time</p><p>&amp;#160;</p><p>leaders Guide</p></div>