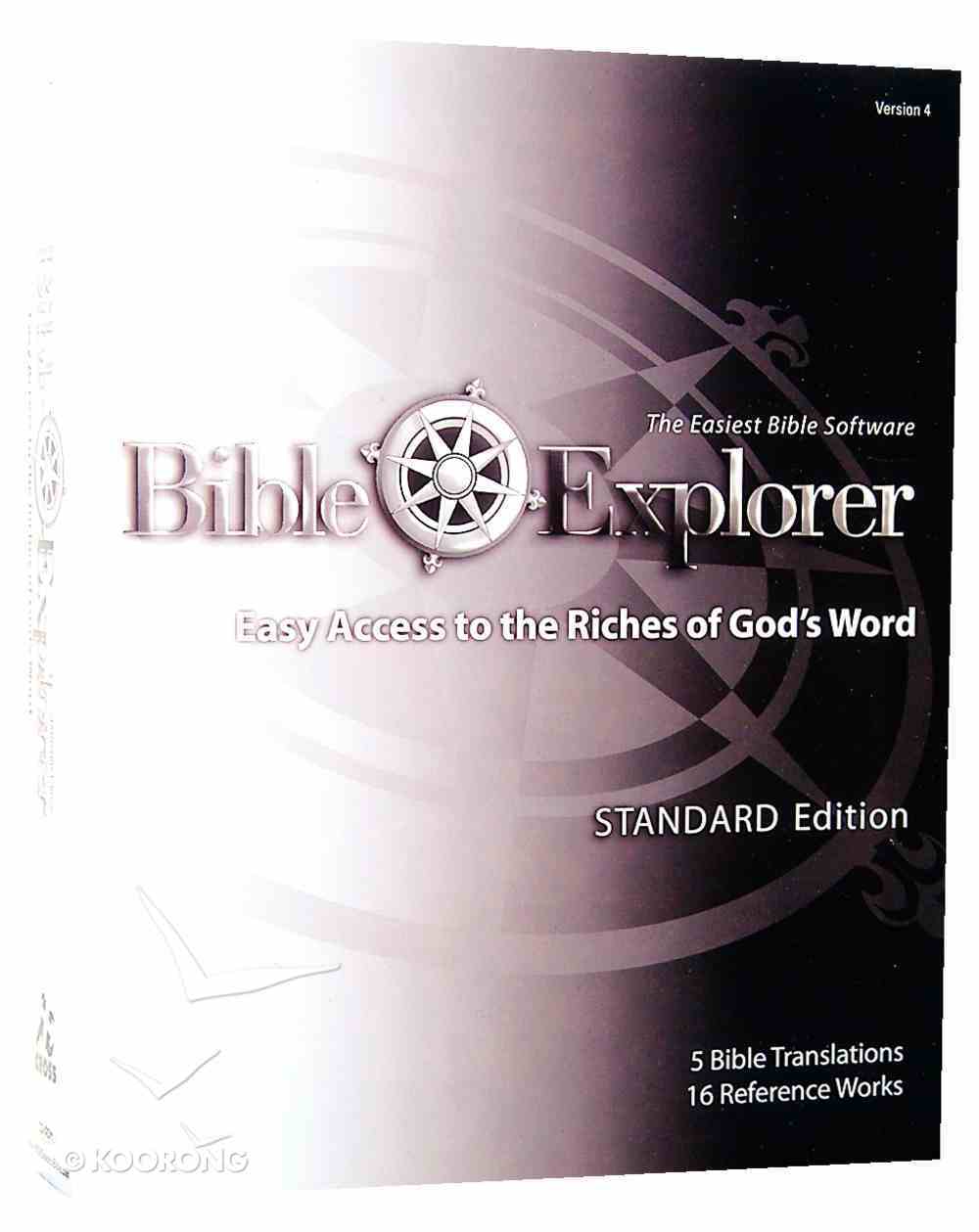 Bible Explorer 4.0 Standard Edition CDROM
Program features: Mouse over Magic - You're going to love this. In Bible Explorer, whenever your cursor is over a Scripture reference (whether in the text of a book or an index), the entire verse or passage will pop...
---
Free Shipping
for orders over $99.
Program features:

Mouse over Magic - You're going to love this. In Bible Explorer, whenever your cursor is over a Scripture reference (whether in the text of a book or an index), the entire verse or passage will pop up for you to see.
Dock your windows - You can combine windows into tabbed groups on the fly to better manage your desktop. You can flip between them easily, keeping them synchronized by Bible verse.
Easier Bible Explorer uses a web - browser approach, acclaimed by users and reviewers as the easiest Bible software available. It's more powerful, but much easier to learn and use.
Cross References - Unique to Bible windows; shows all books in your library that refer to the verse you have selected. Plus, you can "tear off" lists of cross references into another window to freeze them as you move on to other verses.
Parallel Bible Display - Currently there are nearly 550 Bibles and reference works totally over 1300 volumes in print, and many more on the way!
Colour Highlighting - Now you can colour highlight text in any Bible or book. Use 12 different colours. Add or erase highlighting any time.
Super Strong's - Bible Explorer and WORDsearch 7 are the only Bible software with "Talking Strong's," where you hear any Greek or Hebrew word. With Bible Explorer, you can tell your KJV or NASB text to "Show Strong's," and see every Strong's number next to each word. Just mouse over a Strong's number and the definition automatically pops up, or double - click a word in the Bible text to bring up the Strong's window.
Language - The new coding of Bible Explorer brings you better language tools with clear, printable Greek and Hebrew fonts. Click on any Strong's number and get a full, hot - linked concordance list on that word.
Sweet Searching - Bible Explorer brings you the most complete search functions of any Bible software, with 2 menu buttons for searching: Search Anything button allows you to enter any word or phrase and locate it immediately in any Bible or reference book. Topical Search button will take any word or topic and search the indices of every book with a topical index and show you everything you own that is related to this topic. This is handy for finding references that might use a different word for the topic you entered.
Exclusive Membership - Bible Explorer users belong to an exclusive club of serious Bible software users. One Click will automatically take you to a protected online community of other Bible Explorer users. There you can exchange sermons, lessons, ideas, prayers, requests, and have discussions with other power users like you.
Free Community Library - Download free books prepared by other users from the Community Library. They become a permanent, searchable part of your personal Library with pop - up Scripture references. It's a treasury of insight that you can't get in book form.
Authoring & Publishing Tools - Create your own books with the Bible Explorer word processor, now with built - in Spell Check! They'll function just like other books in your library. Then click an icon to upload them directly from your Bible Explorer desktop to the Community Library where they are published to the world. Your thoughts may help someone know the Lord or teach a lesson better. Titles include:

* GOD'S WORD Translation
* King James Version (KJV)
* New King James Version (NKJV)
* The Message
* Complete Book of Everyday Christianity
* Matthew Henry's Concise Commentary
* Morning and Evening
* Eastons Illustrated Bible Dictionary
* Strong's Concordance/ Greek and Hebrew Dictionary
* Bible Lands Map Set
* Photographs of Israel, the Holy Land
* Explore Biblical Genealogies
* Explore Topics Bundle (Prophecies; Life; Laws)
* Nave's Topics
* New Topical Textbook
* Treasury of Scripture Knowledge
- Publisher.