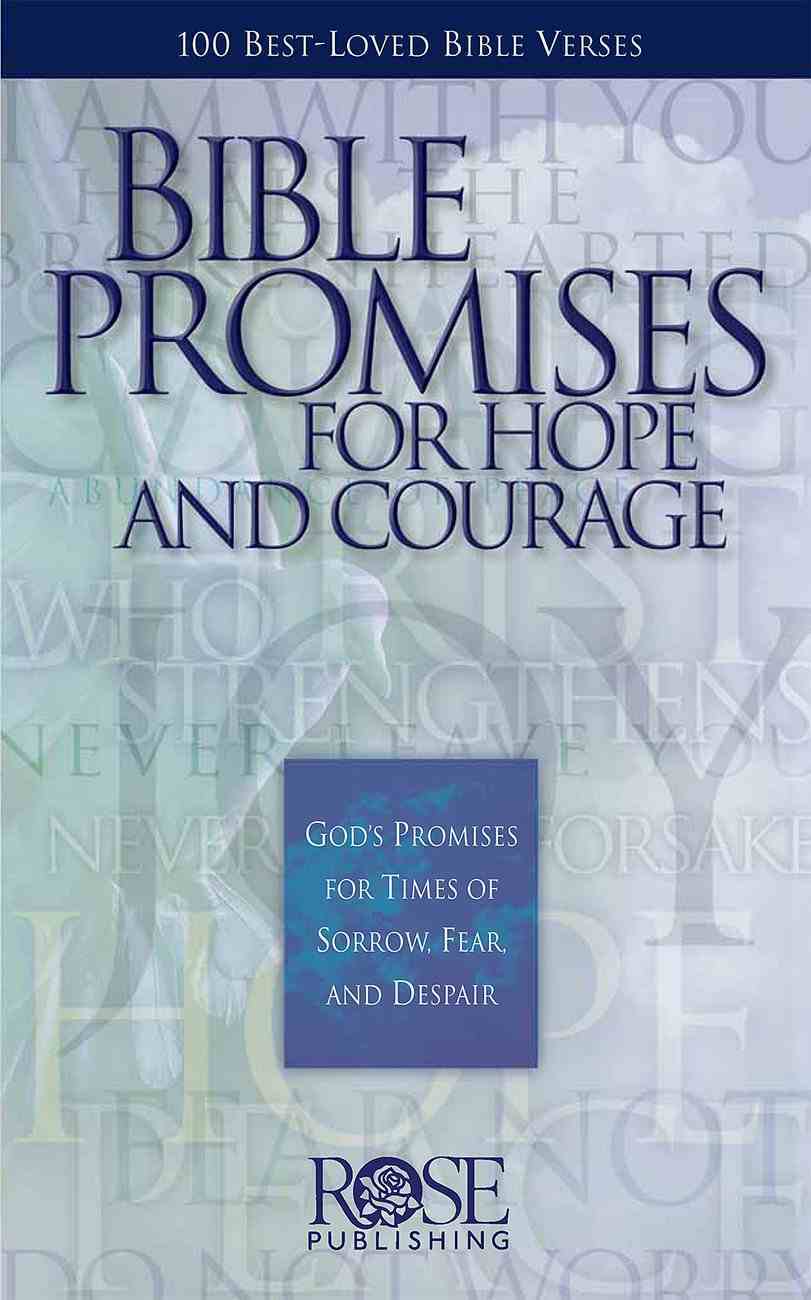 Bible Promises For Hope and Courage: 100 Favorite Bible Passages About God's Care For His People (Rose Guide Series)
The most comforting and encouraging Scripture verses are brought together in this full- color, easy-to-use ebook for everyday life. The Bible Promises for Hope and Courage ebook presents 100 of the best-loved Bible verses for those experiencing sorrow, fear, and...
Instant download
---
Expected to ship within 7 hours from Australia.
---
Read using our free app on your tablet or mobile!
---
Free Shipping
for orders over $99.

The most comforting and encouraging Scripture verses are brought together in this full- color, easy-to-use ebook for everyday life. The Bible Promises for Hope and Courage ebook presents 100 of the best-loved Bible verses for those experiencing sorrow, fear, and despair. Each promise passage has been chosen to reflect God's care for His people and to instill hope, courage, and comfort. In addition to personal use, Bible Promises is a bestselling resource that's perfect for pastoral care, prayer ministries, lay counseling, personal devotions, outreach, and many other ministry situations.
Every pastoral counselor should have a stack of these available.


The greatest wisdom and comfort during troubled times is found in God's Word. This easy-to-use resource, Bible Promises for Hope and Courage , brings together 100 of the most comforting and encouraging verses of Scripture to address life's most difficult times. The 14-panel fold-out format presents a wealth of information in an attractive format.


Bible Promises for Hope and Courage provides Scriptures that address personal challenges and needs, for example:

Loneliness and depression?Zephaniah 3:17, Psalm 34:18, Matthew 28:20 Contentment?Psalm 27:14, Hebrews 6: 10-12, Job 1:21 Strength and courage?Psalm 21:7, Deuteronomy 31:6, Isaiah 41:10
Bible Promises for Hope and Courage ebook encourages those in need to:

Choose to trust God with their challenges Resist the temptation to worship the problem Regain their joy and peace Pray and thank God, and let Him take care of it
Carefully selected Scriptures are offered for these challenges and needs:

Loneliness and depression Fear Worry Contentment Security Impatience, insecurity, temptation, anger Strength and Courage Comfort Peace and Joy Assurance of Salvation Hope Mercy Confusion Guidance Forgiveness Help making tough decisions Sharing one's faith And much more ^High Gloss Plastic Coated Sheet
-Publisher

The most comforting and encouraging Scripture verses are brought together in this full- color, easy-to-use ebook for everyday life. The Bible Promises for Hope and Courage ebook presents 100 of the best-loved Bible verses for those experiencing sorrow, fear, and despair. Each promise passage has been chosen to reflect God's care for His people and to instill hope, courage, and comfort. In addition to personal use, Bible Promises is a bestselling resource that's perfect for pastoral care, prayer ministries, lay counseling, personal devotions, outreach, and many other ministry situations.
Every pastoral counselor should have a stack of these available.


The greatest wisdom and comfort during troubled times is found in God's Word. This easy-to-use resource, Bible Promises for Hope and Courage , brings together 100 of the most comforting and encouraging verses of Scripture to address life's most difficult times. The 14-panel fold-out format presents a wealth of information in an attractive format.


Bible Promises for Hope and Courage provides Scriptures that address personal challenges and needs, for example:

Loneliness and depression?Zephaniah 3:17, Psalm 34:18, Matthew 28:20 Contentment?Psalm 27:14, Hebrews 6: 10-12, Job 1:21 Strength and courage?Psalm 21:7, Deuteronomy 31:6, Isaiah 41:10
Bible Promises for Hope and Courage ebook encourages those in need to:

Choose to trust God with their challenges Resist the temptation to worship the problem Regain their joy and peace Pray and thank God, and let Him take care of it
Carefully selected Scriptures are offered for these challenges and needs:

Loneliness and depression Fear Worry Contentment Security Impatience, insecurity, temptation, anger Strength and Courage Comfort Peace and Joy Assurance of Salvation Hope Mercy Confusion Guidance Forgiveness Help making tough decisions Sharing one's faith And much more
-Publisher
Bestsellers in Tracts/booklets