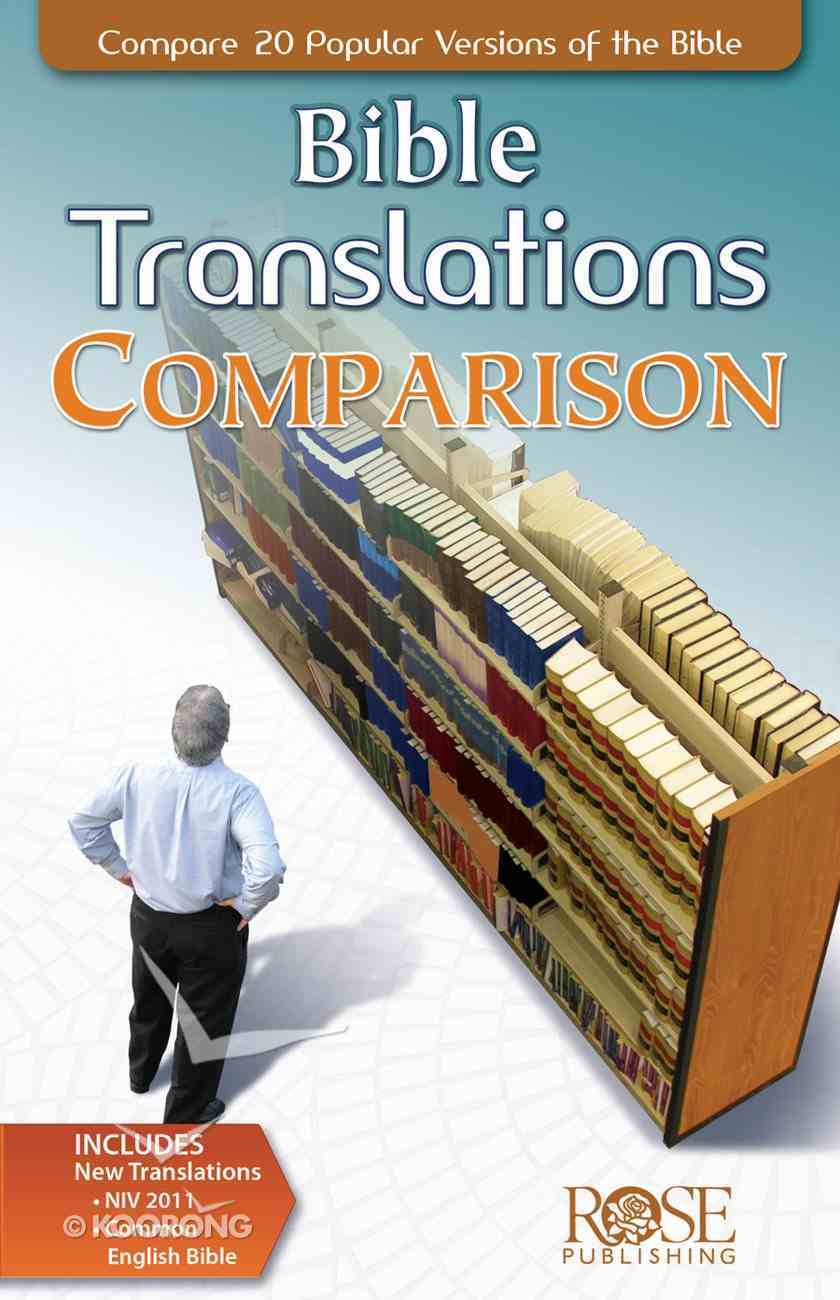 Bible Translations Comparison (Rose Guide Series)
IMPORTANT UPDATE: This 2nd Edition contains the new NIV 2011 and the new Common English Bible translations. Compare 20 Bible translations in a single glance. Discover what the translations have...
Available for immediate download.
---
Read using our free app on your tablet or mobile!
---
Free Shipping
for orders over $99.

IMPORTANT UPDATE: This 2nd Edition contains the new NIV 2011 and the new Common English Bible translations.



Compare 20 Bible translations in a single glance. Discover what the translations have in common, how they differ, and which one is best for you. It's all found in the bestselling Bible Translations Comparison ebook that offers an easy-to-use format, full color design, and glossy finish. The comparison chart displays: the name of the translation, the method of translation, sponsors, textual basis, purpose, sample verses to show the difference in wording, the year published, and much more. Some of the translations include: New Revised Standard, Amplified Bible, King James Version, The Message, among others.




Scholars have been translating the Bible for 2000 years and over the centuries, three primary methods of translation have evolved. The Bible Translations Comparison chart helps pastors, teachers, and students of the Word understand the approach to 20 Bible translations by providing the following information:

Translation method & reading level Year it was published Number of translators who worked on the project Sponsor of the translation version Textual basis Purpose Noteworthy facts Sample verses
This Bible Translations Comparison fold-out chart also provides a brief glossary of key words regarding translations, as well as a diagram that explains the three most popular Greek texts used for Bible translation.


The Bible Translations Comparison ebook compares the following Bible translations:

American Standard Version(ASV) Amplified Bible (AMP) New American Standard Bible (NASB) Revised Standard Version (RSV) New Revised Standard Version (NSRV) English Standard Version (ESV) King James Version (KJV) New King James Version (NKJV) New Jerusalem Bible (NJB) New American Bible (NAB) NEW! New International Version 2011 (NIV) NEW! Common English Bible (CEB) Today"s New International Version (TNIV) God's Word (GW) Holman Christian Standard Bible (HCSB) New Century Version (NCV) New Living Translation (NLT) New International Readers Version (NIrV) Good News Translation (GNT) Contemporary English Version (CEV) The Message
The ebook's introductory information explains why new translations continue to appear. Also provided is a brief overview of the three primary methods of translation as well as a fourth translation treatment that has evolved over the centuries. The side-by-side translations are color coded to reference the four translation treatments shown below:

Word-for-Word Balance?a process that mediates between word-for-word and thought-for-thought Thought-for-thought Paraphrase?a restatement of a translation The Bible Translations Comparison ebook provides a list of 13 "Important Words to Know" such as: Apocrypha Biblia Hebraica Dead Sea Scrolls Masoretic Text Septuagint And the major groups of Greek manuscripts or text types: Western Lucianic Byzantine Alexandrian
-Publisher
Bestsellers in Tracts/booklets