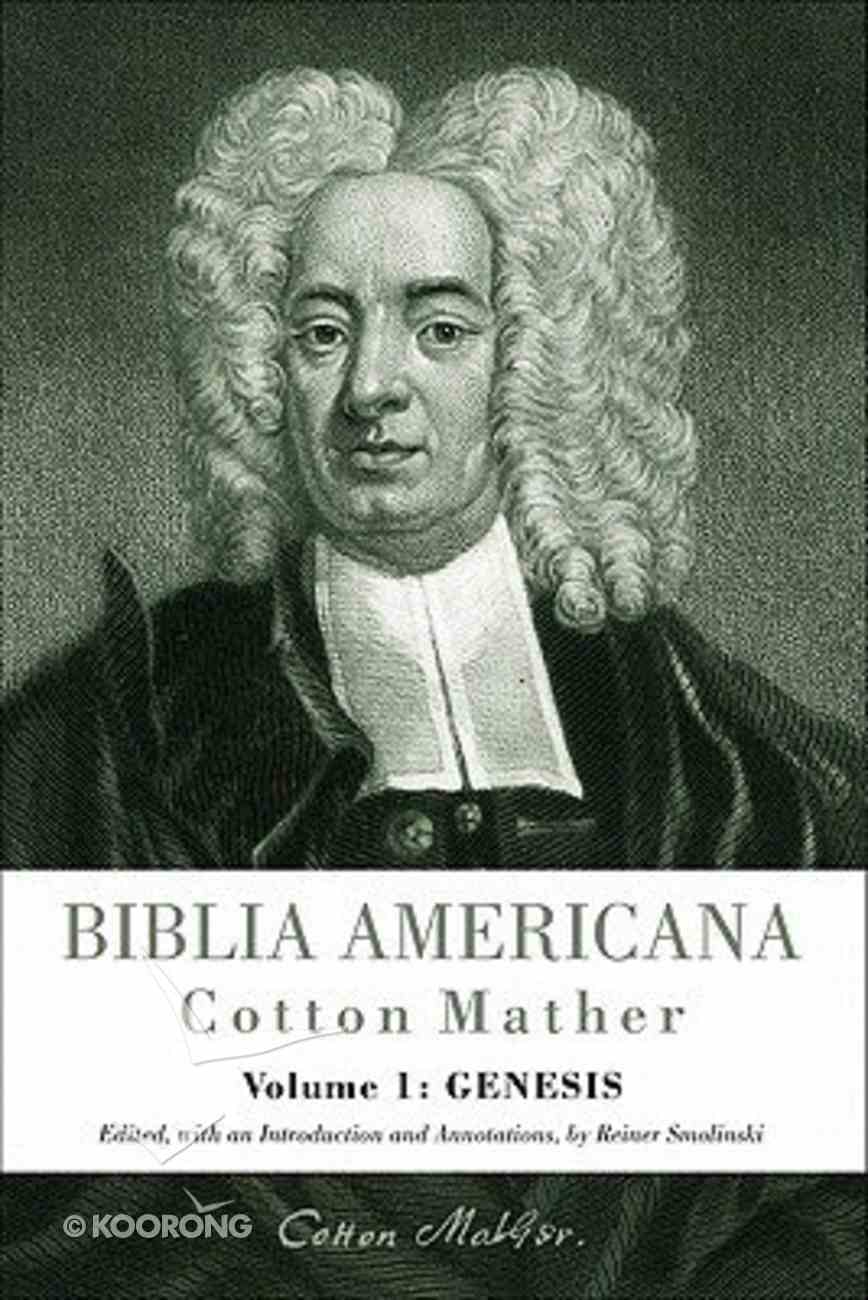 Biblia Americana Volume 1: Genesis
"The appearance of Cotton Mather''s Biblia Americana is a major publishing event. For the first time, the tremendous scope and knowledge of this significant American figure will become evident through this massive work of biblical and philosophical interpretation of Scripture....
Unavailable. Out of Print. Only available while stock lasts.
Out of Print
---
Free Shipping
for orders over $99.
"The appearance of Cotton Mather''s Biblia Americana is a major publishing event. For the first time, the tremendous scope and knowledge of this significant American figure will become evident through this massive work of biblical and philosophical interpretation of Scripture. Mather''s unique approach displays his familiarity with contemporary hermeneutical debates and reactions to emerging critical methods and discoveries. Now more than ever, the magnificence of Mather''s learning will be displayed. This project makes accessible a major work in American colonial hermeneutics that will be read with great appreciation by many scholars and by all interested in the history of biblical interpretation."--Donald K. McKim, editor, Encyclopedia of the Reformed Faith "The publication of the Biblia Americana will vault Cotton Mather into a new frame of intellectual reference, placing him firmly within the Atlantic commentarial tradition and positioning him alongside such celebrated synoptic commentators on Scripture as Matthew Poole and Matthew Henry. The range and erudition evident in Mather''s exegesis of the Bible promise to undermine stereotypes that fixate on his reflections triggered by the witchcraft trials and to demonstrate the astonishing breadth of his knowledge documented in the commentary. The exegetical dimension of Mather''s professional life has been overlooked for too long. This edition will correct that oversight and open a new chapter in Mather studies."--Stephen J. Stein, Chancellor''s Professor, emeritus, department of religious studies, Indiana University"Cotton Mather''s Biblia Americana is genuinely groundbreaking scholarship that deepens our understanding not only of colonial biblical scholarship but also of early eighteenth-century American views about theology, natural science, history, geography, classical literature, theories of knowledge, ethical ideas, and the intricacies of the soul. It enables us to move beyond cliches about Mather that have diminished the range and subtlety of his thinking, and it informs us about the scope of the knowledge available to the educated in colonial New England. For too long we have allowed his misjudgments in the witch trials and the eccentricities of his piety and personal relationships to define the man. These volumes reveal a mind of immense learning, and they give us a better sense of the qualities that regularly drew more than a thousand listeners to his church every Sunday. Mather knew the ancient languages and the biblical texts as only a tiny handful of colonial divines knew them. Published now for the first time, these volumes reveal a man deeply immersed in the learning not only of the ancient past but also of his own time."--E. Brooks Holifield, Charles Howard Candler Professor of American Church History, Emory University"Mather''s massive commentary, to which biblical scholars have until now had no access, will quickly prove itself a major contribution to the history of interpretation. Not only does Mather comment informatively on exegetical history, but he also offers novel suggestions of his own."--Dale C. Allison Jr., Errett M. Grable Professor of New Testament Exegesis and Early Christianity, Pittsburgh Theological Seminary"At a time when the history of biblical exegesis and the role of the Bible in American culture are being revisited, the Biblia Americana provides us with a commentary unequaled in size and scope by any other American. From these entries emerges another side of Cotton Mather than Salem witchcraft: a Mather of erudite learning, immersion in the Scriptures, and deep piety. This edition will be of great use to scholars and specialists, pastors and lay readers alike."--Harry S. Stout, Jonathan Edwards Professor of American Religious History, Yale University"The publication of Cotton Mather''s Biblia Americana is surely one of the most important events in the history of American historical scholarship. Long left to slumber in a dog-eared manuscript, Ma
-Publisher
Cotton Mather, one of the leading intellectuals of colonial America, has often been overshadowed by his younger Puritan contemporary, Jonathan Edwards. Now, however, the publication of this first edition of Mather's magnum opus in the area of biblical knowledge focuses fresh attention on early New England's second most prodigious intellect. Mather's commentary takes the form of questions and answers on the whole biblical canon. The edition, prepared by an international team of experts in early American studies, will consist of ten volumes published over the course of a decade. This first volume introduces the project and offers Mather's comments on Genesis. This work will be treasured by students of American church history, colonial-era Puritanism, Christian responses to the Enlightenment, American intellectual development, and the history of biblical interpretation. It is a must-have acquisition for research libraries covering these disciplines.
-Publisher
PRODUCT DETAIL
Catalogue Code 

302465

Product Code 

9780801039003

ISBN 

0801039002

EAN 

9780801039003

Pages 

1360

Department Academic
Category History
Sub-Category General
Publisher Baker Book House
Publication Date 

Oct 2010

Dimensions 

257 x 180 x 69

mm

Weight 

2.013

kg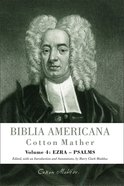 <b>part I: Editor's Introduction<br></b>i 1: Description Of The Entire Project, Volume Division, Co-editors<br>i 2: Biographical Essay Of Mather's Life And Career As A Theologian With Focus On His Published And Unpublished Works <br>i 3: Contents Of &quot;biblia Americana&quot;<br>i 4: &quot;biblia Americana&quot; As A Synoptic Commentary, Use Of Principal Sources, Mather's Reading (as Evidenced In <i>biblia Americana</i>), His Private Library, Harvard Library (to 1728), And Access To Other Published And Unpublished Sources<br>i 5: Note On The Text, Description Of Holograph Ms, Its Condition, Quires Of Paper, Watermarks, Paper Makers, Binding, Rebinding.<br>i 6: Editing The Ms And Editorial Principles<br><b>part Ii<br></b>t: Text Of <i>biblia Americana<br></i>a: Appendices And Tables&#9;<br>1: Manuscript Cancellations Of Significant Material<br>2: Use Of Excerpts From Primary Sources (percentages)<br>3: Biblical Citations And References<br>b: Bibliographies<br>primary Works<br>secondary Works<br>indexes