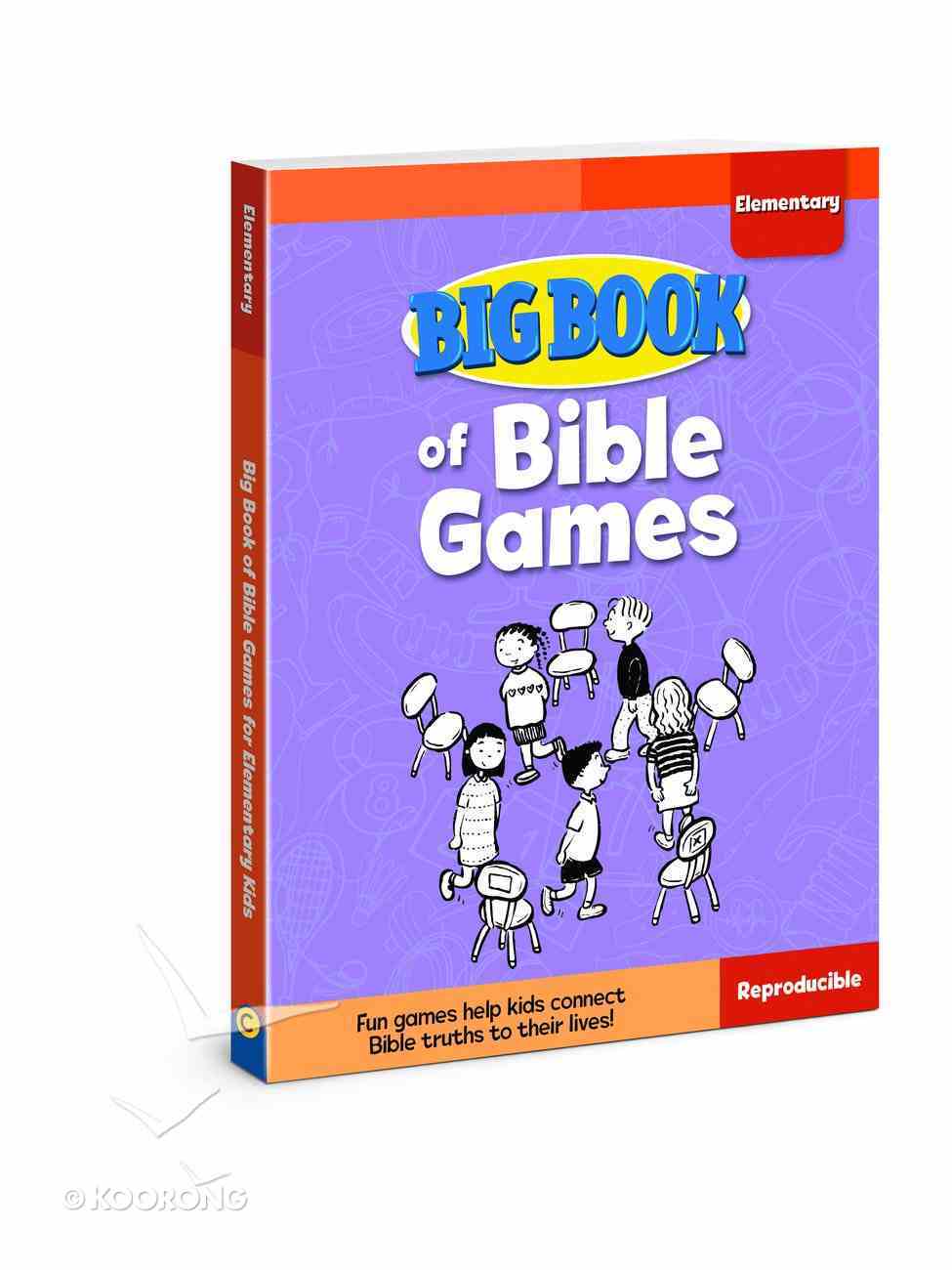 Big Book of Bible Games For Elementary Kids (Reproducible)
: No matter which children's curriculum you use or what type of children's ministry program you have, Big Books will provide hours of creative Bible learning and fun! You'll find games, art activities, coloring pages, creative storytelling, object lessons, Bible...
---
Expected to ship within 4 hours from Australia.
---
Free Shipping
for orders over $99.
:
No matter which children's curriculum you use or what type of children's ministry program you have, Big Books will provide hours of creative Bible learning and fun! You'll find games, art activities, coloring pages, creative storytelling, object lessons, Bible talks, crafts, puzzles, science experiments, and more! Plus each Big Book is reproducible and comes with perforated pages and a Scripture index.

Big Books are perfect for: Sunday School Children's Church Evening Programs Vacation Bible School Christian Schools Home Schools Camps Over Games Make Bible Learning Fun! This reproducible resource features: Bible learning, Bible story review, Bible memory verse, and life-application games Indoor and outdoor games, water games, and large-group games Step-by-step instructions Discussion questions, game tips, and options

-Publisher
PRODUCT DETAIL
Catalogue Code 

496550

Product Code 

9780830772315

ISBN 

0830772316

EAN 

9780830772315

Pages 

256

Department Ministry
Category Children's Ministry
Sub-Category Games
Publisher David C Cook
Publication Date 

Jan 2018

Sales Rank 

17756

Dimensions 

276 x 212 x 20

mm

Weight 

0.703

kg
:<div>genesis 1:26&amp;ndash;27; 2:7, 15&amp;ndash;23<br /> Genesis 1:26&amp;ndash;28; 2:19&amp;ndash;23<br /> Genesis 4:1&amp;ndash;4<br /> Genesis 6:9&amp;mdash;9:17<br /> Genesis 13:1&amp;ndash;9<br /> Genesis 12:1&amp;ndash;9<br /> Genesis 12:1&amp;ndash;9; 15:1&amp;ndash;6; 18:1&amp;ndash;15; 21:1&amp;ndash;7<br /> Genesis 25:19&amp;ndash;34; 27&amp;ndash;33<br /> Genesis 26:1&amp;ndash;31<br /> Genesis 37; 39; 41:41&amp;ndash;45<br /> Genesis 37, 39&amp;ndash;45<br /> Exodus 8&amp;ndash;11<br /> Exodus 12<br /> Exodus 12:12&amp;ndash;42<br /> Exodus 13:17&amp;mdash;15:21<br /> Exodus 16:1&amp;mdash;17:7<br /> Deuteronomy 7:9<br /> Joshua 1<br /> Joshua 1, 3, 6<br /> Joshua 3<br /> Joshua 23:14<br /> Judges 4:1&amp;ndash;16; 5:1&amp;ndash;23<br /> Judges 16:4&amp;ndash;22<br /> Ruth<br /> 1 Samuel 3<br /> 1 Samuel 15:1&amp;ndash;26<br /> 1 Samuel 20<br /> 1 Samuel 24<br /> 1 Kings 5&amp;ndash;8<br /> 1 Kings 17:7&amp;ndash;16<br /> 2 Kings 4:8&amp;ndash;37<br /> 2 Kings 4:8&amp;ndash;37<br /> 2 Kings 5<br /> 2 Kings 6:8&amp;ndash;23<br /> 1 Chronicles 15&amp;ndash;16<br /> 1 Chronicles 16:29<br /> 2 Chronicles 5&amp;ndash;7<br /> 2 Chronicles 7:14<br /> 2 Chronicles 34<br /> Nehemiah 1&amp;ndash;4; 6:15&amp;ndash;16<br /> Nehemiah 1&amp;ndash;4, 8&amp;ndash;9<br /> Nehemiah 1:1&amp;mdash;8:12<br /> Nehemiah 2:1&amp;ndash;5<br /> Esther<br /> Psalm 9:1<br /> Psalm 29:11<br /> Psalm 32:8<br /> Psalm 55:16&amp;ndash;17<br /> Psalm 95:1<br /> Psalm 105:2<br /> Psalm 109:26<br /> Psalm 119:11<br /> Psalm 119:11<br /> Psalm 119:60<br /> Psalm 119:127<br /> Psalm 119:130<br /> Psalm 130:7<br /> Psalm 136:1<br /> Proverbs 3:3<br /> Proverbs 17:17<br /> Isaiah 9:1&amp;ndash;7<br /> Jeremiah 1:4&amp;ndash;10; 36:1&amp;mdash;40:16<br /> Jeremiah 17:7<br /> Daniel 1<br /> Daniel 1; 6<br /> Daniel 2<br /> Daniel 3<br /> Daniel 6<br /> Jonah<br /> Micah 5:2&amp;ndash;4<br /> The Gospels<br /> Matthew 2:1&amp;ndash;16<br /> Matthew 3<br /> Matthew 3:13&amp;ndash;17<br /> Matthew 4:1&amp;ndash;11<br /> Matthew 5:7<br /> Matthew 5:9<br /> Matthew 6:9&amp;ndash;13<br /> Matthew 8:23&amp;ndash;27<br /> Matthew 18:21&amp;ndash;35<br /> Matthew 19:13&amp;ndash;15<br /> Matthew 21:1&amp;ndash;17<br /> Matthew 25:14&amp;ndash;30<br /> Psalm 119:130<br /> Psalm 130:7<br /> Psalm 136:1<br /> Proverbs 3:3<br /> Proverbs 17:17<br /> Isaiah 9:1&amp;ndash;7<br /> Jeremiah 1:4&amp;ndash;10; 36:1&amp;mdash;40:16<br /> Jeremiah 17:7<br /> Daniel 1<br /> Daniel 1; 6<br /> Daniel 2<br /> Daniel 3<br /> Daniel 6<br /> Jonah<br /> Micah 5:2&amp;ndash;4<br /> Matthew 2:1&amp;ndash;16<br /> Matthew 3<br /> Matthew 3:13&amp;ndash;17<br /> Matthew 4:1&amp;ndash;11<br /> Matthew 5:7<br /> Matthew 5:9<br /> Matthew 6:9&amp;ndash;13<br /> Matthew 8:23&amp;ndash;27<br /> Matthew 18:21&amp;ndash;35<br /> Matthew 19:13&amp;ndash;15<br /> Matthew 21:1&amp;ndash;17<br /> Matthew 25:14&amp;ndash;30<br /> Matthew 28<br /> Matthew 28:1&amp;ndash;10<br /> Matthew 28:16&amp;ndash;20<br /> Mark 1:4&amp;ndash;11<br /> Mark 2:1&amp;ndash;12<br /> Mark 4:35&amp;ndash;41<br /> Mark 5:21&amp;ndash;43<br /> Mark 6:30&amp;ndash;44<br /> Mark 10:13&amp;ndash;16<br /> Mark 11:1&amp;ndash;11<br /> Mark 12:30<br /> Mark 12:41&amp;ndash;44<br /> Mark 16<br /> Mark 16:1&amp;ndash;7<br /> Mark 16:1&amp;ndash;11<br /> Luke 2:1&amp;ndash;20<br /> Luke 2:22&amp;ndash;38<br /> Luke 4:1&amp;ndash;13<br /> Luke 5:17&amp;ndash;26<br /> Luke 6:27<br /> Luke 6:27&amp;ndash;28; 7:1&amp;ndash;10<br /> Luke 8:22&amp;ndash;25<br /> Luke 8:40&amp;ndash;56<br /> Luke 10:25&amp;ndash;37<br /> Luke 15:1&amp;ndash;2,11&amp;ndash;32<br /> Luke 15:1&amp;ndash;10<br /> Luke 15:11&amp;ndash;24<br /> Luke 17:11&amp;ndash;19<br /> Luke 18:9&amp;ndash;14<br /> Luke 18:15&amp;ndash;17<br /> Luke 19:1&amp;ndash;10<br /> Luke 19:12&amp;ndash;27<br /> Luke 19:28&amp;ndash;40<br /> Luke 20:45&amp;ndash;47; 21:1&amp;ndash;4<br /> Luke 21:1&amp;ndash;4<br /> Luke 24<br /> Luke 24:1&amp;ndash;12<br /> John 1:29&amp;ndash;34<br /> John 3:36<br /> John 6:1&amp;ndash;15<br /> John 8:12<br /> John 9<br /> John 12:12&amp;ndash;19<br /> John 13:1&amp;ndash;17<br /> John 14:15<br /> John 14:27<br /> John 15:12<br /> John 15:13<br /> John 20<br /> John 20:31<br /> John 21:15&amp;ndash;19<br /> Acts 1:1&amp;ndash;11<br /> Acts 1:8<br /> Acts 2<br /> Acts 2:42&amp;ndash;47<br /> Acts 3:1&amp;ndash;10<br /> Acts 3:1&amp;ndash;16<br /> Acts 4:32&amp;mdash;5:11<br /> Acts 5:29<br /> Acts 8:26&amp;ndash;40<br /> Acts 9:1&amp;ndash;31<br /> Acts 11:19&amp;ndash;30<br /> Acts 12:1&amp;ndash;17<br /> Acts 14:8&amp;ndash;20<br /> Acts 16:16&amp;ndash;40<br /> Acts 26<br /> Acts 27<br /> Acts 28:17&amp;ndash;31<br /> Romans 5:5<br /> Romans 6:23<br /> Romans 12:13<br /> Romans 12:18<br /> Romans 14:19<br /> 1 Corinthians 2:9<br /> 1 Corinthians 13:4<br /> 1 Corinthians 15:58<br /> Galatians 5:13<br /> Galatians 5:22&amp;ndash;23<br /> Galatians 6:10<br /> Philippians 2:3<br /> Philippians 2:10&amp;ndash;11<br /> Philippians 4:19<br /> Colossians 3:13<br /> Colossians 3:15<br /> Colossians 4:2<br /> 1 Thessalonians 3:12<br /> 1 Thessalonians 5:11<br /> 1 Thessalonians 5:18<br /> 1 Timothy 2:3&amp;ndash;4<br /> 1 Timothy 4:12<br /> 1 Timothy 6:18<br /> 2 Timothy 3:16&amp;ndash;17<br /> Philemon<br /> Hebrews 10:23<br /> Hebrews 11:1&amp;mdash;12:2<br /> James 1:19; 3:3&amp;ndash;12<br /> 1 Peter 3:15<br /> 1 John 1:9<br /> 1 John 3:1<br /> 1 John 3:16<br /> 1 John 3:18<br /> 1 John 4:9</div><br /> &amp;#160;<br /> &amp;#160;
Bestsellers in Children's Ministry