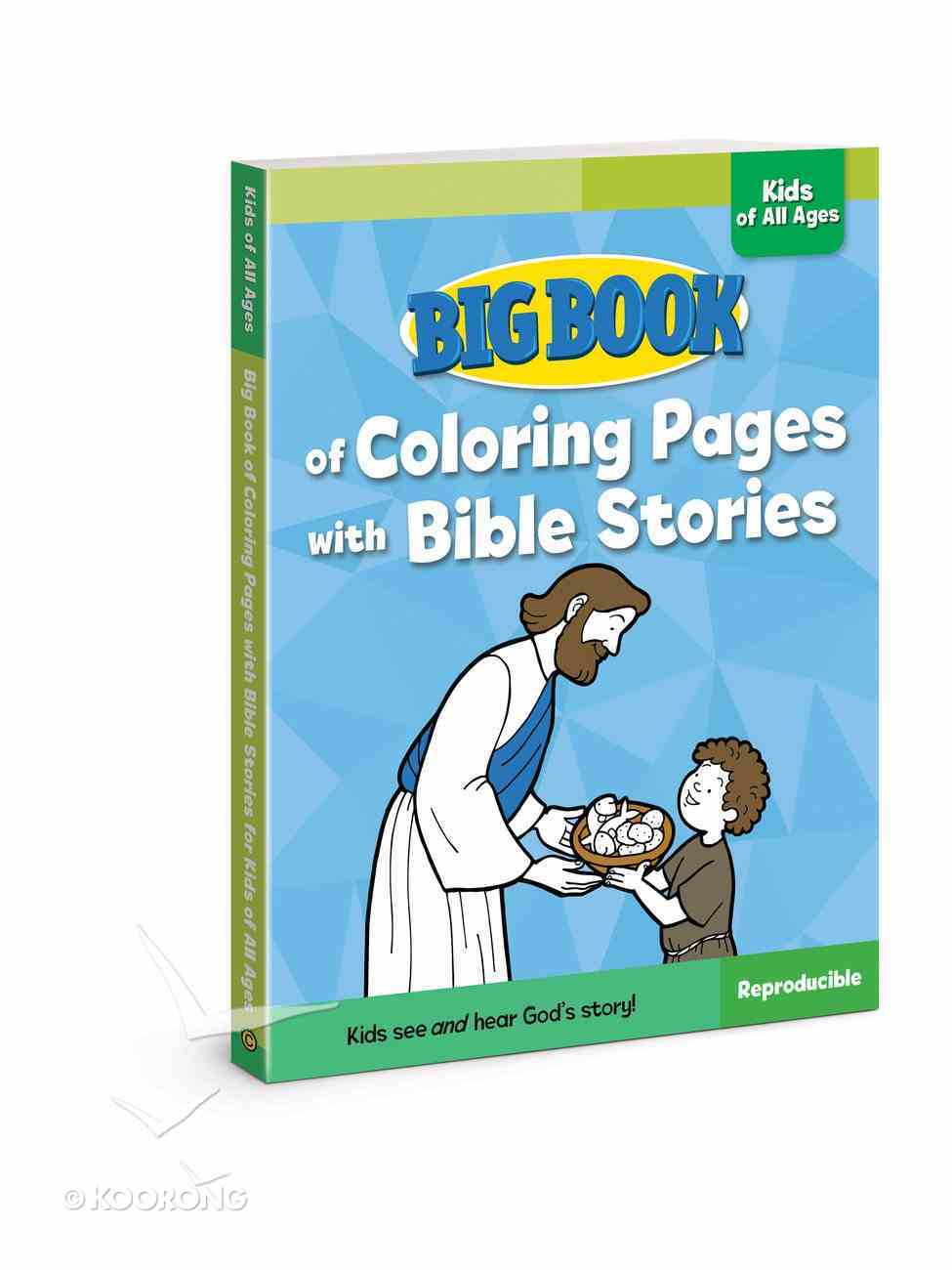 Big Book of Coloring Pages With Bible Stories For Kids of All Ages (Reproducible)
: No matter which children's curriculum you use or what type of children's ministry program you have, Big Books will provide hours of creative Bible learning and fun! You'll find games, art activities, coloring pages, creative storytelling, object lessons, Bible...
---
Expected to ship within 5 hours from Australia.
---
Free Shipping
for orders over $99.
:
No matter which children's curriculum you use or what type of children's ministry program you have, Big Books will provide hours of creative Bible learning and fun! You'll find games, art activities, coloring pages, creative storytelling, object lessons, Bible talks, crafts, puzzles, science experiments, and more! Plus each Big Book is reproducible and comes with perforated pages and a Scripture index.

Big Books are perfect for: Sunday School Children's Church Evening Programs Vacation Bible School Christian Schools Home Schools Camps Kids Take an Adventure Through the Bible as They See and Hear God's Story! This reproducible resource features: More than coloring pages and Bible stories Illustrations that reinforce age-appropriate Bible stories Bible stories printed on the backs of each page Stories from the creation of the world in Genesis to Jesus' return in Revelation

-Publisher
:<div>genesis 1:1&amp;mdash;2:25<br /> Genesis 2:9; 3:1&amp;ndash;24<br /> Genesis 4:1&amp;ndash;16<br /> Genesis 6<br /> Genesis 8:1&amp;mdash;9:17<br /> Genesis 12:1&amp;ndash;9<br /> Genesis 12:1&amp;ndash;4; 13<br /> Genesis 15:1&amp;ndash;6; 17:1&amp;ndash;8; 18:1&amp;ndash;15; 21:1&amp;ndash;7<br /> Genesis 26:12&amp;ndash;33<br /> Genesis 27:1&amp;ndash;45<br /> Genesis 32:3&amp;ndash;21; 33:1&amp;ndash;11<br /> Genesis 37:2&amp;ndash;36<br /> Genesis 39:1&amp;mdash;41:49<br /> Genesis 42:1&amp;mdash;45:28<br /> Exodus 1:1&amp;ndash;22<br /> Exodus 2:1&amp;ndash;10<br /> Exodus 3:1&amp;mdash;4:17<br /> Exodus 5:1&amp;mdash;12:32<br /> Exodus 12:33&amp;ndash;39; 13:17&amp;ndash;22<br /> Exodus 14:1&amp;ndash;31<br /> Exodus 15:22&amp;ndash;27<br /> Exodus 16<br /> Exodus 19:1&amp;mdash;24:18<br /> Numbers 13:1&amp;mdash;14:35<br /> Numbers 20:1&amp;ndash;13<br /> Joshua 6:1&amp;ndash;20<br /> Judges 4:1&amp;ndash;16<br /> Judges 6:1&amp;ndash;24<br /> Judges 7:1&amp;ndash;21<br /> Judges 13, 16<br /> Ruth 1&amp;ndash;4<br /> 1 Samuel 1:1&amp;mdash;2:11<br /> 1 Samuel 3<br /> 1 Samuel 8:1&amp;mdash;10:24<br /> 1 Samuel 16:1&amp;ndash;13<br /> 1 Samuel 16:14&amp;ndash;23<br /> 1 Samuel 17<br /> 1 Samuel 18:1&amp;ndash;4; 20:1&amp;ndash;42<br /> 1 Samuel 24:1&amp;ndash;22<br /> 1 Kings 3:1&amp;ndash;15<br /> 1 Kings 5&amp;ndash;6; 7:13&amp;ndash;51; 2 Chronicles 2&amp;ndash;4<br /> 1 Kings 17:1&amp;ndash;6<br /> 1 Kings 17:7&amp;ndash;16<br /> 1 Kings 18:16&amp;ndash;39<br /> 2 Kings 2:1&amp;ndash;14<br /> 2 Kings 4:1&amp;ndash;7<br /> 2 Kings 4:8&amp;ndash;10<br /> 2 Kings 5:1&amp;ndash;16<br /> 2 Kings 12:1&amp;ndash;15; 2 Chronicles 24:1&amp;ndash;14<br /> 2 Kings 22:1&amp;mdash;23:3; 2 Chronicles 34:14&amp;ndash;32<br /> Job 1:1&amp;mdash;2:10; 42<br /> Jonah 1&amp;ndash;2<br /> Isaiah 6:1&amp;ndash;8; 9:1&amp;ndash;7<br /> Daniel 1<br /> Daniel 3<br /> Daniel 5<br /> Daniel 6<br /> Esther 2:1&amp;ndash;18<br /> Esther 4&amp;ndash;7<br /> Nehemiah 2:11&amp;mdash;4:23; 6:15&amp;ndash;16<br /> Matthew 2:1&amp;ndash;12<br /> Matthew 2:13&amp;ndash;23<br /> Matthew 3:1&amp;ndash;12; Mark 1:1&amp;ndash;8; Luke 3:1&amp;ndash;20<br /> Matthew 3:13&amp;ndash;17; Mark 1:9&amp;ndash;11; Luke 3:21&amp;ndash;22; John 1:29&amp;ndash;34<br /> Matthew 4:1&amp;ndash;11; Mark 1:12&amp;ndash;13; Luke 4:1&amp;ndash;13<br /> Matthew 4:18&amp;ndash;22; Mark 1:16&amp;ndash;20; Luke 5:1&amp;ndash;11; John 1:40&amp;ndash;42<br /> Matthew 6:5&amp;ndash;13; Mark 1:35&amp;ndash;37; Luke 11:1&amp;ndash;4<br /> Matthew 7:24&amp;ndash;29<br /> Matthew 8:23&amp;ndash;27; Mark 4:35&amp;ndash;41; Luke 8:22&amp;ndash;25<br /> Matthew 9:2&amp;ndash;8; Mark 2:1&amp;ndash;12; Luke 5:17&amp;ndash;26<br /> Matthew 9:18&amp;ndash;26; Mark 5:22&amp;ndash;43; Luke 8:40&amp;ndash;56<br /> Matthew 14:13&amp;ndash;21; Mark 6:30&amp;ndash;44; Luke 9:10&amp;ndash;17; John 6:1&amp;ndash;15<br /> Matthew 14:22&amp;ndash;33; Mark 6:45&amp;ndash;52; John 6:16&amp;ndash;21<br /> Matthew 18:10&amp;ndash;14; Luke 15:3&amp;ndash;7<br /> Matthew 19:13&amp;ndash;15; Mark 10:13&amp;ndash;16; Luke 18:15&amp;ndash;17<br /> Matthew 21:1&amp;ndash;11; Luke 19:29&amp;ndash;44; John 12:12&amp;ndash;19<br /> Matthew 25:14&amp;ndash;30<br /> Matthew 26:6&amp;ndash;13; Mark 14:3&amp;ndash;9; John 12:2&amp;ndash;8<br /> Matthew 26:17&amp;ndash;30; Mark 14:12&amp;ndash;26; Luke 22:7&amp;ndash;23<br /> Matthew 26:69&amp;ndash;75; Mark 14:66&amp;ndash;72; Luke 22:55&amp;ndash;62; John 18:15&amp;ndash;18, 25&amp;ndash;27<br /> Matthew 27:11&amp;ndash;20; John 18:28&amp;mdash;19:16; Revelation 4&amp;ndash;5<br /> Matthew 27:32&amp;ndash;61; Mark 15:21&amp;ndash;47; Luke 23:26&amp;ndash;55; John 19:17&amp;ndash;42<br /> Matthew 28:1&amp;ndash;10<br /> Matthew 28:16&amp;ndash;20<br /> Mark 4:1&amp;ndash;20<br /> Mark 7:31&amp;ndash;37<br /> Mark 12:41&amp;ndash;44; Luke 21:1&amp;ndash;4<br /> Mark 16:14; Luke 24:36&amp;ndash;43; John 20:19&amp;ndash;23<br /> Luke 1:26&amp;ndash;38<br /> Luke 2:1&amp;ndash;7<br /> Luke 2:8&amp;ndash;20<br /> Luke 2:41&amp;ndash;52<br /> Luke 7:1&amp;ndash;10<br /> Luke 10:25&amp;ndash;37<br /> Luke 15:11&amp;ndash;32<br /> Luke 17:11&amp;ndash;19<br /> Luke 19:1&amp;ndash;9<br /> Luke 24:13&amp;ndash;35<br /> Luke 24:50&amp;ndash;53; Acts 1:1&amp;ndash;11<br /> John 3:1&amp;ndash;21<br /> John 4:1&amp;ndash;42<br /> John 9:1&amp;ndash;41<br /> John 11:1&amp;ndash;44<br /> John 13:1&amp;ndash;17<br /> John 20:11&amp;ndash;18<br /> John 21:1&amp;ndash;14<br /> Acts 2:1&amp;ndash;13<br /> Acts 2:42&amp;ndash;47; 4:32&amp;ndash;35; 5:12&amp;ndash;16<br /> Acts 3:1&amp;ndash;16<br /> Acts 8:26&amp;ndash;40<br /> Acts 9:1&amp;ndash;19<br /> Acts 9:10&amp;ndash;22<br /> Acts 9:32&amp;ndash;43<br /> Acts 12:1&amp;ndash;19<br /> Acts 16:1&amp;ndash;5; Philippians 2:19&amp;ndash;22; 1 Thessalonians 3:2&amp;ndash;10; 2 Timothy 1<br /> Acts 16:11&amp;ndash;15<br /> Acts 16:16&amp;ndash;40<br /> Acts 25:13&amp;mdash;26:32<br /> Acts 27<br /> Galatians 1:1&amp;ndash;2; 5:16, 22&amp;ndash;23<br /> 2 Timothy 1&amp;ndash;4<br /> James 3:2&amp;ndash;12<br /> Revelation 1:1&amp;ndash;2, 9&amp;ndash;11; 21:3&amp;ndash;5</div><br /> &amp;#160;
Bestsellers in Children's Ministry