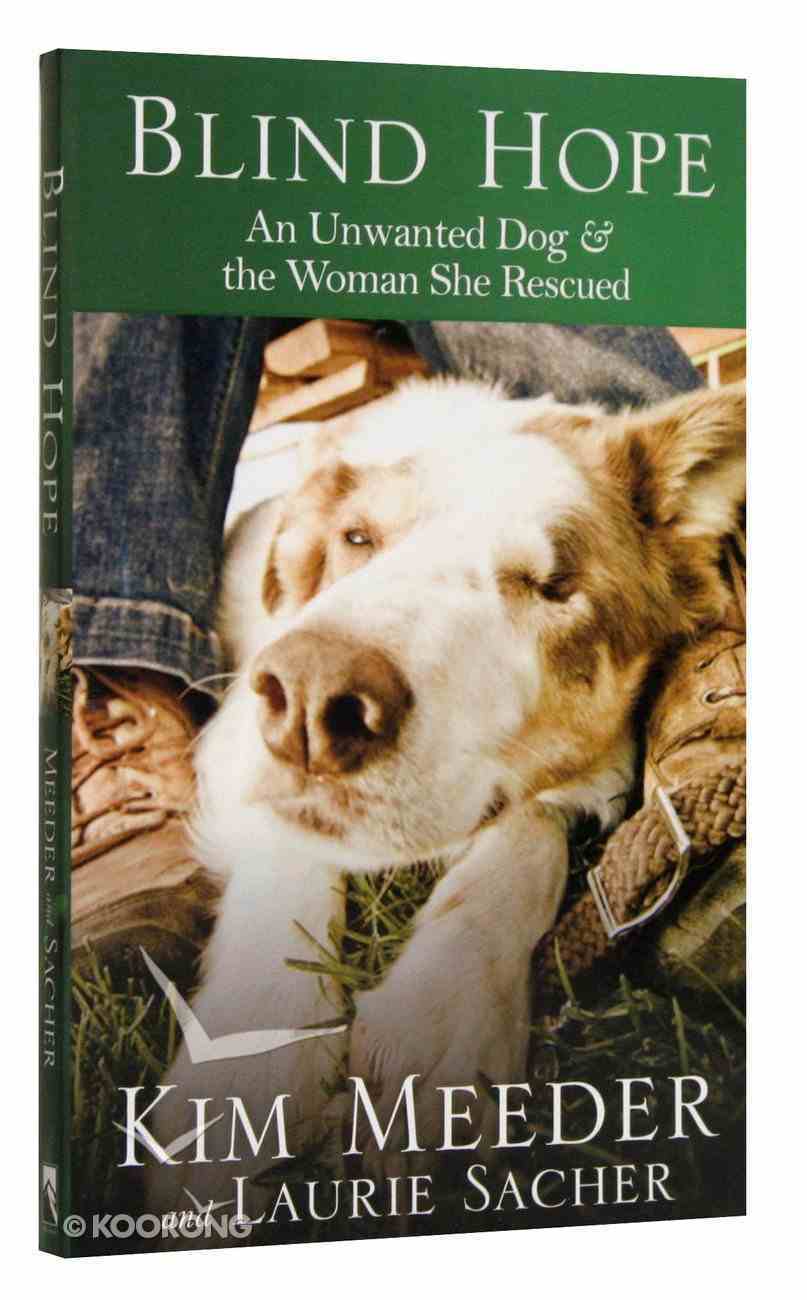 Praise for Blind Hope a Blind Hopeis a powerful story, made even more beautiful by the fact that it is not simply a fairy tale. Kim Meeder creatively recalls for us how Laurie Sacheras unique interactions with the dog she...
Out of Stock
Available to Order
---
Expected to ship in 4 to 5 weeks from Australia.
---
Free Shipping
for orders over $99.
Praise for Blind Hope a Blind Hopeis a powerful story, made even more beautiful by the fact that it is not simply a fairy tale. Kim Meeder creatively recalls for us how Laurie Sacheras unique interactions with the dog she saved ended up pointing her back to her Savior. In a culture obsessed with reality TV, I pray our hearts can not only be entertained and perhaps touched by this true story, but that we would be changed by it.a -ANGELA ALCORN STUMP, co-author of The Ishbane Conspiracy aOn her ranch in Oregon, Kim Meeder brings wounded horses and broken kids together and sees healing miracles on a regular basis. Blind Hope, a wonderful analogy of how God sees and loves his children, shows how a blind and ill dog named Mia helped to bring healing, love, and acceptance to the young woman who rescued her. Laurieas statement aMy dog is blind& and now I seea is the story of all of us. This book could change your life.a -LAURAINE SNELLING, author of No Distance Too Far, all the Red River series, and One Perfect Dayalong with many other novels aI thank God for Kim Meeder-she is one of my heroes! Her passionate love for the Lord, for children of all ages, and for animals is inspiring. She is thoroughly dedicated to whatever assignment God brings her way, including writing this beautiful account of the special bond between a woman and her dog. Kim brings an ongoing message of hope with this story, and she does it so well.a -DANAE DOBSON, author of Letas Walk the Talk aSkidboot opened my eyes to a lot of life and love. After reading about Laurie and Mia, I learned even deeper lessons that our four-legged friends can teach us. This book shows very clearly how God has used dogs to spread his love. Thank you, Kim and Laurie, for sharing this story.a -DAVID HARTWIG, friend of Skidboot, the world-famous Texas blue heeler, featured in Angel Dogs with a Mission: Divine Messengers in Service to All Life aKim Meeder takes the reader along on a unforgettable journey with Laurie and her blind dog, Mia. Dog and human bring out the best in each other through hardship and friendship as the bond between the two grows deeper. And the beauty of nature provides the path that Laurie and Mia travel as they experience the ups and downs during teachable moments.a -JOAN DALTON, founder and executive director, Project POOCH aKim Meeder again shares a touching story of how God continues to use all of creation to move in and through our lives. Blind Hopegives us another glimpse into the amazing animal-human bonds that can bring fullness to our lives and move us to reach out to others, to reach out to hope, joy, and authentic love.a -DANNA L. HARVEY, animal-assisted therapy handler aPoignant and convicting. I was touched by the way Kim told Laurie and Miaas story. I hope I can be as open to hearing the voice of God through unexpected ways.a -DIANE BLOYD KENT, volunteer for Guide Dogs for the Blind aThe human-animal bond is a special connection. Kim Meeder highlights this in Blind Hopeas she draws parallels between each one of us and our Savior, Jesus Christ. As Kim says, aTo trust, listen, and believe takes time and practice.a She surely knows how to portray an important message of salvation while entertaining and showing life lessons with Laurie and Mia.a -ROXIEMUDDER, volunteer for Guide Dogs for the Blind From the Trade Paperback edition.
-Publisher
An unwanted dog. An emotional rescue.
Two lives forever changed.

Laurie's dreams had been shattered before she came to work at Crystal Peaks Youth Ranch—the ranch of rescued dreams—where broken horses and broken children encounter healing every day. In an attempt to soothe her aching soul, Laurie reached out to save a dog in need. And she soon began to realize that the dog was rescuing her.
 
An inspiring true story told through the engaging voice of Kim Meeder, Blind Hope reveals poignant life lessons Laurie experienced from her ailing, yet courageous canine friend. Despite the blindness of her dog—and her own heart—Laurie uncovered what she really needed most: authentic love, unconditional trust, and true acceptance, faults and all.
 
As Laurie and her dog, Mia, both learned to follow the lead of a master they couldn't see, Laurie discovered the transforming power of God's grace even for imperfect and selfish people—and she experienced a greater love than she had ever known.
 
"Love is a bridge that stands firm through difficulties and connects one heart directly to another, not because of how it looks, but because of what it is."    --Kim Meeder, Blind Hope
 
-Publisher
PRODUCT DETAIL
Catalogue Code 

306450

Product Code 

9781601422804

ISBN 

1601422806

EAN 

9781601422804

Pages 

208

Department General Books
Category Biography
Sub-Category General
Publisher Multnomah Publishers
Publication Date 

Jul 2010

Sales Rank 

25509

Dimensions 

202 x 129 x 13

mm

Weight 

0.175

kg
Kim Meeder is the cofounder and director of Crystal Peaks Youth Ranch, an organization that rescues abused and dying horses and pairs them with children in need. Kim's first book, "Hope Rising," propelled the ranch to win the national Jacqueline Kennedy Onassis Award and launched her extensive public/motivational speaking schedule at schools, churches, and governmental conferences across the United States. She and her husband, Troy, have been married for twenty-five years and live in Central Oregon. The size of their family fluctuates each year with the number of horses and kids that they resc
Laurie Sacher is a team leader at Crystal Peaks Youth. Laurie graduated from Point Loma Nazarene University in 2003 and taught English as Second Language in Spain before returning to her native California roots to pursue her passion for kids and animals.
It was seventeen degrees. Earth, snow, and sky converged into a milky emissary, whispering a timeless message of hushed peace. It was January in Central Oregon, and a glorious ice fog had coated every blade and branch with a one-inch layer of spiny rime. The frozen filigree embellished everything with its delicate crystal creations. Muted light shrouded all living things, now held captive in the icy embrace. The silent landscape murmured the promise of deep, abiding rest.
 
For me that rest would have to wait. I turned my truck off the dirt road that stretches north of Tumalo Reservoir and parked in the snow. From this access point, a wide wilderness invites adventurers to explore its latticed tangle of forgotten logging roads. I stowed my keys in a zippered pocket in my black running jacket and pulled on a pair of stretchy gloves. Soon my friend would meet me here for a long Sunday afternoon jog. Laurie and I were training for a marathon, her first and my tenth.
 
From the cab of my truck, I reveled in the peaceful setting. Weary from a heavy week of work, my heart welcomed the refuge of quiet. The small hiatus of silence soon was invaded, however, by the growing excitement of my dog, a Queensland blue heeler. She whined in anticipation, willing me to open the truck door to one of her favorite activities: a run in the snow with her mom.
 
Like all true ranchers, I never go anywhere without my faithful dog. Seven, or Sevi for short, is my third hand and foot and the thinking half of my brain. I'm sure she would finish my sentences if she could talk—and do a much better job of it! Dogs that live with us—really live with us—often know their human friends better than we know ourselves.
 
The comfort of my truck's heater subsided, and brittle barbs of frigid air prickled through the glass. I snuggled my hat down over my ears and zipped up my jacket under my chin.
 
When I stepped out of the truck, cold air engulfed me like an unseen wave. With my first quick breaths, I inhaled what felt like a million needles of ice. The assault on my throat and lungs drove me to hoist my collar even higher to cover my mouth. While waiting for Laurie, I followed my prerun regimen, gearing up to spend a few hours in significant cold. I alternated jogging in place with pogo jumps to remain loose and warm. Sevi jumped around me in ecstatic leaps. Her chorus of happy yips beckoned me, as if to say, "Hurry up! We have a wonderful world to explore!"
 
In matters of life, dogs just get it. Sevi has taught me volumes more than I could ever hope to teach her. When it comes to demonstrating qualities like respect, forgiveness, and obedience and expressing emotions like love, joy, and peace, my dog operates on a level I can only hope to attain. Few creatures know how to maximize the moment better than a dog.
 
Sevi's example constantly reminds me that ten minutes ago is already in the past, so why think about the future when right now is just so much fun? Her exuberance for life shows me how to really enjoy the rich and simple pleasures found within each moment of my days.
 
Sevi and I persisted in our frigid dance until Laurie arrived. Her white car was almost invisible against the pallid backdrop of the wintry High Desert. After a quick hug, Laurie and I agreed on our time frame and what trail to explore. The breath from our brief conversation froze into thin veils, drifting above us like drowsy angels. Not wishing to stiffen in the deep cold, Laurie retrieved her dog, Mia, and the four of us set off.
 
Sevi and Mia collided in a jubilant canine hug and then bounded up the trail ahead of Laurie and me. Our once relaxed breath now rose behind us in measured white puffs. Shoulder to shoulder, like twin steam engines, we chugged over a crunchy mantle of frozen snow. Every stride took us deeper into a pristine realm of winter wilderness.
 
One metered breath at a time, our voices soon merged with the serene environment. Like a smooth stone skipping across a mirrored pond, our dialogue bounced from one subject to another. After several miles, I noticed something else between Laurie's words. Because the rhythm of her voice had maintained a steady flow, I hadn't been aware of it earlier. It wasn't until Mia missed the turnoff onto a narrow, frozen logging road that I heard it—Laurie's voice calling her straying dog back to her side.
 
All during our run, Laurie had been guiding Mia with voice commands that barely punctuated our conversation. Laurie achieves this weaving of dialogue and instruction with such intrinsic skill I had all but forgotten that she does it for one reason: Mia is almost completely blind.
 
It wasn't until Mia bolted in the opposite direction that Laurie finally stopped and backtracked, calling out to her wayward friend. Unsure of how to help, I watched as Mia crashed through the frozen brush. She clambered over logs and tripped in a dense tangle of underbrush. Finally, overwhelmed by an icy prison she couldn't see, Mia stopped. A tinge of concern crept into my heart as Mia began to move again, turning in tight circles. She swung her head back and forth in an effort to locate her master. Laurie waded into the wintry snarl and broke through to where Mia was trapped. With gentle hands, Laurie turned her blind dog back in the direction of the correct path, and together they started out again.
 
I could hear Laurie's low voice guiding her courageous dog. "Easy, easy…step up, that's it. Here…here. Good girl." In unison they crunched up the trail toward me.
 
Laurie and I often run together, but I still admired their interaction as they trotted up to rejoin Sevi and me. Laurie resumed our run and conversation as if nothing more than a comma had passed between us since our last words.
 
Mia fell in right behind us, following the sound of our feet drumming over the frozen layer of earth and snow. I doubted  that any onlooker would have been able to detect that Mia is blind. By tucking in at Laurie's heels, Mia relaxed behind a shield of protection she could sense but not see.
 
As long as Mia stayed close enough to hear Laurie's muted commands—and obeyed them—she was able to navigate an unknown world. Yet the moment Mia stopped listening to her master and chose instead to wander, everything changed. Once Mia was separated from Laurie, her world quickly compressed into a dangerous and lonely place.
 
Mia was following the sound of her master's footsteps. Her previous experiences had taught her that this was a sound she could trust. A sound that kept her safe.
 
I smiled at Laurie and pointed a gloved thumb over my shoulder at her dog. My words were measured out between breaths. "What faith…to follow a master…you cannot see."