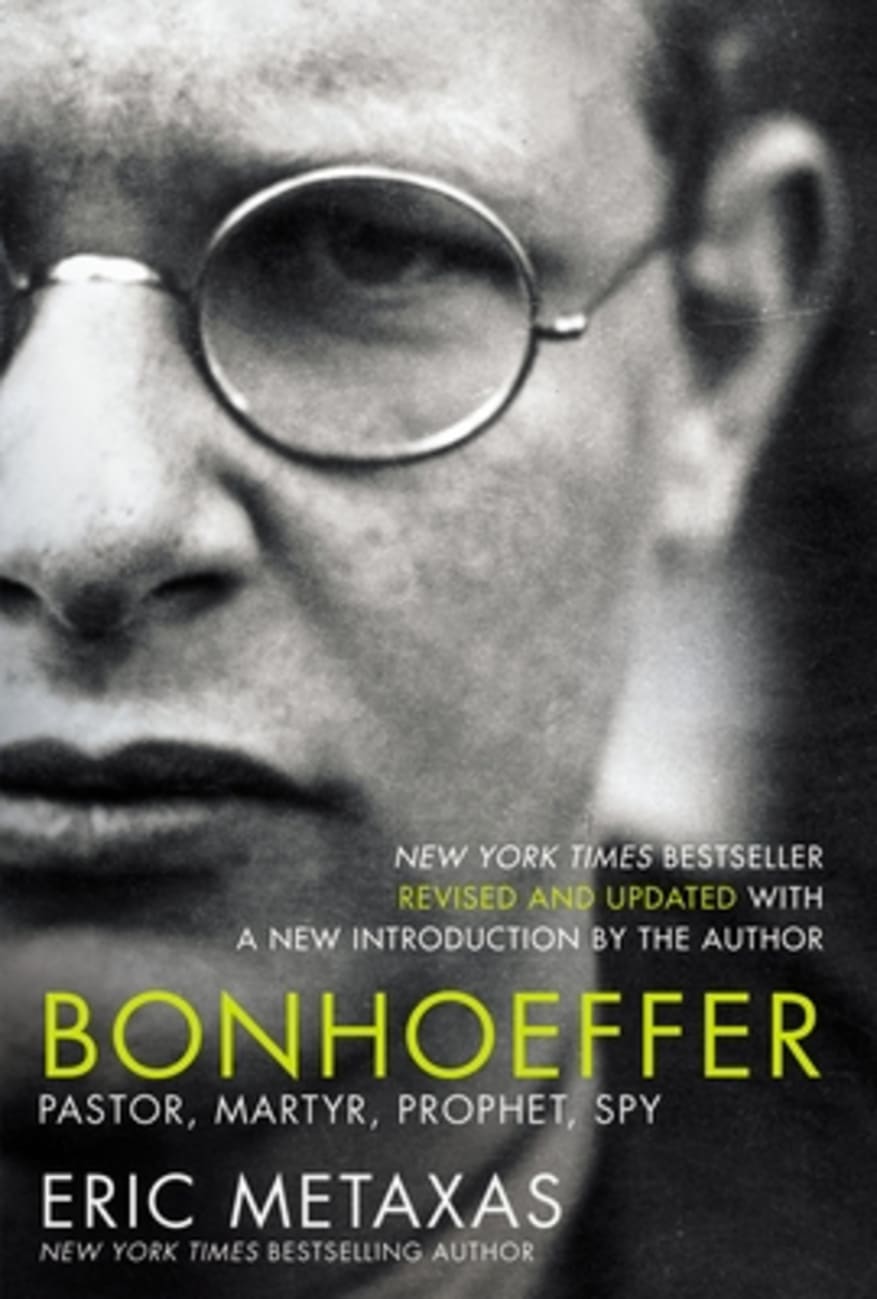 Bonhoeffer: Pastor, Martyr, Prophet, Spy
:The runaway New York Times bestseller, revised and with a new introduction from the author. Who better to face the greatest evil of the 20th-century than a humble man of faith? As Adolf Hitler and the Nazis seduced a nation,...
---
Expected to ship within 9 hours from Australia.
---
Free Shipping
for orders over $99.
:The runaway New York Times bestseller, revised and with a new introduction from the author.

Who better to face the greatest evil of the 20th-century than a humble man of faith?

As Adolf Hitler and the Nazis seduced a nation, bullied a continent, and attempted to exterminate the Jews of Europe, a small number of dissidents and saboteurs worked to dismantle the Third Reich from the inside. One of these was Dietrich Bonhoeffer, a pastor and author. In his blockbuster New York Times bestselling biography, Eric Metaxas takes both strands of Bonhoeffer's life-the theologian and the spy-and draws them together to tell a searing story of incredible moral courage in the face of monstrous evil. Metaxas presents the fullest accounting of Bonhoeffer's heart-wrenching decision to leave the safe haven of America to return to Hitler's Germany, and sheds new light on Bonhoeffer's involvement in the famous Valkyrie plot and in "Operation 7," the effort to smuggle Jews into neutral Switzerland. In a deeply moving narrative, Metaxas uses previously unavailable documents?including personal letters, detailed journal entries, and firsthand personal accounts?to reveal dimensions of Bonhoeffer's life and theology never before seen.

Includes Readers' Guide

"[A] beautifully constructed biography." -Alan Wolfe, The New Republic

"Metaxas tells Bonhoeffer's story with passion and theological sophistication." -Wall Street Journal

"[A] weighty, riveting analysis of the life of Dietrich Bonhoeffer." -Publishers Weekly

"Metaxas presents Bonhoeffer as a clear-headed, deeply convicted Christian who submitted to no one and nothing except God and his Word." -Christianity Today

"Metaxas has written a book that adds a new dimension to World War II, a new understanding of how evil can seize the soul of a nation and a man of faith can confront it." -Thomas Fleming, author, The New Dealers' War

"Metaxas has created a biography of uncommon power-intelligent, moving, well researched, vividly written, and rich in implication for our own lives. Or to put it another way: Buy this book. Read it. Then buy another copy and give it to a person you love. It's that good." -Archbishop Charles Chaput, First Things

"A definitive Bonhoeffer biography for the 21st century." -Kirkus Reviews


- 2011 ECPA Book of the Year
- 2011 Canterbury Medal by the Becket Fund recognizing courage in the defense of religious liberty
- 2011 Christopher Award winner highlighting the power of faith, courage, and action
Eric Metaxas is a truly versatile and prolific writer, whose works have ranged from popular apologetics to meticulously researched biographies, from cutting edge articles in top periodicals to children's storybooks. Whether it's essays, reviews, satire, or even poetry, Eric is a master communicator with the written word. He has even worked on Veggie Tales! His works have been translated into over twenty languages.

Eric is extensively involved in broadcasting, hosting his own syndicated radio program The Eric Metaxas Show since 2015, featuring in-depth interviews with high profile guests. He has also appeared on CNN, MSNBC and Fox News as a cultural commentator. He is an in-demand speaker internationally, and has delivered addresses at the White House, West Point, and many universities; he has also moderated public debates involving such high profile - and controversial - figures as Bishop John Spong, Peter Singer; and Bart Ehrman.

Eric's New York Times bestseller titles include the acclaimed Bonhoeffer: Pastor, Martyr, Prophet, Spy (2011 ECPA Book of the Year); as well as Miracles; Seven Women; Seven Men; Amazing Grace, and If You Can Keep It: The Forgotten Promise of American Liberty. He has written more than thirty children's books, including the bestsellers Squanto and the Miracle of Thanksgiving and It's Time to Sleep, My Love, illustrated by Nancy Tillman.

Eric's writing was first published in Atlantic Monthly, and has appeared in the New York Times, the Washington Post, Regeneration Quarterly, Christianity Today, National Review Online, Beliefnet and First Things. The American Booksellers Association chose Metaxas's The Birthday ABC as a 1995 Pick of the List and Amazon.com honored his Squanto and the Miracle of Thanksgiving with their Number One Bestseller Award for Thanksgiving 1999.

Eric is the founder and host of Socrates in the City: Conversations on the Examined Life, a monthly event in New York City featuring entertaining and thought provoking discussions involving such speakers as Sir John Polkinghorne, Dr Armand Nicholi, Os Guinness, Lauren F. Winner and Peter Kreeft.

Eric was born in Queens, New York City in 1963 and grew up in Danbury, Connecticut. His father is of Greek descent and his mother of German, and he was raised in a Greek Orthodox environment, though he now attends the evangelical St George's Episcopal Church in New York. He graduated from Yale University, where he edited the humour magazine and won prizes for fiction writing. Eric now lives in Manhattan with his wife Susanne and their daughter.