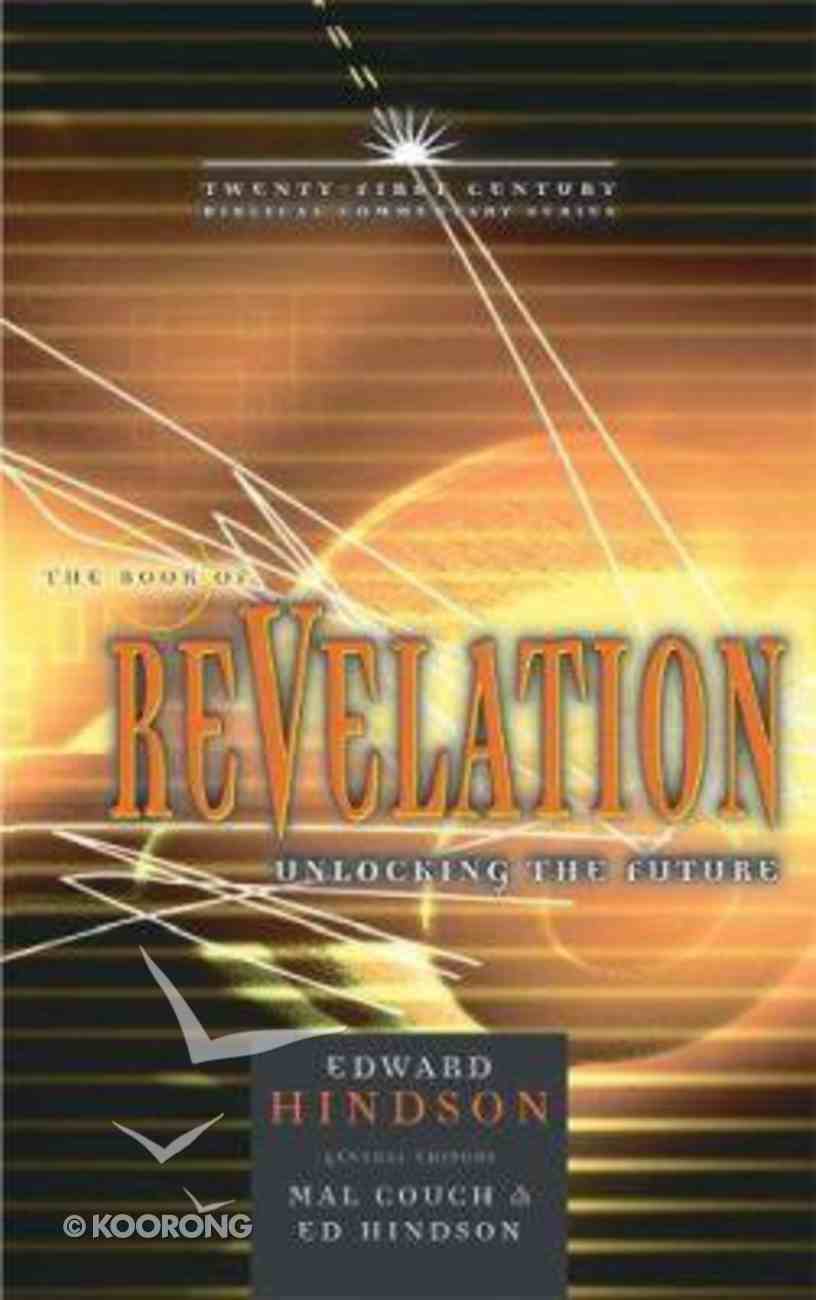 Book of Revelation: Unlocking the Future (21st Century Biblical Commentary Series)
Out of Stock
Available to Order
---
Expected to ship in 4 to 5 weeks from Australia.
---
Free Shipping
for orders over $99.
256 Pages
-Publisher
Dr. Hindson simplifies the message of the Revelation so that you can easily understand it for yourself. He surveys the general content of this captivating book of prophecy with a view to keeping the big picture in mind, thather than getting lost in all the details.
-Publisher
Dr. Edward Hindson (Th.D., Trinity Graduate School of Theology; D.Min., Westminster Theological Seminary; D.Phil., University of South Africa) is the assistant chancellor and dean of the Institute of Biblical Studies at Liberty University in Virginia. He has authored twenty books and edited the Gold Medallion Award-winning Knowing Jesus Study Bible. The author's other titles include Isaiah's Immanuel; Revelation; Key to Unlocking the Future; Antichrist Rising; God is There in Tough Times; Courageous Faith and Zondervan KJV Commentary.
:<div><p><b>contents</b></p><p>&amp;#160;&amp;#160;&amp;#160;&amp;#160; Foreword: Looking Ahead&amp;#160;&amp;#160;&amp;#160;&amp;#160;&amp;#160;&amp;#160;&amp;#160;&amp;#160;&amp;#160;&amp;#160;&amp;#160;&amp;#160;&amp;#160;&amp;#160;&amp;#160;&amp;#160;&amp;#160;&amp;#160;&amp;#160;&amp;#160;&amp;#160;&amp;#160;&amp;#160;&amp;#160;&amp;#160;&amp;#160;&amp;#160;&amp;#160;&amp;#160;&amp;#160;&amp;#160;&amp;#160; Xiii</p><p>&amp;#160;&amp;#160;&amp;#160;&amp;#160; Intruduction: Keys To Unlocking The Future &amp;#160;&amp;#160; &amp;#160; &amp;#160;&amp;#160; 1</p><p><b>i.&amp;#160; Preface: Vision Of The Coming King</b>&amp;#160;</p><p>&amp;#160;&amp;#160; 1.&amp;#160;&amp;#160; What In The World Is Happening?&amp;#160;&amp;#160;&amp;#160;&amp;#160;&amp;#160;&amp;#160;&amp;#160;&amp;#160;&amp;#160;&amp;#160;&amp;#160;&amp;#160;&amp;#160;&amp;#160; &amp;#160; &amp;#160; 19<b><br></b></p><p><b>ii. Proclamation: Letters To The Seven Churches </b></p><p>&amp;#160;&amp;#160; 2. Judgment Begins At The House Of God!&amp;#160;&amp;#160;&amp;#160;&amp;#160;&amp;#160;&amp;#160; &amp;#160; &amp;#160;&amp;#160; 31</p><p>&amp;#160;&amp;#160; 3. Who's That Knocking At My Door?&amp;#160;&amp;#160;&amp;#160;&amp;#160;&amp;#160;&amp;#160;&amp;#160;&amp;#160;&amp;#160;&amp;#160;&amp;#160;&amp;#160;&amp;#160;&amp;#160; &amp;#160;&amp;#160;&amp;#160; 43</p><p><b>iii. Problem: Seven-sealed Scroll</b></p><p>&amp;#160;&amp;#160; 4. God Is Still On The Throne&amp;#160;&amp;#160;&amp;#160;&amp;#160;&amp;#160;&amp;#160;&amp;#160;&amp;#160; &amp;#160; &amp;#160;&amp;#160;&amp;#160;&amp;#160;&amp;#160;&amp;#160;&amp;#160;&amp;#160;&amp;#160;&amp;#160;&amp;#160;&amp;#160;&amp;#160;&amp;#160;&amp;#160;&amp;#160; &amp;#160; &amp;#160;&amp;#160; 55</p><p>&amp;#160;&amp;#160; 5. Worthy Is The Lamb!</p><p><b>iv. Process: Seven Seals And Seven Trumpets</b></p><p>&amp;#160;&amp;#160; 6. The Wrath Of The Lamb &amp;#160; &amp;#160; &amp;#160; &amp;#160; &amp;#160; &amp;#160; &amp;#160; &amp;#160; &amp;#160; &amp;#160; &amp;#160; &amp;#160; &amp;#160; &amp;#160; &amp;#160; &amp;#160; &amp;#160;&amp;#160;&amp;#160; 75</p><p>&amp;#160;&amp;#160; 7. From Tribulation To Jubilation &amp;#160; &amp;#160; &amp;#160; &amp;#160; &amp;#160; &amp;#160; &amp;#160; &amp;#160; &amp;#160; &amp;#160; &amp;#160; &amp;#160;&amp;#160;&amp;#160;&amp;#160; 87</p><p>&amp;#160;&amp;#160; 8. The World At War &amp;#160; &amp;#160; &amp;#160; &amp;#160; &amp;#160; &amp;#160; &amp;#160; &amp;#160; &amp;#160; &amp;#160; &amp;#160; &amp;#160;&amp;#160; &amp;#160; &amp;#160; &amp;#160; &amp;#160; &amp;#160; &amp;#160; &amp;#160; &amp;#160;&amp;#160;&amp;#160;&amp;#160;&amp;#160; 97</p><p>&amp;#160;&amp;#160; 9. Demons Unleashed &amp;#160; &amp;#160; &amp;#160; &amp;#160; &amp;#160; &amp;#160; &amp;#160; &amp;#160; &amp;#160; &amp;#160; &amp;#160; &amp;#160; &amp;#160; &amp;#160; &amp;#160; &amp;#160; &amp;#160; &amp;#160; &amp;#160;&amp;#160;&amp;#160; 105&amp;#160; &amp;#160;</p><p>&amp;#160;10. Can It Get Any Worse?<b> &amp;#160;&amp;#160;&amp;#160;&amp;#160;&amp;#160;&amp;#160;&amp;#160;&amp;#160;&amp;#160;&amp;#160;&amp;#160;&amp;#160;&amp;#160;&amp;#160;&amp;#160;&amp;#160;&amp;#160;&amp;#160;&amp;#160;&amp;#160;&amp;#160;&amp;#160;&amp;#160;&amp;#160;&amp;#160;&amp;#160;&amp;#160;&amp;#160;&amp;#160;&amp;#160;&amp;#160;&amp;#160;&amp;#160;&amp;#160; </b>113<b><br></b></p><p>&amp;#160;11. Hell On Earth! &amp;#160; &amp;#160; &amp;#160; &amp;#160; &amp;#160; &amp;#160; &amp;#160; &amp;#160; &amp;#160; &amp;#160; &amp;#160; &amp;#160; &amp;#160; &amp;#160; &amp;#160; &amp;#160; &amp;#160; &amp;#160; &amp;#160; &amp;#160; &amp;#160; &amp;#160; &amp;#160; &amp;#160; &amp;#160; 121</p><p><b>v. Players: Seven Key Figures In The End-times Drama</b></p><p>&amp;#160;12.&amp;#160; War In Heaven?&amp;#160;&amp;#160;&amp;#160;&amp;#160;&amp;#160;&amp;#160;&amp;#160;&amp;#160;&amp;#160;&amp;#160;&amp;#160;&amp;#160;&amp;#160;&amp;#160;&amp;#160;&amp;#160;&amp;#160;&amp;#160;&amp;#160;&amp;#160;&amp;#160;&amp;#160;&amp;#160;&amp;#160;&amp;#160;&amp;#160;&amp;#160;&amp;#160;&amp;#160;&amp;#160;&amp;#160;&amp;#160;&amp;#160;&amp;#160;&amp;#160;&amp;#160;&amp;#160;&amp;#160;&amp;#160;&amp;#160;&amp;#160;&amp;#160;&amp;#160;&amp;#160;&amp;#160; 133</p><p>&amp;#160;13.&amp;#160; Rise Of The Antichrist&amp;#160;&amp;#160;&amp;#160;&amp;#160;&amp;#160;&amp;#160;&amp;#160;&amp;#160;&amp;#160;&amp;#160;&amp;#160;&amp;#160;&amp;#160;&amp;#160;&amp;#160;&amp;#160;&amp;#160;&amp;#160;&amp;#160;&amp;#160;&amp;#160;&amp;#160;&amp;#160;&amp;#160;&amp;#160;&amp;#160;&amp;#160;&amp;#160;&amp;#160;&amp;#160;&amp;#160;&amp;#160;&amp;#160;&amp;#160;&amp;#160;&amp;#160;&amp;#160;&amp;#160; 141</p><p><b>vi. Plagues: Seven Bowls Of Final Judgment</b></p><p><b>&amp;#160;</b>14. Wine Press Of The Wrath Of God&amp;#160;&amp;#160;&amp;#160;&amp;#160;&amp;#160;&amp;#160;&amp;#160;&amp;#160;&amp;#160;&amp;#160;&amp;#160;&amp;#160;&amp;#160;&amp;#160;&amp;#160;&amp;#160;&amp;#160;&amp;#160;&amp;#160;&amp;#160;&amp;#160; 153</p><p>&amp;#160;15. The Seven Last Plagues&amp;#160;&amp;#160;&amp;#160;&amp;#160;&amp;#160;&amp;#160;&amp;#160;&amp;#160;&amp;#160;&amp;#160;&amp;#160;&amp;#160;&amp;#160;&amp;#160;&amp;#160;&amp;#160;&amp;#160;&amp;#160;&amp;#160;&amp;#160;&amp;#160;&amp;#160;&amp;#160;&amp;#160;&amp;#160;&amp;#160;&amp;#160;&amp;#160;&amp;#160;&amp;#160;&amp;#160;&amp;#160;&amp;#160; 161</p><p>&amp;#160;16. Batle Of Armageddon&amp;#160;&amp;#160;&amp;#160;&amp;#160;&amp;#160;&amp;#160;&amp;#160;&amp;#160;&amp;#160;&amp;#160;&amp;#160;&amp;#160;&amp;#160;&amp;#160;&amp;#160;&amp;#160;&amp;#160;&amp;#160;&amp;#160;&amp;#160;&amp;#160;&amp;#160;&amp;#160;&amp;#160;&amp;#160;&amp;#160;&amp;#160;&amp;#160;&amp;#160;&amp;#160;&amp;#160;&amp;#160;&amp;#160;&amp;#160;&amp;#160;&amp;#160;&amp;#160;&amp;#160; 165</p><p>&amp;#160;17. The Great Harlot And Scarlet Beast &amp;#160; &amp;#160; &amp;#160; &amp;#160; &amp;#160; &amp;#160; &amp;#160;&amp;#160;&amp;#160; 173</p><p>&amp;#160;18.&amp;#160; Fall Of Babylon &amp;#160; &amp;#160; &amp;#160; &amp;#160; &amp;#160; &amp;#160; &amp;#160; &amp;#160; &amp;#160; &amp;#160; &amp;#160; &amp;#160; &amp;#160; &amp;#160; &amp;#160; &amp;#160; &amp;#160; &amp;#160; &amp;#160; &amp;#160; &amp;#160; &amp;#160; &amp;#160;&amp;#160;&amp;#160; 181</p><p>&amp;#160;19. Triumphal Return Of Christ &amp;#160; &amp;#160; &amp;#160; &amp;#160; &amp;#160; &amp;#160; &amp;#160; &amp;#160; &amp;#160; &amp;#160; &amp;#160; &amp;#160; &amp;#160; &amp;#160; &amp;#160;&amp;#160; 187</p><p>&amp;#160;20. The Millennial Kingdom &amp;#160; &amp;#160; &amp;#160; &amp;#160; &amp;#160; &amp;#160; &amp;#160; &amp;#160;&amp;#160; &amp;#160; &amp;#160; &amp;#160; &amp;#160; &amp;#160; &amp;#160; &amp;#160; &amp;#160; &amp;#160; 199</p><p><b>vii. Postcript: Seven New Things</b>&amp;#160; &amp;#160;&amp;#160;&amp;#160;&amp;#160;&amp;#160;</p><p>&amp;#160;21.&amp;#160; New Jerusalem&amp;#160;&amp;#160;&amp;#160;&amp;#160;&amp;#160;&amp;#160;&amp;#160;&amp;#160;&amp;#160;&amp;#160;&amp;#160;&amp;#160;&amp;#160;&amp;#160;&amp;#160;&amp;#160;&amp;#160;&amp;#160;&amp;#160;&amp;#160;&amp;#160;&amp;#160;&amp;#160;&amp;#160;&amp;#160;&amp;#160;&amp;#160;&amp;#160;&amp;#160;&amp;#160;&amp;#160;&amp;#160;&amp;#160;&amp;#160;&amp;#160;&amp;#160;&amp;#160;&amp;#160;&amp;#160;&amp;#160;&amp;#160;&amp;#160;&amp;#160;&amp;#160;&amp;#160;&amp;#160;&amp;#160; 211</p><p>&amp;#160;22.&amp;#160; Paradise Restored&amp;#160;&amp;#160;&amp;#160;&amp;#160;&amp;#160;&amp;#160;&amp;#160;&amp;#160;&amp;#160;&amp;#160;&amp;#160;&amp;#160;&amp;#160;&amp;#160;&amp;#160;&amp;#160;&amp;#160;&amp;#160;&amp;#160;&amp;#160;&amp;#160;&amp;#160;&amp;#160;&amp;#160;&amp;#160;&amp;#160;&amp;#160;&amp;#160;&amp;#160;&amp;#160;&amp;#160;&amp;#160;&amp;#160;&amp;#160;&amp;#160;&amp;#160;&amp;#160;&amp;#160;&amp;#160;&amp;#160;&amp;#160;&amp;#160; 221</p><p>&amp;#160;&amp;#160;&amp;#160;&amp;#160;&amp;#160;&amp;#160;&amp;#160; Bibliography &amp;#160; &amp;#160; &amp;#160; &amp;#160; &amp;#160; &amp;#160; &amp;#160; &amp;#160; &amp;#160; &amp;#160; &amp;#160; &amp;#160; &amp;#160; &amp;#160; &amp;#160; &amp;#160; &amp;#160; &amp;#160; &amp;#160; &amp;#160; &amp;#160; &amp;#160; &amp;#160; &amp;#160; &amp;#160; &amp;#160; 229</p><p>&amp;#160; &amp;#160; &amp;#160; &amp;#160; Notes &amp;#160; &amp;#160; &amp;#160; &amp;#160; &amp;#160; &amp;#160; &amp;#160; &amp;#160; &amp;#160; &amp;#160; &amp;#160; &amp;#160; &amp;#160; &amp;#160; &amp;#160; &amp;#160; &amp;#160; &amp;#160; &amp;#160; &amp;#160; &amp;#160; &amp;#160; &amp;#160; &amp;#160; &amp;#160; &amp;#160; &amp;#160; &amp;#160; &amp;#160; &amp;#160; &amp;#160; 231</p></div>
Bestsellers in New Testament Commentaries