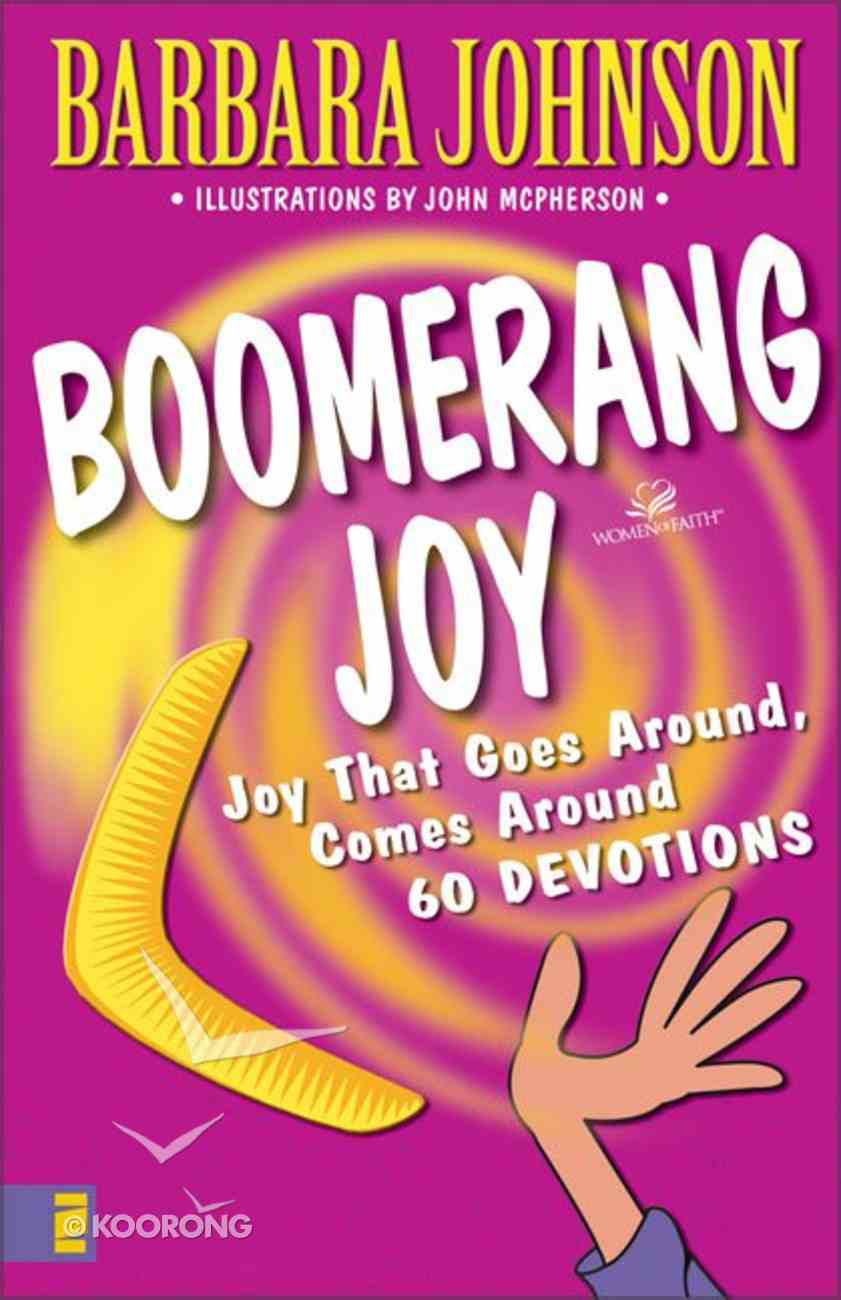 Lighthearted devotional that will increase your faith and joy. Written by a favorite women's author.
---
Expected to ship tomorrow from Australia.
---
Free Shipping
for orders over $99.
Lighthearted devotional that will increase your faith and joy. Written by a favorite women's author.
-Publisher
Best-selling author and speaker Barbara Johnson is famous for seeing and celebrating the bright side of life's ups-and-downs. Now, in her first-ever devotional, she dares you to lighten up and enjoy life to the hilt. As Barbara says, "You've got to hone your ability to fling a smile a mile. Sure as anything, it'll boomerang right back to you, more accurately each time you toss it out." Barbara knows life is far too serious not to laugh. In 60 wise, witty devotions -- salted with humor and peppered with a madcap illustrations of syndicated cartoonist John McPherson--she helps you perfect the art of the well-aimed chuckle. Boomerang Joy is the perfect tonic for when you feel tired or worn out -- or when you just want a good laugh and some heartfelt encouragement. Barbara Johnson's fulfilled insights will help you revel in your relationship with God and spread the joy of knowing His love. Just like a boomerang, joy that's flung out far and wide will smack right back to you!
-Publisher
PRODUCT DETAIL
Catalogue Code 

154412

Product Code 

031023199X

EAN 

9780310231998

UPC 

025986231996

Pages 

230

Department General Books
Category Devotions
Sub-Category Women's Devotions
Publisher Zondervan
Publication Date 

Jul 2000

Sales Rank 

28748

Dimensions 

215 x 140 x 15

mm

Weight 

0.244

kg
Barbara Johnson, known as "the Geranium Lady" sold more than five million books, including Splashes of Joy in the Cesspools of Life, Living Somewhere Between Estrogen and Death, and Stick a Geranium in Your Hat and Be Happy and her latest book Humour Me, I'm Over the Hill, part of her more recent, Humour Me series. In 2005 she was awarded the prestigious Lifetime Achievement Award by the Evangelical Christian Publishers Association. Barbara and her husband served hurting families through their non-profit "Spatula Ministries" and as a popular "Woman of Faith" conference speaker she delivered comforting, humour-filled messages across America. Barbara died in 2007 and is survived by her sons David and Dean, former daughter-in-law Shannon, and two grandchildren, Kandee and Tiffany.- Publisher.
Contents
Introduction
Fling Out Jesus' Joy
Boomerang Practice
Hooray For Gardening!
A Standing Ovation
God's Kingdom Fireworks
Nestle, Don't Wrestle
The Genius Of Kids
Unquenchable Grins
Never Outgrow Motherhood
Whatever, Lord
Love More And Regret Less
The Boomerang Principle
525,600 Minutes To Enjoy
All My Marbles
Birthday Countdown
Ready For Anything?
Diamond Dust
Power In Forgiveness
Gotta Be Real
The Wings Of Prayer
Joy Begets Joy
Making Life Bearable
The Big Joy Room --- In The Sky
Crazy Quilt
Spread Your Joy
The Littlest Boomerangs
Spread His Love
Gripping His Grace
The God Of Change
Joy --- A Boomerang Weapon
No Perfect People
Life Is Looking Up
Don't Park There!
God's Spiritual Stove
Waterproofing Life
The Messages Of Hands
Advice For The Humor-impaired
Anticipate The Best!
Those Struggle Muscles
Humble Joy
God's Tear Bottle
Gotcha!
Prayer As Ointment
Heir-conditioning
Try The Uplook
Season Of Joy
Hug-a-day Club
We'll Fly Away
Give Thanks
Scrapbooks Of The Soul
Living At Geriatric Junction
Sail On, Sail On
The Guilt-free Life
Just A Little Hope
Dream Big
Life Happens
Merrymaking
Blessed By Stress
Keep At It!
Draw A Conclusion
Fling Out Jesus' Joy When the going gets tough --- come on over . . . and hide in the basement with me! No kidding! My life is full of complication and suspense. Not one of us knows what's going to happen next. Or how long we have to live. Or how long we have to love. That's why we have to make each moment count in a kind of boomerang way. Boomerang joy is the kind that smacks back to you when you add joy to someone else's life. I want to tell you about something I have never before written or spoken of. And I'm telling about it not because I want to sound like Saint Barbara but because it is the best example of boomerang joy in my own life! Several years ago I began keeping a list of all the families Spatula Ministries had counseled in the previous twelve months, those who had lost children from AIDS, suicide, or in a few cases accidental death. When I first began, the list included only about 60 or 70 families. Last year it swelled to 370 families, largely because of the increase in AIDS. I consider this project a birthday present to myself because I start every year on my birthday, December 14. I get up at four a.m. because of the three-hour time difference between the East and West Coasts and begin phoning each family who has lost a child during the year. Many of these parents are overwhelmed when I explain who I am and why I am calling. They're shocked that I remember them and surprised that anyone would care enough to make a long-distance call. You can hear the pleasure in their voices as they express their amazement. I tell the parents that I know this will be their first Christmas without their child and that I understand their sorrow. There's usually a break in the conversation, and I can hear the sound of pent-up emotion. Crying. Voices laden with feeling, spilling out gratitude that someone remembered. The time is unlimited on phone calls but let the parents express as much emotion as they can. Some haven't dared tell anyone why their son or daughter died, and I can hear the relief in their voices after we've talked. For many this is their first time opening up, draining the abscesses of pain in their hearts. We know that openness is to wholeness as secrets are to sickness, so we talk some more. Sometimes I pray with them, asking God to wrap them in His comfort blanket and be their healer during the holiday time. As we talk, I can actually hear their spirits lifting. These calls are made every day until Christmas, and sometimes a couple days after. Then in the first few weeks of the new year, I receive an overwhelming flood of letters and cards from the folks I talked to. That is my boomerang joy! Parents tell me that the phone call was their best Christmas present --- knowing that they were remembered, that they could actually speak their child's name and talk openly about their loss. That simple gesture made their Christmas bearable. A flow of joy comes back to me from all over the country. At a convention recently in the Midwest, when closing my message, I felt compelled to explain a little button I wear that says, 'Someone Jesus loves has AIDS.' I pointed out to the crowd that it doesn't say, 'Someone who loves Jesus' but 'Someone Jesus loves.' I want to make sure people understand that Jesus cares. That afternoon I couldn't help adding, 'When we are brought into God's kingdom family, there are no abortions. Once we are sealed by His grace, we may fall into sin and lose our fellowship, but our relationship with God is still the same. We belong to God, and He will relentlessly love and pursue every prodigal.' I had never addressed the issue as emphatically as I did that day. After the meeting closed, two distraught young men appeared at my side. They were handsome guys in their late twenties, wearing tuxes because they were ushers at the arena. They had heard my concluding remarks, and confided that each had AIDS and that one of them had attempted suicide a few weeks earlier. Never before, they said, had they heard that God could love them. Instead they'd been told by Christians they were beyond redemption. The fear and pain in the eyes of these young men melted as they began to realize not only that God loved them but that there was still time to get their hearts right with Him. As we said good-bye, they gave me the names and addresses of their mothers. No one knows how this story will end. At the end of this year I may find myself calling their parents with a message of comfort and hope. But whatever happens, I will not forget those two young men. Who do you know that needs encouragement and a listening ear? Don't wait for their birthday to call. Pick up the phone and tell someone you care. As you spend yourself on others, you'll find yourself catching hold of a little boomerang joy! Uplifter He who refreshes others will himself be refreshed. Proverbs 11:25 Way to Pray Dear Lord, I love the way You were present with people, touching their wounds, allowing them to touch You, even the hem of Your garment. In Your presence is healing and joy. I realize I may be the only Jesus someone else may ever see. Help me express Your love when I don't know how to reach someone or what to say. Amen.