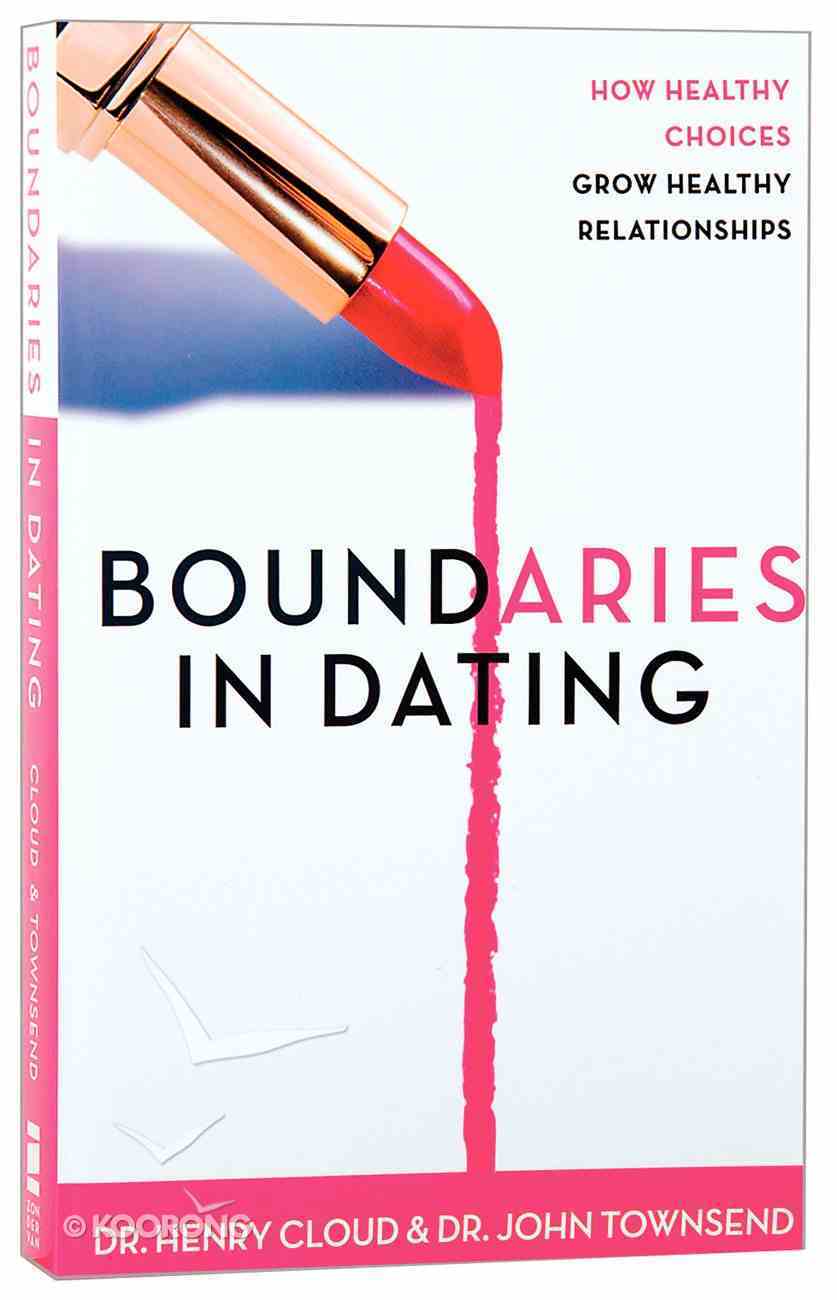 Between singleness and marriage lies the exciting, but often heartbreaking journey of dating. Relationship expert Dr Henry Cloud and Dr John Townsend help you make this experience as smooth as possible by identifying the healthy relational boundaries that lead to...
---
Available in other Formats
---
Expected to ship within 5 hours from Australia.
---
Free Shipping
for orders over $99.
Between singleness and marriage lies the exciting, but often heartbreaking journey of dating. Relationship expert Dr Henry Cloud and Dr John Townsend help you make this experience as smooth as possible by identifying the healthy relational boundaries that lead to rewarding dates.
Between singleness and marriage lies the journey of dating. Want to make your road as smooth as possible? Set and maintain healthy boundaries -- boundaries that will help you grow in freedom, honesty, and self-control. If many of your dating experiences have been difficult, Boundaries in Dating could revolutionize the way you handle relationships. And even if you're doing well, the insights you'll gain from his much-needed book can help you fine-tune or even completely readjust important areas of your dating life. Written by the authors of the best-selling book Boundaries, Boundaries in Dating is your road map to the kind of enjoyable, rewarding dating that can take you from weekends alone to a lifetime with the soul mate you've longed for.
-Publisher
'Boundaries in Dating' provides a way to think, solve problems, and enjoy the benefits of dating in the fullest way, including increasing the ability to find and commit to a marriage partner.
-Publisher
A few years back I was doing a seminar for singles in the Midwest when the question came from the floor, "Dr. Cloud, what is the biblical position on dating?" At first, I thought I had misheard the question, so I asked the woman to repeat it. And the question came out the same as the first time. "What do you mean, 'the biblical position'? " I asked. "Well, do you think that dating is a biblical thing to do?" the woman explained. Once I heard her question, I thought she was kidding, but I soon realized she was not. I had heard people ask about the biblical position on capital punishment or euthanasia, but never on dating. "I do not think the Bible gives a 'position' on dating," I said. "Dating is an activity that people do, and as with a lot of other things, the Bible does not talk about it. What the Bible does talk about is being a loving, honest, growing person in whatever you do. So, I would have to say that the biblical position on dating has much more to do with the person you are and are becoming than whether or not you date. The biblical position on dating would be to date in a holy way. "In fact, God grows people up through dating relationships in the same way that he grows them up in many other life activities. The question is not whether or not you are dating. The questions are more along the lines of 'Who are you in your dating and who are you becoming in your dating? What is the fruit of your dating for you and for the people that you date? How are you treating them? What are you learning?' And a host of other issues that the Bible is very clear about. It is mainly about your character growth and how you treat people." "So, you think it is okay to date?" she pressed. "Of course, I do, but it is only okay to date within biblical guidelines, which by the way are not burdensome. They will save your life and help you to make sure you end up with a good person to marry," I said, chuckling on the inside about how often Christians want a rule. I thought this was the end of it until the same question kept coming up around the country whenever I would speak to singles. Over and over again, I was asked if dating were an okay thing to do or not. I was curious about why people were asking the same question. So, one day, I asked where these questions were coming from. I was told that a movement was arising from a book called I Kissed Dating Goodbye by Joshua Harris. The premise of the book is that dating is not a good idea, and many people were giving it up. As I continued to investigate, the movement went even further than the book in some circles. Many Christians were saying that dating was sinful in and of itself; others were at least feeling as if people who were still dating were less spiritual than those who didn't. It was becoming the "Christian" thing to forego dating. I thought at first that this was just in some circles, but the more I traveled around I was hearing it all over the country. So we read I Kissed Dating Goodbye, and in this chapter we will share some of our reactions. We strongly disagree with the idea that all people should give up dating for several reasons. But before we get into the specifics, we want to validate the reasons behind this movement. No one would take such a stance against dating without good reason, and the reason people are giving up dating seems to be this: pain, disillusionment, and detrimental effects to their spiritual life. In other words, dating has not helped them to grow, find a mate, or become a more spiritual person. So, it makes sense to kiss it good-bye. And we empathize with this pain. As we have seen over the years working with many singles and being single for a long time ourselves (both of us were well into our thirties before we married), dating can cause a lot of hurt and suffering. Many people become disillusioned in the process, and they feel like they do not know how to make it work. They experience heartbreak, they re
-Publisher
PRODUCT DETAIL
Catalogue Code 

143618

Product Code 

0310200342

EAN 

9780310200345

UPC 

025986200343

Pages 

288

Department General Books
Category Relationships
Sub-Category Single Life
Publisher Zondervan
Publication Date 

Feb 2000

Sales Rank 

1072

Dimensions 

213 x 137 x 20

mm

Weight 

0.272

kg
Dr. Cloud is a clinical psychologist with a unique ability to connect with his audiences. Drawing upon his broad range of experiences in private practice, leadership consulting, and media, he simplifies life's issues and gives easy-to-understand, practical advice. It is Dr. Cloud's humour, compassion, and 'in the moment' confrontation that make his approach to psychology and spirituality such a success.

He has written or co-written 19 books, including the best-selling Boundaries. His most recent books are Integrity, Necessary Endings and The Law of Happiness. He has earned three Gold Medallion awards and was awarded the distinguished Retailers Choice award for God Will Make A Way.

Dr. Cloud has appeared on numerous radio and television broadcasts and has been featured in many publications. Millions of listeners have benefited from his wit and wisdom for over a decade.

As president of Cloud-Townsend Resources, he has produced and conducted hundreds of public seminars around the country. He speaks on relationships - marriage, parenting, dating, personal growth, and spirituality. His seminars are often broadcast live to over two thousand venues at a time.

In his consulting practice, he works with leaders of organisations and corporations, from family-held firms to Fortune 25 companies and non-profit organisations. With his extensive executive coaching background and experience as an organisational and leadership consultant, he speaks regularly at corporate and leadership events held across the United States and internationally.

Dr. Cloud co-founded a health-care company that operated treatment centres in 35 cities in the Western United States; he served as Clinical Co-Director for ten years. In that context of hands-on clinical experience, he researched and developed many of the treatment methods and principles he communicates to audiences today. Since then, he has devoted his time to spreading principles of hope and life change through speaking, writing, and the media. His books have sold over four million copies.

He is a graduate of Southern Methodist University, having earned a BS in psychology with honours. He completed his PhD in clinical psychology at Biola University and his clinical internship at Los Angeles County Department of Mental Health. His philanthropic interests lie in the area of homelessness and the inner city, as well as Third World missions and development. He serves on the board of the Los Angeles Mission, a rescue mission on Skid Row in downtown Los Angeles.

Dr. Cloud is an avid golfer and enjoys boating, deep sea fishing and scuba diving. He lives in Los Angeles.
Dr. John Townsend (Psy.D., Rosemead Graduate School of Psychology) is a psychologist, popular speaker, radio host and the bestselling author and co-author of numerous books, including the Gold Medallion award-winning Boundaries and God Will Make a Way. He is co-founder of the Cloud-Townsend Clinic in Southern California.
Contents
Acknowledgments.....9
Why Dating?.....11
Part 1: You And Your Boundaries
1. Why Boundaries In Dating?.....25
2. Require And Embody Truth.....35
3. Take God On A Date.....49
4. Dating Won't Cure A Lonely Heart.....71
5. Don't Repeat The Past.....77
Part 2: Whom Should I Date?
6. What You Can Live With And
What You Can't Live With.....91
7. Don't Fall In Love With Someone
You Wouldn't Be Friends With.....107
8. Don't Ruin A Friendship Out Of Loneliness.....121
9. Beware When Opposites Attract.....133
Part 3: Solving Dating Problems: When You're Part Of The Problem
10. Adapt Now, Pay Later.....151
11. Too Much, Too Fast.....159
12. Don't Get Kidnapped.....173
13. Kiss False Hope Good-bye.....187
14. Boundaries On Blame.....203
Part 4: Solving Dating Problems: When Your Date Is The Problem
15. Say No To Disrespect.....219
16. Nip It In The Bud.....233
17. Set Appropriate Physical Limits.....239
18. Set Up A Detention Hall.....257
Conclusion.....277
Bestsellers in Relationships