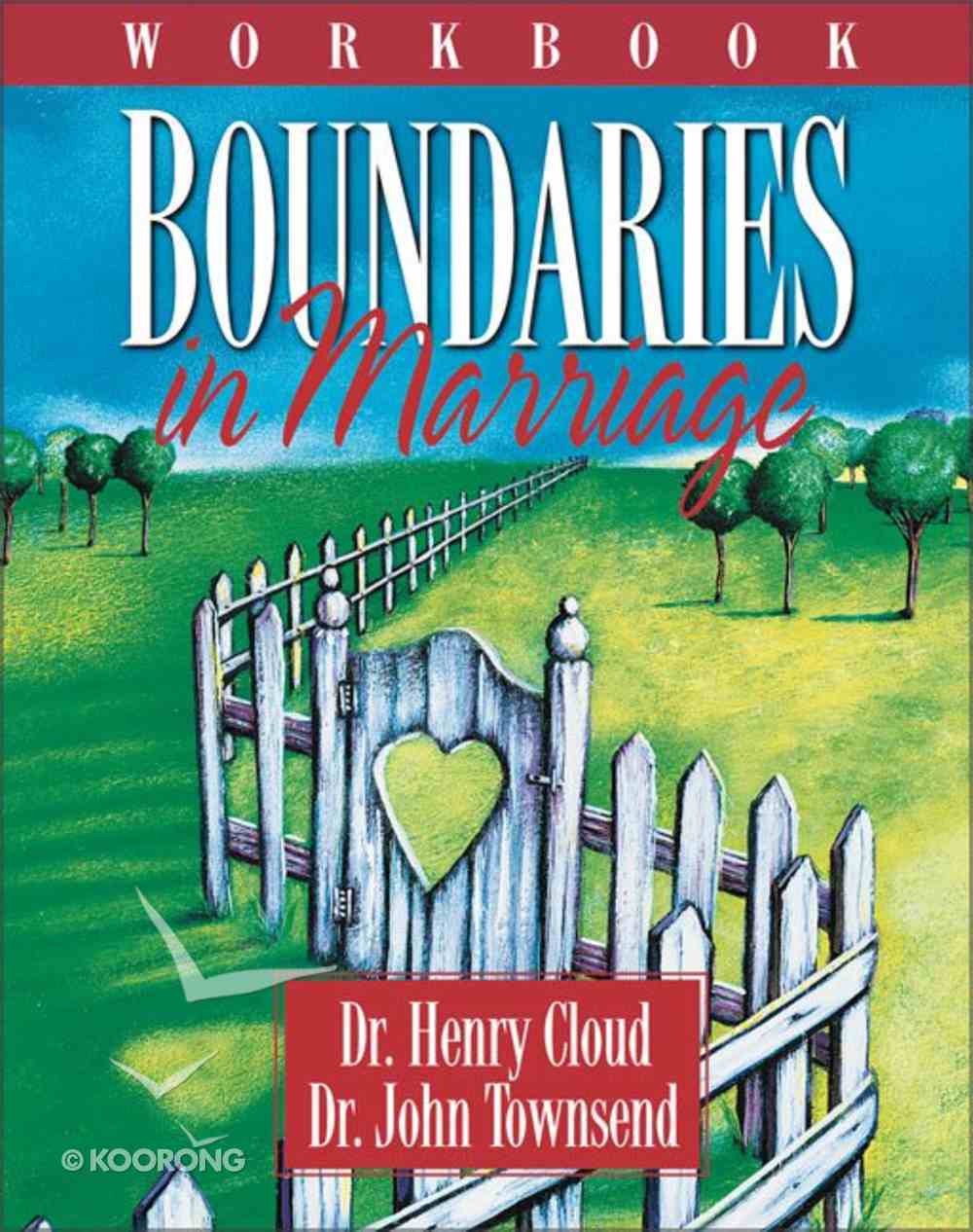 Boundaries in Marriage (Workbook)
You long for a marriage marked by lifelong love, intimacy, and growth. And it can be yours -- if you set wise boundaries. Boundaries are the "property lines" that define and protect each of you as individuals. Get them in...
Out of Stock
Available to Order
---
Expected to ship in 5 to 6 weeks from Australia.
---
Free Shipping
for orders over $99.
You long for a marriage marked by lifelong love, intimacy, and growth. And it can be yours -- if you set wise boundaries. Boundaries are the "property lines" that define and protect each of you as individuals. Get them in place and you can make a good marriage better and possibly even save a less-than-satisfying one. By the time you've completed this workbook, you will know yourself and your mate better than ever before. You'll also understand and practice the ten laws of boundaries in ways that can make a real difference in your relationship. Step by step, the Boundaries in Marriage Workbook helps you apply the biblical principles discussed in the book Boundaries in Marriage so you can . . . Set and maintain your personal boundaries and respect those of your spouse - Establish values that form a godly structure and architecture for your marriage - Protect your marriage from different kinds of "intruders" - Work with a spouse who understands and values boundaries -- or work with one w
-Publisher
1. What's A Boundary, Anyway? 2. Applying The Ten Laws Of Boundaries To Marriage 3. Setting Boundaries With Yourself 4. It Takes Two To Make One 5. What You Value Is What You'll Have 6. Value One 7. Value Two 8. Value Three 9. Value Four 10. Value Five 11. Value Six 12. Three's A Crowd 13. Six Kinds Of Conflict 14. Resolving Conflict With A Boundary-Loving Spouse 15. Resolving Conflict With A Boundary-Resistant Spouse 16. Avoiding The Misuse Of Boundaries In Marriage 208 Pages
-Publisher
PRODUCT DETAIL
Catalogue Code 

135235

Product Code 

0310228751

EAN 

9780310228752

UPC 

025986228750

Pages 

208

Department Ministry
Category Ministry Resources
Sub-Category Courses
Publisher Zondervan
Publication Date 

Feb 2000

Sales Rank 

29914

Dimensions 

231 x 185 x 15

mm

Weight 

0.294

kg
Dr. Cloud is a clinical psychologist with a unique ability to connect with his audiences. Drawing upon his broad range of experiences in private practice, leadership consulting, and media, he simplifies life's issues and gives easy-to-understand, practical advice. It is Dr. Cloud's humour, compassion, and 'in the moment' confrontation that make his approach to psychology and spirituality such a success.

He has written or co-written 19 books, including the best-selling Boundaries. His most recent books are Integrity, Necessary Endings and The Law of Happiness. He has earned three Gold Medallion awards and was awarded the distinguished Retailers Choice award for God Will Make A Way.

Dr. Cloud has appeared on numerous radio and television broadcasts and has been featured in many publications. Millions of listeners have benefited from his wit and wisdom for over a decade.

As president of Cloud-Townsend Resources, he has produced and conducted hundreds of public seminars around the country. He speaks on relationships - marriage, parenting, dating, personal growth, and spirituality. His seminars are often broadcast live to over two thousand venues at a time.

In his consulting practice, he works with leaders of organisations and corporations, from family-held firms to Fortune 25 companies and non-profit organisations. With his extensive executive coaching background and experience as an organisational and leadership consultant, he speaks regularly at corporate and leadership events held across the United States and internationally.

Dr. Cloud co-founded a health-care company that operated treatment centres in 35 cities in the Western United States; he served as Clinical Co-Director for ten years. In that context of hands-on clinical experience, he researched and developed many of the treatment methods and principles he communicates to audiences today. Since then, he has devoted his time to spreading principles of hope and life change through speaking, writing, and the media. His books have sold over four million copies.

He is a graduate of Southern Methodist University, having earned a BS in psychology with honours. He completed his PhD in clinical psychology at Biola University and his clinical internship at Los Angeles County Department of Mental Health. His philanthropic interests lie in the area of homelessness and the inner city, as well as Third World missions and development. He serves on the board of the Los Angeles Mission, a rescue mission on Skid Row in downtown Los Angeles.

Dr. Cloud is an avid golfer and enjoys boating, deep sea fishing and scuba diving. He lives in Los Angeles.
Dr. John Townsend (Psy.D., Rosemead Graduate School of Psychology) is a psychologist, popular speaker, radio host and the bestselling author and co-author of numerous books, including the Gold Medallion award-winning Boundaries and God Will Make a Way. He is co-founder of the Cloud-Townsend Clinic in Southern California.
Contents
How To Use This Workbook
A Tale Of Two Couples
Part One --- Understanding Boundaries
1. What's A Boundary, Anyway?
2. Applying The Ten Laws Of Boundaries To Marriage
3. Setting Boundaries With Yourself
Becoming More Lovable
Part Two --- Building Boundaries In Marriage
4. It Takes Two To Make One
5. What You Value Is What You'll Have
6. Value One
Love Of God
7. Value Two
Love Of Spouse
8. Value Three
Honesty
9. Value Four
Faithfulness
10. Value Five
Compassion And Forgiveness
11. Value Six
Holiness
Part Three --- Resolving Conflict In Marriage
12. Three's A Crowd
Protecting Your Marriage From Intruders
13. Six Kinds Of Conflict
14. Resolving Conflict With A Boundary-loving Spouse
15. Resolving Conflict With A Boundary-resistant Spouse
Part Four --- Misunderstanding Boundaries In Marriage
16. Avoiding The Misuse Of Boundaries In Marriage
Boundaries in Marriage Workbook We want to hear from you. Please send your comments about this book to us in care of zreview@zondervan.com. Thank you. How to Use This Workbook The Boundaries in Marriage Workbook can be used in a variety of ways. * You will get the most out of your investment of time and energy if you are reading Boundaries in Marriage as you work through this book. The text fleshes out key concepts with real-life examples and a more thorough discussion of important points. * You or, ideally, you and your spouse can use this workbook on your own. In tandem with the text, the questions in this workbook will help you become more aware of how healthy boundaries keep love alive and growing. * You, or you and your spouse, can be part of a small group that meets regularly to discuss the challenges you face in your marriage and to pray for each other and your marriage. * You might also work through this book with a prayer partner or accountability partner. * Another option, with the approval of your therapist, is to use this workbook as an aid to structured individual or marital therapy. * Whether you are working through Boundaries in Marriage on your own, with your spouse, or in a group, be sure to include plenty of prayer time. After all, God created marriage and, by his Spirit, empowers us to experience all that he intends for us. May God bless you as, with his guidance, you establish boundaries that preserve and enhance your marriage and deepen your love for your spouse. A Tale of Two Couples I f you are reading this book, most likely marriage is important to you. You may be happy in your marriage and want to keep it growing. You may be struggling and dealing with major or minor problems. You may be single and want to prepare for marriage. You may be divorced and want to prevent the pain you went through if you remarry. * Why are you reading this book? What do you hope to learn? * How did you react when you read about the interaction between Harold and Sarah? What were your thoughts and feelings? * How did you react to the picture of Frank and Julia's marriage? Again, what were your thoughts and feelings? * If you are currently married, are you and your spouse building a marriage like Harold and Sarah's or like Frank and Julia's? Offer evidence to support your answer. Both couples you met in the introduction were reaping the results of how they had conducted themselves in the earlier seasons of marriage. The first couple harvested a sad result; the other, a joyous one. It's our hope that this book will help you improve your harvest. Your Life Begins Today (page 9)* Most of us have no greater desire and prayer than a lifetime of love and commitment to one person with whom we can share life. Marriage is one of God's greatest gifts to humanity. It is the mystery of living as one flesh with another human being (Ephesians 5:31--32). Marriage is first and foremost about love. It is bound together by the care, need, companionship, and values of two people, which can overcome hurt, immaturity, and selfishness to form something better than what each person alone can produce. Love is at the heart of marriage, as it is at the heart of God himself (1 John 4:16). * When, in your own marriage or in a marriage you respect and admire, have you seen love overcome hurt, immaturity, or selfishness? Give a specific example. * When have you seen or perhaps even experienced the partnership of marriage being 'something better than what each person alone can produce'? Again, give a specific example. Although love is at the heart of marriage, it is not enough. The marriage relationship needs other ingredients to grow and thrive. These ingredients are freedom and responsibility. *The parts in italics are passages from the book Boundaries in Marriage. Page references to Boundaries in Marriage are in parentheses. * When two people are free to disagree, they are free to love. When they are not free, they live in fear, and love is damaged. --- Why does genuine love allow the freedom to disagree? --- What fears come into play when people are not free to disagree---and why do those fears cause love to die? * When two people together take responsibility to do what is best for the marriage, love can grow. When they do not, one takes on too much responsibility and resents it; the other does not take on enough and becomes self-centered or controlling. --- What, if anything, do you see about yourself and/or your marriage when you look through the lens of the preceding statement? Boundaries in Marriage is fundamentally about love. It is about promoting it, growing it, developing it, and repairing it. We want to help you develop love through providing a better environment for it: one of freedom and responsibility. This is where boundaries, or personal property lines, come in. They promote love by protecting individuals. * Character is key. When people grow in character, they grow in the ability to set and receive boundaries in their marriages, and they mature. When they resist hearing the word no, they remain immature. --- How do you define character? --- At this point of your study, do your best to explain the connection between character and boundaries. --- Think of toddlers you know. Why does resistance to the word no keep a person from maturing? * Today is the day to work on your own boundaries in marriage. The issues you take initiative to deal with today will affect the rest of your married life. And the issues you ignore or are afraid to address will do the same. --- Why do people choose to ignore issues in their marriage? --- What fears keep people from addressing issues in their marriage? --- What issues in your marriage do you need to be dealing with? Put differently, what issues are you choosing to ignore or what are you afraid to address? You're headed toward either a Harold and Sarah marriage (they're still dealing immaturely with old, old boundary issues) or a Frank and Julia one (they've resolved boundary issues and have gone to much deeper stages of love and maturity), and you're doing that right now. An Overview (page 11) * Review the outline of Boundaries in Marriage. --- What section do you most look forward to reading? Why? --- What hope or excitement does this overview kindle? A Tale of Two Couples 13 Clarifying a Misconception (page 11) * We need to make clear that Boundaries in Marriage is not about fixing, changing, or punishing your mate. If you aren't in control of yourself, the solution is not learning to control someone else. The solution is learning self-control. --- Be honest with yourself. What would you like to fix or change in your spouse or punish him/her for? Let go of those unhealthy and unhelpful goals by making them a topic of prayer; confess these desires and ask God to be at work in your mate even as he works to transform you. --- What aspects of your role as husband or wife currently call for you to exercise greater self-control? Again, submit those to the Lord and his sanctifying, transforming touch. Boundaries in Marriage is about taking ownership of your own life so that you are protected and you can love and protect your spouse without enabling or rescuing him or her. So, again, welcome to Boundaries in Marriage! We hope this is a helpful resource for you, whatever condition your marriage is in. We pray that as you learn to make the word no a good word in your marriage, responsibility and freedom will then help love take deep roots in both of your hearts. God bless you. HENRY CLOUD, PH.D. JOHN TOWNSEND, PH.D.
Bestsellers in Ministry Resources