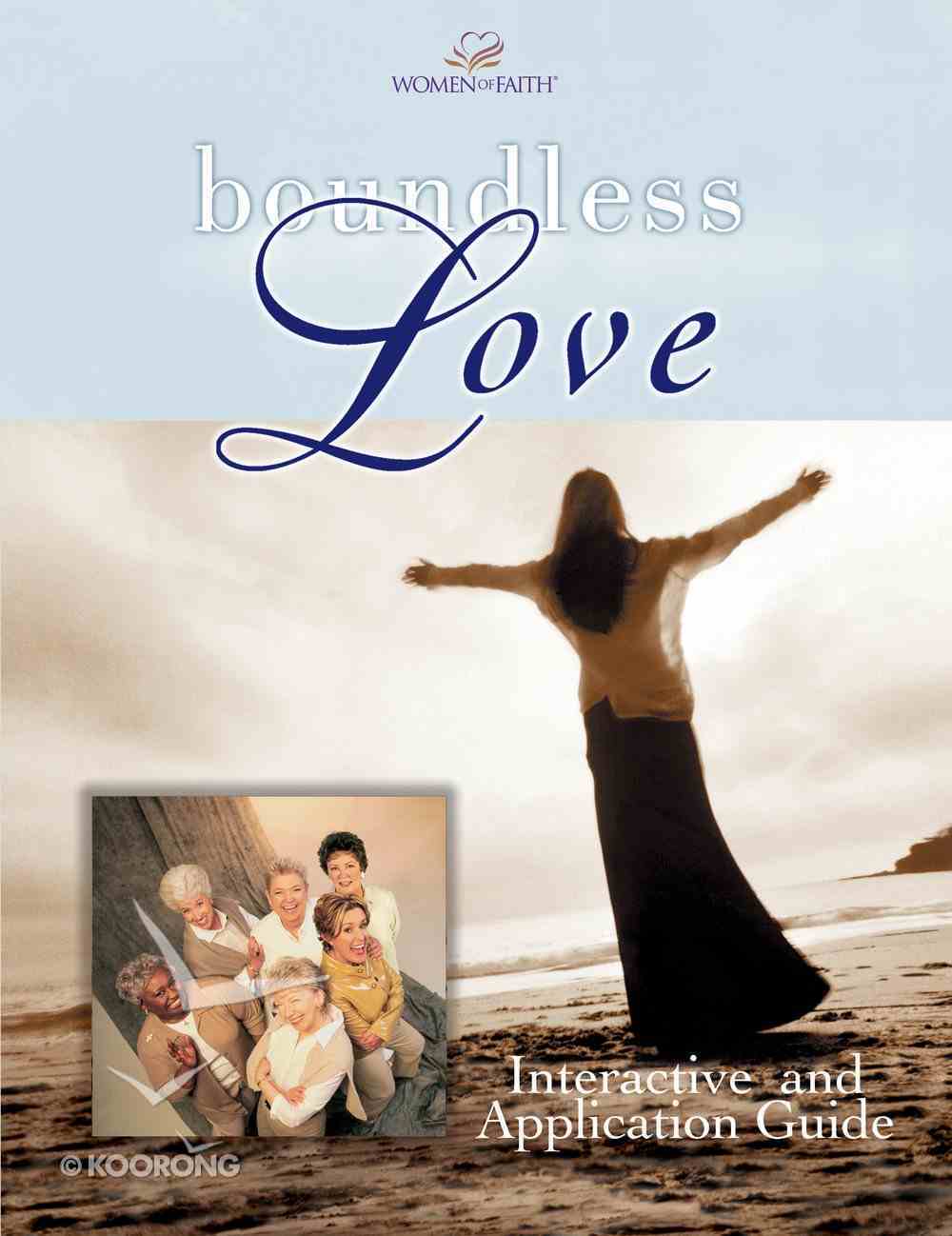 Boundless Love (Study Guide)
Over 345,000 women attended the 2001 Women of Faith conferences and experienced the fun, fellowship, and excitement for which the conference is widely known. Now, Women of Faith is offering the core message of the six dynamic speakers, in a...
Instant download
---
Expected to ship within 9 hours from Australia.
---
Read using our free app on your tablet or mobile!
---
Free Shipping
for orders over $99.

Over 345,000 women attended the 2001 Women of Faith conferences and experienced the fun, fellowship, and excitement for which the conference is widely known. Now, Women of Faith is offering the core message of the six dynamic speakers, in a Bible study for group or personal use. This unique application guide will include an outline of the talk given, excerpts from the talk that lead into questions for reflection or study, Bible references that delve deeper into the topic of dicussion, and a life application section. Each of the WOF speakers offers unique perspective and insight that will touch every woman at any point on the journey to becoming a more whole woman with a vital, living faith. Topics and speakers are:

^^ ^^ Sheila Walsh: Boundless Love ^^ Patsy Clairmont: Fearless Love ^^ Thelma Wells: Lavish Love ^^ Barbara Johnson: Stubborn Love ^^ Marilyn Meberg: Outlandish Love ^^ Luci Swindoll: Intentional Love ^^
Over 345,000 women attended the 2001 Women of Faith conferences and experienced the fun, fellowship, and excitement for which the conference is widely known. Now, Women of Faith is offering the core message of the six dynamic speakers, in a Bible study for group or personal use. This unique application guide will include an outline of the talk given, excerpts from the talk that lead into questions for reflection or study, Bible references that delve deeper into the topic of dicussion, and a life application section. Each of the WOF speakers offers unique perspective and insight that will touch every woman at any point on the journey to becoming a more whole woman with a vital, living faith. Topics and speakers are:

^ ^ Sheila Walsh: Boundless Love ^ Patsy Clairmont: Fearless Love ^ Thelma Wells: Lavish Love ^ Barbara Johnson: Stubborn Love ^ Marilyn Meberg: Outlandish Love ^ Luci Swindoll: Intentional Love ^

Over 345,000 women attended the 2001 Women of Faith conferences and experienced the fun, fellowship, and excitement for which the conference is widely known. Now, Women of Faith is offering the core message of the six dynamic speakers, in a Bible study for group or personal use. This unique application guide will include an outline of the talk given, excerpts from the talk that lead into questions for reflection or study, Bible references that delve deeper into the topic of dicussion, and a life application section. Each of the WOF speakers offers unique perspective and insight that will touch every woman at any point on the journey to becoming a more whole woman with a vital, living faith. Topics and speakers are:

Sheila Walsh: Boundless Love Patsy Clairmont: Fearless Love Thelma Wells: Lavish Love Barbara Johnson: Stubborn Love Marilyn Meberg: Outlandish Love Luci Swindoll: Intentional Love ^^ ^^ Sheila Walsh: Boundless Love ^^ Patsy Clairmont: Fearless Love ^^ Thelma Wells: Lavish Love ^^ Barbara Johnson: Stubborn Love ^^ Marilyn Meberg: Outlandish Love ^^ Luci Swindoll: Intentional Love ^^
Over 345,000 women attended the 2001 Women of Faith conferences and experienced the fun, fellowship, and excitement for which the conference is widely known. Now, Women of Faith is offering the core message of the six dynamic speakers, in a Bible study for group or personal use. This unique application guide will include an outline of the talk given, excerpts from the talk that lead into questions for reflection or study, Bible references that delve deeper into the topic of dicussion, and a life application section. Each of the WOF speakers offers unique perspective and insight that will touch every woman at any point on the journey to becoming a more whole woman with a vital, living faith. Topics and speakers are:

^ ^ Sheila Walsh: Boundless Love ^ Patsy Clairmont: Fearless Love ^ Thelma Wells: Lavish Love ^ Barbara Johnson: Stubborn Love ^ Marilyn Meberg: Outlandish Love ^ Luci Swindoll: Intentional Love ^
-Publisher

Over 345,000 women attended the 2001 Women of Faith conferences and experienced the fun, fellowship, and excitement for which the conference is widely known. Now, Women of Faith is offering the core message of the six dynamic speakers, in a Bible study for group or personal use. This unique application guide will include an outline of the talk given, excerpts from the talk that lead into questions for reflection or study, Bible references that delve deeper into the topic of dicussion, and a life application section. Each of the WOF speakers offers unique perspective and insight that will touch every woman at any point on the journey to becoming a more whole woman with a vital, living faith. Topics and speakers are:

Sheila Walsh: Boundless Love Patsy Clairmont: Fearless Love Thelma Wells: Lavish Love Barbara Johnson: Stubborn Love Marilyn Meberg: Outlandish Love Luci Swindoll: Intentional Love
-Publisher