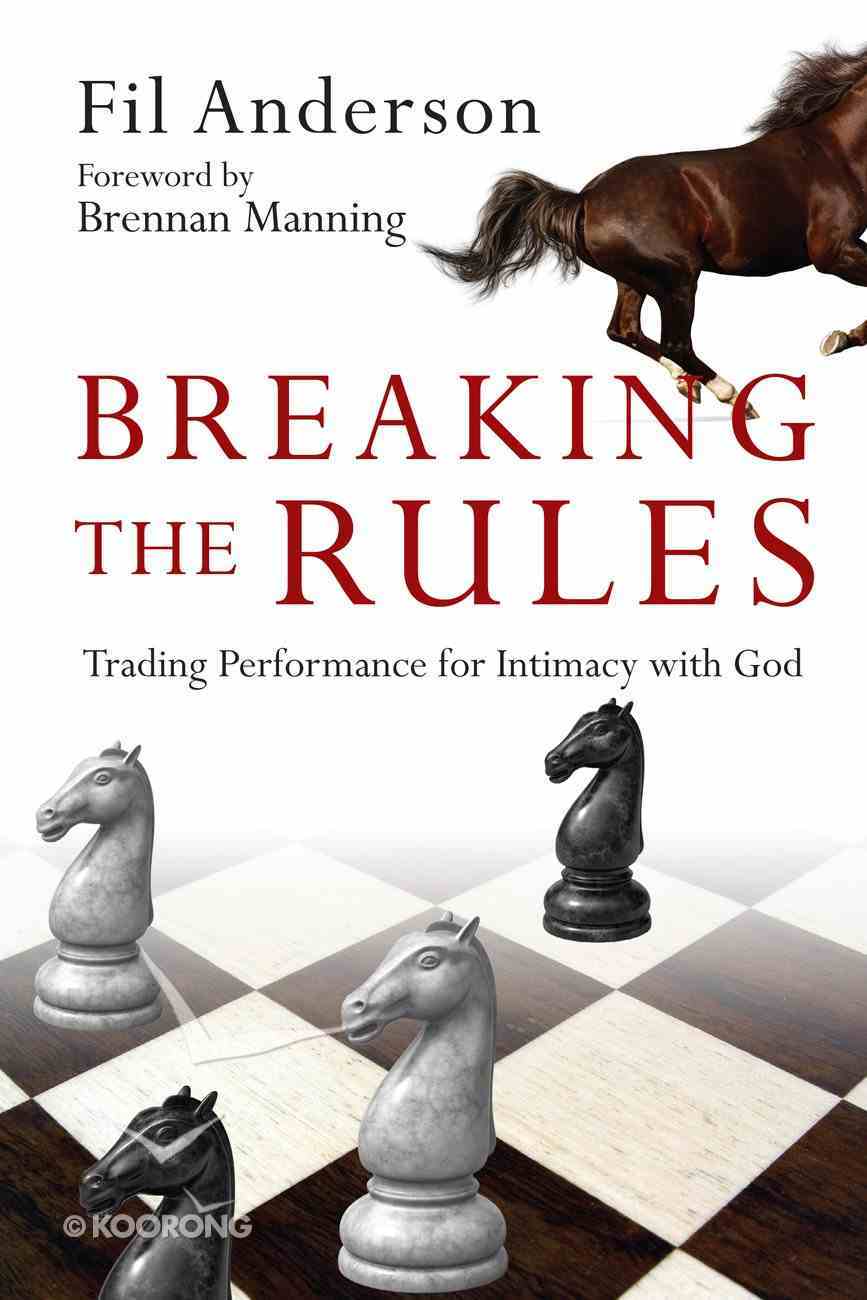 After years of living with a set of religious demands that he could never live up to, Fil Anderson found himself spiritually bankrupt and emotionally drained. Following a crash-and-burn in professional ministry, he experienced relief in learning to be with...
Available for immediate download.
---
Read using our free app on your tablet or mobile!
---
Free Shipping
for orders over $99.
After years of living with a set of religious demands that he could never live up to, Fil Anderson found himself spiritually bankrupt and emotionally drained. Following a crash-and-burn in professional ministry, he experienced relief in learning to be with God rather than doing for God. Instead of desperation, he found healing, and a rich new life with God. In Breaking the Rules, Fil invites us to explore what happens when good religion turns bad. At such times we are weighed down with expectations of what it takes to be "right with God"--whether it is the expectations of others, holding up under pressure, fixing what's wrong or accomplishing big things for God. When we set aside this false agenda, we find the courage to confess our fears and insecurities. We taste the depths of God's love for us. Here is an opportunity to quit trusting in your own ability to live for God, and simply trust in God instead.
-Publisher
Fil Anderson is executive director of Journey Resources, based in Greensboro, North Carolina. He's a frequent speaker at conferences, offers individual spiritual direction, and directs retreats and workshops around the country (for more information, visit www.journeyresources.org). A graduate of the University of North Carolina at Wilmington and Fuller Theological Seminary, he also completed the Graduate Program in Spiritual Guidance at the Shalem Institute for Spiritual Formation in Bethesda, Maryland. Fil worked with Young Life for twenty-five years, serving as area director and regional dir
After Years Of Living With A Set Of Religious Demands That He Could Never Live Up To, Fil Anderson Found Himself Spiritually Bankrupt And Emotionally Drained. Following A Crash-and-burn In Professional Ministry, He Experienced Relief In Learning To <em>be With</em> God Rather Than Doing For God. Instead Of Desperation, He Found Healing, And A Rich New Life With God. In <em>breaking The Rules,</em> Fil Invites Us To Explore What Happens When Good Religion Turns Bad. At Such Times We Are Weighed Down With Expectations Of What It Takes To Be "right With God"--whether It Is The Expectations Of Others, Holding Up Under Pressure, Fixing What's Wrong Or Accomplishing Big Things For God. When We Set Aside This False Agenda, We Find The Courage To Confess Our Fears And Insecurities. We Taste The Depths Of God's Love For Us. Here Is An Opportunity To Quit Trusting In Your Own Ability To Live For God, And Simply Trust In God Instead.
Acknowledgments
Introduction: Breaking The Rules
1 Is Your Faith In God Or Religion?
2 The Myth That Jesus Thinks Like Us
3 Beauty In Brokenness
4 What's A Picture Worth?
5 Right Rules Or Right Relationship?
6 Worse Than Blindness
7 Why This Waste?
8 Doing What We Can
9 The Gift Of Memory
10 Throwing In The Towel On Religion
Notes
Bestsellers in Spiritual Growth