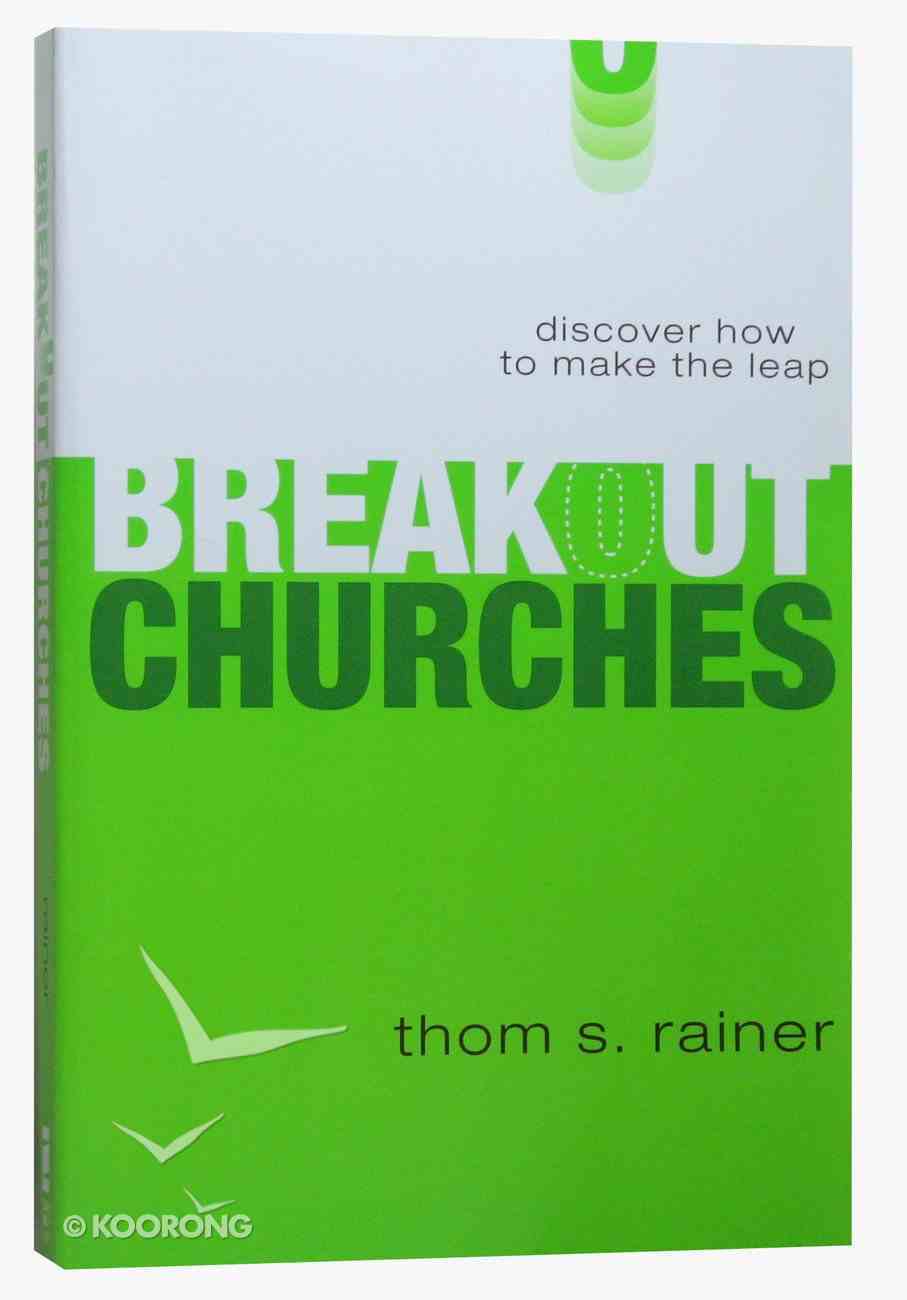 Breakout Churches: Discover How to Make the Leap
Breakout Churches ... what does it take for your church to break out of mediocrity? In search of answers, Thom Rainer and his research team conducted a landmark study on the church. Unfolding the findings of that study, Breakout Churches...
Available Now.
1 Available
---
Expected to ship tomorrow from Australia.
---
Free Shipping
for orders over $99.
Breakout Churches ... what does it take for your church to break out of mediocrity? In search of answers, Thom Rainer and his research team conducted a landmark study on the church. Unfolding the findings of that study, Breakout Churches furnishes both principles and examples to show how you as a pastor or church leader can help your church break out of the status quo into unprecedented fruitfulness. Of the thousands of churches examined in the study, thirteen met the criteria for a 'breakout church.' All of them experienced both a period of struggle and a time of sustained breakout growth under the same pastor's leadership. Transitioning from mediocrity to excellence over several years, they grew to have an impact on the entire community. Breakout Churches tells the story of these churches and their pastors. And, using a statistical approach, it identifies key patterns and characteristics common to churches that experienced turnarounds.
-Publisher
PRODUCT DETAIL
Catalogue Code 

304548

Product Code 

9780310293477

ISBN 

0310293472

EAN 

9780310293477

Pages 

272

Department Academic
Category Church
Sub-Category Church Growth
Publisher Zondervan
Publication Date 

Jan 2010

Sales Rank 

49060

Dimensions 

228 x 152 x 19

mm

Weight 

0.299

kg
Thom S. Rainer (Ph.D., Southern Baptist Theological Seminary) is president and CEO of LifeWay Christian Resources in Nashville, Tennessee. He was founding dean of the Billy Graham School of Missions, Evangelism and Church Growth at the Southern Baptist Theological Seminary. His many books include Surprising Insights from the Unchurched,;The Unexpected Journey; Simple Church and Breakout Churches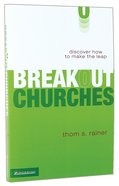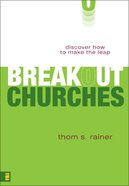 Contents
Acknowledgments 9
The Research Team 11
Preface 13
Chapter 1 Why Good Is Not Enough:
The Chrysalis Factor 15
Chapter 2 Acts 6/7 Leadership 35
Chapter 3 Eight Keys To Acts 6/7 Leadership 53
Chapter 4 The Abc Moment 69
Chapter 5 The Who/what Simultrack 91
Chapter 6 The Vip Factor 111
Chapter 7 A Culture Of Excellence 129
Chapter 8 Innovation Accelerators 147
Chapter 9 Big Mo Or Blind Erosion? 165
Chapter 10 To Become A Breakout Church 185
A Personal Postscript 201
Appendix A. Frequently Asked Questions 205
Appendix B. Selection Process And Research Steps 213
Appendix C. Selection Process Of Comparison Churches 217
Appendix D. Synopsis Of Churches Selected 219
Appendix E. Church Readiness Inventory 241
Notes 245
Name And Subject Index 253
Breakout Churches CHAPTER 1 WHY GOOD IS NOT ENOUGH: THE CHRYSALIS FACTOR The possibility that we may fail in the struggle ought not to deter us from the support of a cause we believe to be just. ---Abraham Lincoln It is a sin to be good if God has called us to be great. Christians refer to Matthew 28:18--20 as the Great Commission, not the Good Commission. Jesus himself said that the words we read in Matthew 22:37 and 39 are the Great Commandments, not the Good Commandments. And the apostle Paul did not call love something that is good; instead, he said 'the greatest of these is love' (1 Cor. 13:13, emphasis added). The power of seeking to be great rather than good became clear when I read Jim Collins's book Good to Great: Why Some Companies Make the Leap . . . and Others Don't, in which he began with the opening line:'Good is the enemy of great.'With the encouragement of my publisher I elected to write a book on churches, modeled on the Good to Great framework. This book was inspired by Good to Great, and we borrowed the research 15 process, the structure and outline of the book, and the architecture of its ideas as the blueprint for this work. THE DIFFICULTIES IN FINDING GREAT CHURCHES Think of some criteria to measure great churches. Attendance increases? Number of conversions? Impact on culture? Transformed lives? If you have settled on one or more criteria, name fifty churches that would meet them. Can you name forty churches? Thirty? Let's make the search more difficult. Think of churches that meet your 'great' criteria after being a so-so church for many years. In other words, discover some churches that have made the leap to greatness. Let's make the test even more problematic.Name all the churches that have made the transition without changing the senior pastor or senior minister. In other words, the church broke out under the same leadership. If you are having trouble naming several such churches, you have a taste of the difficulties the research team encountered in this project.We believe, quite simply, that there are very few breakout churches in America. In fact, although we have data on thousands of churches, we found only thirteen churches that survived the rigorous screening. But the lessons we learned from these churches are priceless. Figure 1A offers a quick snapshot of the incredible leaps taken by breakout churches. Following the research methodology used by Jim Collins in Good to Great, we compared the thirteen churches we found with a carefully selected control group of churches that failed to make the leap. The factors distinguishing one group from the other fascinated our team. As just one point of comparison, the chart looks at worship attendance of the two groups of churches. The breakout churches had a clearly identified point at which they began to experience significant growth. Drawing upon the Good to Great terminology of 'transition point,' we called this juncture the 'breakout point.'We then took the five years preceding and the five years following the breakout point and compared the same years with the direct comparison churches. For the five years prior to breakout, all of the churches were struggling to stay even in worship attendance. Then the difference between the two groups is dramatic. The average worship attendance of the comparison churches declined for the next five years, while in the breakout churches it increased 71 percent. 16 � BREAKOUT CHURCHES How did churches with very unremarkable pasts become great churches? What took place in these fellowships that made them so extraordinary? How did these churches make the leap when more than 90 percent of American churches did not come close to doing so? Can a good but plodding church become a great church? We believe the answer is an unequivocal yes.We hope the stories you are about to read will inspire you to move your church to greatness. Before we get too caught up in the details, let's hear from one church that made the transition---but not without a great sacrifice at great cost. THE TEMPLE CHURCH FACES THE COST OF MAKING THE LEAP The Temple Church opened its doors for its first worship service at the American Baptist Theological Seminary in Nashville, Tennessee, in 1977. The congregation subsequently met in two other borrowed facilities before constructing its own buildings in 1980. The founding pastor was Bishop Michael Lee Graves. By most standards, The Temple Church was successful from its inception. Growth was steady, if not spectacular, in the early years.A Christian private school began. An adjunctive ministry, Samaritan's Ministries, reached out to the inner city of North Nashville by providing nutritional Figure 1A. Attendance of Breakout Churches and Comparison Churches WHY GOOD IS NOT ENOUGH: THE CHRYSALIS FACTOR � 17 support for the hungry, medical assistance, spiritual and psychological counseling, and educational and vocational training. One leader in the community credited The Temple Church with playing a major role in reducing drug and gang violence in the area. The list of Temple's ministries exceeded fifty and was growing. The church was one of the most respected African-American churches in the early 1980s. A multimillion-dollar facility was complete. The members began to see their identity with the church as a banner of prestige. The Temple Church, by most standards, was making a difference. Then the crash came. As researcher George P. Lee discovered, not many people recognized that a crash had taken place.True, worship attendance declined from 1,000 in 1984 to 880 in 1985. But Bishop Graves, the only person to sense trouble, felt the decline in attendance was only symptomatic of greater problems. 'There was a sense of apathy growing among the members,' Graves reflected. More important, he sensed that God's vision for The Temple Church was for it to be a multiracial, multiethnic church for people of all socioeconomic classes. Yet by 1985 the church was the home largely of middle- and upper-middle-class African Americans. 'The vision of The Temple Church was a vision of encompassing all races, ethnic groups, and nationalities,' said Graves. 'I never intended for Temple to become a bourgeois congregation of Afrocentric believers. I wanted to affirm our heritage as African Americans while reaching the global community for Christ.' Graves received little comfort from his peers in the ministry. Most of them could not understand why he was so restless. One pastor chastised him, 'Graves, if you don't build the rest of your vision, you've achieved more than any of us. Be grateful.' To an outsider, the attendance plateau could be easily explained by the lack of worship space. But Bishop Graves knew the problem went much deeper. He keenly desired to lead in the building of a larger sanctuary, but his suggestions met stiff resistance from many key leaders. They knew that the larger facility would make room for people who were not like them. A group of 300 church members met with Graves on numerous occasions, hoping to change his mind. This opposition group threatened to withdraw their significant financial support from the church if their demands were not met. After much prayer, Graves decided to hold the course and build the new sanctuary. The entire leadership group left the church. 18 � BREAKOUT CHURCHES