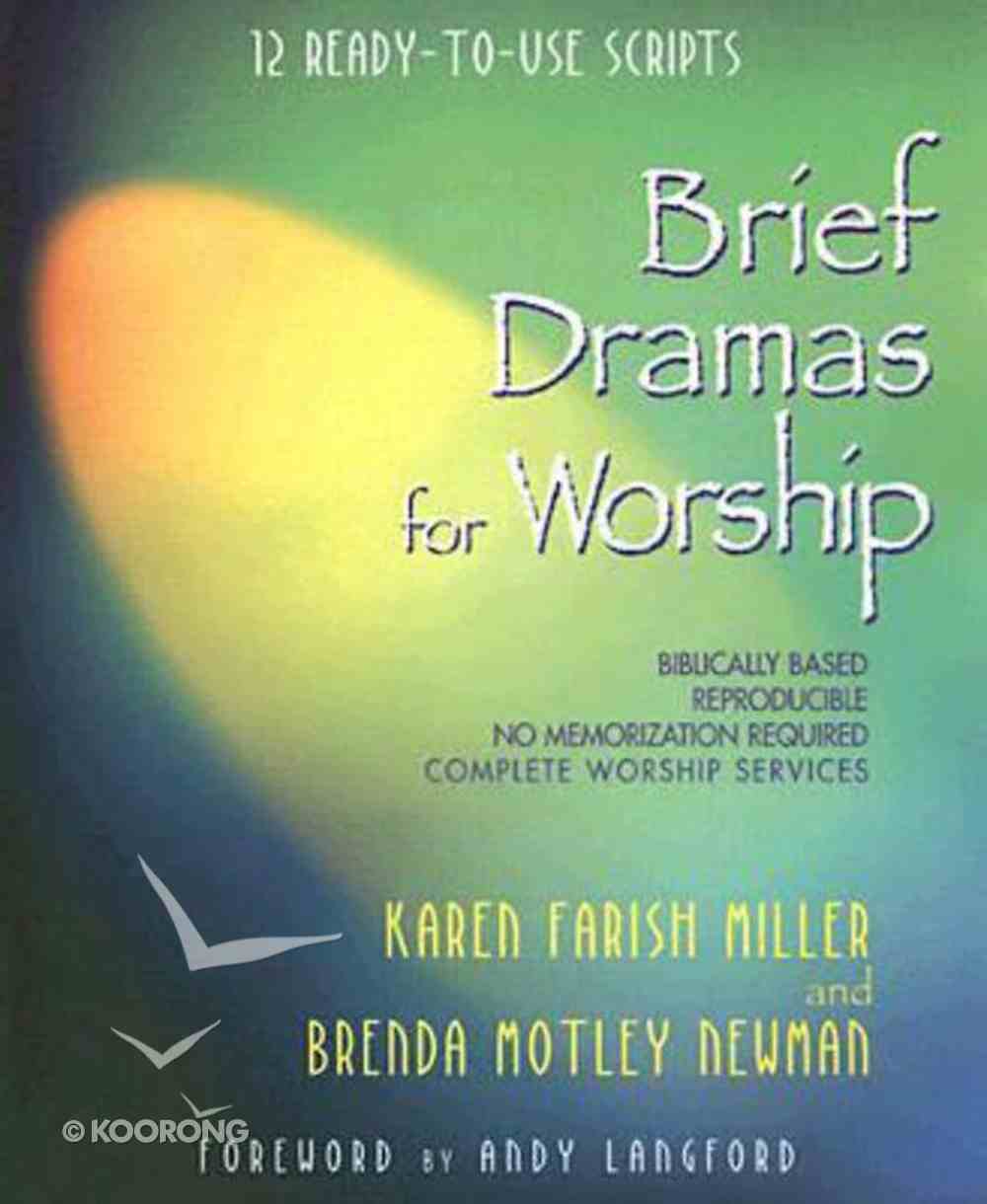 Brief Dramas for Worship provides dramas that are suitable for both contemporary and traditional worship services. They are appropriate for use instead of a sermon, or as the sermon. Included are questions and comments to use in a discussion...
Available for immediate download.
---
Read using our free app on your tablet or mobile!
---
Free Shipping
for orders over $99.

Brief Dramas for Worship provides dramas that are suitable for both contemporary and traditional worship services. They are appropriate for use instead of a sermon, or as the sermon. Included are questions and comments to use in a discussion following the service so that key insights from the biblical drama can be emphasized.


The scripts do NOT require memorization. Each drama includes extensive "helps" which identify possible sets, simple costumes, and a detailed worship outline, including hymn and praise song suggestions, original prayers, etc. These production notes provide effective, professional presentation instructions.


Permission is granted to reproduce scripts for use in congregational settings.


Most of these biblically-based dramas offer a woman's point of view about a scripture story or a scripture message. Some of the "main characters" are biblical people and others are contemporary people.


Dramas include: The Bethlehem Child; Margaret, a Grieving Mother Yearns for Her Wayward Son (Hosea 11:1); Bath Sheba and David; Lydia, Pilate's Wife; Martha, Prescription for Peace; Caroline: A Waitress Receives the Living Water; Eli's Wife: A Husband's Tale Brings Hope for Peace; and, Mattie May: A Mountain Woman's Tale of Gracious Plenty.

^
The scripts do NOT require memorization. Each drama includes extensive "helps" which identify possible sets, simple costumes, and a detailed worship outline, including hymn and praise song suggestions, original prayers, etc. These production notes provide effective, professional presentation instructions.

^
Permission is granted to reproduce scripts for use in congregational settings. 

^
Most of these biblically-based dramas offer a woman's point of view about a scripture story or a scripture message. Some of the "main characters" are biblical people and others are contemporary people.

^
Dramas include: The Bethlehem Child; Margaret, a Grieving Mother Yearns for Her Wayward Son (Hosea 11:1); Bath Sheba and David; Lydia, Pilate's Wife; Martha, Prescription for Peace; Caroline: A Waitress Receives the Living Water; Eli's Wife: A Husband's Tale Brings Hope for Peace; and, Mattie May: A Mountain Woman's Tale of Gracious Plenty.


Brief Dramas for Worship provides dramas that are suitable for both contemporary and traditional worship services.  They are appropriate for use instead of a sermon, or as the sermon.  Included are questions and comments to use in a discussion following the service so that key insights from the biblical drama can be emphasized.

^
The scripts do NOT require memorization. Each drama includes extensive "helps" which identify possible sets, simple costumes, and a detailed worship outline, including hymn and praise song suggestions, original prayers, etc. These production notes provide effective, professional presentation instructions.

^
Permission is granted to reproduce scripts for use in congregational settings. 

^
Most of these biblically-based dramas offer a woman's point of view about a scripture story or a scripture message. Some of the "main characters" are biblical people and others are contemporary people.

^
Dramas include: The Bethlehem Child; Margaret, a Grieving Mother Yearns for Her Wayward Son (Hosea 11:1); Bath Sheba and David; Lydia, Pilate's Wife; Martha, Prescription for Peace; Caroline: A Waitress Receives the Living Water; Eli's Wife: A Husband's Tale Brings Hope for Peace; and, Mattie May: A Mountain Woman's Tale of Gracious Plenty.

Most of these biblically-based dramas offer a woman's point of view about a scripture story or a scripture message. Some of the "main characters" are biblical people and some are contemporary people. The scripts are suitable for both contemporary and traditional worship services.
-Publisher

Brief Dramas for Worship provides dramas that are suitable for both contemporary and traditional worship services. They are appropriate for use instead of a sermon, or as the sermon. Included are questions and comments to use in a discussion following the service so that key insights from the biblical drama can be emphasized.


The scripts do NOT require memorization. Each drama includes extensive "helps" which identify possible sets, simple costumes, and a detailed worship outline, including hymn and praise song suggestions, original prayers, etc. These production notes provide effective, professional presentation instructions.


Permission is granted to reproduce scripts for use in congregational settings.


Most of these biblically-based dramas offer a woman's point of view about a scripture story or a scripture message. Some of the "main characters" are biblical people and others are contemporary people.


Dramas include: The Bethlehem Child; Margaret, a Grieving Mother Yearns for Her Wayward Son (Hosea 11:1); Bath Sheba and David; Lydia, Pilate's Wife; Martha, Prescription for Peace; Caroline: A Waitress Receives the Living Water; Eli's Wife: A Husband's Tale Brings Hope for Peace; and, Mattie May: A Mountain Woman's Tale of Gracious Plenty.


-Publisher
KAREN F. MILLER is an ordained pastor in The United Methodist Church. In 2001, she was appointed to serve as a District Superintendent in North Carolina, where she supervises 86 United Methodist congregations. A
Bestsellers in Ministry Resources