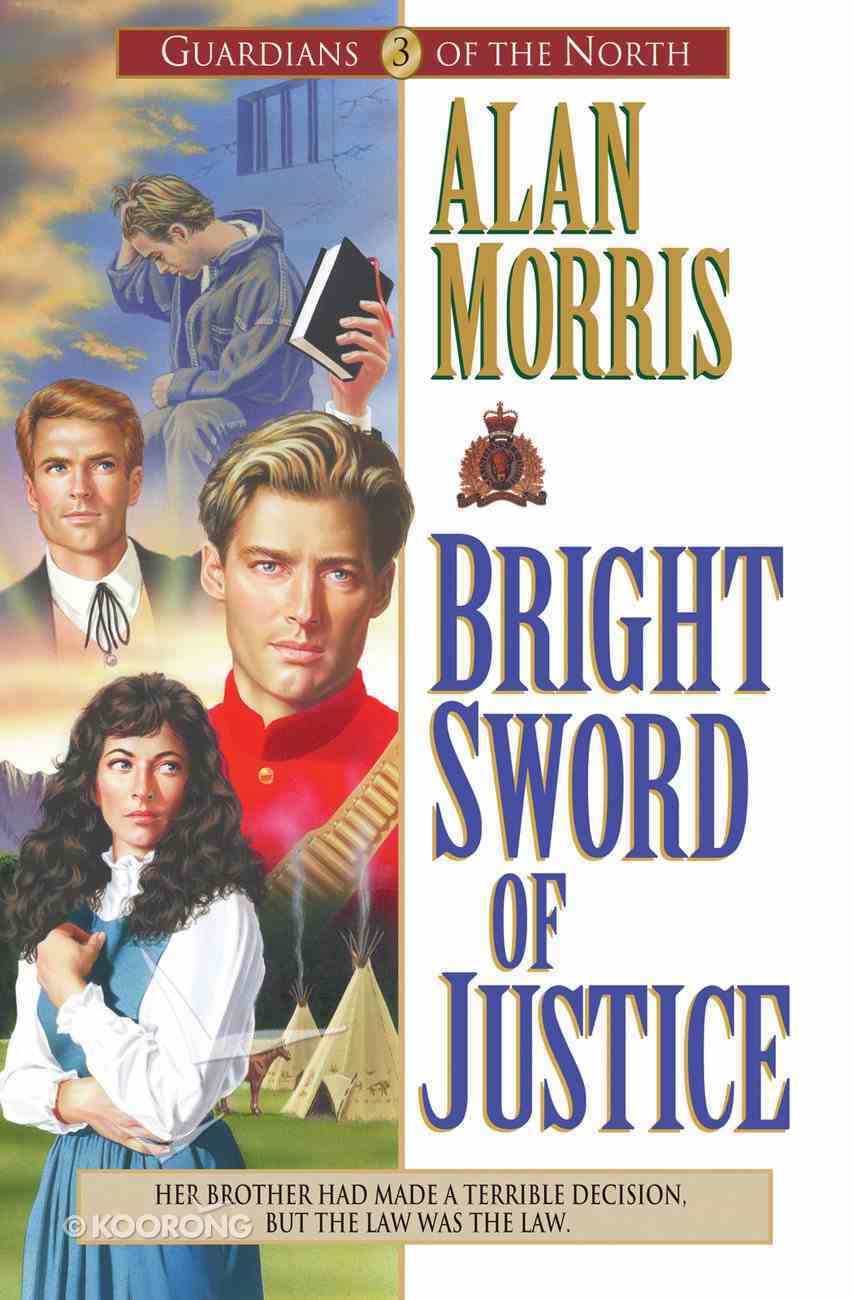 Bright Sword of Justice (#03 in Guardians Of The North Series)
With the magnificent Canadian frontier and the formation of the North-West Mounted Police as the backdrop, the GUARDIANS OF THE NORTH series from Alan Morris has found wide appeal among both men and women readers. Following in his family's excellent...
Available for immediate download.
---
Read using our free app on your tablet or mobile!
---
Free Shipping
for orders over $99.
With the magnificent Canadian frontier and the formation of the North-West Mounted Police as the backdrop, the GUARDIANS OF THE NORTH series from Alan Morris has found wide appeal among both men and women readers. Following in his family's excellent writing tradition, Alan has joined Gilbert and Lynn with this strong historical fiction series of his own.

In Bright Sword of Justice, the trail of a violent gang leads Hunter Stone and the Mounties to the Blackfood village where Reena O'Donnell works as a missionary. There they find a mysterious person who claims to know where the killers are. Hunter also discovers that a new missionary has arrived in the Territory who is obviously captivated by the beautiful Reena.

When the Mounties clash with the gang and capture three of the men, to Reena's horror one of the outlaws turns out to be her younger brother, Liam. Although he is truly a victim of circumstances, the evidence against him is strong, and no amount of pleading from Reena can change Hunter's commitment to carrying out justice. Will truth prevail for her brother? And to which man will Reena's affections lead?^^The Reverend Jack Sheffield is an idealistic seminary graduate who holds lofty expectations for the area. While he and Reena differ sharply over mission policy, Sheffield is deeply attracted to her.^^When the Mounties clash with the gang and capture three of the men, to Reena's horror one of the outlaws turns out to be her younger brother, Liam. Reena begs Hunter to let her brother go, believing him to be a victim of circumstances, but Hunter flatly refuses to compromise on his commitment to carrying out justice, even if it means the loss of Reena.
-Publisher
With the magnificent Canadian frontier and the formation of the North-West Mounted Police as the backdrop, the GUARDIANS OF THE NORTH series from Alan Morris has found wide appeal among both men and women readers. Following in his family's excellent writing tradition, Alan has joined Gilbert and Lynn with this strong historical fiction series of his own.

In Bright Sword of Justice, the trail of a violent gang leads Hunter Stone and the Mounties to the Blackfood village where Reena O'Donnell works as a missionary. There they find a mysterious person who claims to know where the killers are. Hunter also discovers that a new missionary has arrived in the Territory who is obviously captivated by the beautiful Reena.

When the Mounties clash with the gang and capture three of the men, to Reena's horror one of the outlaws turns out to be her younger brother, Liam. Although he is truly a victim of circumstances, the evidence against him is strong, and no amount of pleading from Reena can change Hunter's commitment to carrying out justice. Will truth prevail for her brother? And to which man will Reena's affections lead?^
-Publisher
With the magnificent Canadian frontier and the formation of the North-West Mounted Police as the backdrop, the GUARDIANS OF THE NORTH series from Alan Morris has found wide appeal among both men and women readers. Following in his family's excellent writing tradition, Alan has joined Gilbert and Lynn with this strong historical fiction series of his own.

In Bright Sword of Justice, the trail of a violent gang leads Hunter Stone and the Mounties to the Blackfood village where Reena O'Donnell works as a missionary. There they find a mysterious person who claims to know where the killers are. Hunter also discovers that a new missionary has arrived in the Territory who is obviously captivated by the beautiful Reena.

When the Mounties clash with the gang and capture three of the men, to Reena's horror one of the outlaws turns out to be her younger brother, Liam. Although he is truly a victim of circumstances, the evidence against him is strong, and no amount of pleading from Reena can change Hunter's commitment to carrying out justice. Will truth prevail for her brother? And to which man will Reena's affections lead?
-Publisher
Morris, University of Sheffield, UK