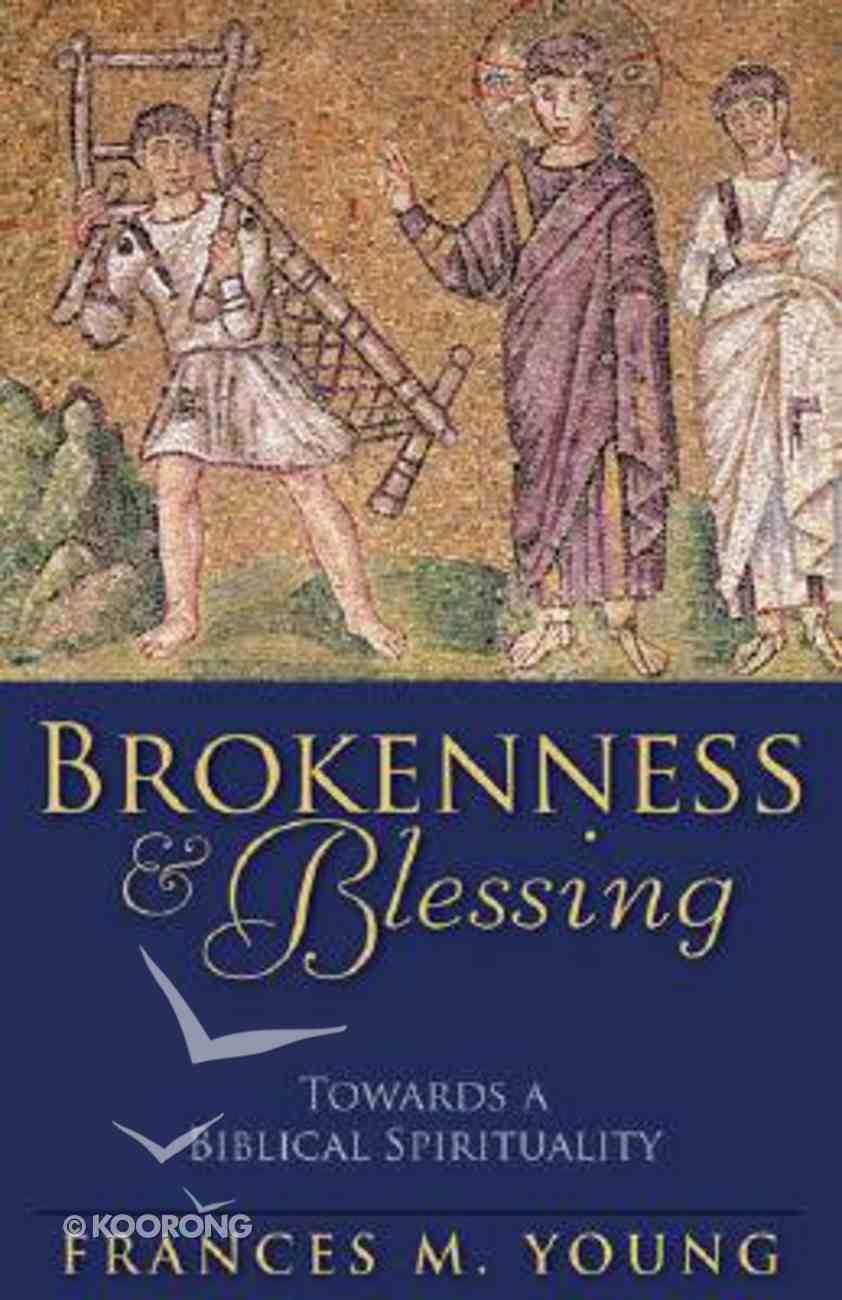 In Brokenness and Blessing , Frances Young challenges the spirituality fostered by our culture's desire to assert a basic right of freedom from pain and suffering. Rather than viewing our human frailty and mortality as things to be denied or...
---
Free Shipping
for orders over $99.
In Brokenness and Blessing, Frances Young challenges the spirituality fostered by our culture's desire to assert a basic right of freedom from pain and suffering. Rather than viewing our human frailty and mortality as things to be denied or overcome, Young encourages us to place them at the very centre of a truly biblical spirituality.

Young has discovered, through study of the Scriptures, the church fathers, and her own experience with a profoundly disabled son, that true biblical spirituality involves suffering and an acceptance of our own and others' brokenness and flaws. In this volume, which is at once academic, pastoral, and personal, Young explores five motifs that are recurrent in Scripture, in the writings of the church fathers, and in traditional church hymnography: the desert experience, spiritual wrestling, Jesus' way of kenosis, exile, and frustrated desire. She seeks to present a way of thinking and living as a Christian that will sustain a person through the hardships of life to a deeper relationship with the one who heals.
-Publisher.


It is profoundly difficult, says Frances Young, "to live with our vulnerability and mortality, how we question and rebel, as we are overwhelmed by grief and distress." Offering both a realistic view of the human condition and the wonderful gift of grace that brings hope of transformation, Young challenges the culture that believers have assimilated. Drawing upon her personal experiences and her knowledge of Scripture, ancient Christianity, and the great hymns of faith, Young offers this academic yet deeply pastoral guide for thinking and living as a Christian. Students of early Christianity, seminarians, pastors, and serious readers will appreciate this insightful look at how acceptance of disability can bring blessing in the lives of believers.
-Publisher
1. The Desert Experience2. Wrestling Jacob3. The Way Of Jesus4. Strangers And Exiles5. Desire Frustrated And Fulfilled
-Publisher
"At a time when one had almost despaired of finding anything but drivel under the title 'spirituality,' here comes a wonderful book that advocates and demonstrates the placing of the Christian life under a reengagement with the 'overarching story of the Scriptures, read as a unity': creation, fall, redemption, pilgrimage, consummation. As it did patristically and always has done liturgically, the Bible functions again--avoiding both fundamentalism and reductionism--as the provider of genuinely historical themes and patterns for human existence in trust toward the God of Jesus Christ. As a good Methodist, Frances Young opens each chapter with a substantial hymn (not always by Charles Wesley), and she intersperses her learned and autobiographical expositions of the scriptural episodes and metaphors with poetic compositions of her own. The overall result is both demanding and moving, a true gift of the Holy Spirit."--Geoffrey Wainwright, Cushman Professor of Theology, Duke Divinity School"Personal and profound, this work of Frances M. Young brings to life a deeply traditional and immediately relevant way of reading the Scriptures. We are given the privilege of seeing the transforming effect of the encounter with the Word of God as she allows the scriptural narratives, as they have been read by the Fathers, to bear upon her own life and experience--from brokenness to blessing. Using her expertise in patristic exegesis in this way, Frances Young has produced a book of great spiritual insight and a powerful witness of the Christian tradition today."--Rev. Dr. John Behr, dean, St. Vladimir's Orthodox Theological Seminary"Frances Young's profound insights draw us into the kind of biblical spirituality needed for this century--a spirituality of discovering our limitations, wrestling, following, imitating, emptying, and longing. Meanwhile, she teaches us words we don't usually practice--the apophatic, anagogic, and katabatic moves that help us love God more deeply. Out of her own brokenness, Young offers us a great blessing!"--Marva J. Dawn, teaching fellow in spiritual theology, Regent College, and author of Talking the Walk and Joy in Divine Wisdom
-Publisher
Frances M. Young FBA OBE (Ph.D., University of Cambridge) is the recently retired Edward Cadbury Professor of Theology at the University of Birmingham, England. The lead editor of The Cambridge History of Early Christian Literature and the author of numerous books in patristics and New Testament studies including Brokenness and Blessing: Towards a Biblical Spirituality; From Nicaea to Chalcedon: A Guide to the Literature and Its Background (2nd ed); and The Making of the Creeds, she is also an ordained Methodist minister.
Introduction<br>the Desert Experience<br>wrestling Jacob<br>the Way Of Jesus<br>strangers And Exiles<br>desire Frustrated And Fulfilled<br>conclusion<br>bibliography
Bestsellers in Spiritual Growth