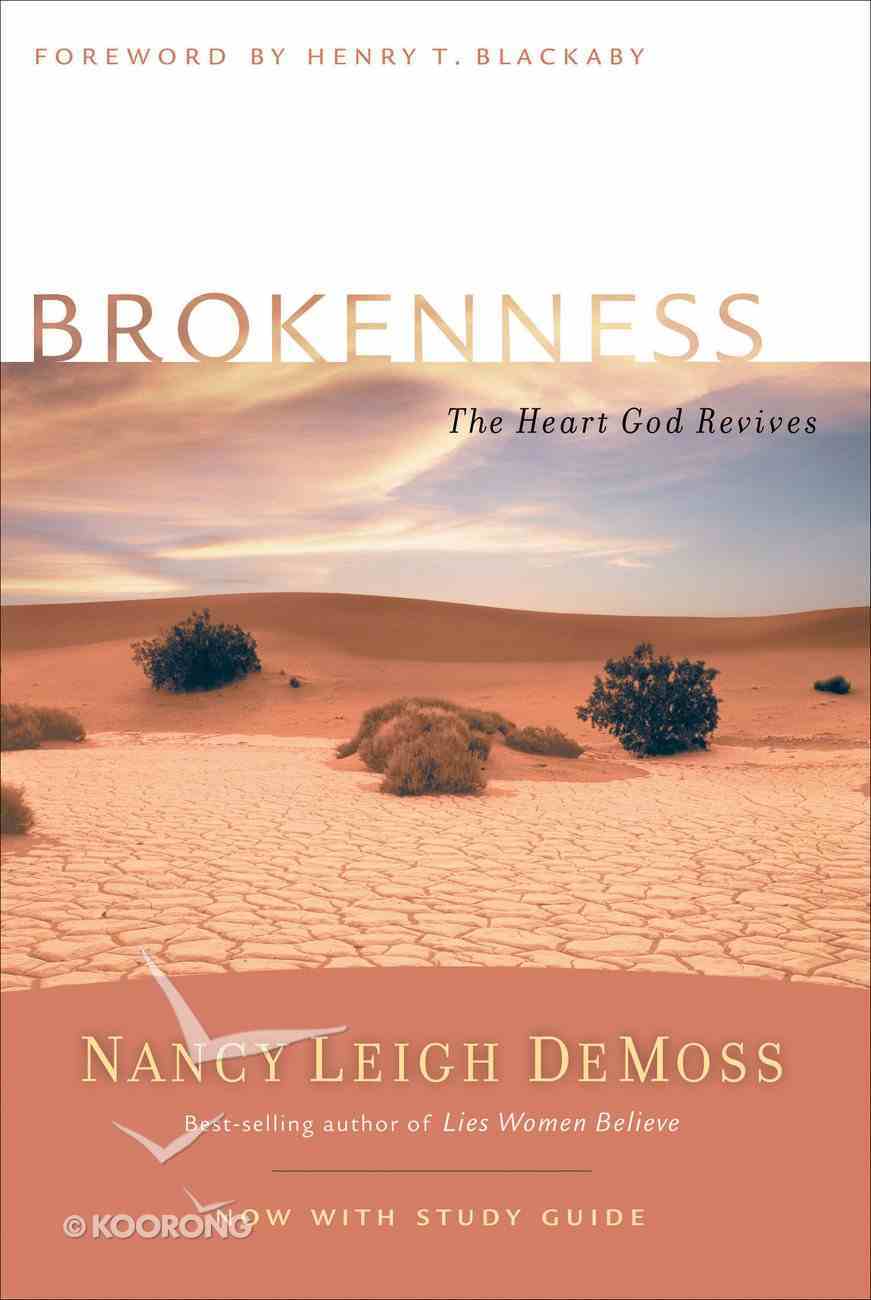 Brokenness (Revive Our Hearts Series)
Every great movement of God is preceded by a season of humility and repentance and a time of tearing down walls, of getting honest with God and others about your true spiritual condition.It may be hard. It may hurt. But...
Instant download
---
Read using our free app on your tablet or mobile!
---
Free Shipping
for orders over $99.

Every great movement of God is preceded by a season of humility and repentance and a time of tearing down walls, of getting honest with God and others about your true spiritual condition.It may be hard. It may hurt. But in the end, God will use your brokenness to restore your 'first love' for Jesus, rekindle your spiritual fire, reconcile your relationships, and repair your life.A richer, deeper, more God-filled life is waiting for you. And it all begins with Brokenness.The Revive Our Hearts Trilogy - Now in Paperback!This bestselling series by Nancy Leigh DeMoss has sold well over 80,000 copies! All three titles now include study questions at the end of each chapter, making them ideal for personal or small group study.

^is that they have misconceptions about what brokenness really means. As is true ^in so many other areas, our idea of brokenness and God's idea of brokenness are ^usually quite different. For example, some people think of brokenness as always ^being sad or gloomy. Others think of brokenness as being morbidly introspective: ^"Oh, woe is me! I've confessed every sin I can possibly think of; but surely there ^must be something I've missed. Oh, what a worm I am!" False humility and morbid ^introspection are, in fact, the opposite of brokenness, as they reveal a preoccupation ^with self, rather than Christ. So what is true brokenness? Someone has said that ^brokenness, like a fragrance, is easier to detect than to define.

Every great movement of God is preceded by a season of humility and repentance ^and a time of tearing down walls, of getting honest with God and others about your ^true spiritual condition.  Let God use your brokenness to restore your "first ^love" for Him.


CONTENTS

    Foreword by Henry ^T. Blackaby  / 9
    Acknowledgments  / 13
    ^Introduction  / 15

1. The Heart of the Matter  / 27

2. What ^Is Brokenness?  / 41

3. Biblical Portraits: Broken and Unbroken  ^/ 61

4. Am I a Proud or a Broken Person?  / 81

5. The Blessing ^of Brokenness  / 95

6. Journey into Brokenness  / 121

    ^Afterword: A Personal Testimony  / 141
    Discussion Guide  ^/ 151



NANCY LEIGH DEMOSS is a mentor and "spiritual mother" to hundreds ^of thousands of women who have read her bestselling books and who listen to her ^two daily radio programs, Revive Our Hearts and the one-minute feature Seeking Him. ^Through these programs, she calls women to revival and biblical womanhood. Her love ^for the Word and the Lord Jesus are infectious and permeate her online outreaches, ^conference messages, books, and radio programs. Her books have sold more than 2,000,000 ^copies, and include Lies Women Believe, Choosing Forgiveness, A Place of Quiet Rest, ^A Thirty Day Walk with God in the Psalms, Brokenness: The Heart God Revives, Surrender: ^The Heart God Controls, and Holiness: The Heart God Purifies. She also co-authored ^Seeking Him, Lies Young Women Believe, True Woman 101: Divine Design, and is the ^general editor of Becoming God's True Woman.Nancy is frequently a speaker at women's ^conferences. In October 2008, Revive Our Hearts hosted the first True Woman Conference ^in the Chicago area, which sought to help women everywhere discover and embrace ^God's design and mission for their lives. Over 6,000 women attended True Woman '08, ^and three more national conferences were held in 2010. The ministry continues to ^hold additional national conferences and trainings for leaders in women's ministry ^for which Nancy is a keynote speaker.Nancy grew up in Philadelphia, Pennsylvania, ^in a family deeply committed to Christ and to the mission of world evangelization. ^At an early age, she surrendered her life to Christ and to His call to fulltime ^service.Nancy graduated from the University of Southern California with a degree ^in piano performance and went on to serve as the Primary Children's Ministries Director ^in a large local church. Since 1980, she has served on the staff of Life Action ^Ministries, a revival ministry based in Buchanan, Michigan. .

Every great movement of God is preceded by a season of humility and repentance ^and a time of tearing down walls, of getting honest with God and others about your ^true spiritual condition.It may be hard. It may hurt. But in the end, God will use ^your brokenness to restore your 'first love' for Jesus, rekindle your spiritual ^fire, reconcile your relationships, and repair your life.A richer, deeper, more ^God-filled life is waiting for you. And it all begins with Brokenness.The Revive ^Our Hearts Trilogy - Now in Paperback!This bestselling series by Nancy Leigh DeMoss ^has sold well over 80,000 copies! All three titles now include study questions at ^the end of each chapter, making them ideal for personal or small group study.


Do you need a fresh encounter with God?  Are you ready for Him ^to pour out His grace on the dry, thirsty ground of your heart?

Nancy ^DeMoss has discovered an irrefutable spiritual principle: before every great movement ^of God there is always a time of deep repentance. Here is her moving, true account ^of how God created that brokenness in others--and the astonishing revival that followed.



"I am convinced that there is no way to have an intimate, dynamic, ^and fruitful relationship with God, apart from the truths Nancy presents in this ^book.  I saw this firsthand when, in the summer of 1995, He used her message ^on brokenness to impact the staff of Campus Crusade for Christ in a way I could ^never have imagined."
-Bill Bright, Campus Crusade for Christ

"Nancy ^has my enthusiastic applause and heartfelt blessing as she seeks to fan into flame ^the fire of revival through her teaching on brokenness."
-Anne Graham Lotz, ^AnGel Ministries




-Publisher

Every great movement of God is preceded by a season of humility and repentance and a time of tearing down walls, of getting honest with God and others about your true spiritual condition.It may be hard. It may hurt. But in the end, God will use your brokenness to restore your 'first love' for Jesus, rekindle your spiritual fire, reconcile your relationships, and repair your life.A richer, deeper, more God-filled life is waiting for you. And it all begins with Brokenness.The Revive Our Hearts Trilogy - Now in Paperback!This bestselling series by Nancy Leigh DeMoss has sold well over 80,000 copies! All three titles now include study questions at the end of each chapter, making them ideal for personal or small group study.


-Publisher
NANCY LEIGH DEMOSS is the author of fifteen books, including the bestselling "Lies Women Believe" and "Choosing Forgiveness". She is the host and teacher for Revive Our Hearts and Seeking Him, two nationally-syndicated programs heard each weekday on over 1,000 radio stations. Through her teaching ministry and books (which have sold more than two million copies), God is using her as a mentor and spiritual mother to thousands of women, and as a leader of the True Woman Movement. Nancy's burden is to call women to freedom, fullness, and fruitfulness in Christ and to see God ignite true revival in
Bestsellers in Christian Living