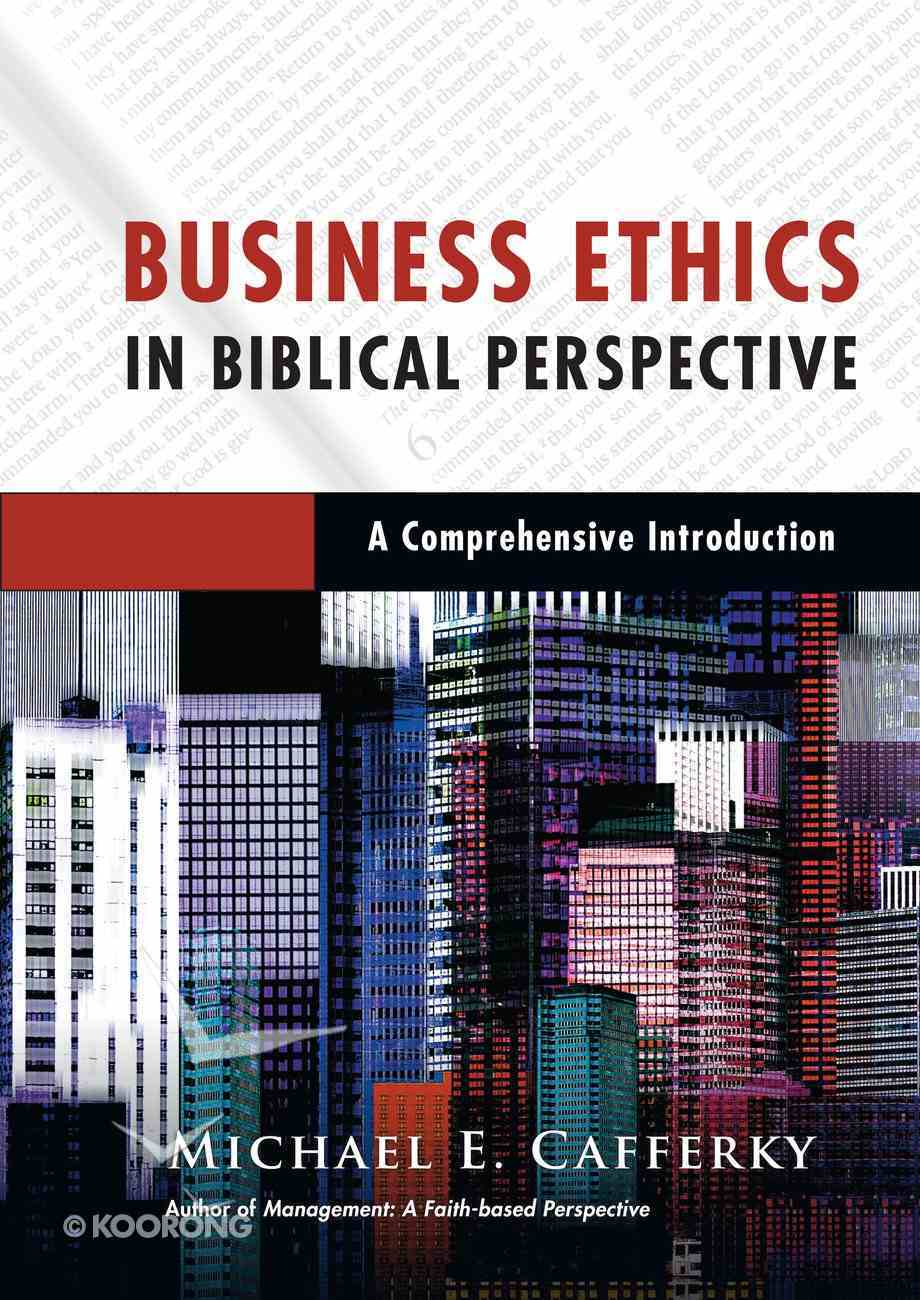 Business Ethics in Biblical Perspective
:It is legal for CEOs to make 300 times the amount of the average worker. But is this fair and just?Is it ethical for a customer to purchase a digital camera for the sole purpose of using it on a...
Available Now.
1 Available
---
Expected to ship tomorrow from Australia.
---
Free Shipping
for orders over $99.
:It is legal for CEOs to make 300 times the amount of the average worker. But is this fair and just?Is it ethical for a customer to purchase a digital camera for the sole purpose of using it on a ski trip and then return the item to the store afterwards?Should companies who purchase advertising space on websites that offer pirated videos for download be held accountable for breaking intellectual property laws?The world of business is fraught with ethical challenges. Some of these are relatively straightforward, but others are complicated and require careful reflection. While there are numerous theories to help people navigate these dilemmas, the goal of this book is to provide a comprehensive biblical perspective on contemporary issues in areas such as consumer behavior, management, accounting and marketing.In Business Ethics in Biblical Perspective, Michael E. Cafferky explores the biblical resources for moral guidance and ethical consideration. He identifies twelve key themes in the narrative of Scripture: cosmic conflict, creation, holiness, covenant relationships, shalom, sabbath, justice, righteousness, truth, wisdom, loving kindness and redemption. By looking at ethical approaches and issues through this multifaceted biblical perspective, Cafferky helps readers appreciate the complex nature of ethical decision making, particularly in the context of business and finance.Designed from the start with the classroom in mind, each chapter of Business Ethics in Biblical Perspective provides example scenarios, questions for intrapersonal and interpersonal ethical reflection, review questions, ethical vignettes for discussion and an exploration of the chapter material in light of the biblical themes.Additional IVP Instructor Resources are also available.
-Publisher
:forewordprefaceoutline Of The Bookgeneral Introduction
<strong>part I: The Fundamentals</strong>
1. Why Ethics In Business Is Important2. Fundamental Tensions In The Environment Of Business3. Biblical Themes For Business Ethics?part 14. Biblical Themes For Business Ethics?part 2
<strong>part Ii: Contemporary Approaches</strong>
5. Egoism6. Relativism7. Common Sense8. Social Contract9. Utilitarianism10. Universalism11. Agency12. Justice And Rights13. Virtues And Character
<strong>part Iii: Contemporary Issues</strong>
14. Ethical Issues In Consumer Behavior15. Ethical Issues In Management16. Ethical Issues In Accounting And Finance17. Ethical Issues In Marketing18. Ethical Issues In Global Business
<strong>part Iv: Widening The Perspective</strong>
19. Corporate Responsibility20. Evaluating The Morality Of Political-economic Systems21. Moral Muteness And Pressure To Compromise
<strong>part V: Appendices And Case Studies</strong>
Appendix A: Key Questions From The Biblical Themesappendix B: Scriptural Basis For The Biblical Themesappendix C: Biblical Themes Summary Tablesappendix D: Ten Principles For Flourishingappendix E: Summary Of Ethical Models In Comparisonappendix F: The Purpose Of Business Through The Lens Of Biblical Themesappendix G: Ethical And Social Issue Debate Topicsappendix H: Prosperity In The Bible: Q&amp;a Bible Studycase Studies
Author Indexsubject Indexscripture Indexabout The Author
Bestsellers in Christian Worldview