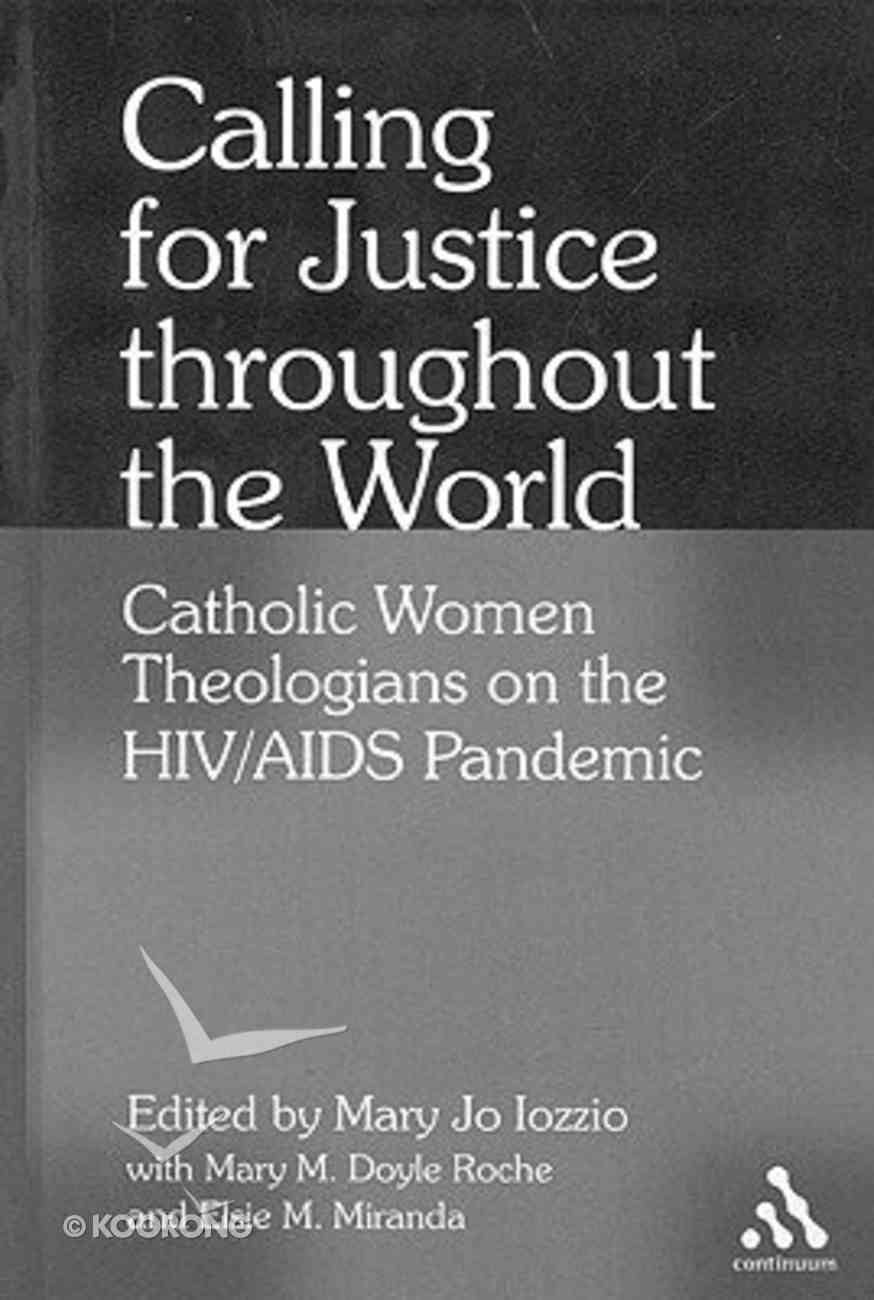 Calling For Justice Throughout the World
Roman Catholic women theologians from all over the world discuss the HIV/AIDS pandemic in terms of their particular geographical and social location.>
This item is a special order. Payment is by credit card only. Orders for this item cannot be cancelled or returned.
0 Available.
---
Free Shipping
for orders over $99.
Roman Catholic women theologians from all over the world discuss the HIV/AIDS pandemic in terms of their particular geographical and social location.>
-Publisher

It's common knowledge that in developing countries--Africa, India, Southeast Asia, Africa, Latin America--the burden of HIV/AIDS falls disproportionately on women, who are generally the victims of male carriers of the disease. In this book, Roman Catholic women theologians from all over the world will discuss the pandemic in terms of their particular geographical and social location. The model for the volume is Continuum's "Catholic Ethicists on HIV/AIDS Prevention" (2000), edited by James Keenan, S.J.The occasion or impetus for the volume was the First International Crosscultural Conference for Catholic Theological Ethicists, single-handedly created by James Keenan (he raised 3/4 of a million dollars) and held at Padua, July 2006. (The plenary sessions will be published by Continuum under the title "Catholic Theological Ethics in the World Church." )The mentors for the volume will be James Keenan (editor Iozzio's Doktorvater) and Margaret Farley, "America's leading Catholic feminist theological ethicist" (19 Dec. review of "Just Love" in "America"). Farley's advocacy both in the US and Africa on the issue of women and AIDS is renowned, and she will be the best-known contributor. The leading contributor from English-speaking Europe is Linda Hogan from Trinity College Dublin.

-Publisher
Mary Jo Iozzio (Ph.D., Fordham University) is professor of Moral Theology, is Director of Graduate Programs in Theology & Ministry at Barry University, Miami Shores, FL, and Visiting Professor (2006) at Dartmouth College, Hanover, NH. She received a Fulbright Senior Scholar Research Award (1998-1999) for a second study on the work of Odon Lottin, OSB.
Dr. Iozzio's primary work is focused on questions of fundamental moral theology, bioethics, feminist ethics and liberation theologies, disability studies, anti-racism social justice, and virtue ethics. She has published five books, Self-Determination and the Moral Act: A Study of the Contributions of Odon Lottin, OSB (1995), Considering Religious Traditions in Bioethics: Christian and Jewish Voices (2001), Called to Something New: A Peoples Peace Initiative (2006), Brothers & Sisters All: The Pax Christi USA Anti-Racism Initiative, Workshop Teachers Manual (2007), and Calling for Justice throughout the World: Catholic Women Theologians Considering the Moral Ramifications of the HIV/AIDS Pandemic (2008).


A Companion To Catholic Ethicists On Hiv/aids Prevention Mary Jo Iozzio; Introduction: Globalizing Solidarity; Mary Jo Iozzio, Mary M. Doyle Roche And Elsie M. Miranda; Entree; 1. Show Me My Face O Lord, M. Bernadette Mbuy Beya, Osu; Part One: Challenges To Justice; 2. Aids, Women, And Empowerment, Lisa Sowle Cahill; 3. Hiv/aids In Vietnam: Calling For Human Dignity, Justice, And Care, Y-lan Tran, Cnd; 4. 'change Is Possible': Churches Reading The Signs Of The Times, Maria Cimperman, Osu; 5. Justice, Faith, And Hiv/aids In Africa: Challenges For The Twenty-first Century, Margaret A. Farley; 6. Loving Embrace: Sexual Flourishing And An Hiv+ Humanity Carolyn Sharp; Part Two: Challenging The Church; 7. Information/sex Education And Church Intervention In Public Policy In The Philippines, Agnes M. Brazal; 8. Hiv/aids In Australia, Elizabeth Hepburn, Ibvm; 9. Hope, Lament, And A Prophetic Imagination For A World With Hiv/aids, Elsie M. Miranda; 10. "god (not) Swine Yuh": Hiv/aids In The Caribbean, Anna Kasafi-perkins; Part Three: Migrants And Immigrants; 11. France 2007: Always And Still The Challenge Of Aids, Marie-jo Thiel; 12. Aids-an Ethical Analysis, Hille Haker; 13. Challenges In Italy: Authentic Sexual Freedom And Justice, Cecilia Laura Borgna; 14. Whose Truth? Discourses Of Aids In Britain, Gillian Paterson; 15. What's Love Got To Do With It? Sex, Survival, And Hiv/aids In South Africa, Suzanne Mulligan; Part Four: Invisible And Vulnerable; 16. Children And The Common Good, Mary M. Doyle Roche; 17. The Vulnerability Of People With Disabilities And The Elderly, Mary Jo Iozzio; 18. Church Communities And Hiv-affected Persons: Towards Abundant Life, Emily Reimer Barry; 19. "hidden In Plain View": Older African Americans, Shawnee Marie Daniels-sykes, Ssnd; Part Five: The Female Face Of Aids; 20. The Feminzation Of Aids In The Philippines: Culture, Poverty, And Migration, Ma. Christina A. Astorga; 21. Communities Visible And Invisible In Oceania, Maryanne Confoy, Rsc; 22. Women Confronting Stigma In Tamil Nadu, Metti Amirtham, Scc. 23. Responses To Hiv/aids In Hoima Diocese, Uganda, Therese Tinkasiimire; 24. Retrieving Spirituality As A Resource For Coping With Hiv/aids: Perspectives From South India, Pushpa Joseph, Fmm; Finalement; 25. Kissing The Leprous: A Theological Praxis For Aids Maria Clara Lucchetti Bingemer; About The Authors; Index.
Bestsellers in Christian Worldview