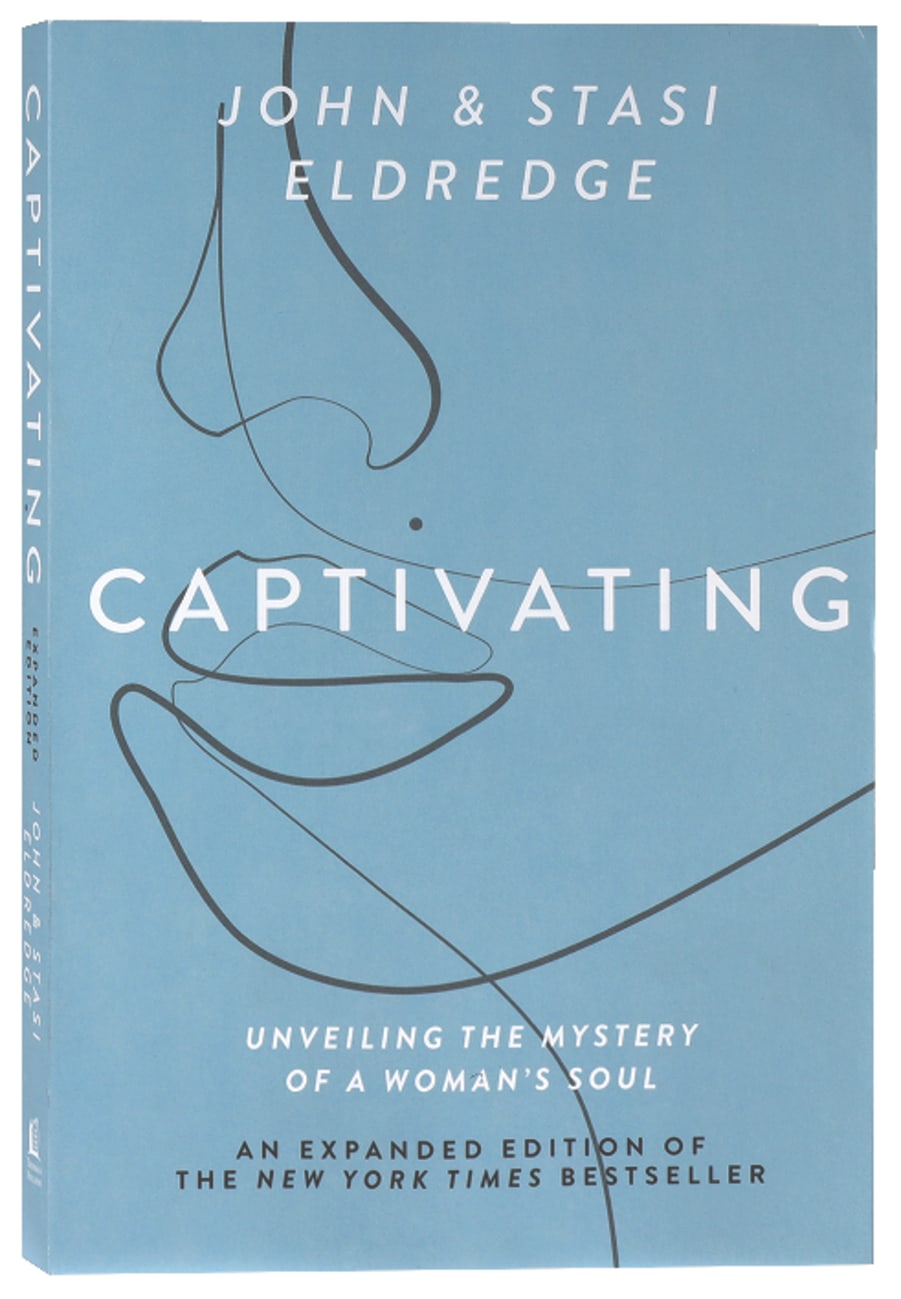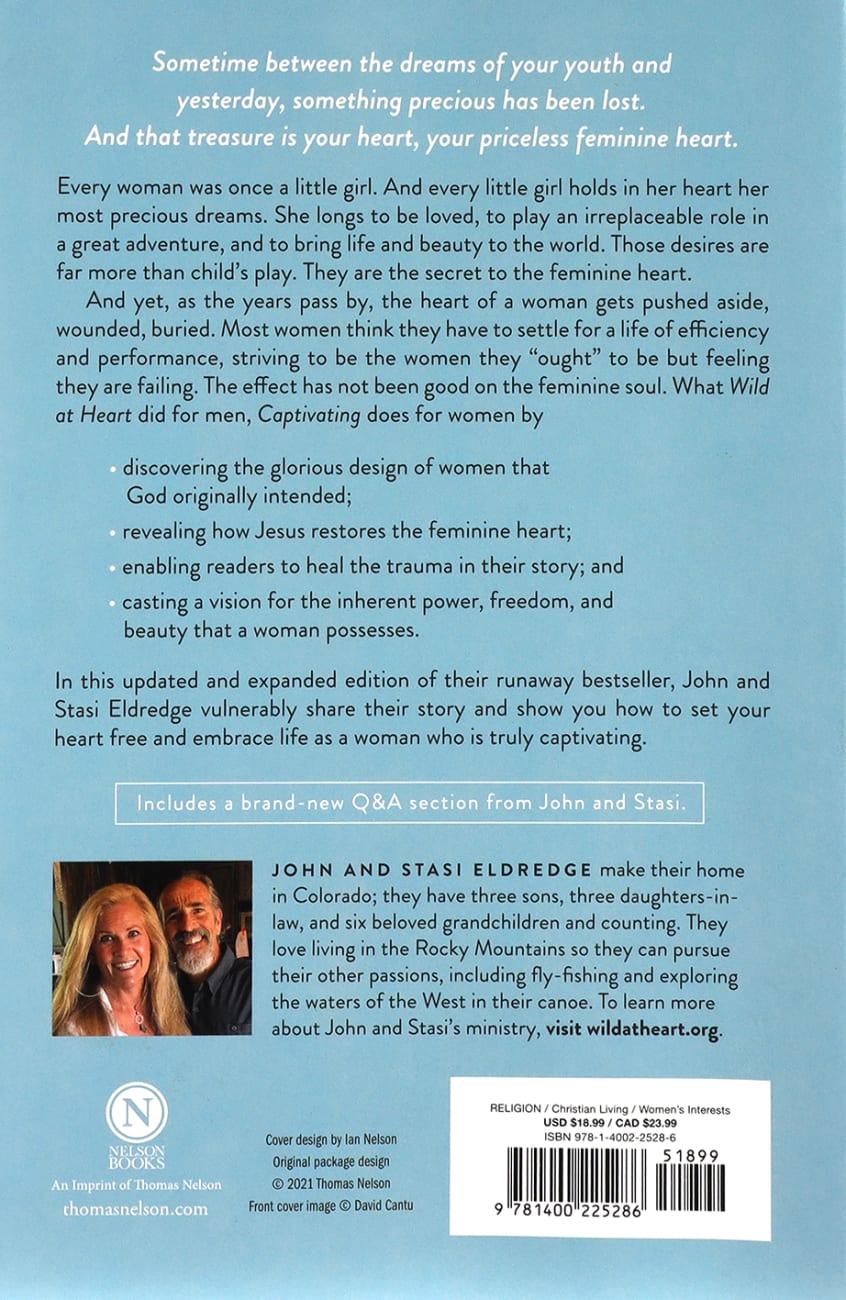 Captivating: Unveiling the Mystery of a Woman's Soul
The bestselling book that has transformed the lives of millions of women, revised and expanded.What Wild at Heart does for men, Captivating does for women: set their hearts free. This groundbreaking book helps readers by: providing a look into...
---
Expected to ship tomorrow from Australia.
---
Free Shipping
for orders over $99.
The bestselling book that has transformed the lives of millions of women, revised and expanded.

What Wild at Heart does for men, Captivating does for women: set their hearts free. This groundbreaking book helps readers by:

providing a look into the glorious design of women

describing how the feminine heart can be restored

casting a vision for the power, freedom, and beauty of a woman released to be all she was meant to be and
healing the trauma of the past.

The message of Captivating is this: your heart matters more than anything else in all creation. The desires you had as a little girl and the longings you still feel as a woman are telling you of the life God created you to live. He offers to come now as the Hero of your story, to rescue your heart and release you to live as a fully alive and feminine woman - a woman who is truly captivating.

-Publisher.

Publisher Description

:Sometime between the dreams of your youth and yesterday's to-do list, something precious has been lost: your priceless femininity.

God has set within you a femininity that is powerful, tender, and fierce. No doubt it has been misunderstood, but it is there, and it is worth recovering. In this updated and expanded edition of their runaway bestseller, John and Stasi Eldredge vulnerably share their story and show you how to set your heart free and embrace life as a woman who is truly captivating.

The mystery of the feminine heart was meant to be a good thing, a source of joy. But all too often, it becomes a source of shame. We almost universally feel that we are too much or not enough.

This book combines timeless scripture with honest, heartfelt stories from women who have been there, too, giving you the encouragement you need to:


- Discover the glorious design of women that God originally intended
- Understand how Jesus restores the feminine heart
- Heal the trauma in your story
- Embrace the inherent power, freedom, and beauty that you already possess
As we grow older and our dreams are slowly pushed aside, we're told that we have to settle for a life of efficiency and performance, striving to be the women we're told that we ought to be and still feeling like we're failing. But it doesn't have to be this way. Let Captivating help you discover the woman you were meant to be.
Stasi Eldredge, who is passionate about mentoring women in finding their true identity as the Beloved of Christ, has been leading women's Bible studies for years. With a BA in Sociology and formerly on staff with Youth for Christ, Stasi now leads the women's ministry of Ransomed Heart. She is married to co-author of CAPTIVATING, John Eldredge, has three sons and lives in Colarado Springs, Colorado.
John Eldredge is an author, a counsellor, and teacher. He is also president of Ransomed Heart, a ministry devoted to helping people discover the heart of God, recover their own heart in his love, and learn to live in his Kingdom. He is also the author of numerous books, including Epic, Waking the Dead, Wild at Heart, and Desire, and co-author of Captivating and The Sacred Romance.

John grew up in the suburbs of Los Angeles (which he hated), and spent his boyhood summers on his grandfather's cattle ranch in eastern Oregon (which he loved). John met his wife Stasi in high school (in drama class). But their romance did not begin until they each came to faith in Christ, after high school. John earned his undergraduate degree in Theatre, and directed a theatre company in Los Angeles for several years before moving to Colorado with Focus on the Family, where he taught at the Focus on the Family Institute.

John earned his master's degree in Counselling from Colorado Christian University, under the direction of Larry Crabb and Dan Allender. He worked as a counselor in private practice before launching Ransomed Heart in 2000. John and Stasi live in Colorado Springs with their three sons.

While all of this is factually true, it somehow misses describing an actual person. He loves the outdoors passionately, especially living in the Rocky Mountains, and all beauty, Shakespeare, bow hunting, a good cigar, anything having to do with adventure, poetry, March Madness, working in the shop, fly fishing, classic rock, the Tetons, fish tacos, George MacDonald, green tea, buffalo steaks, dark chocolate, wild and open places, horses running, and too much more to name. He also uses the expression "far out" way too much.