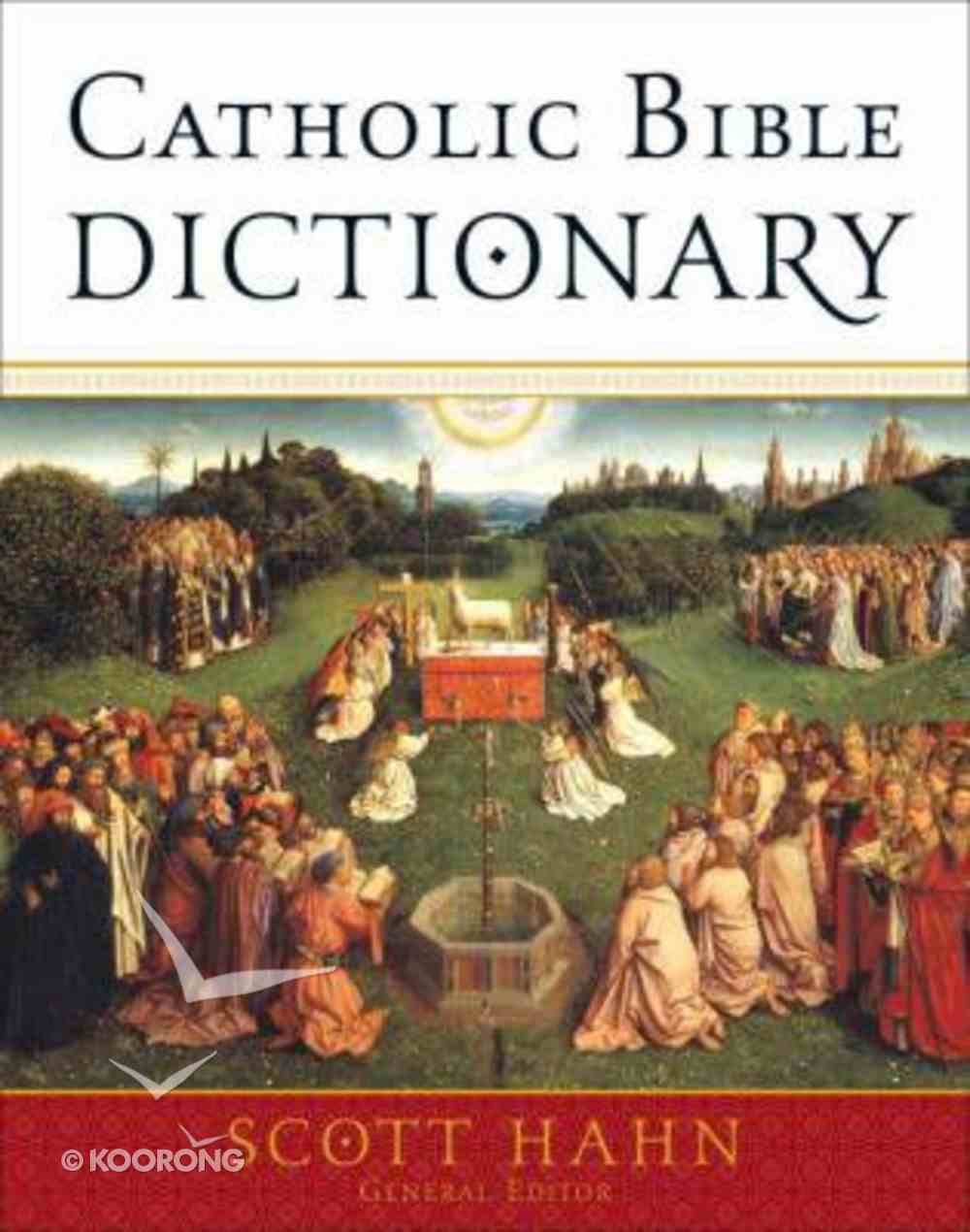 Catholic Bible Dictionary
"Scott Hahn's writings and conferences have been so effective in bringing Catholics closer to Sacred Scripture. His valuable Catholic Bible Dictionary will be another big help to faithful Catholics who have taken seriously the Church's encouragement to become immersed in...
---
Expected to ship on Monday from Australia.
---
Free Shipping
for orders over $99.
"Scott Hahn's writings and conferences have been so effective in bringing Catholics closer to Sacred Scripture. His valuable Catholic Bible Dictionary will be another big help to faithful Catholics who have taken seriously the Church's encouragement to become immersed in God's Word." Most Reverend Timothy M. Dolan, Archbishop of New York "Catholic Bible Dictionaryis a timely, academically solid and user-friendly response to the call of the Synod of Bishops on the Word of God in the Life and Mission of the Church for the development of ways of helping the faithful more fully access the treasures of the Bible." Most Reverend Donald W. Wuerl, S.T.D., Archbishop of Washington "Catholic Bible Dictionaryis an extremely useful tool for any Bible student, whether beginner or advanced. This dictionary is particularly helpful for Catholics who need both etymological studies of terms and solid theological help. My only hope is that the readers will study the articles on a regular basis and eventually read the whole dictionary as they study the whole Bible." Fr. Mitchell C. Pacwa, S.J., president of Ignatius Productions and host of EWTN "Thousands of people have been assisted by Scott Hahn in studying the Bible from an informed and spiritual point of view. This dictionary is a powerful part of that effort and will significantly help any reader learn more about the Bible in an organized and reliable way. I strongly recommend this book for anyone who wants to come to a deeper knowledge and love of sacred scripture." Fr. Benedict J. Groeschel, CFR "Catholic Bible Dictionaryis a superb reference book that is an absolute must for all students of Scriptureboth clerics and laity. I would never be without a Bible dictionary in my home; however,Catholic Bible Dictionaryis not just any Bible dictionary. It is written specifically for Catholics and is therefore more extensive and complete than others. With over five thousand entries as well as the latest up-to-date information on every important item, name, place, and event in Sacred Scripture, this book is essential for students of Scripture; it is also indispensable for anyone who wants a deeper understanding of God's Word. In fact, I believe that every Catholic who owns a Bible should also have a copy ofCatholic Bible Dictionary." Gail Buckley, founder and president of Catholic Scripture Study International "Catholic Bible Dictionaryanswers the urgent need for a generally accessible resource deeply rooted in the Catholic tradition. It will be of great help to Catholics in broadening and deepening the familiarity with the Bible they already possess through the regular readings in the liturgy. Particularly helpful are the clear overviews of each book of the Bible that will allow readers to place the selections they hear at mass in their proper context." Dr. Michael Waldstein, Max Seckler Professor of Theology at Ave Maria University and translator of Pope John Paul II's Man and Woman He Created Them: A Theology of the Body "This new, thoroughly sound, and trustworthyCatholic Bible Dictionaryis a tremendous gift. With this dictionary on your left and the Catechism on your right, you can confidently and prayerfully study the Sacred Scriptures." Marcus Grodi, TV host,The Journey Home
-Publisher

More than a generation has passed since the appearance of the last major Catholic Bible dictionary. It has been a fertile generation for biblical scholarship, an eventful time for biblical archaeology, and a fruitful time for the Church's interpretation of the Bible. It is time for a new resource.

Scott Hahn, internationally renowned theologian and biblical scholar, has inspired millions with his insight into the Catholic faith. Now he brings us this important reference guide, written specifically for Catholics, which contains more than five thousand clear and accessible entries and covers a wide range of people, places, and topics. From Genesis to Revelation, the whole of salvation history is presented and explained in smart, easy-to-understand prose.

Catholic Bible Dictionary is an invaluable source of information, insight, and guidance for Catholics and others who are interested in enriching their understanding of Sacred Scripture. Scott Hahn draws from two millennia of scholarship to create an accessible and comprehensive tool for deeper and more rewarding biblical study.


-Publisher
PRODUCT DETAIL
Catalogue Code 

292548

Product Code 

9780385512299

ISBN 

0385512295

EAN 

9780385512299

Pages 

1008

Department Academic
Category Theology
Sub-Category Roman Catholicism
Publisher Doubleday
Publication Date 

Jun 2009

Sales Rank 

50914

Dimensions 

242 x 194 x 50

mm

Weight 

1.712

kg
A highly sought-after speaker and best-selling author, Dr. Scott Hahn is one of the foremost Scriputure scholars as the Pope Benedict XVI Chair of Biblical Theology and Liturgical Proclamation at St. Vincent Seminary in Latrobe, Pennsylvania. A popular writer, speaker, and teacher, he has authored numerous books and articles in lay and academic publications including The Lamb's Supper, Reasons to Believe, and Kinship by Covenant, and coauthor of Rome Sweet Home. Hahn is also the general editor of the Ignatius Catholic Study Bible, The Catholic Bible Dictionary, and Letter and Spirit: A Journal of Catholic Biblical Theology.
PREFACE

A dictionary is, by definition, a reference book listing terms important to a particular subject along with a discussion of their meanings and applications.

If the Bible is what Christians say it is, can there be any task more daunting than the compiling of a Bible dictionary? For we be­lieve that the Bible is the written Word of God. We believe it is "inspired by God" (2 Tim 3:16). We believe it is not a dead letter, but "living and active" (Heb 4:12). We believe it "must be fulfilled" (Luke 22:37) and "cannot be broken" (John 10:35). What's more, it is not subject merely to private interpretation (2 Pet 1:20), but to the discernment of the Church. For people can easily "twist" Scripture "to their own destruction" (2 Pet 3:16).

The Bible is as sharp as any two-edged sword (Heb 4:12), and thus it should be handled with care.

Yet it should indeed be handled. The Bible itself exhorts us to attend to its study (1 Tim 4:13) and praises those who "examine the Scriptures daily" (Acts 17:11).

We live in a time of unprecedented oppor­tunities for Bible study. In the 1970s the Cath­olic Church revised its lectionary—the order of scriptural readings for the Mass. The read­ings now unfold in a three-year cycle and in­clude all the books of both testaments of the Bible. The schema proved so effective in com­municating the Word of God that it has been adopted and adapted by many Protestant bod­ies as well. Historians may one day judge the new lectionary to be the most significant ecu­menical advance of the twentieth century.

The Mass is the one thing that Catholics experience on a weekly basis all their lives, and the Bible is the one book that they will hear at every Mass. Since Masses on Sundays and holy days usually include three readings from the two testaments, plus a fourth from the book of Psalms, the average faithful Catholic spends about fifteen hours a year in focused Bible study. If you include the other overtly biblical parts of the Mass (the "Holy, Holy, Holy," the "Lamb of God," the "Lord, Have Mercy," and so on), the average time per annum doubles or triples. For the Catholic who goes to daily Mass, the times are quite impressive, rivaling even the hours spent by some scholars.

What does the lectionary mean, practi­cally speaking? It means that Catholics who keep to their minimum obligations—atten­dance at Mass on Sundays and holy days—are immersed in the Bible. What's more, since the lectionary itself is held in common by a grow­ing number of Christians, we find that Catho­lics and Protestants may find, more and more, that they are "on the same page," so to speak.

The lectionary is the greatest, but surely not the only great new opportunity for Bible study. The Bible is not only fully divine, but also fully human; and so we have to work with its literary sense and historical background in order to get to the theological meaning. And, again, we are blessed to live in a season of abundance.

Of the making of new books—and Bibles— there is no end. Publishing in the fields of bib­lical studies and translation is at an all-time high. The airwaves are thick with television and radio shows that claim to represent a bib­lical worldview. Software packages enable us to search the Scriptures with the speed and ac­curacy that ancient monks imagined to be im­possible this side of heaven.

Yet even with all these tools, major longi­tudinal studies seem to indicate that biblical literacy—among all Christians—is not ad­vancing, but declining. Thus, there is a wide­spread need for a fresh statement of the basic terms we encounter in reading the Bible.

More than a generation has passed since the appearance of the last major Catholic Bible dictionary. It has been a fertile generation for biblical scholarship. It has been an eventful time for biblical archaeology. It has been a fruitful time for the Church's interpretation of the Bible. It is time for a new resource. I pray that my colleagues and I have lived up to our task. I pray, too, that our readers will live up to theirs.

In this book, our range is catholic and in­clusive, and so we privilege the Church's ancient canon, which was ratified at the Coun­cil of Trent. We treat the "deuterocanonical books"—Tobit, Baruch, Judith, Wisdom, Eccle­siasticus (Sirach), 1 Maccabees, and 2 Macca­bees—as inspired Scriptures. We also recognize the longer forms of Daniel and Esther. We have been pleased to assimilate the great contribu­tions of historical-critical scholarship, but we have also relied upon the Church's interpretive tradition and Magisterium.

Responding to the call of the magisterium, we have produced this book. The Church, af­ter all, "forcefully and specifically exhorts all the Christian faithful . . . to learn the sur­passing knowledge of Jesus Christ, by frequent reading of the divine Scriptures." So says the Catechism of the Catholic Church, and then it concludes by quoting the great Scripture scholar of the first millennium, St. Jerome: Ig­norance of the Scriptures is ignorance of Christ.

~Scott W. Hahn, Ph.D. September 30, 2008 Feast of St. Jerome~