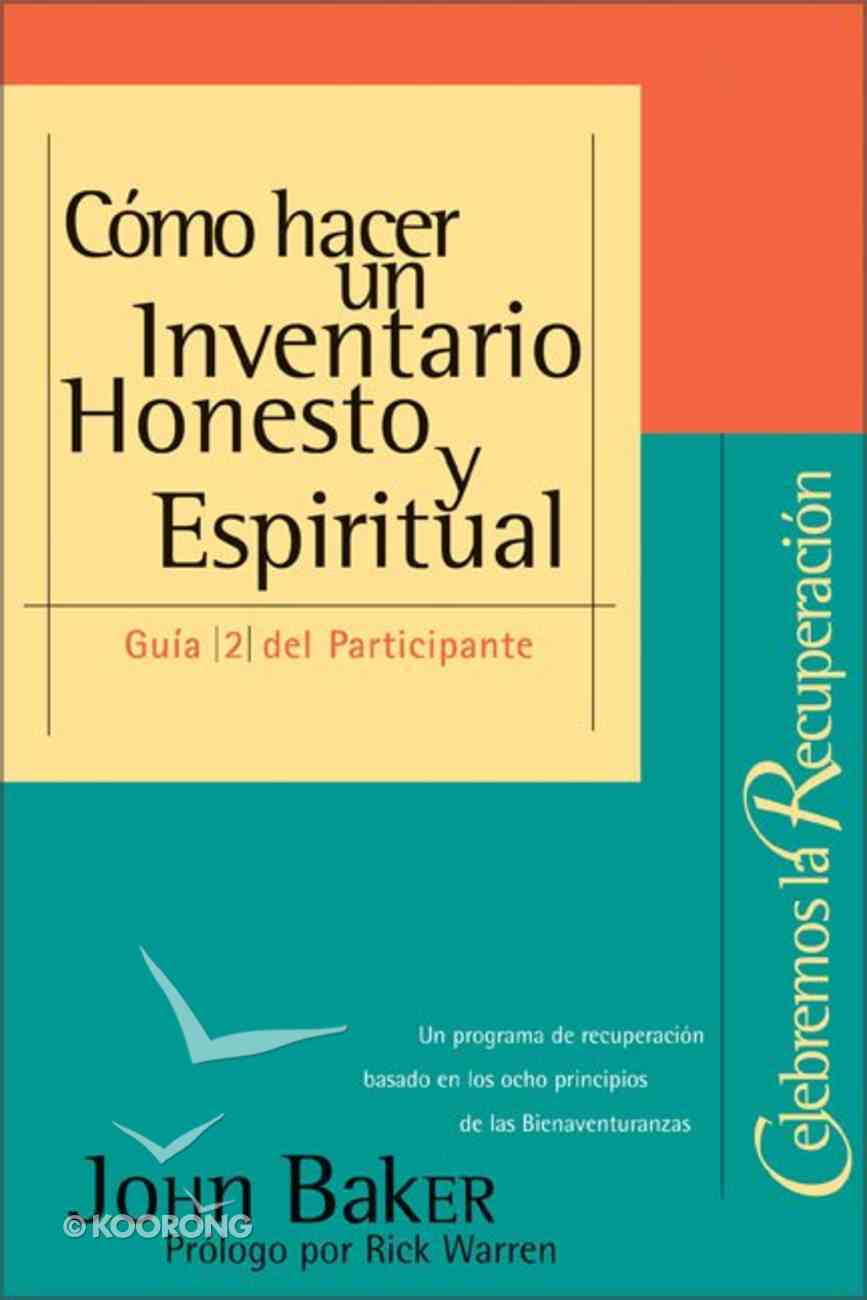 Celebremos La Recuperacion #02 (Student Guide) (Celebrate Recovery) (Celebrate Recovery Series)
Celebrate Recovery is designed to assist churches of any size in starting one or more recovery groups by providing the tools for those who will lead them.
---
Free Shipping
for orders over $99.
Celebrate Recovery is designed to assist churches of any size in starting one or more recovery groups by providing the tools for those who will lead them.
-Publisher
Realize I'm not God. I admit that I am powerless to control my tendency to do the wrong thing and that my life is unmanageable. "Happy are those who know they are spiritually poor." Earnestly believe that God exists, that I matter to Him, and that He has the power to help me recover. "Happy are those who mourn, for they shall be comforted." Consciously choose to commit all my life and will to Christ's care and control. "Happy are the meek." Openly examine and confess my faults to God, to myself, and to someone I trust. "Happy are the pure in heart." Voluntarily submit to every change God wants to make in my life and humbly ask Him to remove my character defects. "Happy are those whose greatest desire is to do what God requires." Evaluate all my relationships. Offer forgiveness to those who have hurt me and make amends for harm I've done to others, except when to do so would harm them or others. "Happy are the merciful." "Happy are the peacemakers." Reserve a daily time with God for self-examination, Bible reading, and prayer in order to know God and His will for my life and gain the power to follow His will. Yield myself to be used by God to bring this Good News to others, both by my example and by my words. "Happy are those who are persecuted because they do what God required."
-Publisher
Rick Warren is often called "America's most influential spiritual leader." He founded Saddleback Church in Orange County, California, which is now one of the largest and best-known churches in the world. He also founded the Purpose Driven Movement, a network of tens of thousands of churches from all denominations in 160 countries. He has trained over 350,000 pastors worldwide. Calling him a "spiritual entrepreneur," Forbes magazine said, "If Warren's ministry was a business it would be compared with Dell, Google, or Starbucks in impact." Rick and Kay Warren give away 90 percent of the profits from their books to charitable causes, including their global P.E.A.C.E. plan and Acts of Mercy, which services those infected with and affected by AIDS. Rick Warren a menudo se llama el lider espiritual mas influyente de America. Fundo Saddleback Church en Orange County, California, que es ahora una de las iglesias mas grandes y mas conocidas del mundo. Tambien, fundo el "Purpose Driven Movement" un red de mas de 10.000 iglesias en muchas denominaciones en 160 paises. Ha ensenado mas de 350.000 pastores en el mundo. Llamandolo un "empresario espirutal," Forbes Revista dijo, "si el ministerio de Warren fuera un negocio que seria comparada con Dell, Google, y Starbucks en impacto." Rick y Kay Warren dan los 90 por ciento ausentes de los beneficios de sus libros a las causas caritativas, incluyendo su plan de P.E.A.C.E plan y Acts of Mercy, cuales sirven esos infectados y afectados por SIDA.
-Publisher
Richard Duane Warren was born in San Jose, California 28 January 1954, the son of a Baptist minister, James Warren. Rick earned a Bachelor of Arts from California Baptist University, a Master of Divinity from Southwestern Theological Seminary, and a Doctor of Ministry from Fuller Theological Seminary.



Rick felt called to full-time ministry when he was still an undergraduate, and was actively involved in student Christian groups. He and his wife Kay; married since 1975; founded Saddleback Church in 1980 when he was just 26 years old, with a congregation of 200 attenders. In the decades since, Saddleback has grown phenomenally; it now has an average attendance of 20,000 a week, and the influence of its ministry style and resources has extended worldwide. Rick is still the senior pastor at Saddleback, where he is known as 'Papa Rick' a voice of wisdom, hope, encouragement, and vision. Since 2005, he and his wife have given away 90% of their income, due to the extraordinary success of his publications.



Pastor Rick took the lessons he learned building up Saddleback and distilled them into a fivefold ministry approach called 'Purpose Driven'. Zondervan's 1995 publication of Rick's The Purpose Driven Church was a huge bestseller, and Saddleback became a model for churches everywhere. This was followed in 2002 by The Purpose Driven Life - a 40-day devotional that would sell over 30 million copies in five years. In 2004, Pastor Rick was invited to Rwanda by its president Paul Kagame, who had read The Purpose Driven Life and wanted to make his country a 'purpose driven nation'. This trip changed the trajectory of Pastor Rick's life and mission. God gave him a vision for The PEACE Plan, a mission to fight the five giants of spiritual emptiness, self-serving leadership, poverty, pandemic disease, and illiteracy that devastate the lives of men, women, and children around the world. Rick and Kay consider it their life's work to empower local churches and local leaders to create sustainable change that gives a voice to the voiceless and help to the helpless. To date, PEACE teams have participated in missions outreach in every nation of the world. Rick and Kay have used the PEACE platform to advocate for HIV/AIDS sufferers globally, mobilizing local churches to help prevent the spread of the disease and to care for those already affected.



In the decades since founding Saddleback Church, Pastor Rick has become one of the most respected and influential pastors in the US. He mentors young leaders, and many of today's leading pastors credit him and The Purpose Driven Church for inspiring them to pursue their own callings to ministry. As pastor to pastors, Rick has built the Purpose Driven Network, a global alliance of pastors from more than 160 countries and hundreds of denominations and has also founded Pastors.com, an online interactive community that provides sermons, forums, and other practice resources for pastors.



Rick and Kay have three adult children and four grandchildren. Their youngest son Matthew took his own life in 2013 after a long struggle with mental illness. Rick has been active in recent years seeking to build awareness in the church with regard to mental illness.
John Baker developed the Celebrate Recovery ministry at Saddleback Church. He is currently serving as pastor of ministries, overseeing the entire C.L.A.S.S. 31 process, staffing the 150 ministries, and helping start new ministries. SPANISH BIO: John Baker es fundador del ministerio 'Celebremos la Recuperacion', un ministerio que nacio del corazon de la iglesia Saddleback. Desde su comienzo, ha sido incorporado por 12,000 iglesias y mas de 500,000 personas han terminado el programa. John empezo sirviendo como pastor laico en Saddleback en 1991; y en el 2001, Rick Warren le pidio a John convertiA
Bestsellers in Global Language