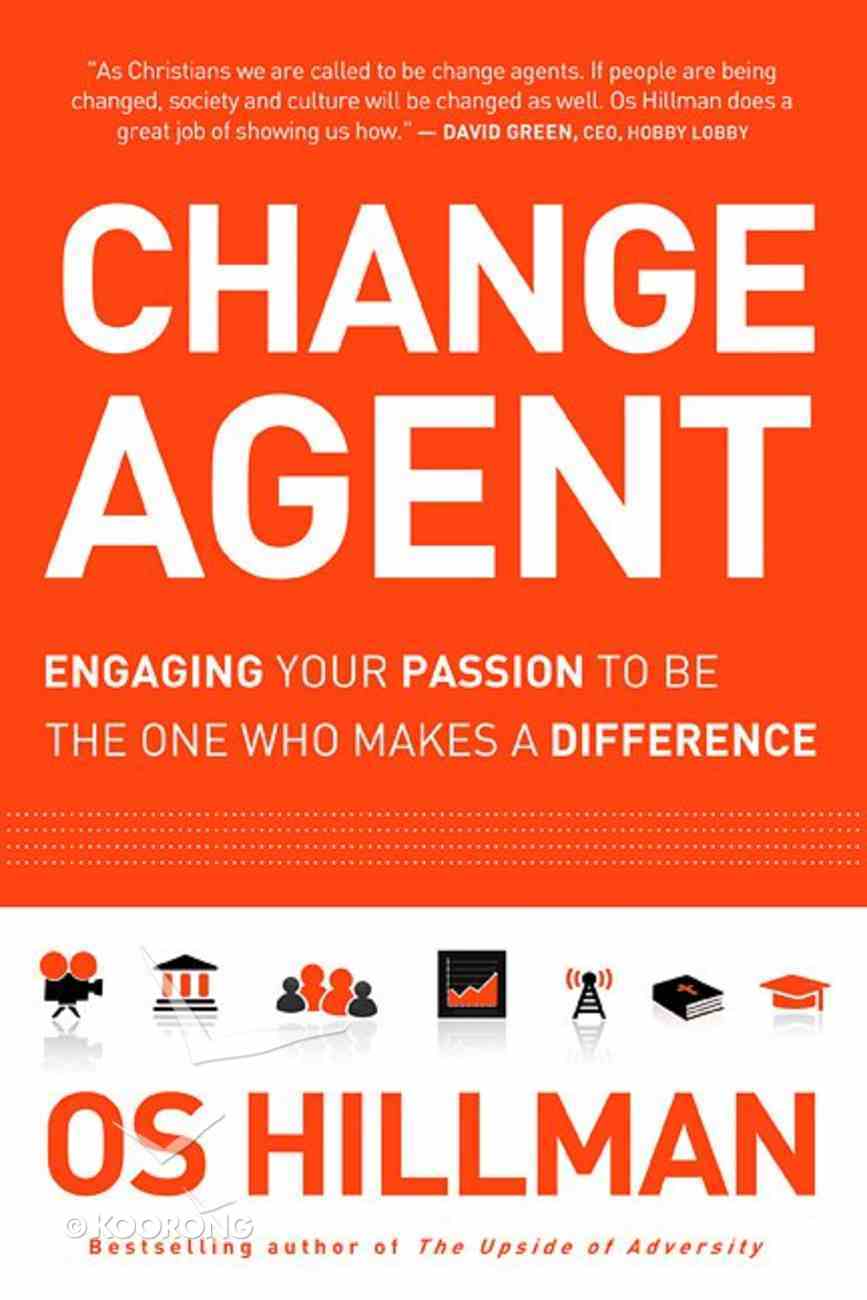 Engage your passion to be the one that makes a difference. Whether you are a CEO, housewife, student, manager, or church leader, you have a circle of influence and the ability to shape your culture...
---
Expected to ship within 4 hours from Australia.
---
Free Shipping
for orders over $99.



Engage your passion to be the one that makes a difference.

Whether you are a CEO, housewife, student, manager, or church leader, you have a circle of influence and the ability to shape your culture for God's purpose-to be a change agent.

 

Os Hillman explains the process God uses to raise up His change agents in culture, demonstrated in biblical leaders like David, Daniel, Esther, and Moses. With details from his own experiences and profiles of modern-day change agents, Hillman shows how you too can have greater influence no matter what your age or status in life.  

 

Our culture is shaped by the seven mountains of cultural influence-business, government, media, arts and entertainment, education, the family, and the church. Featuring a chapter on each of the seven cultural mountains,Change Agentdescribes where we are, what we must do to influence these strategic areas, and what success will ultimately look like.
 


-Publisher
PRODUCT DETAIL
Catalogue Code 

327378

Product Code 

9781616381820

ISBN 

1616381825

EAN 

9781616381820

Pages 

256

Department General Books
Category Christian Living
Sub-Category General
Publisher Charisma House
Publication Date 

Aug 2011

Sales Rank 

84339

Dimensions 

228 x 152 x 19

mm

Weight 

0.350

kg
Os Hillman is an internationally recognized speaker on the subject of faith at work. He is the founder and executive director of Marketplace Leaders Ministries, an organization whose purpose is to help men and women discover and fulfill God's complete purposes through their work and view their work as ministry. He is the author of eleven books and a daily workplace email devotional, which has over 160,000 daily subscribers worldwide. Os has been featured on CNBC, NBC, LA Times, New York Times, and many other national media as a spokesperson on faith at work. Os is also founder and director of
<div><p>table Of Contents<br>foreword By Lance Wallnau<br><br>introduction: Called To A Bigger Story<br>deep In Every Human Heart Is A Person Who Wants To Make A Difference In Their World&mdash;they Want To Be A Change Agent. Read The Stories Of Biblical Change Agents&mdash;abraham, Moses Joshua, Nehemiah, Esther, Joseph, Deborah, David, Mary&mdash;and See How Hardship, Testing, Crisis Of Belief, Failure, And Grace All Mixed Into Lives That Made An Impact.<br><br>section 1: The Call To Change Culture<br>1 Culture Gone Awry<br><br>2 King Kong And The Garden Of Eden<br><br>god&rsquo;s Original Intent Was For Christians To Rule And Reign In Humility And Through Servant Leadership. God&rsquo;s Original Intent For Planet Earth And His People Is Taught Through The Analogy Of King Kong And His Woman Friend.<br><br>3 Develop A Biblical Worldview<br><br>4 Eliminate The Great Divide<br><br>section 2: Preparation To Become A Change Agent<br><br>5 God&rsquo;s Recruitment Process<br>how Does God Raise Up A Change Agent? The Life Of Moses Provides Insight Into God&rsquo;s Ways Of Raising His Change Agents. Crisis And Divine Circumstances Are Often The First Phase Of Recruitment.<br><br>6 How Character Is Developed<br>god Takes The Change Agent Through A Series Of Character Tests Designed To Develop Humility, Trust, And Intimacy With God. It Is This Process That Leads Us To Personally Experience Galatians 2:20 In Our Lives: &ldquo;i Am Crucified With Christ; Nevertheless I Live; Yet Not I, But Christ Liveth In Me.&rdquo;<br><br>7 Embracing The Cross Through Brokenness<br><br>8 The Role Of Isolation<br><br>we Will All Enter The Cave Of Adullam At Some Time In Our Life. It May Come Disguised As Doubt, Persecution, Sickness, Bereavement, Or Conflict In Relationships. However, There Is No Cave Dark Enough To Shut Out God.<br><br>9 Avoid The Traps Of Performance, Passion, Position, And Possessions<br><br><br>performance Can Sabotage Your Destiny As A Change Agent. We Also See How Satan Entices Through Sexual Temptation And Passion. And Possessions And Position Often Derail Change Agents. In This Chapter We Address The Pitfalls Of Pride And Mammon That Lead To Derailment Of Our Purpose And Destiny. Case Studies Of Leaders Who Made Poor Choices Provide Stark Reminders Of These Entrapments And Strategies On How We Can Avoid These Same Pitfalls.<br><br>10 Understand Your Spiritual Authority And Responsibility<br><br>the Tabernacle Of God Had Three Places That The Priests Operated: (1) The Outer Court, (2) The Inner Court, And (3) The Holy Of Holies. Change Agents Must Understand Their Responsibilities In Each Of These Three Areas In Order To Impact The Sphere Of Influence They Are Called To Reclaim.<br><br><br>11 Get Ready To Experience Spiritual Warfare<br>change Agents Must Be Prepared To Experience Spiritual Warfare. In Revelation 12 We Find The Three Primary Strategies That Satan Employs Against Humans. He Tries To (1) Kill, (2) Deceive, And (3) Accuse.<br><br>section 3: Reclaiming The Seven Mountains Of Culture<br><br>12 Building A Network For Change<br><br>13 Reclaiming The Family Mountain<br>what Is The State Of The American Family Today? How Has It Changed In The Last Twenty Years? What Is Needed To Reclaim The Moral Foundations That The Family Once Enjoyed?<br><br>14 Reclaiming The Mountain Of Government<br>understanding The Foundation Of America Will Help You Understand Why We Are A Christian Nation. A Little History Lesson On The Founding Fathers, Beliefs And Practices Helps Us Build A Basis For Our Premise That We Are Supposed To Be The Head, Not The Tail.<br><br>15 Reclaiming Arts And Entertainment<br>how Does The Arts And Entertainment Mountain Affect Culture? Of All The Mountains, This One Has The Most Impact On Defining Culture. How Did Hollywood Become Liberal, And What Are Signs We Are Making Progress In This Important Mountain? Here&rsquo;s A Look At This Mountain And The Tipping Points That Are Shaping Hollywood Today.<br><br>16 Reclaiming The Media Mountain<br>is The News We Receive Every Day Biased Or Liberal In Its View? Is God Concerned About The Media, And What Can We Do To Change Liberal Media Bias?<br><br>17 Reclaiming The Mountain Of Business<br>nations Are Being Impacted By Marketplace Leaders And Social Entrepreneur Change Agents. In This Chapter Be Inspired By Stories That Are Impacting Culture. The Theology Of Work Helps Us Understand What We Must Do To Reclaim The Mountain Of Business.<br><br>18 Reclaiming The Education Mountain<br>in This Chapter We Look At How Education Has Lost Its Biblical Foundation And What Is Required To Get It Back And The Change Agents Operating In This Mountain Of Culture.<br><br>19 Reclaiming The Church Mountain<br>why Are People Leaving The Local Church? What Role Does The Local Church Play In Raising Up Change Agents In Culture? Are There Any Signs Of Life In The Local Church? Why Are Some Churches Operating More Like Luxury Cruise Liners Than Aircraft Carriers Designed To Equip An Army?<br><br>conclusion: Change Agents Changing Communities<br><br>there Is A Quiet National Movement Taking Place Throughout The United States Called Community Transformation. Community Marketplace Leaders, Pastor And Intercessors Are Engaging Community Leader And Solving Community Problems To Gain More Influence For Christ In Their Communities. Learn The Core Ingredients Needed To Impact A Community And Case Studies Of Some Communities That Are Doing It.<br><br>appendix A: Summing It Up</p></div>
Bestsellers in Christian Living