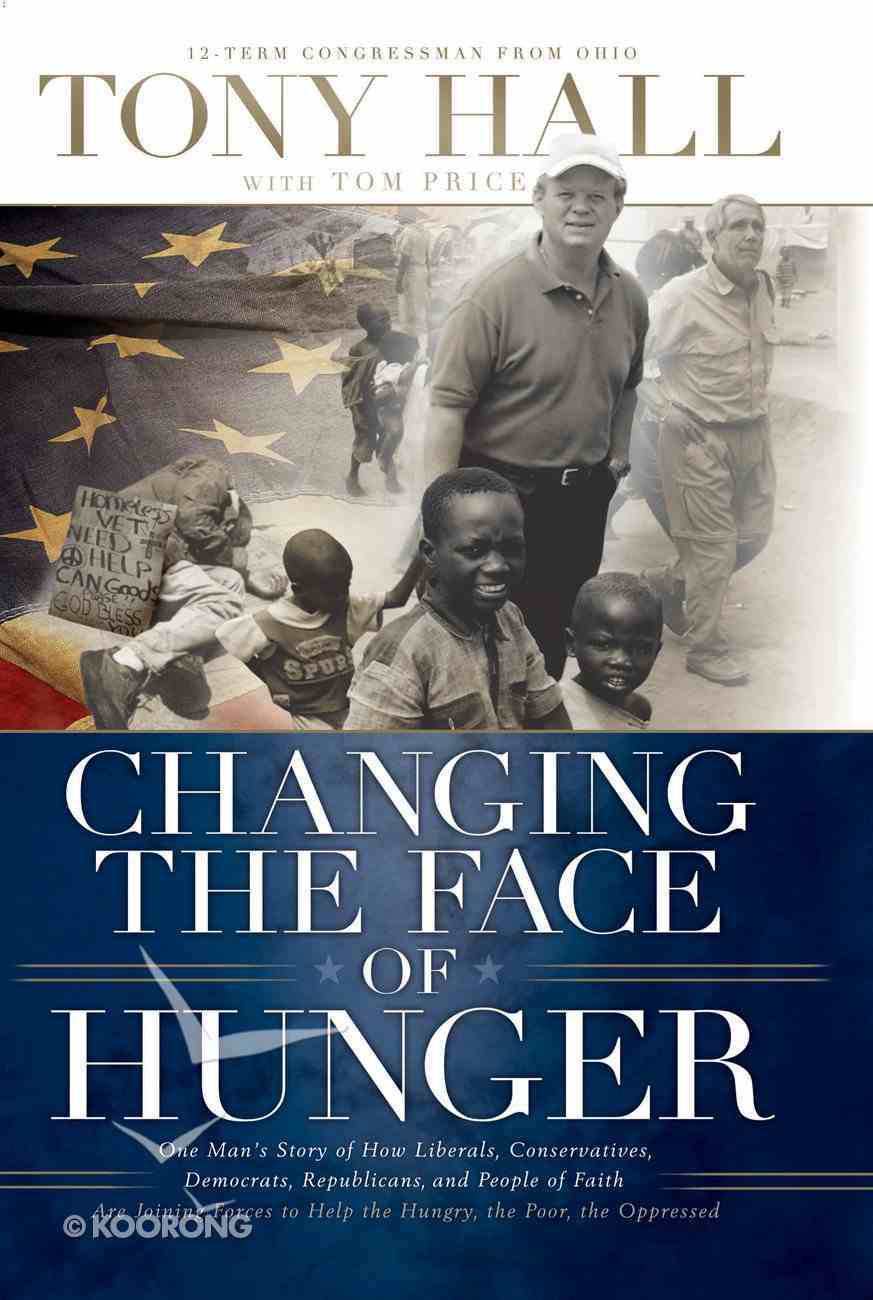 Changing the Face of Hunger
Struggling to mask his tears, Tony Hall followed a doctor through a mass of dying Ethiopians crying out for food and medicine-help that could not possibly arrive soon enough or in sufficient quantities to keep them alive. From that painful...
Available for immediate download.
---
Read using our free app on your tablet or mobile!
---
Free Shipping
for orders over $99.

Struggling to mask his tears, Tony Hall followed a doctor through a mass of dying Ethiopians crying out for food and medicine-help that could not possibly arrive soon enough or in sufficient quantities to keep them alive. From that painful scene of hopelessness, Hall returned home with a new focus for his faith.


Both as a U.S. Congressman and the U.S. Ambassador to the United Nations Food and Agriculture Agencies in Rome, he has been a man with a mission. Tony used his passion, faith, and political skills to solicit the aid of those able to help. And as he worked with liberals and conservatives, Republicans and Democrats, and people of very different faiths, he stumbled into a remarkable discovery. He found that people who regularly live at odds often are willing to join forces in helping those who are abjectly poor and hungry.


"I've learned not only that people can work together across differences ... but our diversity gives us strength." Let Tony capture your heart with his dream that we may put aside differences and join hands to feed the hungry, clothe the poor, and discover the importance of life.


.

^
Both as a U.S. Congressman and the U.S. Ambassador to the United Nations Food and Agriculture Agencies in Rome, he has been a man with a mission. Tony used his passion, faith, and political skills to solicit the aid of those able to help. And as he worked with liberals and conservatives, Republicans and Democrats, and people of very different faiths, he stumbled into a remarkable discovery. He found that people who regularly live at odds often are willing to join forces in helping those who are abjectly poor and hungry.

^
"I've learned not only that people can work together across differences . . . but our diversity gives us strength." Let Tony capture your heart with his dream that we may put aside differences and join hands to feed the hungry, clothe the poor, and discover the importance of life.

^
.


If the Democratic party wants to learn how to court the evangelical community, they'd do well to learn from Tony Hall. As a Congressman, Tony Hall was reluctant to wear his faith on his sleeve. But during a prayer meeting on Capitol Hill one day a friend asked him, "Tony, don't you think it's time you brought God into your workplace?" He knew his friend was right. If he was to be true to the faith he professed, he must find a way to bring God into the political world in which he worked.


^^He found the answer to this dilemma in one of the most awful places he's ever visited-Ethiopia. He realized, as he watched a doctor combing the crowds of starving Africans looking for a half-dozen whose lives he could save, that he would travel among the hungry and bring their needs to the attention of his colleagues in Washington. He even took the step of going on a much-publicized 22-day fast to call for attention to these issues.


^^Years later, and after traveling to more than 100 countries, Tony Hall has seen it all. He's seen desperation, honor, starvation, redemption, and hope. He's seen the dramatic stories of people around the world who are willing to make their lives count. From the dark corners of a political prison in Romania to the barren landscape of famine-stricken Africa, people are suffering and we can help.


-Publisher
TONY HALL has a first class degree in Psychology from the University of Durham. He has worked extensively in the private sector. Hall's current role is Executive Development Consultant for Cranfield School of Management, where he is responsible for managing and delivering a range of programmes and consultancy. His interests lie in the area of innovative approaches to leadership development, particularly in relation to cross disciplinary thinking on complexity, organisational networks, and their application to new forms of leadership. ýKAREN JANMAN gained a first class degree in Psychology f

Bestsellers in Christian Worldview