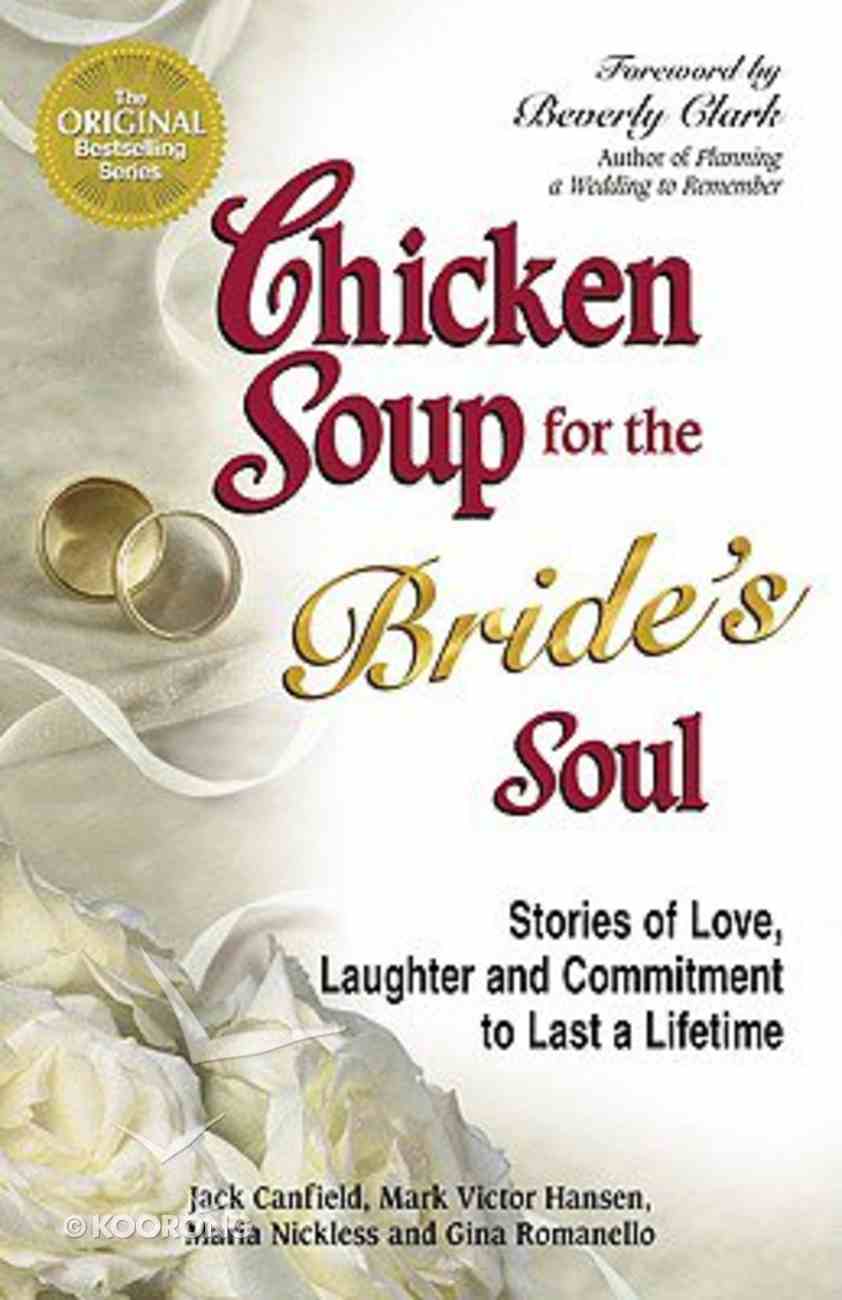 Chicken Soup For the Bride's Soul (Chicken Soup For The Soul Series)
Your wedding is one of the most beautiful and memorable times of your life. Proposals, rings, cakes, and dresses will be cherished for a lifetime. Seemingly trivial moments-like making party favors and arranging table decorations-become powerful and profound events. Even...
Unavailable. Out of Print. Only available while stock lasts.
Out of Print
---
Free Shipping
for orders over $99.
Your wedding is one of the most beautiful and memorable times of your life. Proposals, rings, cakes, and dresses will be cherished for a lifetime. Seemingly trivial moments-like making party favors and arranging table decorations-become powerful and profound events. Even your mistakes are remembered with a smile. From special heartfelt moments to humorous mishaps, this enlightening and inspiring book puts the big day in perspective with stories that touch the soul of the bridal experience: * A man gives his girlfriend gifts he collected during a lifetime of travels, telling her they were intended for his future wife. * A mother surprises her unconventional daughter with a simple wedding dress that changes their relationship forever. * A town rallies around a couple after their house burns down less than a week before their wedding. * Rain on the wedding day becomes a sign of the bride's deceased grandmother's love. * A man surprises his wife with a box of chocolates on their anniversary, showing with this simple gesture the depth of the love he pledged so many years before. Romantic, humorous, touching, and true, Chicken Soup for the Bride's Soul will help you look ahead to your wedding day with joy instead of stress, and remind you of the treasured memories created during this special time. But more than that, these stories bring to light the true meaning of love and commitment, whether you're newly engaged, recently married, or reflecting on years of married bliss.
-Publisher
Your wedding day is one of the most memorable of your life--especially if you're the bride. From unique proposals to hilarious and touching tales of actual ceremonies and receptions, this book will inspire anyone looking ahead to the big day. Chicken Soup for the Bride's Soul features a final section on Anniversaries will give it a long shelf life, and open the market to those remembering the joy of their wedding day in later years. It's the perfect gift for bridal showers, weddings and anniversaries.
-Publisher
The Best One Blessed indeed is the man who hears many gentle voices call him father! Lydia M. Child When I was a little girl, my father had a time-honored tradition of tucking me into bed. Following my bedtime story, he would give me a nose kiss, tickle my stomach and whisper the most wonderful words into my ear. "Michelle, of all the little girls in the whole wide world . . ." he would pause. "Yes, Daddy?" "How did your mommy and I get so lucky to get the best one?" Before he had time to finish, I would say, "You got me!" And then he would continue, "The best little girl in the whole wide world, and we got you." "You got me!" I would scream and clap. "Yes, you, Michelle, and we're so lucky." He would end with a bear hug and another kiss to my forehead. Years passed and my father never missed a night, even when I thought he should have. After my basketball team was defeated, he came into my room. "Michelle, of all the basketball players in the whole wide world," he paused. "Yes, Daddy?" I stared at the floor. "How did your mom and I get so lucky to get the best one?" "You didn't." "Of course we did, Michelle. We have you." "But, Dad . . ." "Yes, you, Michelle, and we're so lucky," he cheered, as he gave me a high five followed by a bear hug and a kiss to my forehead. I thought becoming a teenager would end the ritual, but it didn't. "Michelle, of all the teenagers in the whole wide world . . ." he would pause. "Dad, I'm too old for this," I would sigh. "How did your mother and I get so lucky to get the best one?" "C'mon, Dad," I grunted. "We have you, Michelle, and we're so lucky." Then the embarrassing hug and kiss. Following college, I became engaged. My father never missed a night to call or leave a message reminding me how special I was to him. I even wondered if he would continue calling after I got married, but he didn't. The daily calls I had taken for granted all my life ended the day he died from cancer, only weeks before my wedding. I deeply missed sharing the day with my father. Standing behind the white church doors with my arm in my brother's, I waited for the wedding march to begin. Before we began our descent down the aisle, my brother reached inside his pocket and handed me an ivory napkin embroidered with pink ribbon. Inscribed were the words: Of all the precious wives in the whole wide world, how did Mark get so lucky to marry the best one? He married you, Michelle, and he is so lucky! I am so proud of you, my little girl. Love, Dad Without a doubt, it was the best wedding gift I received. One I would never forget. My father showered me with his gifts every day of his life. How did I get so lucky? Michelle Marullo _2003. All rights reserved. Reprinted from Chicken Soup for the Bride's Soul by Jack Canfield, Mark Victor Hansen, Maria Nickless, Gina Romanello. No part of this publication may be reproduced, stored in a retrieval system or transmitted in any form or by any means, without the written permission of the publisher. Publisher: Health Communications, Inc., 3201 SW 15th Street, Deerfield Beach, FL 33442.
-Publisher
Bestsellers in Inspirational