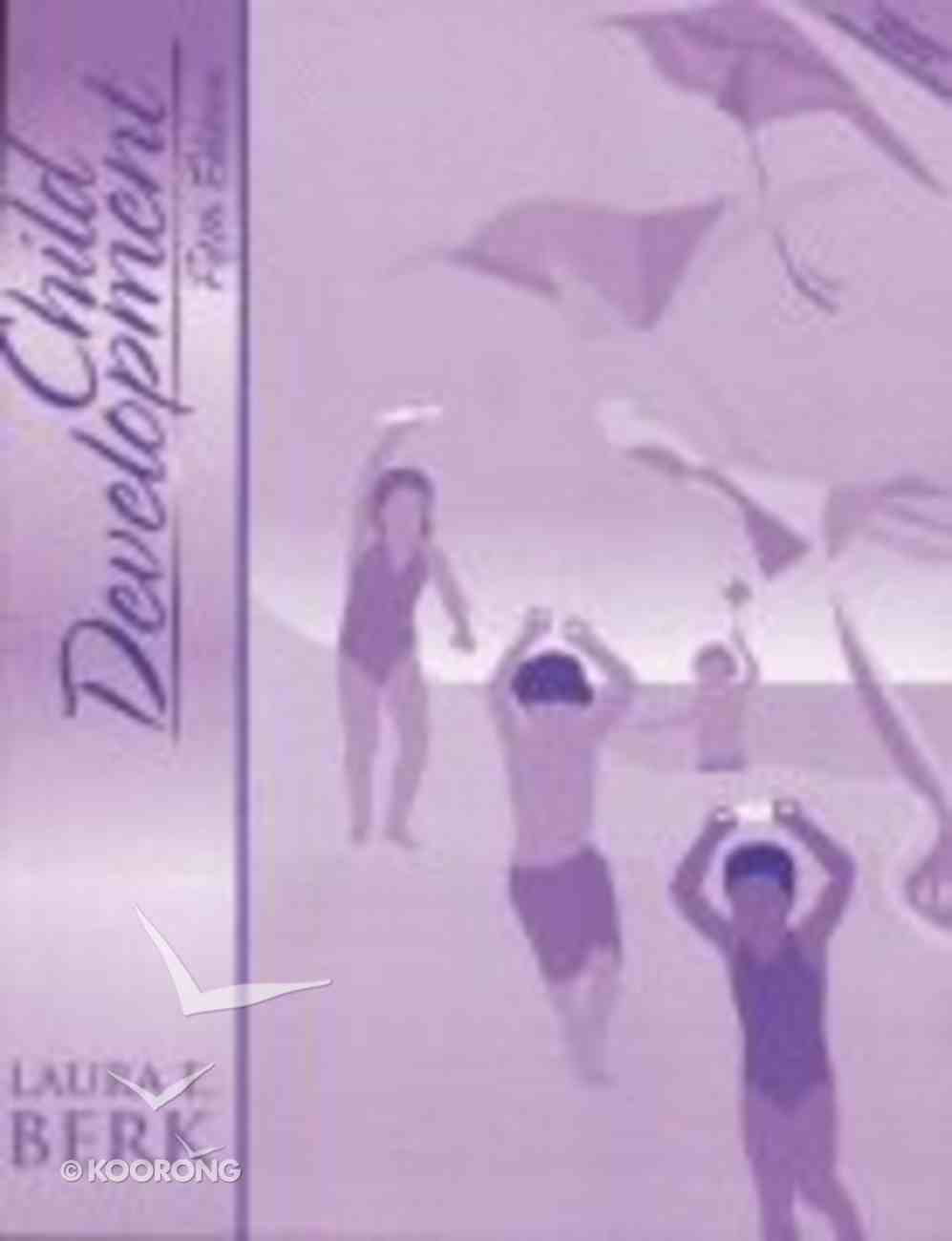 Child Development (5th Ed)
*Variations, a boxed feature on developmental variations from the norm, emphasizes one of this editions key themes diverse pathways of change. The boxes illustrate how studying children with problems or exceptional abilities highlights important contributions to the development of all...
Special Order Item
0 Available.
---
Free Shipping
for orders over $99.
*Variations, a boxed feature on developmental variations from the norm, emphasizes one of this editions key themes diverse pathways of change. The boxes illustrate how studying children with problems or exceptional abilities highlights important contributions to the development of all children. *Ask Yourself questions now accompany each Brief Review. These critical thinking questions support active engagement with the subject matter, increasing the texts practical application of theory and research. Many describe problematic situations faced by parents, teachers, and children and ask students to resolve them in light of what they have learned. *Connections critical thinking questions appear within Ask Yourself. Connections pose questions based on the current chapters content, but also stretch students ability to integrate what they have learned across chapters, to see the whole child, and to think more deeply about development. This integrative effort is not limited to the Connections questions, as connections are frequently drawn in the text narrative as well.;*The fifth edition provides even greater coverage of new theoretical directions, including the dynamic systems perspective and cutting-edge trends in cognition, including neo-Piagetian theory, cognitive inhibition, strategy development, and a unique and unusually accessible discussion of Connectionism. *Expanded emphasis on the role of emotions in development, including emotional self-regulation, temperament, and development of attachment within an ecological system. *Expanded treatment of family diversity, including adoptive families, one-child families, gay and lesbian families, never-married single-parent families, divorce, blended families, skipped-generation families, and parental employment. *Enhanced attention to exceptional development, including child prodigies, children with sensory deficits, Williams Syndrome, infantile autism, and two paths to adolescent delinquency. *Meticulously researched material is conveyed to the student in a clear, story-like fashion that humanizes the complex developmental process.;*The text is complemented by four types of thematic boxes - Variations (see New to this Edition section for details); From Research to Practice, which provide practical examples of theory in practice; Cultural Influences, which focus on the impact of culture and context on development; and Social Issues, which highlight contemporary social and policy concerns. *Excellent pedagogical features support students mastery of the subject matter, including* chapter-opening outlines; chapter-opening vignettes; Brief Reviews at the end of major sections in each chapter (now accompanied by more applied Ask Yourself and Connections questions); chapter summaries with bolded terms, organized by learning objectives and major section headings; a running glossary for text terms in boldface; and a page-referenced end-of-chapter term list. *Milestone Tables summarize developmental milestones within each topical area, providing students with an overview of the chronology of development. *Attractive artwork, graphics, and photographs effectively illustrate major points and facilitate student interest and understanding.;*Practical applications are integrated into the discussion throughout the text to show students how sound practice stems from theory and research.
-Publisher
I.THEORY AND RESEARCH IN CHILD DEVELOPMENT. 1.History, Theory, and Applied Directions. Child Development as a Scientific, Applied, and Interdisciplinary Field. Domains of Development as Interwoven. Periods of Development. Basic Issues. Continuous or Discontinuous Development? One Course of Development or Many? Nature or Nurture? The Individual: Stable or Open to Change? A Balanced Point of View. Historical Foundations. Medieval Times. The Reformation. Philosophies of the Enlightenment. Darwin: Forefather of Scientific Child Study. Scientific Beginnings. Mid-Twentieth-Century Theories. The Psychoanalytic Perspective. Behaviorism and Social Learning Theory. Piaget's Cognitive-Developmental Theory. Recent Theoretical Perspectives. Information Processing. Ethology. Vygotsky's Sociocultural Theory. Ecological Systems Theory. New Theoretical Directions: Development as a Dynamic System. Comparing Child Development Theories. New Applied Directions: Child Development and Social Policy. The Policy-Making Process. Progress in Meeting the Needs of American Children. 2.Research Strategies. From Theory to Hypothesis. Common Methods Used to Study Children. Systematic Observation. Self-Reports: Interviews and Questionnaires. Psychophysiological Methods. The Clinical or Case Study Method. Methods for Studying Culture. Reliability and Validity: Keys to Scientifically Sound Research. Reliability. Validity. General Research Designs. Correlational Design. Experimental Design. Modified Experimental Designs. Designs for Studying Development. The Longitudinal Design. The Cross-Sectional Design. Improving Developmental Designs. Ethics in Research on Children. II.FOUNDATIONS OF DEVELOPMENT. 3.Biological Foundations, Prenatal Development, and Birth. Genetic Foundations. The Genetic Code. The Sex Cells. Multiple Offspring. Boy or Girl? Patterns of Genetic Inheritance. Chromosomal Abnormalities. Reproductive Choices. Genetic Counseling. Prenatal Diagnosis and Fetal Medicine. Prenatal Development. Conception. The Period of the Zygote. The Period of the Embryo. The Period of the Fetus. Prenatal Environmental Influences. Teratogens. Other Maternal Factors. Childbirth. The Baby's Adaptation to Labor and Delivery. The Newborn Baby's Appearance. Assessing the Newborn's Physical Condition: The Apgar Scale. Approaches to Childbirth. Natural, or Prepared, Childbirth. Home Delivery. Labor and Delivery Medication. Birth Complications. Oxygen Deprivation. Preterm and Low-Birth-Weight Infants. Understanding Birth Complications. Heredity, Environment, and Behavior: A Look Ahead. The Question, How Much? The Question, How? 4.Infancy: Early Learning, Motor Skills, and Perceptual Capacities. The Organized Newborn. Newborn Reflexes. Newborn States. Neonatal Behavioral Assessment. Learning Capacities. Motor Development in Infancy. The Sequence of Motor Development. Motor Skills as Dynamic Systems. Fine Motor Development: Voluntary Reaching and Grasping. Perceptual Development in Infancy. Touch. Taste and Smell. Balance and Self-Movement. Hearing. Vision. Intermodal Perception. Understanding Perceptual Development. Early Deprivation and Enrichment: Is Infancy a Sensitive Period of Development? 5.Physical Growth. The Course of Physical Growth. Changes in Body Size. Changes in
-Publisher