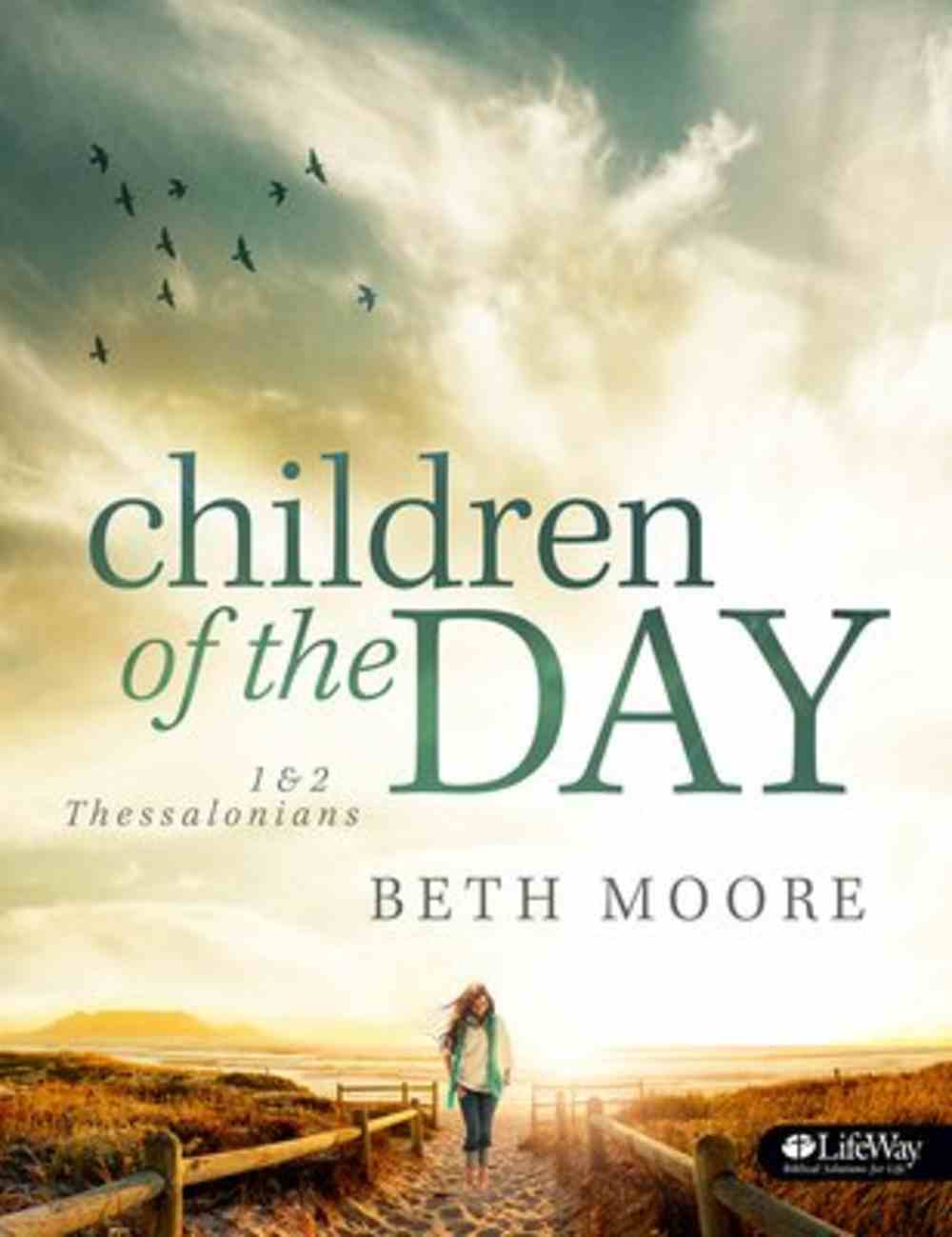 Children of the Day (Leader Kit)
Join Beth Moore and walk the shores of Thessalonica with this verse-by-verse Bible study of 1 and 2 Thessalonians. Children of the Day sheds light on the relationships shared by those who comprise the church. This Leader Kit will help...
Special Order
Payment is by credit card only. Orders for this item cannot be cancelled or returned.
---
Free Shipping
for orders over $99.

Join Beth Moore and walk the shores of Thessalonica with this verse-by-verse Bible study of 1 and 2 Thessalonians. Children of the Day sheds light on the relationships shared by those who comprise the church. This Leader Kit will help you lead a study of Children of the Day for groups in your church or community. You ll find helps for planning and promoting the study and instructions for conducting nine group sessions.


As you and Beth lead, your group will gain assurance their circumstances and conditions are not coincidental. God s timing is impeccable Whether they re facing family crises, medical diagnoses, relationship troubles, doubts, or fears, they will receive encouragement for living the Christian life now and hope for when Christ returns.


You are children of the light and children of the day. We do not belong to the night or to the darkness. 1 Thessalonians 5:5


Kit Includes:

1 Member Book 1 Leader Guide 6 DVDs with 9 video teaching sessions, promotional material, and leader helps (58-65 minutes each) Insert with information on the complete Beth Moore Library of Bible studies
Features:

Interactive teaching video, each session approximately 1 hour in length Biblically rooted and gospelcentered teaching Leader material (Leader Guide available in Leader Kit or sold separately) Personal study segments 8 weeks with 5 days each Beth s recitation of 1 & 2 Thessalonians with teaching and encouragement for memorization Greek word studies included in homework Interactive activities for the individual student as she completes homework A 28-day challenge (beginning week 5) that women may choose to participate in as they complete the final weeks of Bible study Bonus DVD featuring Priscilla Shirer interviewing Beth Contains subtitles for the hearing impaired
Benefits:

Leaders can be assured of a trusted teacher in every group as participants view the video Biblical truth that s reliable Contributes to leader s confidence and preparation, but also contributes to leader training with use of Leader Guide Personal spiritual growth through individual time with content Provocative questions; scriptural support; and text, application, and preparation In-depth study for women that will challenge them in the discipline of daily Bible study Challenges women to complete in-depth study of two books of the Bible, chapter by chapter Can be adapted to create a semester Bible study by breaking sessions into more than one week Optional levels of participation: Level 1 watch DVDs only Level 2 watch DVDs and complete weekly homework Level 3 watch DVDs, complete homework, and write out 1 & 2 Thessalonians Level 4 watch DVDs, complete homework, write out 1 & 2 Thessalonians, and memorize 1 & 2 Thessalonians
Author:
Beth Moore is an author and Bible teacher of bestselling Bible studies and books for women. She is the founder of Living Proof Ministries and speaker at Living Proof Live women's events across the US. Beth's mission is to guide women everywhere into a richer, more fulfilling relationship with the Father.

"
-Publisher
Beth Moore was born Wanda Elizabeth Green in 1957, on an Army base in Green Bay, Wisconsin, the fourth of five children. She was raised in Arkadelphia, Arkansas, where her father - a retired army officer - managed the local cinema, and it was there that Beth's lifelong love for stories began. She loved to tell them, write them, and be told them. But the story that captured her heart more than any other was not told in a movie theatre. It was the story told in Sunday School, about Jesus, a Saviour who loved children and who thought she was special. A seed was planted in her young heart that would grow to a passionate love for Christ.

At the age of 18, Beth sensed God calling her to work for Him, although she couldn't yet imagine what that might involve. She graduated from Southwest Texas State University with a degree in political science, and would later receive an honorary doctorate in humanities from Howard Payne University. She married Keith Moore in 1978 and soon after the Lord added Amanda and Melissa to the family.

Beth's involvement with the Bible intensified when she took a doctrine class at her church. Her teacher was Buddy Walters, a former college football player who taught the Scriptures with tears streaming down his cheeks. She fervently prayed for such a passion for God's Word.

Beth founded Living Proof Ministries in 1994 with the purpose of teaching women how to love God's Word and put it at the centre of their lives. She has written numerous books - including Breaking Free, Believing God, The Patriarchs and James: Mercy Triumphs - that have been read by women of all ages, backgrounds, and denominations. Beth runs conferences for women across the United States annually, and has also taken her ministry to many different countries, including Ireland, England, Singapore, the Philippines, Puerto Rico, India, Angola, Kenya, and South Africa. Since 2004, Beth has conducted a radio ministry 'Living Proof with Beth Moore', and has a weekly spot on the television program LIFE Today. Ever the storyteller, Beth is known for enlivening her teaching with stories and poems written from the perspective of biblical characters. She communicates with great energy, humour, warmth, and grace.

For over a quarter of a century from the 1980s, Beth attended the First Baptist Church in Houston, Texas, transferring in 2011 to Bayou City Fellowship, where her son-in-law Curtis Jones is the founding pastor.

Beth and and her husband Keith enjoy travelling, hiking, drinking coffee on the back porch, eating Mexican food, making each other laugh, walking their dogs, and being grandparents. Both of their daughters, Amanda and Melissa, serve with Living Proof Ministries, and Amanda's husband, Curtis, serves on staff as an associate speaker/teacher.
Bestsellers in Ministry Resources