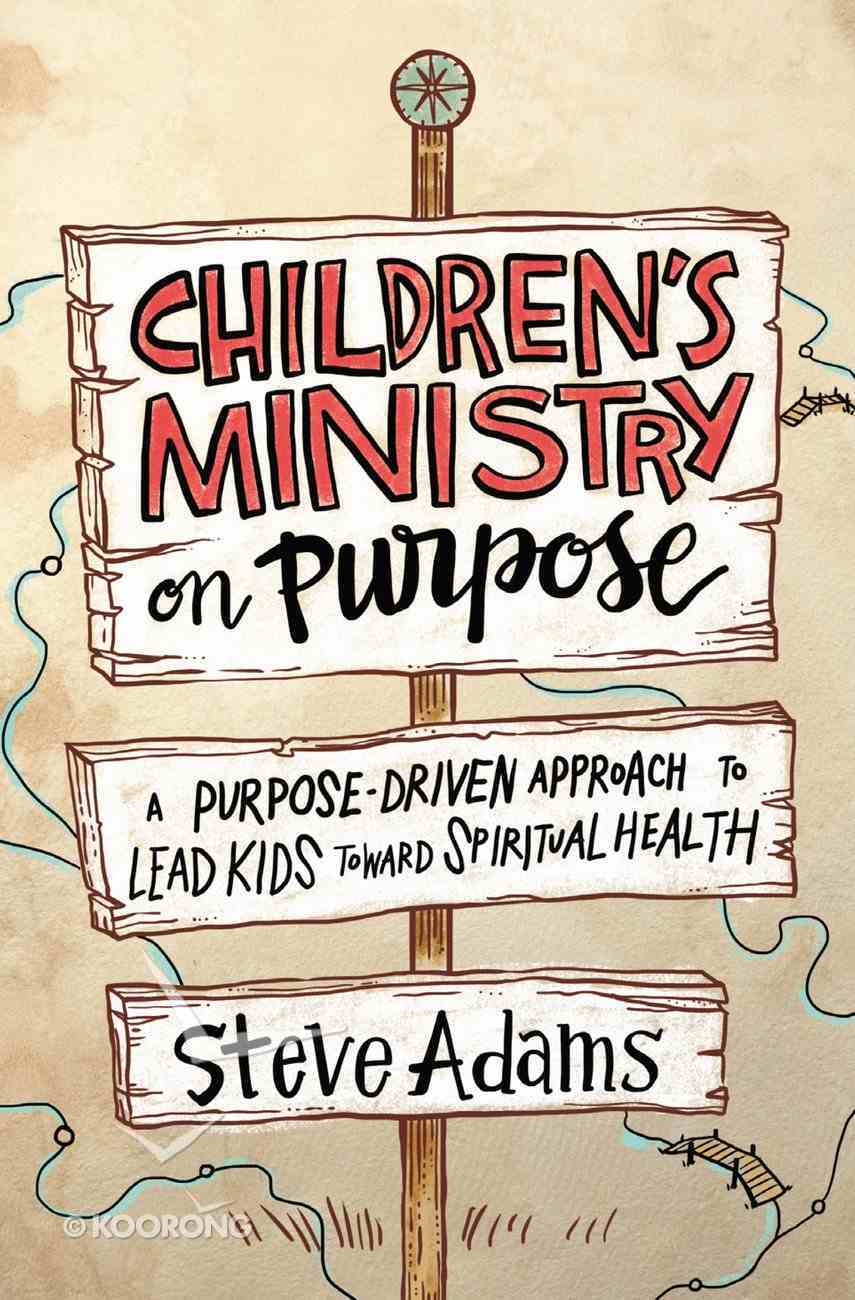 Children's Ministry on Purpose
Many children's ministries are a flurry of activity, run by dedicated volunteers and staff who put in long hours and work hard for the good of the children and parents they serve. Yet despite good intentions, many children's ministries today...
Available for immediate download.
---
Read using our free app on your tablet or mobile!
---
Free Shipping
for orders over $99.

Many children's ministries are a flurry of activity, run by dedicated volunteers and staff who put in long hours and work hard for the good of the children and parents they serve. Yet despite good intentions, many children's ministries today are not effective. They lack purpose and intentionality.


A twenty-five year veteran of children's ministry in the local church, pastor Steve Adams has ministered to families in multiple churches, from tiny church plants to his present position at Saddleback Church. In this book, Steve applies the revolutionary insights of the Purpose Driven Church to children's ministry and leads readers on a journey of discovery, showing them how to develop an intentional ministry process that moves children toward spiritual health while building a healthy ministry environment for those who work with kids. You will learn how to ask and answer five simple but powerful questions:

Why are we on this journey? Where are you and where are you going? Who are we trying to reach? How will we move our children towards spiritual health? What are the essential elements necessary for the journey?
There is no single key to a successful children's ministry, nor is there only one way that works for everyone. But there is a proven process you can follow and Steve shows how children's ministries all over the world are reaching their God-given potential by discovering their biblical purpose, avoiding the traps of frustration and burnout.


-Publisher
<p>many Children's Ministries Are A Flurry Of Activity, Run By Dedicated Volunteers And Staff Who Put In Long Hours And Work Hard For The Good Of The Children And Parents They Serve. Yet Despite Good Intentions, Many Children's Ministries Today Are Not Effective. They Lack Purpose And Intentionality.</p> <p>a Twenty-five Year Veteran Of Children's Ministry In The Local Church, Pastor Steve Adams Has Ministered To Families In Multiple Churches, From Tiny Church Plants To His Present Position At Saddleback Church. In This Book, Steve Applies The Revolutionary Insights Of The <em>purpose Driven Church</em> To Children's Ministry And Leads Readers On A Journey Of Discovery, Showing Them How To Develop An Intentional Ministry Process That Moves Children Toward Spiritual Health While Building A Healthy Ministry Environment For Those Who Work With Kids. You Will Learn How To Ask And Answer Five Simple But Powerful Questions:</p> <ul> <li>why Are We On This Journey?</li> <li>where Are You And Where Are You Going?</li> <li>who Are We Trying To Reach?</li> <li>how Will We Move Our Children Towards Spiritual Health?</li> <li>what Are The Essential Elements Necessary For The Journey?</li> </ul> <p>there Is No Single Key To A Successful Children's Ministry, Nor Is There Only One Way That Works For Everyone. But There Is A Proven Process You Can Follow And Steve Shows How Children's Ministries All Over The World Are Reaching Their God-given Potential By Discovering Their Biblical Purpose, Avoiding The Traps Of Frustration And Burnout.</p>
Bestsellers in Children's Ministry