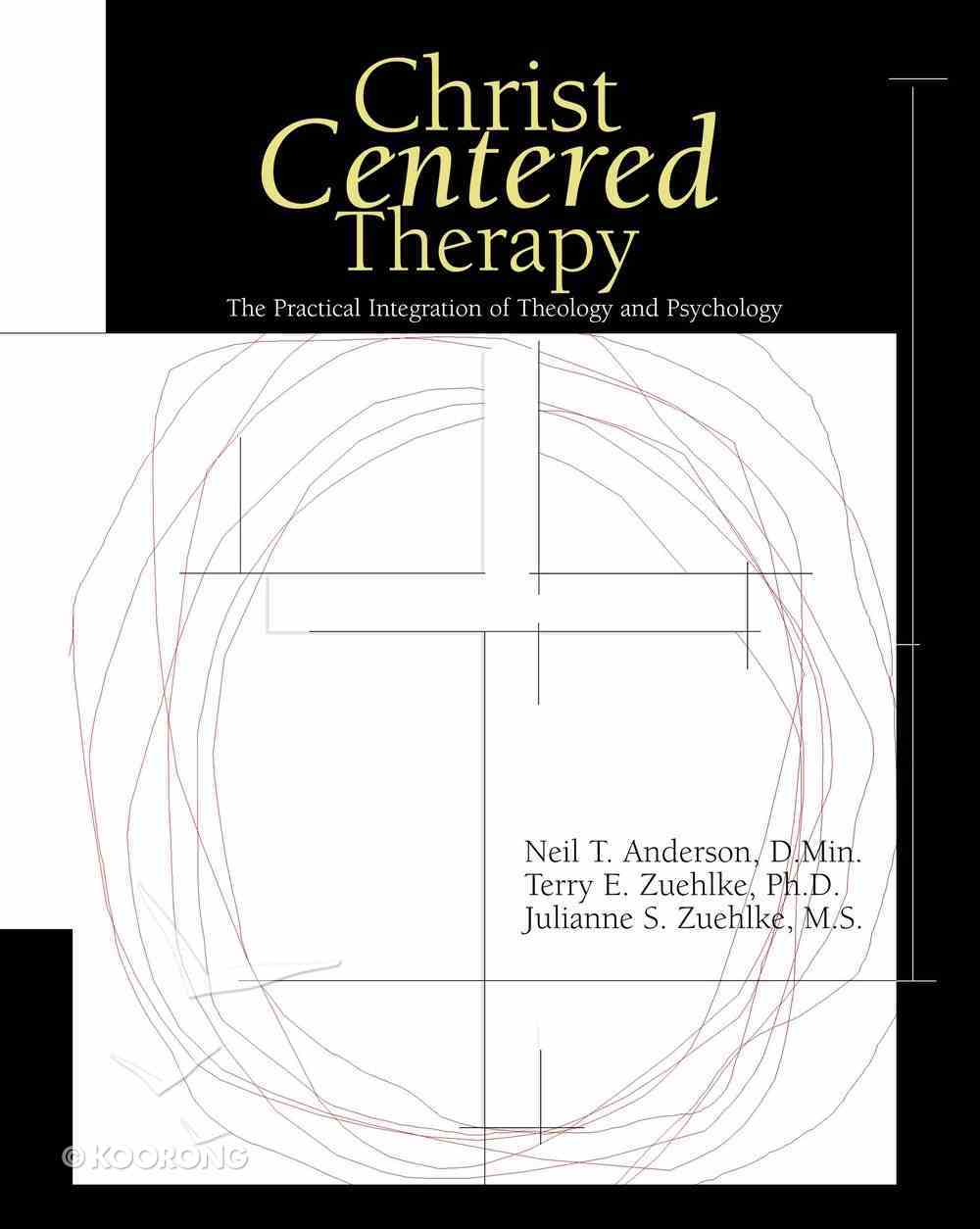 Depending on whom you ask, the term Christian counseling can mean anything from secular psychology practiced by a Christian to biblical counseling that completely shuns psychological insights. Christ-Centered Therapy thoroughly integrates psychology and practical theology. A book written by experts...
Out of Stock
Available to Order
---
Expected to ship in 5 to 6 weeks from Australia.
---
Free Shipping
for orders over $99.
Depending on whom you ask, the term Christian counseling can mean anything from secular psychology practiced by a Christian to biblical counseling that completely shuns psychological insights. Christ-Centered Therapy thoroughly integrates psychology and practical theology. A book written by experts from both fields, it utilizes the contributions of science in an uncompromisingly biblical framework. Here at last is a powerful resource to help you--pastor, counselor, or spiritual advisor--understand the complex problems of people and address them with the wisdom of God's Word and the power of his Spirit.Insightful and practical, Christ-Centered Therapy unites the wisdom and expertise of pastoral theologian and best-selling author Dr. Neil Anderson and professional Christian counselors Dr. Terry and Julianne Zuehlke. The first part of the book equips you with an understanding of the different issues involved in integrating theology and psychology. The second part helps you turn theory in
-Publisher
PRODUCT DETAIL
Catalogue Code 

150619

Product Code 

0310231132

EAN 

9780310231134

UPC 

025986231132

Pages 

432

Department Academic
Category Church
Sub-Category Care/counselling
Publisher Zondervan
Publication Date 

Aug 2000

Sales Rank 

29823

Dimensions 

236 x 193 x 33

mm

Weight 

1.006

kg
Terry E. Zuehlke (PhD, University of South Dakota) is a counselor in private practice. He has specialties in child, adolescent, and adult psychotherapy and assessment.
Dr. Neil T. Anderson is the founder and president emeritus of Freedom in Christ Ministries, which has offices and representatives in forty countries. Dr. Anderson has authored more than seventy books on Christ-centered living, including Discipleship Counseling and The Bondage Breaker. He was formerly chairman of the Practical Theology Department at Talbot School of Theology and has five earned degrees including two doctorates. Dr. Anderson lives in Franklin, Tennessee. For more information, see www.ficm.org.
Terry E. Zuehlke (PhD, University of South Dakota) is a counselor in private practice. He has specialties in child, adolescent, and adult psychotherapy and assessment.
Table Of Contents
Tables
Figures
Acknowledgments
Introduction
1.values And Worldview Clarification
2.reclaiming A Biblical Psychology
3.diverse Strategies In Christian Counseling
4.the Integration Of Theology And Psychology
5.god, Client, And Therapist In Christian Counseling
6.a Biblical Strategy For Christian Counseling
7.practitioner And Client Assessment
8.resolving Root Issues In The Marketplace
9.counseling Assistance Tool Kit
10.professional Christian Therapy And The Church Community
11.professional Accountability Relationships With Authority
Appendix A: Spiritual Conflict Integration In Psychotherapy
Appendix B: The Role Of Psychiatry In Managed Care
Appendix C: Care Ministries Within The Church
Appendix D: Professional Forms
Appendix E: Steps To Freedom In Christ
Notes
Index
Tables
1.1four Western Worldview Models
6.1 Effect Of The Fall On Humanity
6.2 United With Christ
6.3 Levels Of Conflict 136
6.4 Levels Of Resolution 137
8.1 Critical Impairments 202
8.2 Impairments In The Four Realms Of Human Beings 203
8.3 Impairments In The Wholistic Realm 209
9.1 Season Of Loss 247
10.1 Basic Level Training 319
10.2 Advanced Level Training
10.3 Schedule For Basic Level Training: Sixteen-week Format
10.4 Schedule For Basic Level Training: Four-weekend Format
A.1 Follow-up Results On Self-rated Scale
Figures
2.1 The Excluded Middle
2.2 A Balanced Worldview
3.1 Clinical Approaches To Psychotherapy
4.1 Original Creation Of Humanity
4.2 Role Of The Physical Body
4.3 The Human Brain
5.1 Role Of God In Therapy
5.2 God's Sovereignty
6.1 Personal Disciplines: Without Christ At Center
6.2 Personal Disciplines: With Christ At Center
7.1 Barren Tree
8.1 Four Realms Of Human Beings: A Nonbiblical Worldview
8.2 Five Realms Of Human Beings: A Biblical Worldview
9.1 Cognitive-behavioral Therapy: The Game
9.2 Pair Bonding
9.3 Addiction Cycle
10.1 A Model For Integration
A.1 Spiritual Warfare: The Enemy's Deception
A.2 Spiritual Warfare: The Reality
Values and Worldview Clarification Psychology as a disciplined study did not originate from Christian sources. Moreover, psychology entered the curriculum of Christian education in a significant way only in the last half of the twentieth century, no doubt because the historical and prevalent stance taken by the field of psychology has been that spiritual values have little or no place in counseling---a position caused by, among other factors, a competing worldview, political correctness, a liberal church, and an inaccurate understanding of science. In contrast to the historical view, we maintain that the spiritual values reflected in worldviews play an indispensable role in the clinical decisions made by therapists and in the lives of clients who come for treatment. Psychotherapy is not, in fact, devoid of a worldview but embraces either a Christian or an alternative spiritual perspective. Thus, current trends to acknowledge the presence of conflicting worldviews within the professional community reflect a welcome change. For example, the American Psychological Association (APA) mandates that psychologists take an informed view of religion as one of the several significant dimensions of human differences or diversity---or else make appropriate referrals. In addition, the American Psychiatric Association's Committee on Religion and Psychiatry recommends that the religiosity of an individual be addressed in clinical practice. Both ethical guidelines require the development of a knowledge base and a competency at all levels of mental health provision: education, training, research, and clinical practice. The truth that religious values have a crucial place in the ethical practice of mental health counseling is beginning to gain official recognition. Fuller Theological Seminary psychology professor Siang-Yang Tan observes, 'A biblical approach to counseling... that explicitly utilizes Christian religious values or perspectives and interventions (prayer, use of Scripture) and relies on appropriate spiritual gifts and the power and ministry of the Holy Spirit, makes unique contributions to counseling effectiveness, especially with religious, Christian clients.' Big Brother and the Health Care Environment Clearly these are changing times for the mental health profession, which is resulting in a significant amount of confusion. On the one hand, the United States government is starting to limit the establishment of bureaucratic structures around many aspects of its citizens' lives and is turning matters of private and family concern over to individual citizens. To compensate for its shrinking involvement, the government is looking to churches and private-sector organizations to provide for the needs of the people in their respective communities. The health care system, on the other hand, is not shrinking but rather expanding its regulatory control. It manages care through cost controls and by 'rationing' health care services. Managed care's influence in the mental health field has established bureaucratic structures that regulate practices in counseling. In addition, the actions of state licensing boards, professional practitioner organizations, and the court system serve to maintain a politically correct stranglehold on Christian practitioners. Consequently, the community of Christian mental health consumers and practitioners has been limited in its ability to mutually determine its values and spiritual approaches. Although secular, humanistic, atheistic, agnostic, and Eastern forms of spirituality are accepted because they are regarded as 'politically correct,' the values and worldview of biblical Christianity on which this culture and its freedoms are based have been increasingly met with hostility. The Role of the Church This turn of events should not surprise us, for Scripture warns of a coming apostasy (see Matthew 24:24, 37--38; 1 Timothy 4:1). In simple terms, an apostate is anyone who has the form and function of religion but who lacks the supernatural power of the Holy Spirit and a commitment to absolute truth. Similarly, apostate churches are those that endorse the cultural misbeliefs and practices of our morally backslidden culture. Instead of righteously influencing society, such churches have become its prey, for whenever we abandon the authority of Scripture we lose our moral compass. The apostle Paul encourages us to 'preach the Word; be prepared in season and out of season; correct, rebuke and encourage---with great patience and careful instruction. For the time will come when men will not put up with sound doctrine. Instead, to suit their own desires, they will gather around them a great number of teachers to say what their itching ears want to hear. They will turn their ears away from the truth and turn aside to myths' (2 Timothy 4:2--4). Sadly, all too many churches today have become at best irrelevant or at worst proclaimers of a false Christianity that fails to address issues such as public and personal morality. Adverse legal decisions have also contributed to ushering the Christian influence out of the public arena. Examples of such decisions include the banning of school prayer, of Christian symbols on public property at Christmas, and of prayer at graduation ceremonies or sports events. Through the political and legal processes in this country, we are being pressured to practice our religion within our four walls, to stay out of politics, and to stop interfering with society. The church, however, must inform the culture by means of a compassionate voice of truth and empower its members to take righteous stands in the marketplace. The church is supposed to be 'the pillar and foundation of the truth' (1 Timothy 3:15), but if we fail to proclaim that truth in love, we will cease to be the salt and light of our culture (see Matthew 5:13--16). Law, education, and politics will function in a vacuum without Judeo-Christian principles influencing their actions. The church is not the executor of the state, but it should be the conscience of the state; to do so demands that the church remain true to God's Word. For example, it is difficult, if not impossible, for the conscientious Christian counselor to encourage a client to abandon a homosexual lifestyle when the 'church' is vigorously debating whether to ordain homosexuals into ministry.