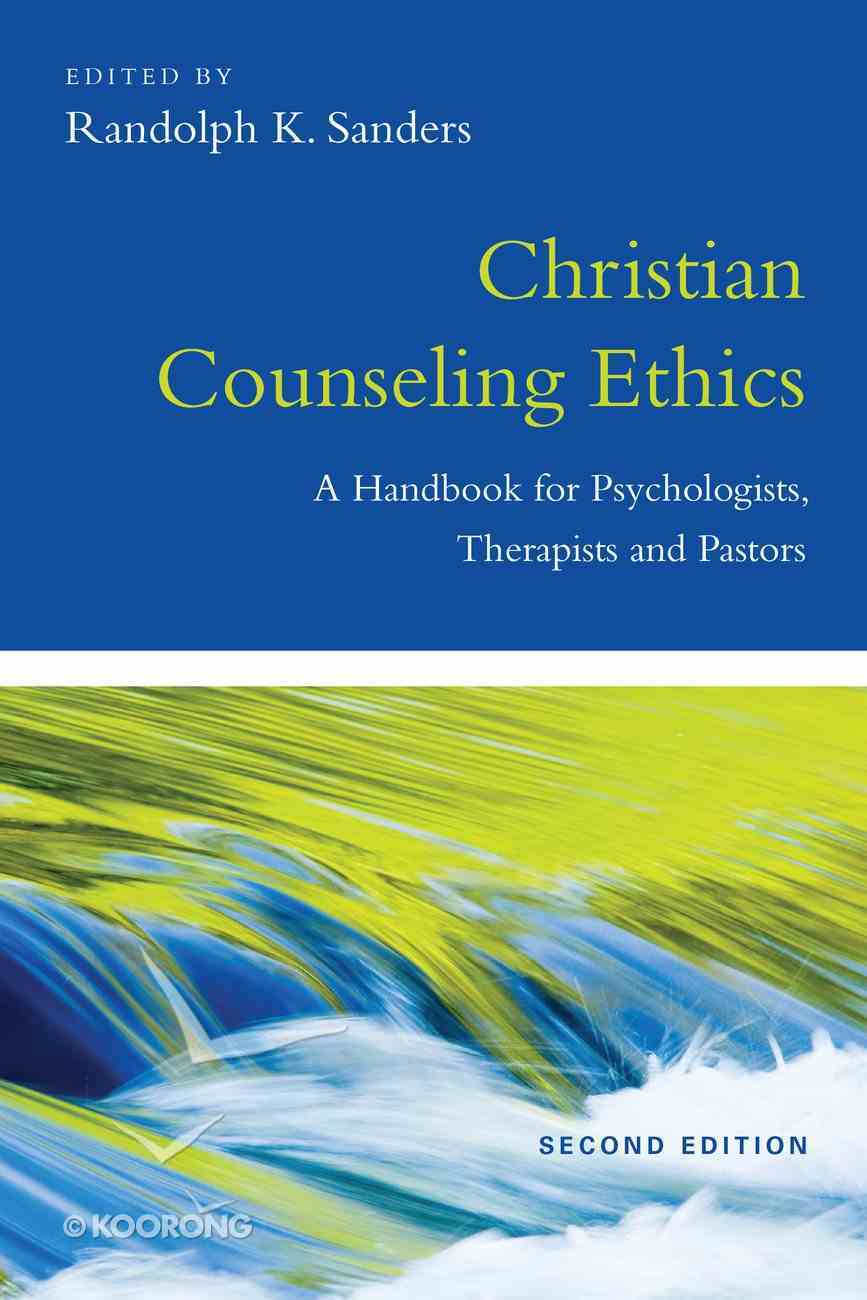 Christian Counseling Ethics
"For the clients who see us in counseling ... theological purity will make little difference if we do not practice with ethical integrity." Randolph K. Sanders, from chapter one The work of psychotherapy and counseling is full of ethical challenges...
Available for immediate download.
---
Read using our free app on your tablet or mobile!
---
Free Shipping
for orders over $99.
"For the clients who see us in counseling ... theological purity will make little difference if we do not practice with ethical integrity." Randolph K. Sanders, from chapter one The work of psychotherapy and counseling is full of ethical challenges and dilemmas. Responding to these situations with wisdom is critical, not only for the professional's credibility, but also for good therapeutic relationships and positive treatment outcomes. Since its first publication, Christian Counseling Ethics has become a standard reference work for Christian psychologists, counselors and pastors and a key text at Christian universities and seminaries. This thoroughly revised edition retains core material on counseling ethics that has made it so valuable in a variety of settings. Now fully updated, it weighs and assesses new and emerging ethical issues in the field. For example, the current volume explores ethical issues involved in: multiple relationships confidentiality documentation therapist competence and character addressing spiritual and value issues in therapy teletherapy individual and couples therapy counseling with minors psychological first aid after disasters counseling crossculturally In addition, the book considers dilemmas Christian therapists face in specific settings such as: church-based counseling centers government and military institutions missions organizations college counseling centers Psychologist Randolph Sanders has assembled a distinguished team of clinicians and academicians to address the issues. They include W. Brad Johnson, Alan Tjeltveit, Everett Worthington, Sally Schwer Canning, Siang-Yang Tan, Tamara Anderson, Stanton Jones, Jennifer Ripley, Angela Sabates, Mark Yarhouse, Richard Butman and Cynthia Eriksson.
-Publisher
Sanders, Ph.D., is a clinical psychologist in private practiSanders, Ph.D., is a clinical psychologist in private practice in New Braunfels, Texas. He is also executive director ofce in New Braunfels, Texas. He is also executive director of CAPS, the Christian Association for Psychological Studies. CAPS, the Christian Association for Psychological Studies. C
"for The Clients Who See Us In Counseling ... Theological Purity Will Make Little Difference If We Do Not Practice With Ethical Integrity." Randolph K. Sanders, From Chapter One The Work Of Psychotherapy And Counseling Is Full Of Ethical Challenges And Dilemmas. Responding To These Situations With Wisdom Is Critical, Not Only For The Professional's Credibility, But Also For Good Therapeutic Relationships And Positive Treatment Outcomes. Since Its First Publication, <em>christian Counseling Ethics</em> Has Become A Standard Reference Work For Christian Psychologists, Counselors And Pastors And A Key Text At Christian Universities And Seminaries. This Thoroughly Revised Edition Retains Core Material On Counseling Ethics That Has Made It So Valuable In A Variety Of Settings. Now Fully Updated, It Weighs And Assesses New And Emerging Ethical Issues In The Field. For Example, The Current Volume Explores Ethical Issues Involved In: <ul> <li>multiple Relationships</li> <li>confidentiality</li> <li>documentation</li> <li>therapist Competence And Character</li> <li>addressing Spiritual And Value Issues In Therapy</li> <li>teletherapy</li> <li>individual And Couples Therapy</li> <li>counseling With Minors</li> <li>psychological First Aid After Disasters</li> <li>counseling Crossculturally</li> </ul> In Addition, The Book Considers Dilemmas Christian Therapists Face In Specific Settings Such As: <ul> <li>church-based Counseling Centers</li> <li>government And Military Institutions</li> <li>missions Organizations</li> <li>college Counseling Centers</li> </ul> Psychologist Randolph Sanders Has Assembled A Distinguished Team Of Clinicians And Academicians To Address The Issues. They Include W. Brad Johnson, Alan Tjeltveit, Everett Worthington, Sally Schwer Canning, Siang-yang Tan, Tamara Anderson, Stanton Jones, Jennifer Ripley, Angela Sabates, Mark Yarhouse, Richard Butman And Cynthia Eriksson.
2. Psychotherapy And Christian Ethics
3. Qualifications Of The Christian Mental Health Professional
4. Essential Elements For Ethical Counsel
5. Sexual Misconduct And The Abuse Of Power
6. Nonsexual Multiple Relationships
7. Ethics In Couples Therapy
8. The Child Client
9. Addressing Spiritual And Value Issues In Therapy
10. The Sexual Minority Client
11. Clients With Chronic Conditions
12. Ethical Concerns In Culturally Sensitive Practice
13. Business Ethics In Mental Health Services
14. Pastors Who Counsel
15. Lay Counselor Training
16. Mixed Agency Dilemmas For Professionals In The Military And Other Government Agencies
17. Ethics In University Counseling Centers
18. Ethics In Member Care: Toward An International Framework
19. Ethics In Providing Psychological First Aid
20. Training Programs
21. A Model For Ethical Decision-making