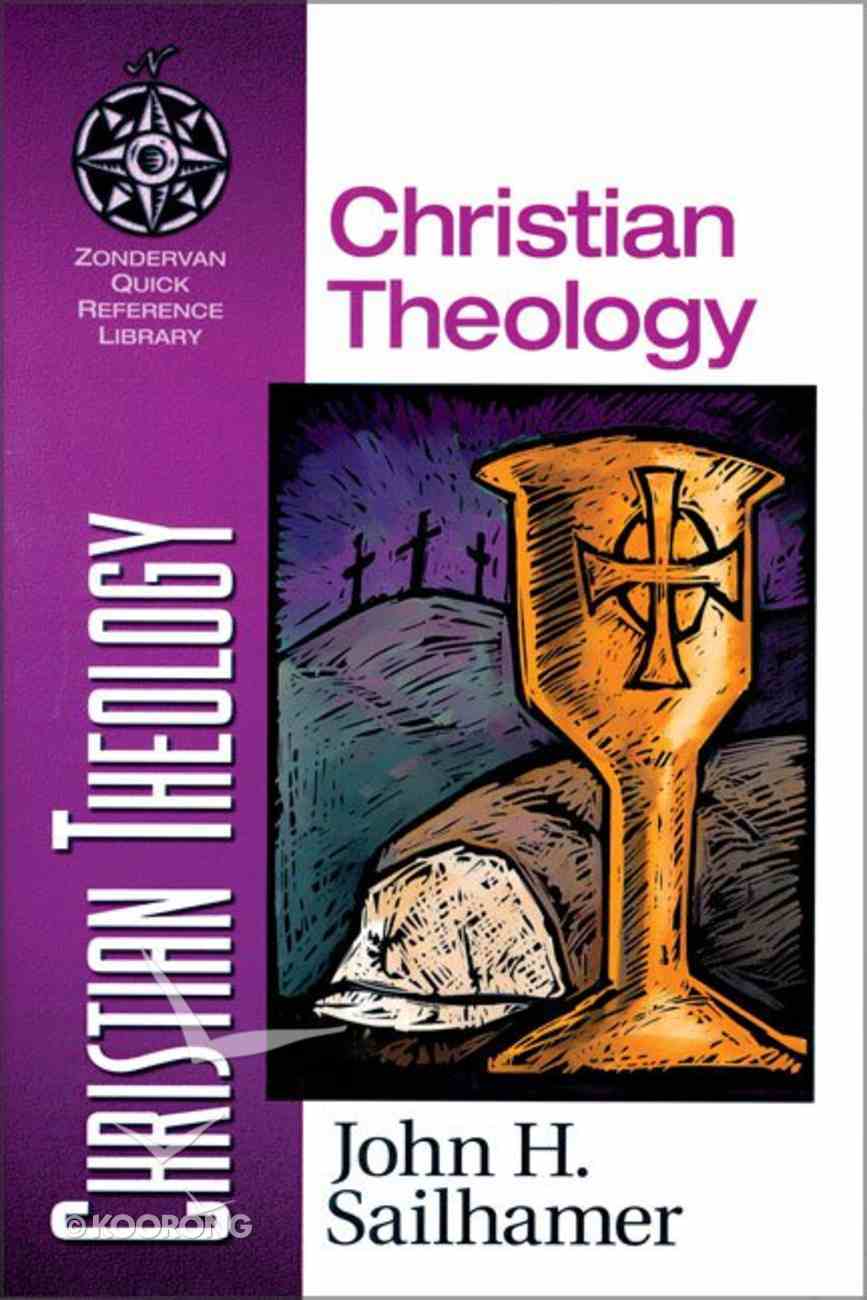 Christian Theology (Zondervan Quick Reference Library Series)
Here is one volume in a series of brief reference books for laypeople designed to be read in units of one or two pages.
Out of Stock
Available to Order
---
Expected to ship in 6 to 7 weeks from Australia.
---
Free Shipping
for orders over $99.
Here is one volume in a series of brief reference books for laypeople designed to be read in units of one or two pages.
-Publisher
When busy people want to know more about the Bible and the Christian faith, the Zondervan Quick-Reference Library offers an instant information alternative. Covering the basics of the faith and Bible knowledge in an easy-to-use format, this series helps new Christians and seasoned believers find answers to their questions about Christianity and the Bible. The information is presented in units of one or two pages, so that each section can be read in a few minutes. The Zondervan Quick-Reference Library makes important knowledge affordable, accessible, and easy to understand for busy people who don't have a lot of time to read or study.
-Publisher
John H. Sailhamer (Ph.D., University of California at Los Angeles) is professor of Old Testament at Golden Gate Baptist Theological Seminary in Brea, California and was formerly senior professor of Old Testament and Hebrew at Southeastern Baptist Theological Seminary. He was President of The Evangelical Theological Society in 2000 and has published a number of books, including An Introduction to Old Testament Theology; The Pentateuch as Narrative: A Biblical-Theological Commentary; The Meaning of the PentateuchRevelation, Composition and Interpretation and Genesis (The Revised Expositor's Bible Commentary).
Koorong - Editorial Review.
The Image of God The Bible states clearly that human beings are special creatures to God. When he created all the animals (Gen. 1:22), he created them 'according to their kinds' (1:21). But when he created human beings, he made them 'in his own image' (1:27). There is therefore a fundamental difference between these two forms of created life. The animals are important, indeed, precious to God. Jesus said, 'Look at the birds of the air . . . your heavenly Father feeds them'; but, he continues, 'Are you not much more valuable than they?' (Matt. 6:26). Human beings are the pinnacle of God's creation; among all the other creatures, they alone are like God. What does it means to say that human beings were created in God's image? The Bible explains the image of God in two ways. (1) It is that aspect of our nature that makes us capable of knowing God personally. We are persons because God is a person. (2) It is that aspect of our nature that makes us capable of worshiping God. The worship of God by means of a man-made image is strictly forbidden because we as humans have been created in God's image. We were created to worship in his presence, not in the presence of a dumb idol. The image of God gives human life its value and worth. Murder, for example, is expressly forbidden on the basis of our having been created in God's image (Gen. 9:6); so is cursing another human being (James 3:9). Human life is so valuable to God that he sent his own Son to give his life as a ransom for it (John 3:16). What were human beings like before sin corrupted and tarnished God's image in the Fall? Human beings were 'upright' (Eccl. 7:29) and 'good' (Gen. 1:31). Their condition was analogous to the 'new self' in Christ (Col. 3:10), who puts away 'sexual immorality, impurity, lust, evil desires and greed' (3:5) and is clothed 'with compassion, kindness, humility, gentleness and patience' (3:12). Being just and righteous before God, they were able to obey God's commands. It was possible for them not to sin. That is something that cannot be said of human beings today. For us today, after the Fall, it is impossible not to sin. Impressed on the mind of the original man and woman, as a result of their being created in the image of God, was the law of God. That law mandated basic principles of justice, such as the distinction between right and wrong and the duty to worship God. A remnant of God's law still exists in our hearts today, showing 'the requirements of the law are written on [our] hearts' (Rom. 2:14). The Bible calls this 'conscience,' which either accuses us of wrong or defends us when we are in the right (2:15). The Fall The Bible clearly teaches that the human race has fallen from its original state (Gen. 3). But the author of this account simply tells the story; he does not reflect on what transpired. We, the readers, are left to ourselves and our sense of the story to answer the questions it raises. We must seek our clues to its meaning from the story itself. What then does this story teach us about the Fall? (1) The act that precipitated it was a transgression of God's will. God had simply said, 'Do not eat of the tree,' but the man and woman disobeyed. The consequences of that act were horrendous. (2) The man and the woman were cast out of the presence of God and were barred from access to the Tree of Life. This meant they began to experience both spiritual and physical death. (3) They became aware, in their nakedness, of the shame and guilt of their sin. Their attempt to cover their nakedness is a picture of all subsequent human attempts to cover over sin and its effects. (4) In their one act of disobedience, 'sin entered the world . . . and death through sin' (Rom. 5:12), and 'the result of one trespass was condemnation for all men' (5:18). (5) God was not the author of sin. He permitted the Fall, but the man and the woman, of their own volition, transgressed God's command. The serpent also played an important role. As an instrument of Satan (cf. Rev. 12:9), he, not God, was the one who tempted the first couple to sin. How could the man and woman, created just and good, succumb to the temptation of the serpent and sin? It was not because they had been created with an evil inclination. It is rather that they were caught in the trap of wanting more than they had. They became greedy, wanting to be like God. Wanting to control their own destiny by obtaining the knowledge of good and evil, they were no longer willing to trust God. They had been created with the ability not to sin, but in the Fall it became impossible for them to do otherwise. They were now depraved. Furthermore, they passed that depravity on to all subsequent generations (Gen. 6:5). This is what is called 'original sin.' Note what David wrote: 'Surely I was sinful at birth, sinful from the time my mother conceived me' (Ps. 51:5). Original sin is that corrupt disposition of the heart by which we are unable to do good and are prone to do evil. We are lost in our trespasses and are dead in our sins; only through Christ can those sins be forgiven (Col. 2:13).