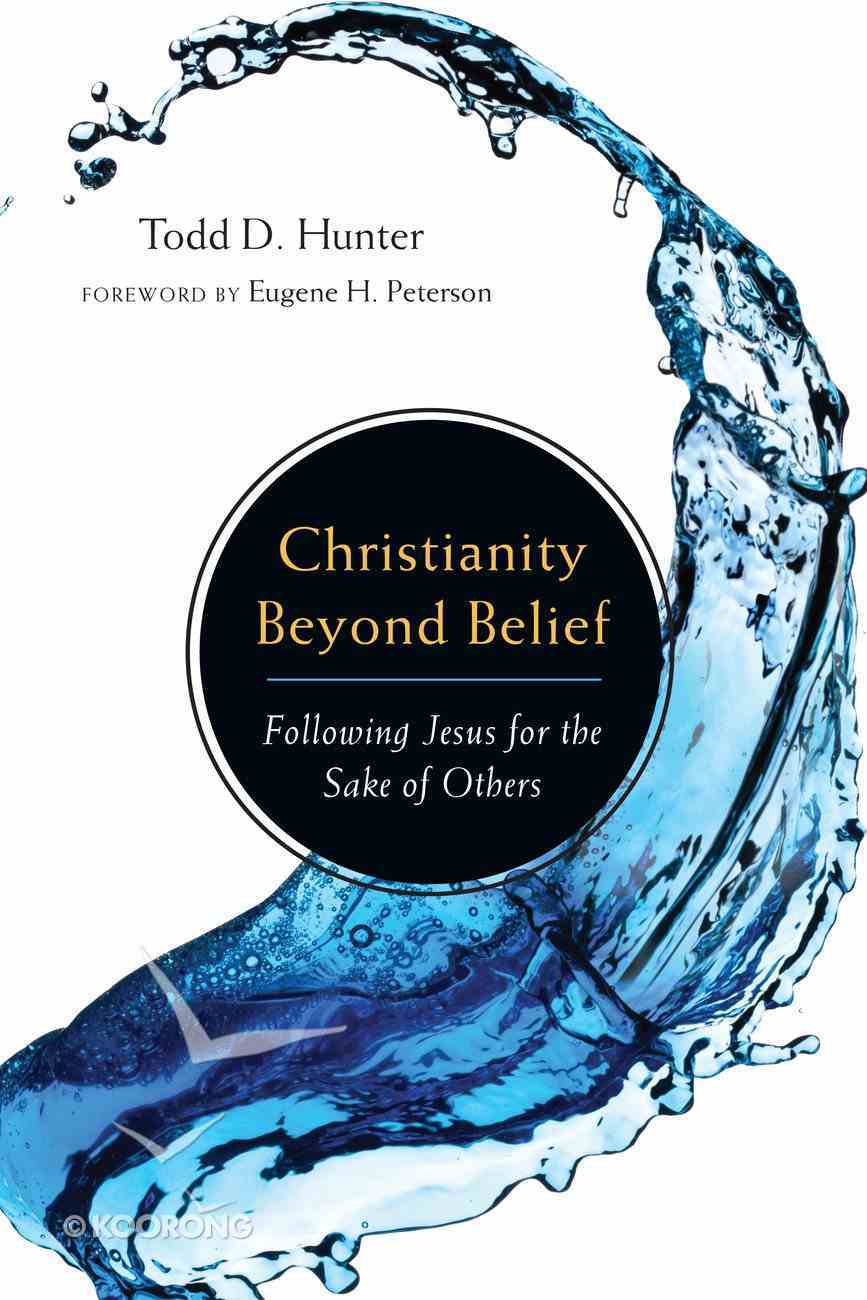 Christianity Beyond Belief
What If You Knew You Were Going to Live Tomorrow?You've prayed the sinner's prayer. You know that if you die tonight, you'll go to heaven. But Todd Hunter believes Christianity is a life, not merely a secure death. Which...
Available for immediate download.
---
Read using our free app on your tablet or mobile!
---
Free Shipping
for orders over $99.
What If You Knew You Were Going to Live Tomorrow?You've prayed the sinner's prayer. You know that if you die tonight, you'll go to heaven. But Todd Hunter believes Christianity is a life, not merely a secure death. Which means that eternal life--abundant life--begins on earth, as soon as we become a follower of Jesus.Drawing from his leadership and ministry experience as president of Alpha USA and from his own study and life experiences as an ordinary Christian, Hunter calls us to reframe our salvation and discipleship to focus on life, instead of just heaven and hell. God's intention, he says, is for us to become God's cooperative friends, seeking to live consistent lives of creative goodness for the sake of others. These pages lead us into this abundant way of living, offering the whole scope of God's story and how you fit into that guidance on the Holy Spirit's role and power in your life creative ways to love, serve and respond to seeking friends help for starting a "Three Is Enough" small group Jesus came that we might have life--not just in heaven, but here on earth where he walked and lived among us. And your friends who are hurting, hopeless or hungry for something real need to see what difference life in Christ makes. This timely, biblical paradigm from Todd Hunter will inspire and equip you to live your days with intention, participating in God's work in the world today. It just might change the way you look at life forever.
-Publisher
PRODUCT DETAIL
Features In Catalogues
Bishop Todd Hunter (D.Min., George Fox University) of the Anglican Mission in the Americas, is the founding pastor of Holy Trinity Church, an Anglican church in Costa Mesa, California. Dr Hunter is a church planter and a teacher, writer and consultant for his ministry, Society for Kingdom Living, which helps pastors and lay leaders reach a generation that has been disenfranchised from the church.


Formerly national director at Vineyard Churches USA and then at Alpha USA, Hunter continues to serve as consultant to Alpha and as part of the Alpha Board of Directors and Executive Committee. He also serves on a number of other ministry boards, including RENOVARE and Soul Survivor. To find out more, visit his website: www.3isenough.org.


He has recently authored the book Christianity Beyond Belief: Following Jesus for the Sake of Others; The Outsider Interviews (Baker Books, 2010); Giving Church Another Chance: Finding New Meaning in Spiritual Practices and The Accidental Anglican: The Surprising Appeal of the Liturgical Church.
Koorong -Editorial Review. ]


<strong>what If You Knew You Were Going To <em>live</em> Tomorrow?</strong>you've Prayed The Sinner's Prayer. You Know That If You Die Tonight, You'll Go To Heaven. But Todd Hunter Believes Christianity Is A <em>life,</em> Not Merely A Secure Death. Which Means That Eternal Life--abundant Life--begins On Earth, As Soon As We Become A Follower Of Jesus.drawing From His Leadership And Ministry Experience As President Of Alpha Usa And From His Own Study And Life Experiences As An Ordinary Christian, Hunter Calls Us To Reframe Our Salvation And Discipleship To Focus On Life, Instead Of Just Heaven And Hell. God's Intention, He Says, Is For Us To Become God's Cooperative Friends, Seeking To Live Consistent Lives Of Creative Goodness For The Sake Of Others. These Pages Lead Us Into This Abundant Way Of Living, Offering <ul> <li>the Whole Scope Of God's Story And How You Fit Into That</li> <li>guidance On The Holy Spirit's Role And Power In Your Life</li> <li>creative Ways To Love, Serve And Respond To Seeking Friends</li> <li>help For Starting A "three Is Enough" Small Group</li> </ul> Jesus Came That We Might Have Life--not Just In Heaven, But Here On Earth Where He Walked And Lived Among Us. And Your Friends Who Are Hurting, Hopeless Or Hungry For Something Real Need To See What Difference Life In Christ Makes. This Timely, Biblical Paradigm From Todd Hunter Will Inspire And Equip You To Live Your Days With Intention, Participating In God's Work In The World Today. It Just Might Change The Way You Look At Life Forever.
Acknowledgments
<strong>part One: A New Understanding Of What It Means To Be A Christian</strong>
1. What If You Knew You Were Going To Live Tomorrow?
<em>the Problem With Getting "saved"</em>
2. Jesus' Surprising Gospel
<em>it's The Kingdom Now, Not Just Heaven Later</em>
3. It's Our Life That Counts
<em>aligning With God's Story</em>
4. The Role Of The Church
<em>jesus Is Not Just Your Personal Savior</em>
<strong>part Two: A New Way To Live</strong>
5. Cooperative Friends Of Jesus
<em>maybe Jesus Didn't Intend To Start A World Religion</em>
6. Consistent Lives Of Creative Goodness
<em>apologetics Of Another Kind</em>
7. For The Sake Of Others
<em>jesus Could Have Done Backflips On A Donkey</em>
8. Through The Power Of The Holy Spirit
<em>no Big Hair, No Bizarre Behavior, Just Power For A Purpose</em>
9. Inviting Others To Live A New Way
<em>a Fresh Approach To Sharing Our Faith</em>
10. Three Is Enough Groups
<em>a New Way To Live</em>
Appendixes
1 Triads: The Theoretical Basis For Three Is Enough Groups
2 The Person And Work Of The Holy Spirit
3 <em>the Message:</em> A New Testament Tour Of Life
Notes
Bestsellers in Christian Living